This post may contain affiliate links which won't change your price but will share some commission.
Powerhouse of nutrients! This amazing Beets Quinoa Avocado Soup will nourish your body and provide you with an amazing sensation of tastes. From the sweetness of the beets, to the earthiness of quinoa and rounded out by the smoothness of the avocado, you'll feel like you've just tasted a little piece of heaven. And it is 100% vegan.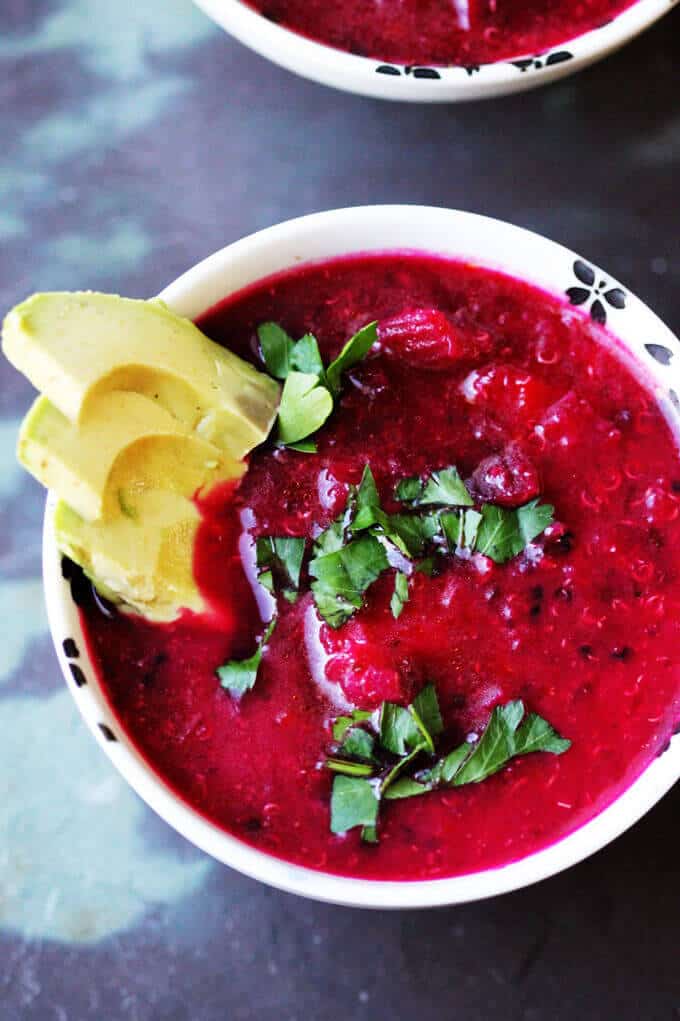 For all the beet lovers out there, I contend that if you try this soup you'll love them even more. And for all you beet haters out there, if you try this soup you may never hate them again. Personally, I happen to be a beet lover. I can just throw a few in the oven, roast them, and devour them. I also love them in my soups and juices. In fact, my 3 year old is a very fussy eater but he doesn't object to beets in his juices or, if blended to the smoothest consistency possible, in his soup. For myself I prefer some chunks in my soup as I enjoy the crunchiness of the beets; but for my son its strictly blended. You can go either way, it's just a matter of preference.
If you follow this blog you'll know that I recently gave birth to our second son and therefore I've had all kinds of food cravings. One might think that they end once the baby arrives, but in my situation I still have lingering cravings (they're different though). For a few weeks after giving birth, I was craving beets. This was probably because they're a good source of iron and that's something that breastfeeding moms need a lot of. I cooked a whole big pot of this soup and ate it every day for several days straight. At no point in this binge did I ever feel a need to restrain myself. Rather, I was excited every day I heated it up. Frankly, this was probably an indication of how badly my body needed those beets. If you're looking for other powerhouse soups you may want to try this Greek Lentil Soup with Feta – Fakes, Tomatoes Red Lentils Coconut Soup or this Golden Bell Pepper Cayenne Soup with Greek Yogurt, Chilled Cucumber Mint Soup with Kefir (See photos below).
However this soup is not merely blended beets. Rather, the addition of quinoa created a consistency of plant based protein, and the avocado delivered a good amount of friendly fat. Also, I recently have this thing of adding avocado to the warm dishes. It tastes so good! I feel like it makes most dishes even creamier and taster. So for me this soup was a winner. If you are up for a nutrient load, try this soup. It will make you feel full and satisfied, while also being light and invigorating….who doesn't need that at the onset of spring? Enjoy this wonderful Beets Quinoa Avocado Soup whenever you need a little 'spring pick me up.'
Ingredients
1

medium onion

(chopped)

1

leek

(white and light green parts, chopped)

2-3

potatoes

(medium Idaho, chopped)

3

carrots

(medium, chopped)

2

celery sticks

(chopped)

4

beets

(medium, chopped)

3/4

cups

quinoa

(rinsed)

6-7

cups

vegetable broth (See note 1) or water

1

tbsp

vegetable base

(optional)

2

avocados

(1/4 per serving, sliced)

2

tbsp

olive oil

(extra virgin + more for drizzling)

juice from half lemon

salt

black pepper

1

tbsp

Italian parsley

(chopped)
Instructions
In a Dutch oven or other soup pot, heat up 1 tablespoon of olive oil, add onions and leeks and cook for 2-3 minutes

Add potatoes, carrots, celery and beets and cook for another 3 minutes

Rinse quinoa and add to vegetables, mix everything together

Add vegetables broth or water, vegetables base (if using), cover and cook for about half hour

After half hour check if vegetables are soft, add salt and pepper to taste. Cook a little longer if the vegetables are still crunchy

Add remaining tablespoon of olive oil, lemon juice and parsley

Using hand blender or standing up blender, blend half the ingredients and leave half of it in chunks (See Note 2.)

When serving add the 1/4 of avocado to each bowl, you can also drizzle a little bit more of olive oil and lemon juice
Notes
(1.) I use organic vegetable base concentrate which I think brings a lot of flavor but if you don't have it, salt and pepper with season the soup well.
(2.) Blending is optional and it depends on what consistency you like. You can leave it without blending, blend a part of the soup or all of it to make it smooth.
If you like this recipe you may also like these amazing soups: