This post may contain affiliate links which won't change your price but will share some commission.
Smashed Avocado Poached Egg Toast – powerful breakfast packed with healthy fats, proteins and all the beneficial nutrients of avocado and egg.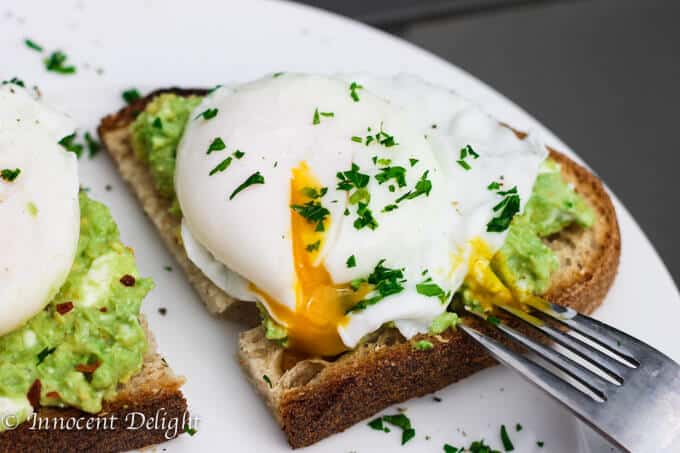 I wanted to make this toast ever since I heard about Smashed Avocado Toast form Little Collins Cafe in New York City. Inspired by their dish, I made this Guacamole with Feta Cheese, but the toast with poached egg still peaked my interest. There's something absolutely magical about the egg yolk running down this velvety smashed avocado. Even now, while I'm preparing this post and my husband noticed the photos, he requested it for breakfast the next morning. This Smashed Avocado Poached Egg Toast is really that good.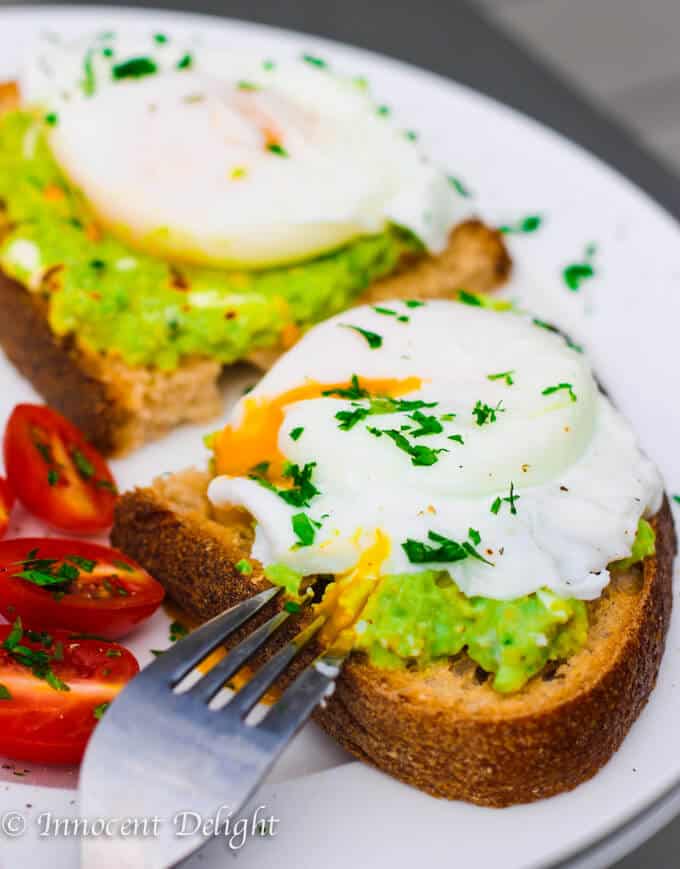 This dish is super easy to make, but it certainly makes a big impression. If you've never made poached eggs, then I can see how this technique can be a little bit intimidating. But trust me, it's not as hard as it looks. You'll need to make sure that you add tablespoon of vinegar to boiling water; crack the eggs to a little bowl and then slowly slide them one at the time to the boiling pot. Once all your eggs are in the water, take a wooden spoon and very gently stir them to make sure that eggs are not sticking to the bottom. Be aware that some of the egg whites will float around and detach from the egg and that is perfectly normal. Trust the process, it will work. As long as you added the vinegar and were gentle, your eggs will turn perfectly. You don't want to overcook them though, so be mindful of the time. They should not be in a water for more then 3 minutes. Take them out with a slotted wooden spoon and then just place them on a plate lined with the paper towels so they can dry out a little bit. Then you will just put them on the smashed avocado toast and…..voila, a stunning breakfast!
How to make smashed avocado?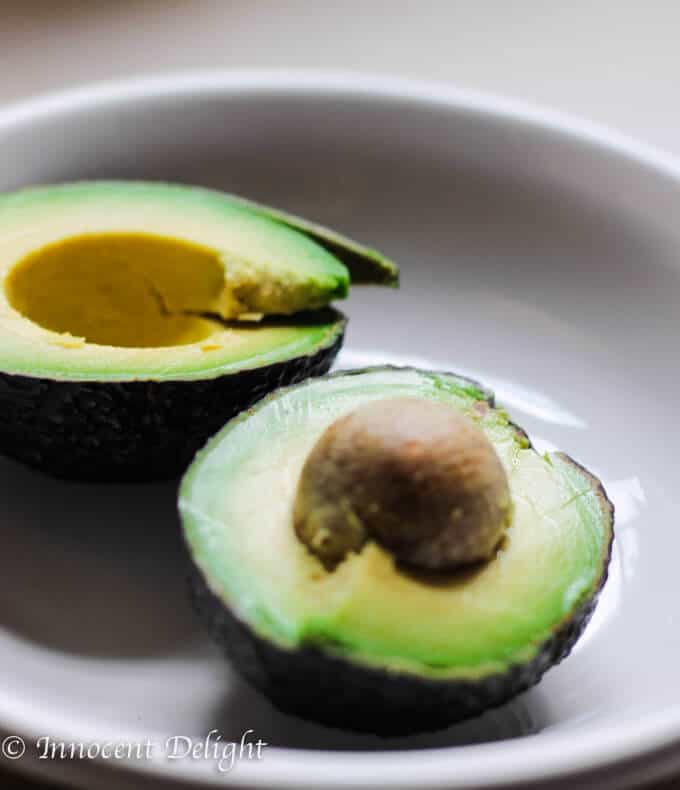 Cut the avocado in a half; then using the knife, cut the lines vertical and horizontal into the avocado. Take a spoon and run it against the inner side of the skin of the avocado and place it into a bowl.
Add feta cheese, greek yogurt, salt, pepper, lemon juice and then just mash it all up.
In the meantime, toast some good quality sourdough bread and once done, assemble the dish. Spread the smashed avocado on top of the bread, sprinkle with some chili peppers, then just gently place your poached egg onto and serve.
Don't forget to add cherry tomatoes to accompany the dish and to add extra freshness.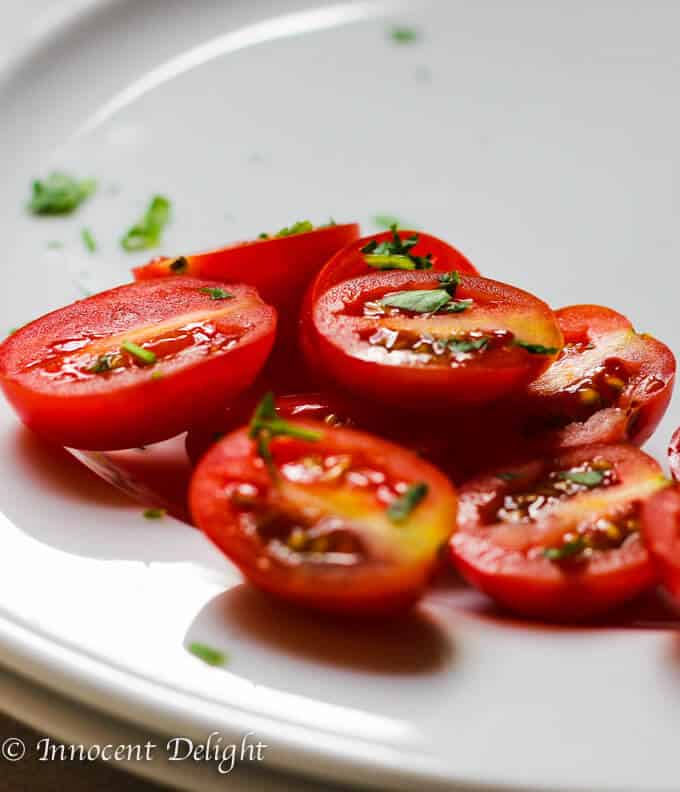 And here it is: Smashed Avocado Poached Egg Toast. Doesn't it look fabulous? And needless to say, it tastes equally as good. You shouldn't take my word for that either. You'll need to try this yourself and be the judge. Enjoy.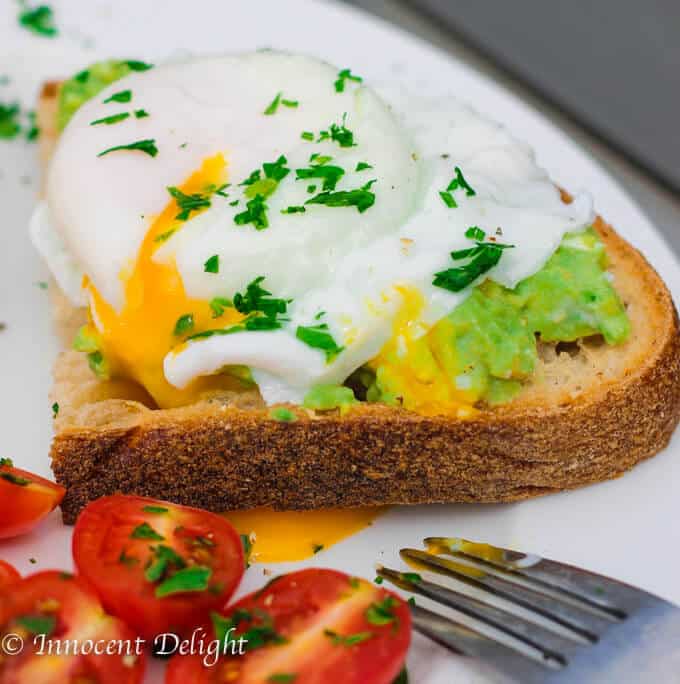 Ingredients
4

eggs

1

tablespoon

of white vinegar

2

sourdough bread slices

1

avocado

1

tablespoon

of Feta Cheese

1/2

tablespoon

of greek yogurt

Juice from 1/2 of a lemon

1/4

teaspoon

of red pepper flakes

(or less, depending how spicy you like it)

Salt and Pepper to taste

1

cup

of cherry or cocktail tomatoes

1/2

tablespoon

of olive oil
Instructions
Dice avocado into small chunks

Add feta, yogurt, lemon juice, salt and pepper

Mash it all together!!!

In the meantime, bring a pot of water to a boil

When boiling, add vinegar

Crack each egg to a small bowl and gently pour it onto the boiling water

Once all the eggs are in, use a wooden spoon and stir gently to make sure that the eggs do not stick to the bottom of the pot

Cook eggs for 3 minutes, then take out and let dry

In the meantime, toast the bread

Assemble the toast: smash avocado on the toast, sprinkle with red pepper flakes, top with the egg and server immediately with cherry tomatoes cut in a half; be sure to sprinkle with salt and olive oil.
If you like this recipe you may also like this Poached Egg on Parmesan Tomato Toast
And you may also like this Guacamole with Feta Cheese