This post may contain affiliate links which won't change your price but will share some commission.
Blueberry Crisp with Pecans Oatmeal and Maple Syrup – Real Food cannot get any better than this! And it only takes 5 minutes of your time to prepare it.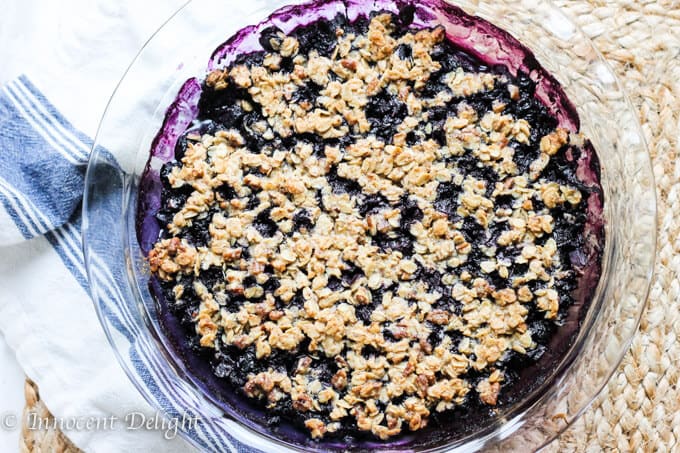 Summer is in full force and so is the whole universe of fresh fruit and veggies. Blueberries are in season! I can't get them enough. Normally they are expensive, but now you can get them pretty cheep. I only buy organic berries as they are among the "dirtiest" (and that's why the price is rather high) and I usually buy most of my groceries in Trader Joe's. Recently they have a huge box of blueberries for a little over $6 (which is even cheaper than frozen blueberries). That's why I decided to make this amazing Blueberry Crisp with Pecans Oatmeal and Maple Syrup. I used 4 cups of berries for this recipe and I had more left for my toddler's morning smoothies. Really great value. I can't say it often enough… I simply love Trader Joe's.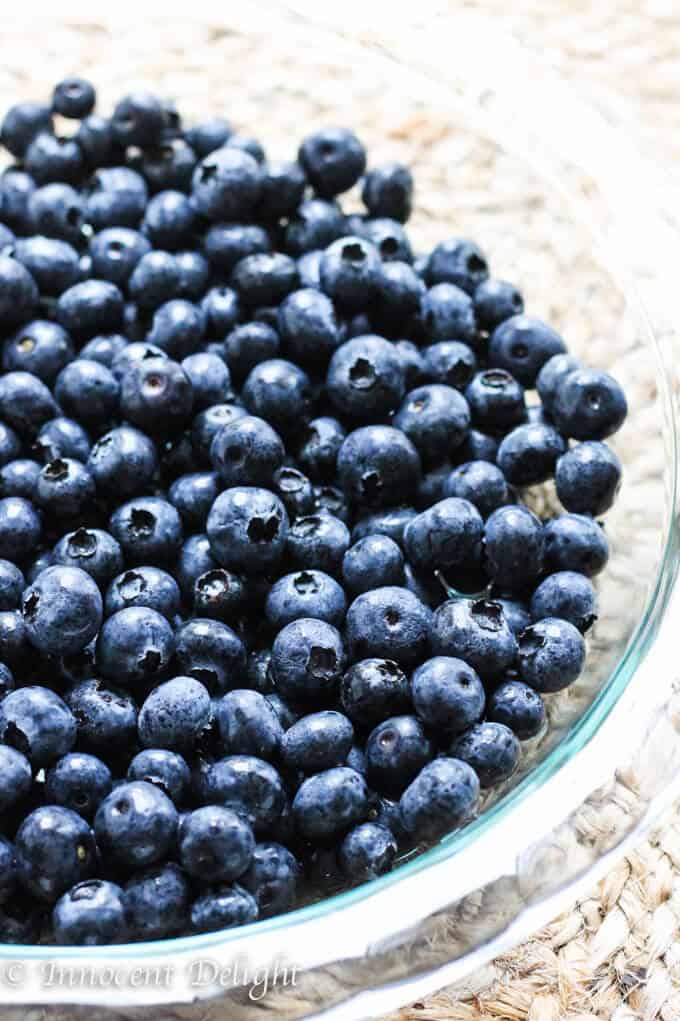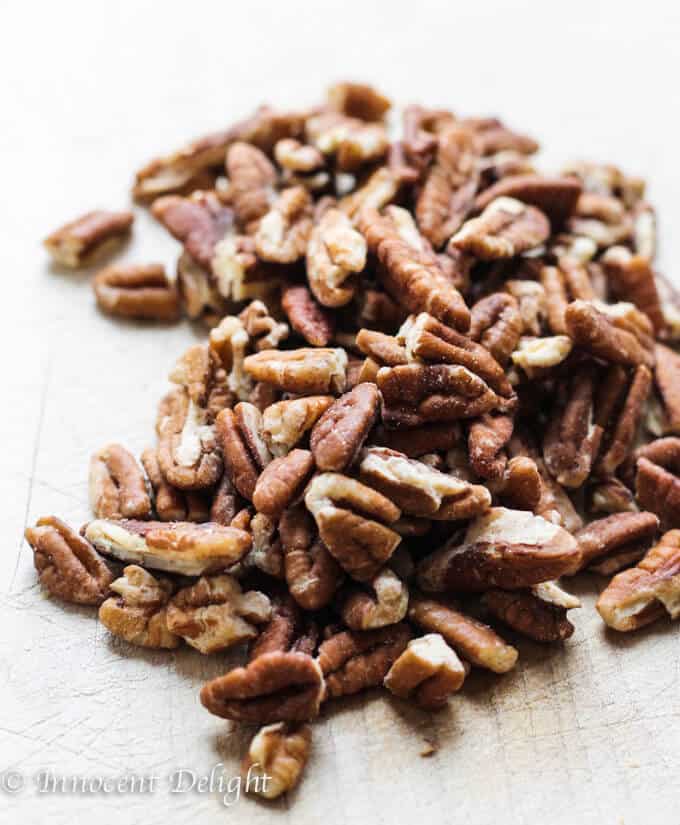 Blueberry Crisp with Pecans Oatmeal and Maple Syrup came to my mind after reading a book titled "Bread & Wine" by Shauna Niequist. This book is really fantastic. It's a collection of the stories from the author's life that involves family, friends and of course food around the table. For any foodie out there, this book is a must read. I highly recommend it. But it's not all about food. The author tells us stories from her life. Some of them were so touching that I couldn't stop my tears… At any rate, usually at the end of each chapter Shauna is giving a reader one of her favorite recipes. Her "Mom's blueberry crisp" is one of the first recipes that she shares. She tells us a story on how her mother was a healthy cook and tried to feed her family with healthy meals. She would serve foods like: hummus and lentils when nobody even heard about them yet. Blueberry crisp was served in Shauna's house every Sunday evening. The way she talks about it, made me feel and smell this crisp. Ever since I've read about it I really wanted to make it.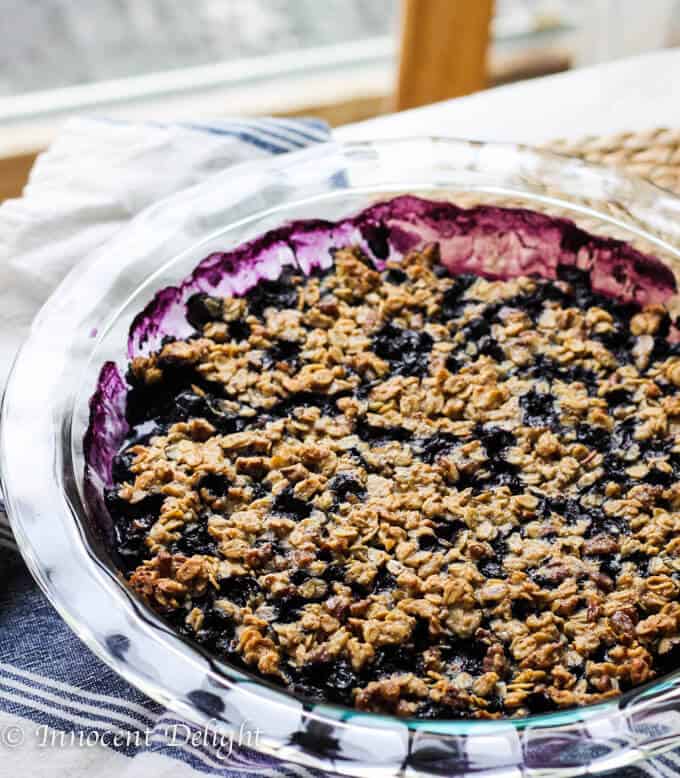 And here it is. My version of this amazing dish: Blueberry Crisp with Pecans Oatmeal and Maple Syrup. I adjusted proportion from Shauna's book to our liking. I added more pecans and less salt. You can add other fruit like peaches, which are also in season and blend beautifully with blueberries. But if you feel like you want to try the original recipe, check out this book. You can find even more appealing recipes in there. There was one thing surprising to me in this chapter of Bread and Wine though. Apparently, this dish was served in Shauna's house on Sunday evening as a dinner. If I served a blueberry crisp for dinner in my house, the first question that my husband would have asked me is: where is the meat? And the second: why is this dinner sweet? And the third: Can I have it with ice cream after dinner? So, yes, we had Blueberry Crisp with Pecans Oatmeal and Maple Syrup with vanilla ice cream as a desert after chicken and mashed potatoes were served for dinner. 🙂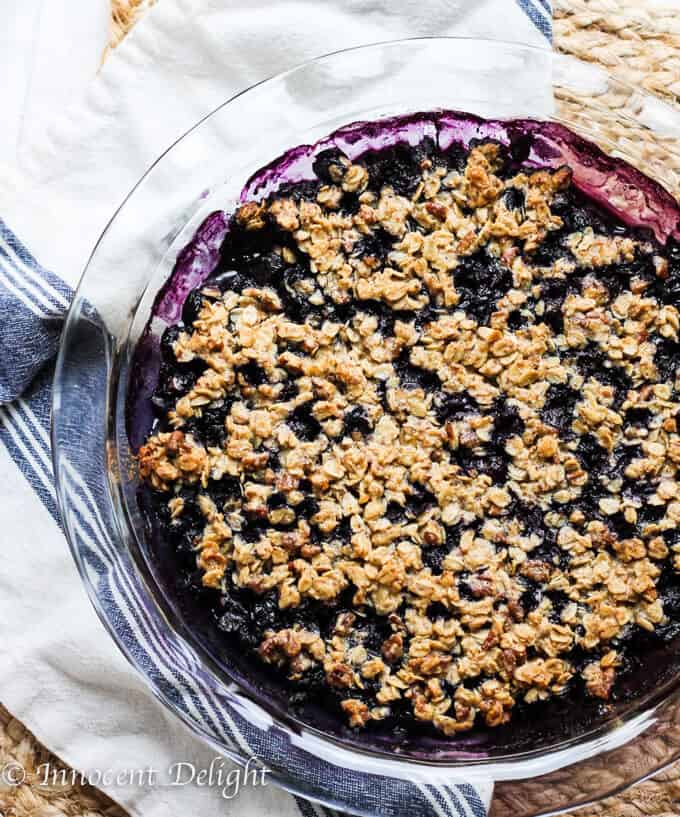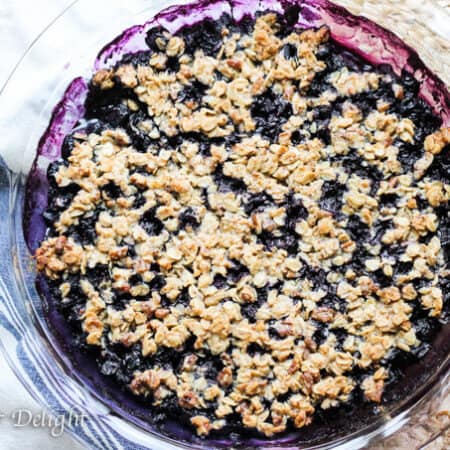 Ingredients
Crisp topping:
1

cup

old-fashioned oats

3/4

cup

of raw

, unsalted pecans, chopped

1/2

cup

of almond meal

(I use one from Trader Joe's)

1/4

cup

of maple syrup

1/4

cup

of olive oil

1/4

teaspoon

of salt
Instructions
Preheat the oven to 350F

Place blueberries in the baking dish

Mix together crisp ingredients and layer it on top of the berries

Bake for 35 minutes until the berries are bubbling and the crisp is golden brown.
If you like this recipe you may also like: Banana Chia Bread Super Healthy Muffins