This post may contain affiliate links which won't change your price but will share some commission.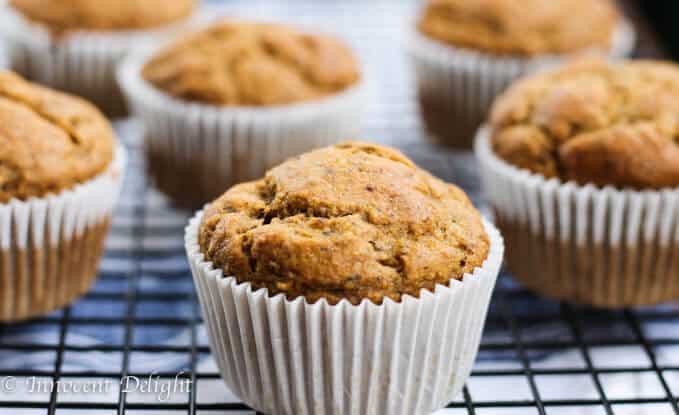 As you can probably tell by this blog's recipes, I usually don't bake. The reason for this is that I don't want to make something with lots of white sugar and white flour. There's nothing redeeming about it (except taste).  I also don't want my little boy to develop a sweet tooth. But the other day I saw the recipe for a Banana Chia Cake on Dr. Oz website and I thought that the idea was splendid. I decided to put a little spin on it and make individual little breads in the form of Banana Chia Bread Super Healthy Muffins.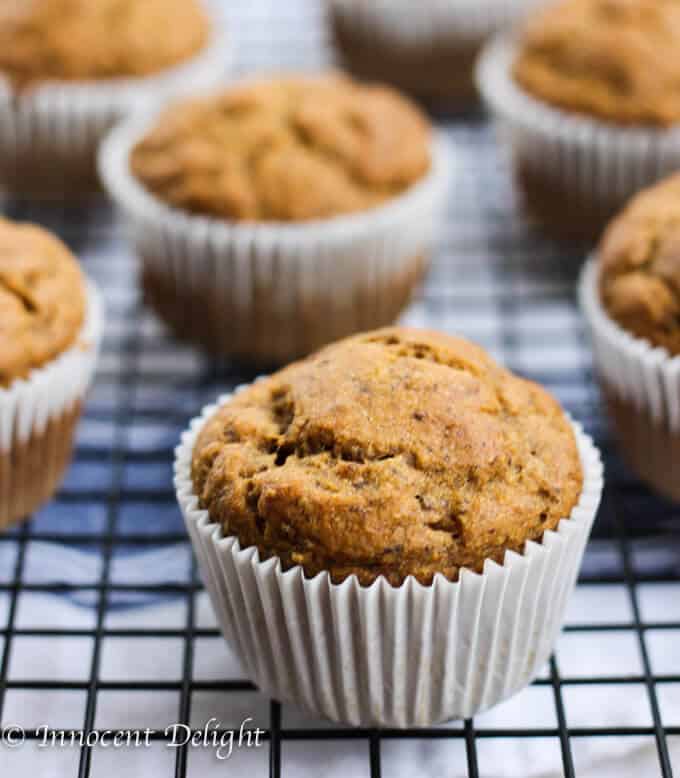 This recipe couldn't have been healthier. It would never have crossed my mind to use chia in baking. But once I started to make the batter, it totally made sense. Chia soaks up the water and becomes very jelly-like, which makes a perfect substitute for eggs. The recipe calls for only whole wheat flour so these little muffins are packed with fiber from both flour and chia. They also contain a nice amount of Omega-3 from the chia, and with all the vitamins and minerals from bananas, they make a perfect healthy breakfast or desert. The recipe also calls for walnuts, which can make them even healthier. I skipped this part because I wanted my son to eat them and I didn't want to introduce him to nuts yet. Also, his daycare is "nut-free" (though a quick look at their administrative staff might indicate otherwise), so I wouldn't be able to send him in with these for breakfast had I added walnuts. That said, I do think that with walnuts they could be even better. By the way, my little munchkin totally loves these muffins. He wanted to put the whole thing into his month. 🙂
There is no sugar added here either. They are sweetened with with honey. Mine could've used a little bit more honey than the recipe calls for and I think that the reason for this was that while my bananas ripe, they weren't super ripe. So next time I'll add an extra tablespoon of honey to make them a little sweeter. Finally, I poured half a teaspoon of maple syrup on top of each muffin after they were baked. It worked really well.
One rule of thumb here – when you line your muffin pan with the little paper cups, spray them well so the muffins don't stick when they are cooked. I made 2 batches. I didn't spray the first one and muffins weren't easy to remove from the paper. For the second batch I sprayed the paper cups well and they didn't stick at all. Make yourself a batch of these amazing little Banana Chia Bread Super Healthy Muffins and eat as many as you want, guilt free!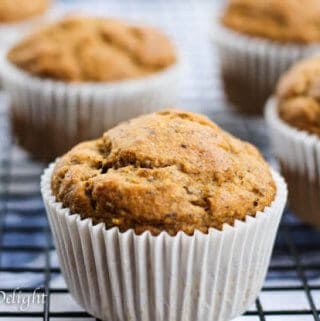 Ingredients
Wet ingredients
1

tablespoon

of chia seeds

1/2

cup

of water

4

ripe bananas

1

teaspoon

of vanilla extract

1/4

cup

of canola oil

5

tablespoons

of honey

(you can add 1 more for a little sweeter muffins)

1

cup

of water
Dry ingredients
2

cups

whole wheat flour

2

teaspoons

baking soda

2

teaspoons

baking powder

1

teaspoon

of salt

1

teaspoon

of cinnamon
Instructions
Preheat the oven to 350F degrees.

In a small bowl mix together chia seeds with half a cup of water and let it soak for 15 minutes.

In the meantime, in a large mixing bowl, add cut up bananas, vanilla, oil and honey and mix well using an electric mixer until there are no lumps.

After chia has swelled, add to mixing bowl and mix well. Add remaining cup of water and mix until smooth.

In a separate bowl using a whisk, mix together dry ingredients and add slowly to the wet ingredients, 1/3 at a time and mix well.

Line up your muffins pan with paper liners and spray them well with cooking spray. Scoop the batter covering 2/3 of each muffin cup.

Bake for 30 minutes.

if you have more batter left, you can bake a second batch.
Notes
My bananas were not super ripe, so they were not as sweet as super ripe bananas can be. Therefore my muffins could have used a little bit more honey. So depending on your bananas, you may want to add extra tablespoon of honey. Also you can add half a teaspoon of maple syrup once the muffins are cooled.