Veal Milanese (or as the Italians call it 'Cotleta Alla Milanese') is a simple Italian dish of breaded veal cutlets, that are coated with flour, egg and breadcrumbs, then fried until golden brown. They can be served with just lemon wedges, or with your favorite topping, or with pasta. 
I love serving my veal cutlets, Milanese style, with this incredible dish of Roasted Fennel with Tomatoes. It can't get any more Italian than that.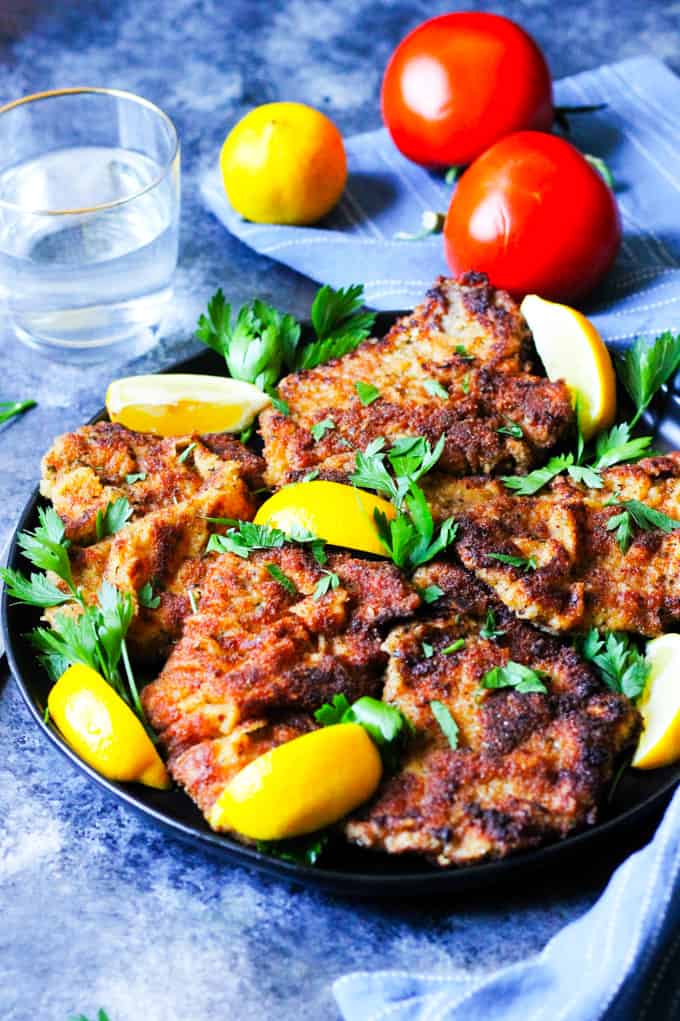 This post may contain affiliate links. I get commissions for purchases made through the affiliate links. You can read my disclosure policy HERE.
What is Veal Milanese
Simply put…Veal Milanese is an Italian breaded veal cutlet. It is one of Milan's signature dishes and its origination dates back to the 12th century.
Italian Veal Milanese is similar to Austrian Weiner Shnitzel and some historians argue which came was first. The concept of the dish is very similar so I don't see a point of arguing.
Anyhow, these breaded veal cutlets are made with flour, egg and breadcrumbs, then fried until golden brown. Historically cooks typically reserved this technique for veal chops, on-the-bone. However, a lot of modern cooks make it with veal, thin cutlets called scallopine.
This recipe for Veal Milanese uses thin veal cutlets, just because they are easier to find and cook faster. But if you'd rather, feel free to use bone-in veal chops; but you will have to adjust cooking time to achieve an accurate veal temperature of at least 145F.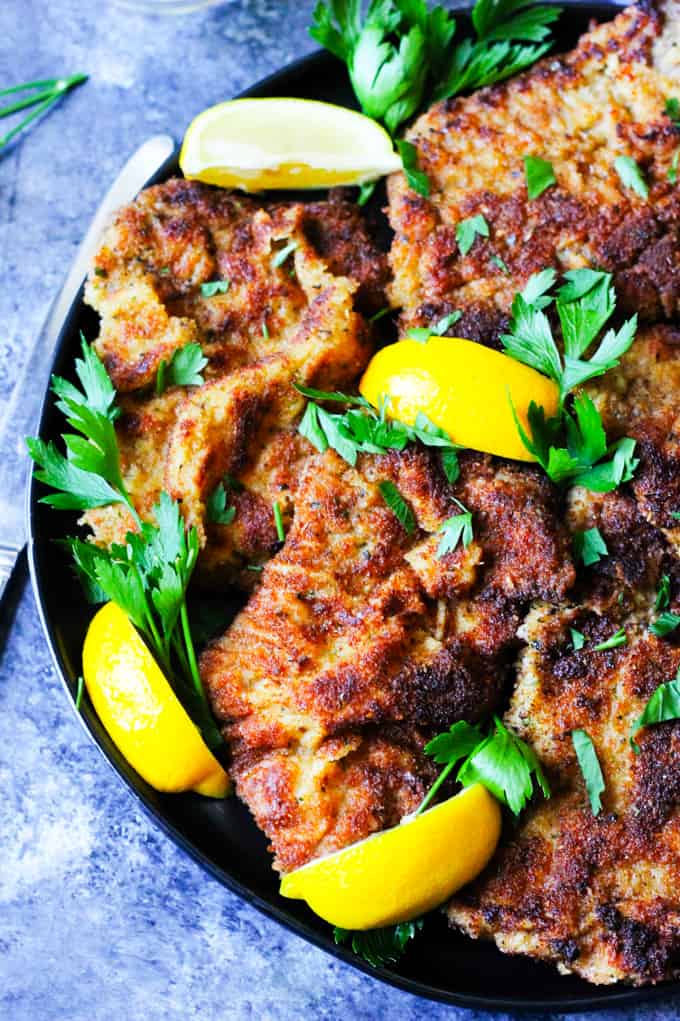 What to Serve with Veal Milanese
These Veal Milanese cutlets are super delicious and they can be served on their own with lemon wedges and maybe a side of good green salad. It can also work with some arugula, tomatoes and mozzarella on top, with a drizzle of lemon juice and olive oil, or even some good Panzanella salad.
For this dish, I made these Veal Cutlets with an incredible mix of Roasted Fennel with Tomatoes and I swear I now refuse to eat it any other way.
However, if you'd prefer, feel free to make your favorite: spaghetti with a marinara sauce, or pasta with vodka sauce, or parmesan orzo, or pesto pasta.
What Ingredients are Needed for Veal Milanese
Veal Milanese is a super simple dish and requires only a handful of ingredients, most of which you probably have in your pantry or fridge:
Veal cutlets (these you most likely will have to buy fresh; I used thin cutlets but feel free to use bone-in veal chops);
All-purpose Flour;
Beaten Eggs;
Italian Breadcrumbs;
Clarified butter or cooking oil (traditionally these veal cutlets were fried in clarified butter, and if you happen to have it use it; but if you don't then you can easily fry them in your favorite cooking oil);
Salt & Pepper, to taste;
Lemon wedges, to serve.
How to Cook Veal Cutlets
Step 1: Prepare your dishes for breading – beat your eggs in a shallow bowl, add flour and bread crumbs to two separate plates.
Step 2: Season your veal cutlets with salt and pepper.
Step 3: Bread all your cutlets – start with flour (shake off the excess), then the egg, and then the breadcrumbs, then set aside.
Step 4: Preheat your oven to a very low temperature of 200F to keep your cooked veal cutlets warm until you finish up all frying.
Step 5: Preheat your cast iron skillet (affiliate link) until hot, add the clarified butter or oil and let it heat up until hot (sprinkle a little bit of breadcrumbs to see if it sizzles).
Step 6: Fry your veal cutlets in batches (don't overcrowd the pan as the oil will lose its temperature and the cutlets can get soggy).
Step 7: Remove cooked cutlets onto a rack with baking sheet and place in the oven to keep them warm.
Step 8: Once all your veal cutlets are fried, place them on a serving plate (affiliate link) with lemon wedges and serve.

Other Italian Recipes to Try:
Read about the author Edyta here or follow Eating European on social media: Facebook, Instagram, Pinterest, and Twitter.