This Polish Mushroom Soup is made with Yukon Gold Idaho® Potatoes and three types of mushrooms: White Button, Baby Bella and dry Porcini. It can be served chunky with a splash of cream; partially blended, for a creamy consistency with some pieces of vegetables; or blended to cream of mushroom type of soup. It's a personal preference so I'll leave it up to you.
I partnered up with Idaho® Potatoes Commission to bring you this amazing Polish Mushroom Soup recipe with the best Idaho® Potatoes.
If you'd like to see my other very popular recipes with Idaho® Potatoes check these out: Greek Lemo Potatoes, Potatoes Boulangere and Spanish Potato Salad with Smoked Paprika and Chorizo.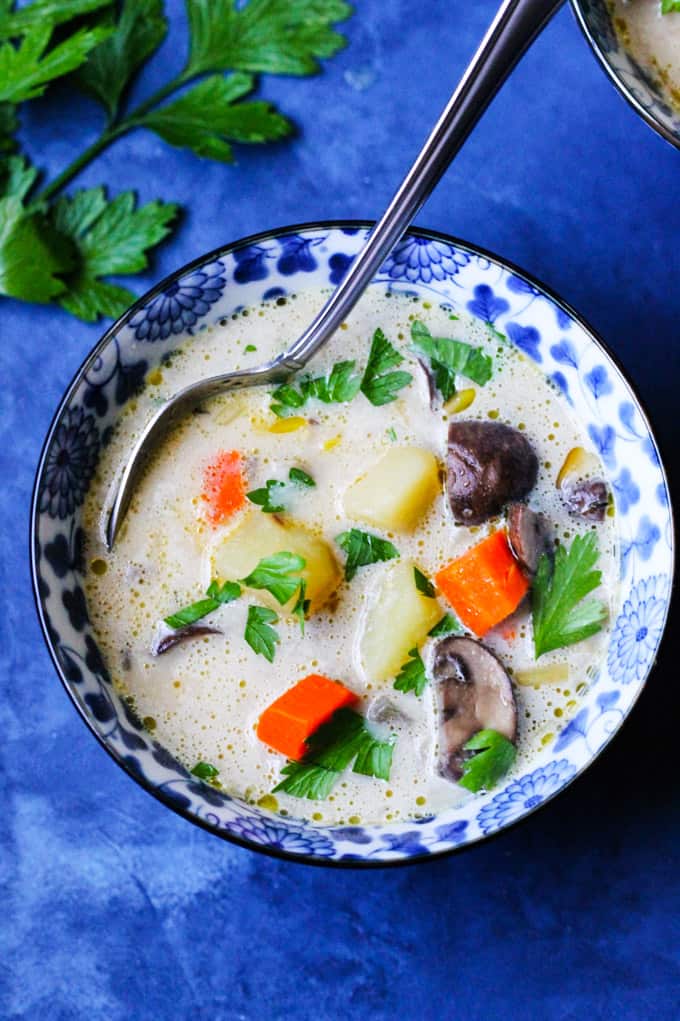 What is Polish Mushroom Soup
As I mentioned in my post for Kapusta (Sauekraut with Mushrooms) there's a huge mushroom picking tradition in Poland come the fall. This is when whole families head into the forest to scout for wild mushrooms. Given, in every family, there's always at least one expert who knows wild mushrooms well and who makes judgment calls as to what gets picked. But if you know what Porcini mushrooms look like you won't have a problem filling your basket with them.
Anyhow once the families have returned with their bounties, they then string them up and dry them over a hot stove so they are ready to be used in the wintertime. In some households, Mushroom Soup (Zupa Grzybowa) is made from dry Porcini mushrooms as part of their Christmas Eve traditions. However, my house forked differently for Christmas; we'd go down the Borscht with Uszka (mushroom pierogi) road. But people make this soup throughout the winter months and not just exclusively for Christmas time.
Another popular Polish mushroom soup is White Buton Mushroom Soup (Zupa Pieczarkowa). In the past, White Button mushrooms were the only variety of mushrooms that were available to purchase in the market. So unless you had dry porcinis in your pantry, you'd make this soup if you needed a fix for a homemade mushroom soup.
For this recipe, I decided to merge both worlds and I used White Button, with dry Porcini and also some Baby Bella mushrooms (the more the merrier). Because of the abundance of mushroom types in the stores, you don't have to limit yourself to any particular kind. In fact, use as many mushrooms as you'd like.
One very unique distinction about Polish soups is that they're served chunky. Nobody makes creamy soups in Poland, unless they're made for babies. Yet, this is a personal preference, so feel free to blend the whole thing, or just some of it, for a different texture. In our household we cover the spectrum: I love my mushroom soup chunky, my husband partially blended with some chunks in it, and both of my boys will not touch any soup unless its smooth and blended to perfection. So, I serve this soup to my family according to their preferences.
Why Idaho Potatoes and Which Ones Are The Best for this Homemade Mushroom Soup?
I love using Idaho® Potatoes in my cooking. For this soup, I chose to use Yukon Gold Idaho® Potatoes for their buttery flavor and yellow flesh. But if you happened to have other types of Idaho® Potatoes they could work well in this soup too.
If you want to know more why I used Idaho® Potatoes, read it here and if you want to have some fun take a quiz to find out what kind of potato are you. Apparently, I'm a classic baked potato (I'll take it). I could eat it for breakfast, lunch and dinner.
What Ingredients Are Needed for this Polish Mushroom Soup Recipe?
Here's your grocery list… For a full list of ingredients with the appropriate amounts, scroll down to the printable recipe card.
Fresh mushrooms (White Button and Baby Bella) – you can add other types of mushrooms as well;
Dry porcini mushrooms – these will need to soak for at least an hour or, better yet, overnight to get rehydrated. So if you'll be using them for your soup then you'll need to give them a headstart;
Leeks – These are used for every Polish soup. I like to saute them first to bring out the best flavor;
Carrots;
Celery – I used celery stalks, but in Poland you'd use celery root (also called celeriac). I'd like to but it's not easily available in the U.S., so don't stress it and feel free to use celery stalks instead;
Yukon Gold Idaho® Potatoes – You can read in the paragraph above why I use them in this recipe;
Whole peeled parsnip;
Onions – sweet Vidalia onions or yellow Spanish onion would work best here.
Mushroom broth – if you can't find it then use vegetable broth or chicken broth (sometimes supermarkets carry mushroom bouillon in cubes so you could use that too to enhance the mushroom flavor, but that's optional. Mushrooms will add a lot of flavor to the soup already);
Heavy cream, to add smoothness and creaminess to the soup;
Freshly chopped parsley;
Clarified butter, or olive oil, to saute veggies and mushrooms with onions;
Salt and Pepper, to taste.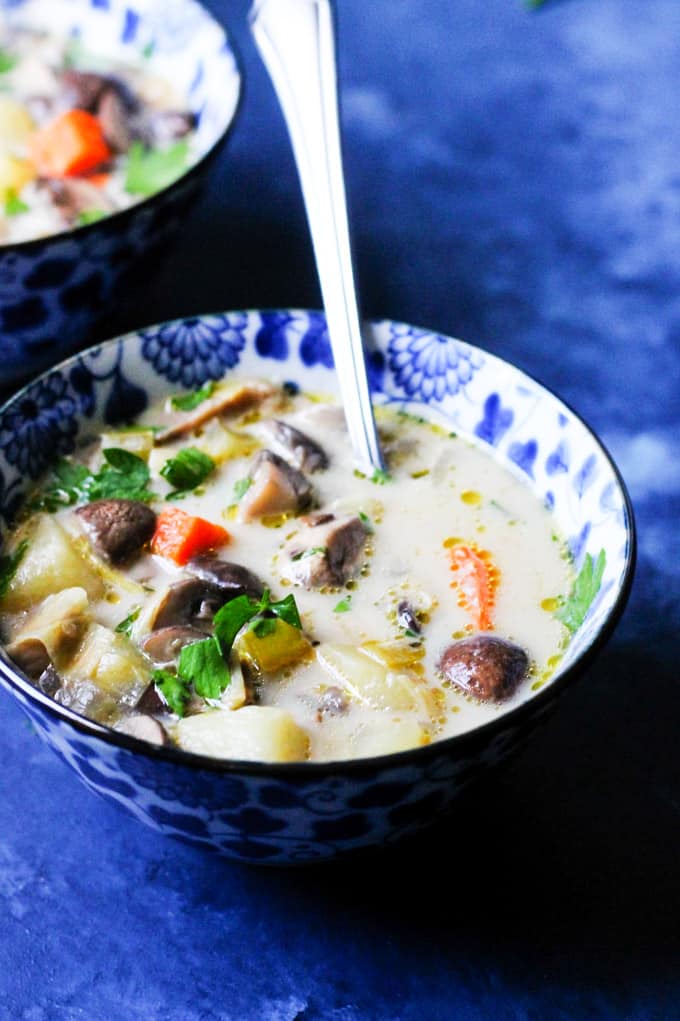 How to Make Polish Mushroom Soup
There are few steps involved in making this Polish Mushroom Soup. Some of them are optional depending on whether you want to use dried mushrooms or only the fresh ones.
Step 1: Preparing Dry Porcini Mushrooms (Optional)
If using dry Porcini mushrooms, you'll need to place them in a pot of water and then let them sit for at least an hour, or better yet…overnight.

Then you will need to bring them to boil and cook for approximately an hour, until they're tender.

So, if you decide to use dry mushrooms you'll need to give them a head start.
Step 2: Making a Broth
I may be deviating here from the tradition of making Polish soups, where veggies are cooked directly in the water. Rather, I decided to make them a little sweat by sauteing them in clarified butter. This technique adds a tone of flavor to your broth.
So first, heat some clarified butter or oil in a soup pot;

Then add leeks and cook them for a few minutes. Then carrots, celery, and Idaho Potatoes, and let them saute for another couple of minutes;

Then add mushroom broth; cover and let them cook for about 20 minutes.
Step 3: Sauteing Fresh Mushrooms
Chop your onions; wash mushrooms and slice them.

Preheat some clarified butter, or oil, in a pan and then add chopped onions. Saute them for a couple of minutes, until translucent.

Add sliced mushrooms and let them cook for about 10-15 minutes. Then season them with some salt and pepper and cook for few more minutes.
Step 4: Putting it All Together
Add mushrooms with onions to the broth.

If using dry mushrooms, remove them gently with a slotted spoon onto the cutting board and roughly chop them (it's important not to stir the mushroom water, as the sand from the mushrooms has sunk to the bottom of the pot. You can also use some of that mushroom water and add into the soup, but make sure to take it mostly from the top of the pot and pour it through a strainer.

At this point you can remove the parsnip from the soup; cover and cook together for another 10 minutes.

Then add heavy cream.

You can serve it chunky, partially blended, or fully blended, according to preferences.

Sprinkle fresh parsley and enjoy!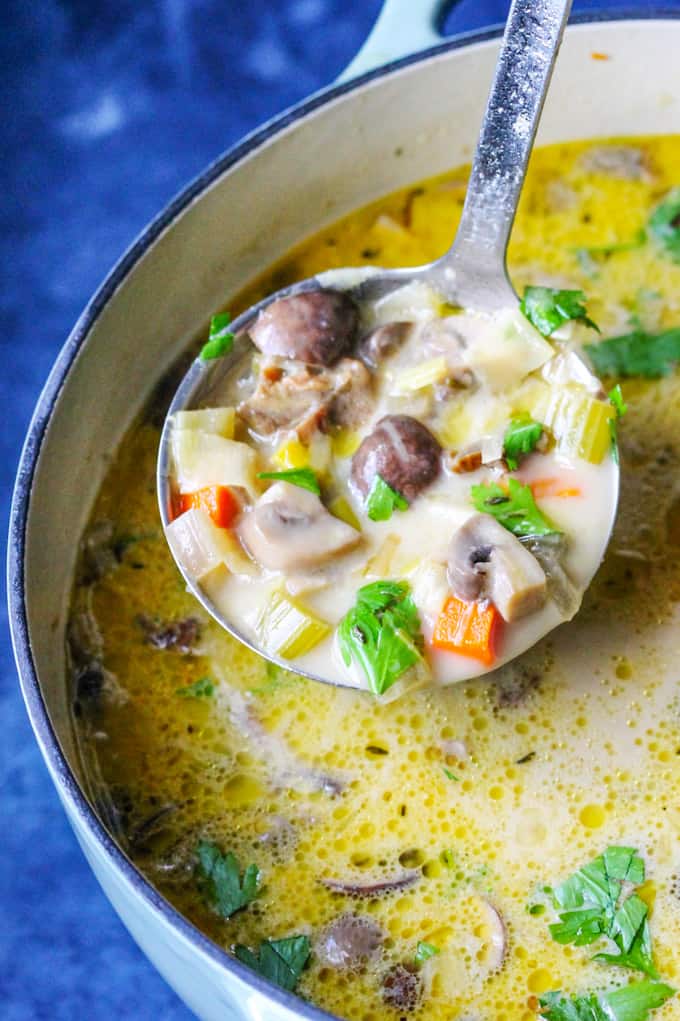 Other Delicious Soups to Try
Hungarian Mushroom Soup with Dill
Truffled Butternut Squash and Mushroom Soup
Read about the author Edyta here or follow Eating European on social media: Facebook, Instagram, Pinterest, and Twitter.