Brussels Sprouts Soup is an amazing dish that can be served from the end of summer throughout the cold winter months. It's very easy to make and tastes delicious. It can be served chunky or creamy, depending on your preferences, and accompanied with a piece of crusty bread. 
If you're looking for more Brussels Sprouts recipes check these two super popular recipes: Balsamic Glazed Brussels Sprouts with Bacon, and Cheesy Brussels Sprouts with Gruyere and Bacon.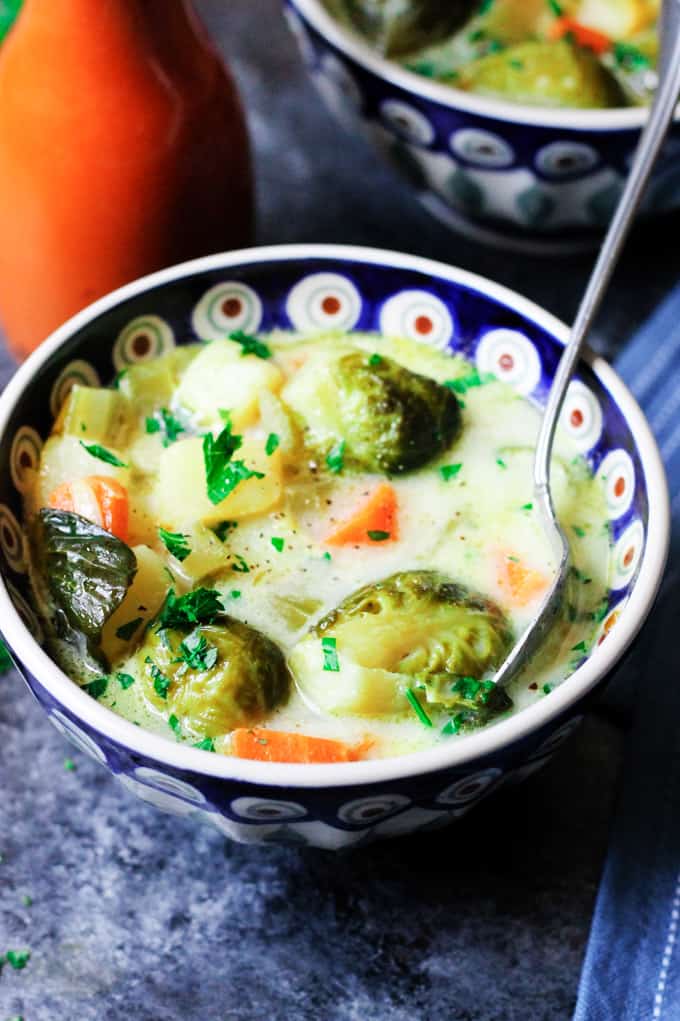 This post may contain affiliate links. I get commissions for purchases made through the affiliate links. You can read my disclosure policy HERE.
Brussels Sprouts Soup – a perfect meal from late summer, through the cold winter
The Brussels Sprouts pick season is from September to late February. I usually find them most plentiful in the farms on Long Island right around the same time as apples are in season. They're known for their slightly bitter taste. But the later into the season the sweeter they become. Apparently, Brussels Sprouts like to be touched by the frost.
Therefore this Brussels Sprouts Soup can be enjoyed anytime, for almost half of the year. It's a super easy recipe that my mom used to make all the time. Personally, I love it chunky, because this is how I grew up eating all soups; but my kids like it creamy, so I blend some of it for them. Feel free to go either way.
It may be hard to believe that my kids actually eat Brussels Sprouts. I know. For those who follow this blog, you know this is even more implausible because they are very picky eaters. As a result, I always struggle with getting healthy veggies into them. Soups are one of the very few successful vehicles I've had to hide veggies in. Perhaps it was my persistence with my first son that he eats a bowl of soup every day, that they're both accustomed to Mom's colorful soups. Or perhaps kids just dig the consistency. Either way, I always make certain that it's tasty and smooth.
One of my older son's favorites is this Creamy Spinach Soup. My little guy spits up everything that has any texture that doesn't agree with him. That means 0 vegetables! But, then he sees his older brother eating a bowl of soup and he goes for it too. I consider this a huge success. They both eat healthy portions of this Brussels Sprouts soup.
(*insider secret: juicing is also a tremendous way to sneak veggies into your little people)
If you are a fan of Brussels Sprouts, bookmark this recipe because you'll reuse it often.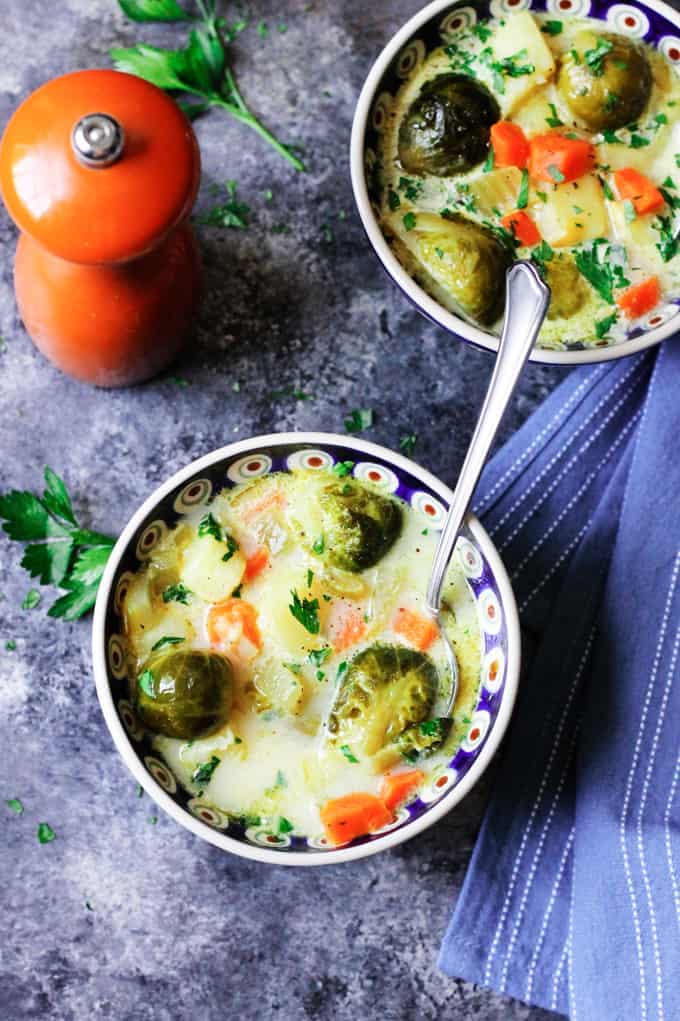 Ingredients Needed to Make Brussels Sprouts Soup
For a full list of ingredients with measurements, scroll down to the printable recipe card.  
This is one of those recipes that require only a handful of simple ingredients and it comes out absolutely delicious. Here's your grocery list:
Brussels Sprouts;
Leek;
Potatoes;
Carrots;
Celery;
Parsnip;
Olive Oil, or butter;
Broth (Chicken or Vegetable);
Heavy Cream;
Salt and Pepper, to taste;
Parsley to garnish.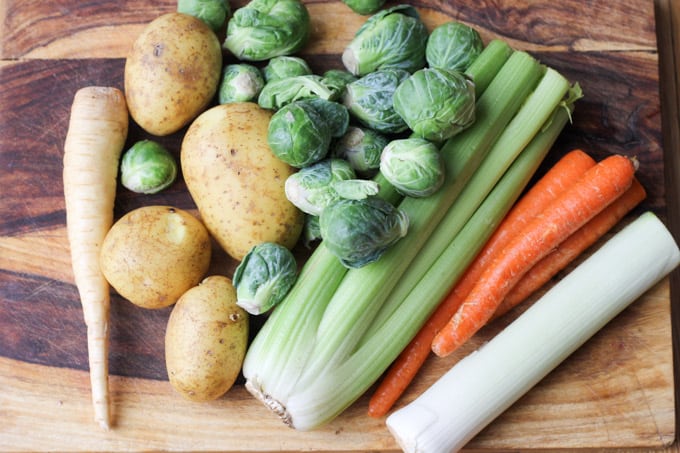 How to Make Brussels Sprout Soup
For full instructions and nutritional values please scroll down to the printable recipe card.
Prepare your vegetables: 

Peel and chop carrots;
Clean and chop your leek;
Peel and cube the potatoes;
Clean and chop celery;
Peel the parsnip (I use it whole and discard it at the end of cooking because I don't care for its taste, but feel free to chop it like carrots and leave it in the soup);
Wash your Brussels sprouts, discard outer leaves, gently trim the ends (you can leave them whole or cut them in halves, making sure that stem is intact so they don't fall apart in the soup).

Cook the Soup:

In a Dutch Oven or other pot with a lid, heat up butter or olive oil;
Add leeks and cook for a few minutes;
Add carrots, celery, and cook for another couple of minutes;
Add Brussels Sprouts, potatoes and parsnip;
Pour in the broth, cover and cook for about 20 minutes, until all the veggies are cooked.
Finish up the Soup:

Pour the cream into a cup and slowly add some of the soup broth to temper the cream;
Once you have a full cup of liquid, pour it over into the pot;
Check for seasoning and adjust with salt and pepper;
Garnish with parsley and serve.
For more intense flavor, drizzle some extra virgin olive oil and few drops of lemon juice into each bowl
You can also add some Maggie seasoning if you can find it (In Poland we use it all the time and I can find it in Polish specialty stores, but you can also get it on Amazon at the link above).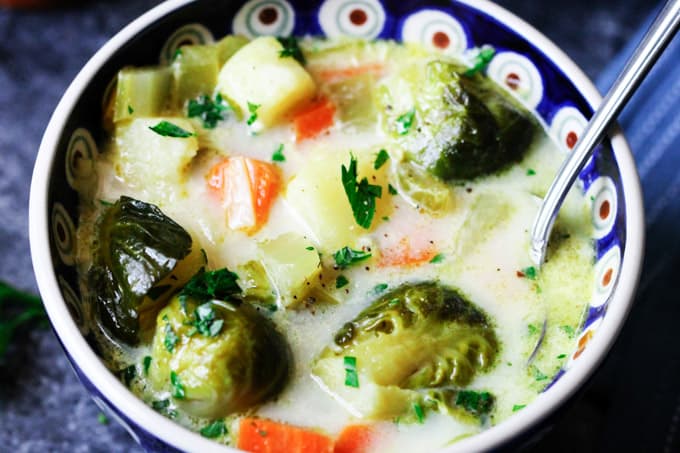 Ways to Alter this Recipe
Vegan: you can easily make this recipe vegan by:

using olive oil and not butter;
skipping the cream;
for a thicker consistency, you could blend some of the soup.

With Meat:

Brussels sprouts go hand in hand with bacon, so you could fry up some bacon, chop it, and then add it to the bowls for serving;
Another good meat option would be seared, cubed ham; or seared kielbasa, or other sausages.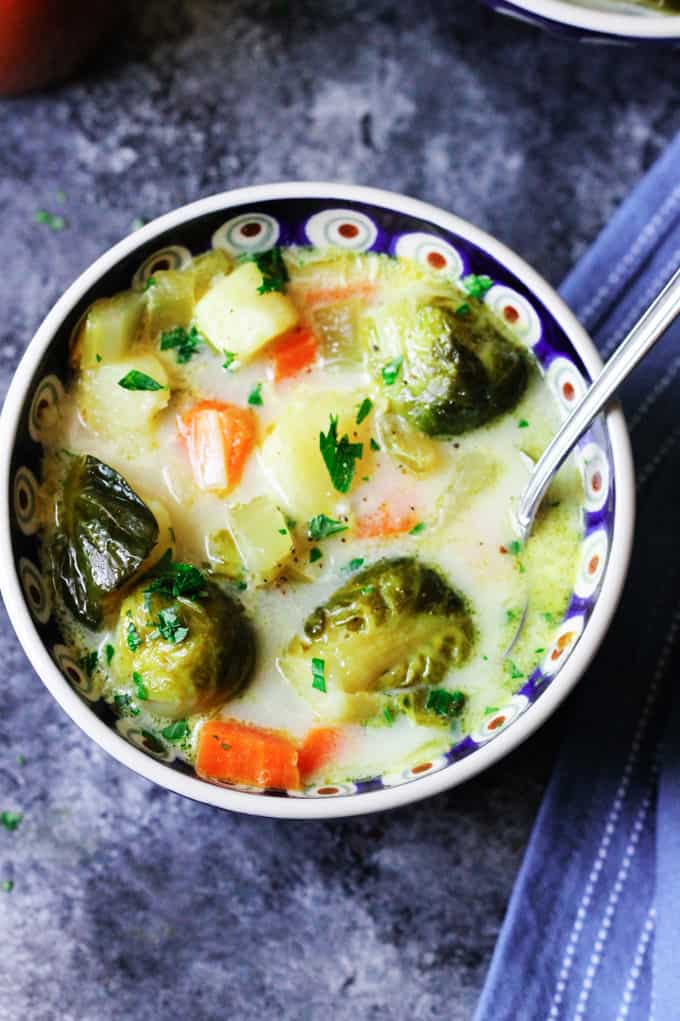 How to Serve Brussels Sprouts Soup
In Poland, we eat soups as a first course of dinner, followed by the main dish that would usually involve some sort of meat with potatoes and veggie on the side.
However, nowadays I like to eat my soups for lunch with a toasted piece of good bread or baguette. It could also serve as a vegetarian dinner with a piece of bread and salad.
You could serve it chunky as I did here. Or you can blend it for a creamier version. If you want your soup chunky but a little thicker, you could pour a couple of ladles into a blender, blend it and add it back to the pot.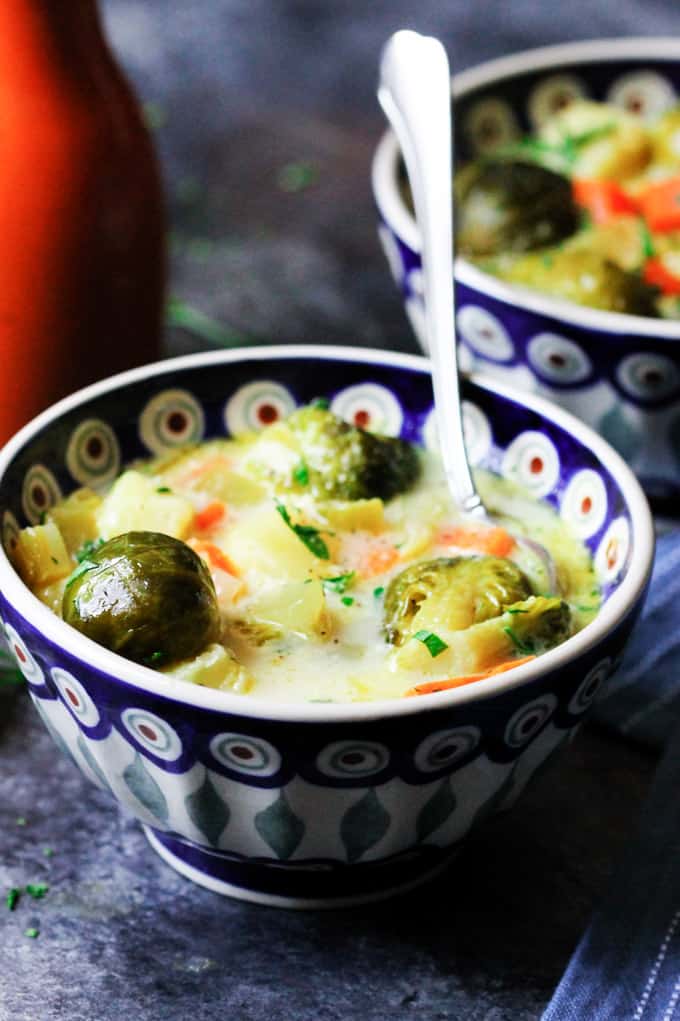 Other Delicious European Soups to Try:
Read about the author Edyta here or follow Eating European on social media: Facebook, Instagram, Pinterest, and Twitter.