This post may contain affiliate links which won't change your price but will share some commission.
This Dill Pickle Soup (or "Zupa Ogorkowa" in Polish) is the most popular Polish soup of them all. Here, you will find a traditional Polish recipe for pickle soup. For some, it may sound strange, but if most Polish kids love it, then there must be something to it.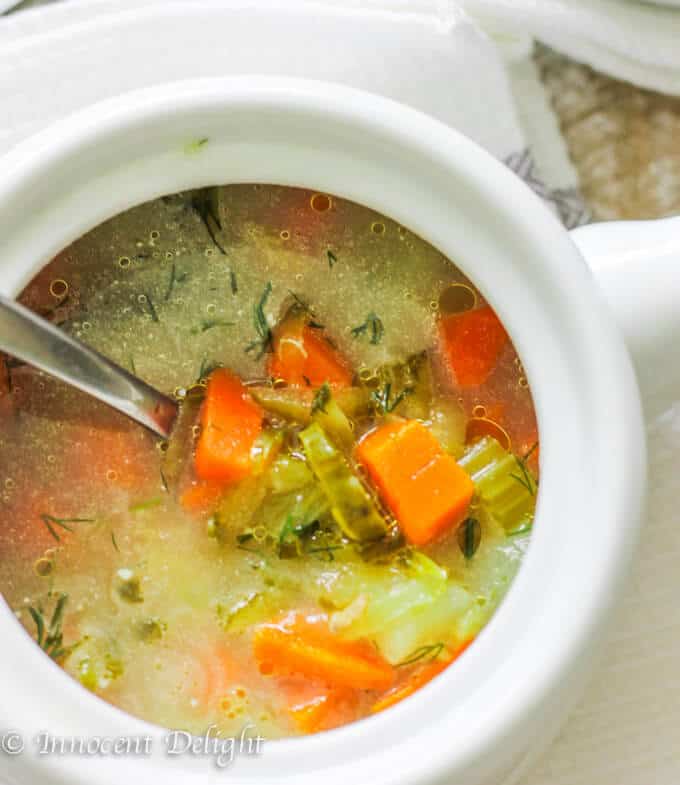 This post may contain affiliate links. You can read my disclosure policy here.
Polish Pickle Soup

Special Ingredient

I lived in Poland for the first 29 years of my life and literally, I had never heard of a person that wouldn't like a dill pickle soup. It has a tang, but that tang is tempered by the cooked pickles. Some might perceive this soup as having a sour broth, but really it is super mild with a little backend tang.

In fact, you can actually control the sourness of this soup and accommodate different palates. If you like more then mild tang, then you can always adjust it with the pickle water.

However, there is one very important thing that I need to mention right at the start: You CANNOT use pickles in vinegar for this Polish pickle soup. Translation, that means that most of the stuff that you find in a regular supermarket will not work.

The pickles have to be in a brine. You will need to read the ingredients. If they have vinegar in it, do not buy it for this soup. I always buy mine from a little Polish grocery store, but I've found that most good Jewish delis have pickles in brine as well. You can find the Polish Pickles Salted in Brine on Amazon (affiliate link – please read below)
On the below photo you will see the jar with pickles that I usually buy for my soup. I am not affiliated with this company and I do not receive any compensation for showing you their product. I just love these pickles and use them all the time. But I think that any cucumbers in brine would work for this recipe.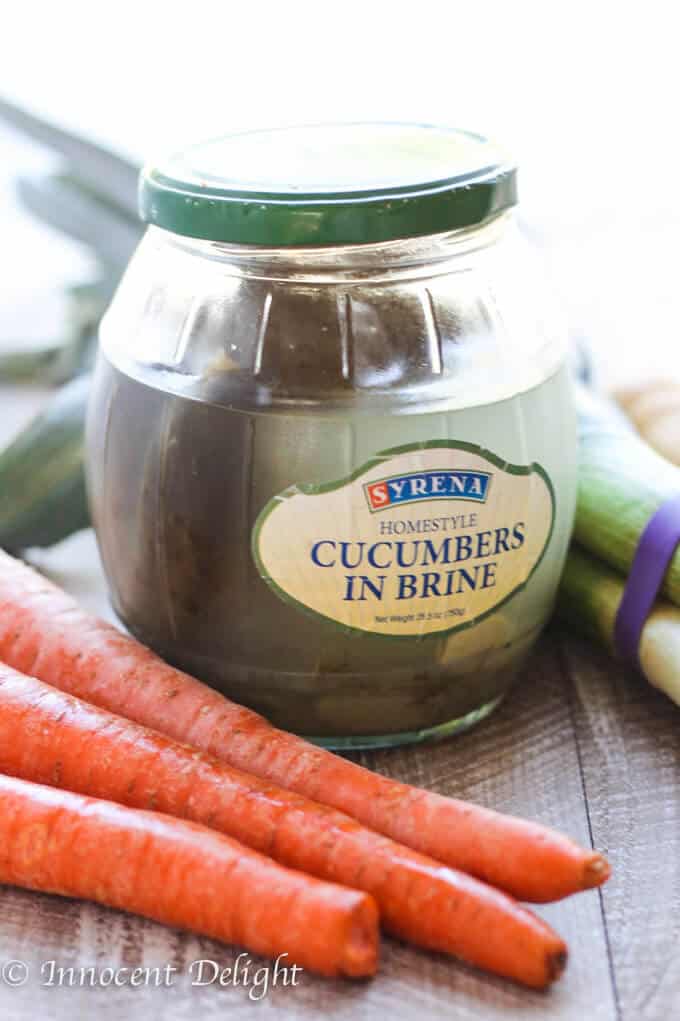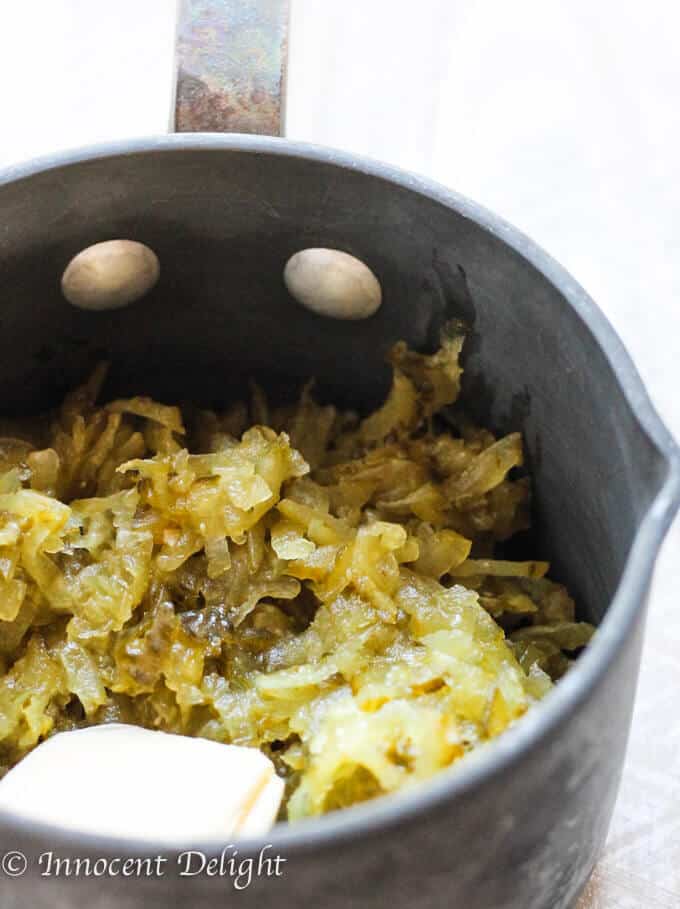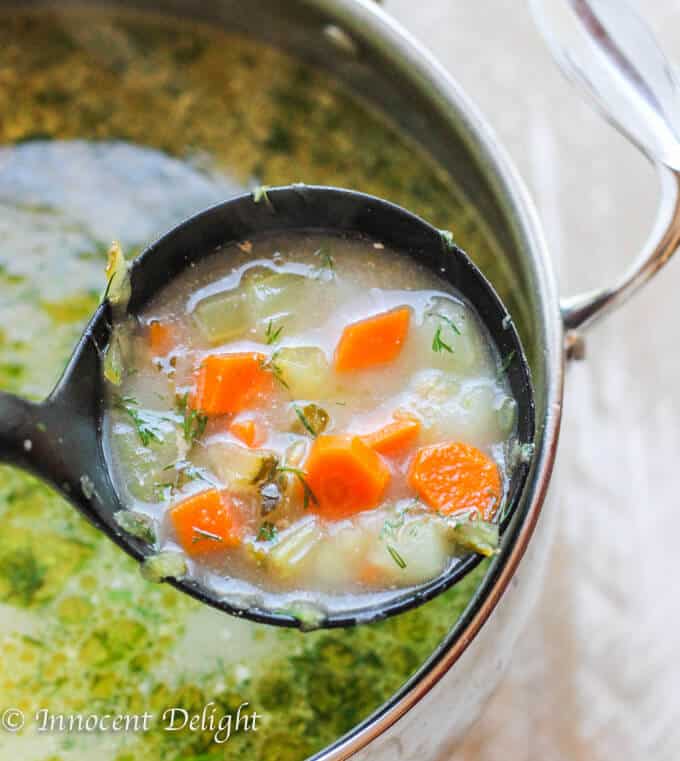 How to make Pickle Soup
Now, obviously every Mom and Grandma from Poland would tell you that their soup is the best and the most authentic, but I think that all of them taste amazing and they do not differ much in terms of ingredients and cooking methods. One distinguishing characteristic thing about Polish soups is the fact that they are ALL made based on a meat broth.
So you start every soup by putting a piece of meat on the bone into the pot, add veggies, salt, spices and let it cook for a while.
For this pickle soup, the traditional meat is baby ribs. You can cut a couple of ribs from the rack and add to the pot (throw the rest in the crockpot and you'll have another dinner :). That's exactly what I used in this recipe.
But any meat on the bone would work (it can be chicken corpse, or legs, or a piece of beef on the bone). I'm referring a lot to the meat on the bone because it actually makes the best broth. And if you use good quality meat it's also super healthy. But the beauty of this soup is that you can actually make it vegetarian or even vegan.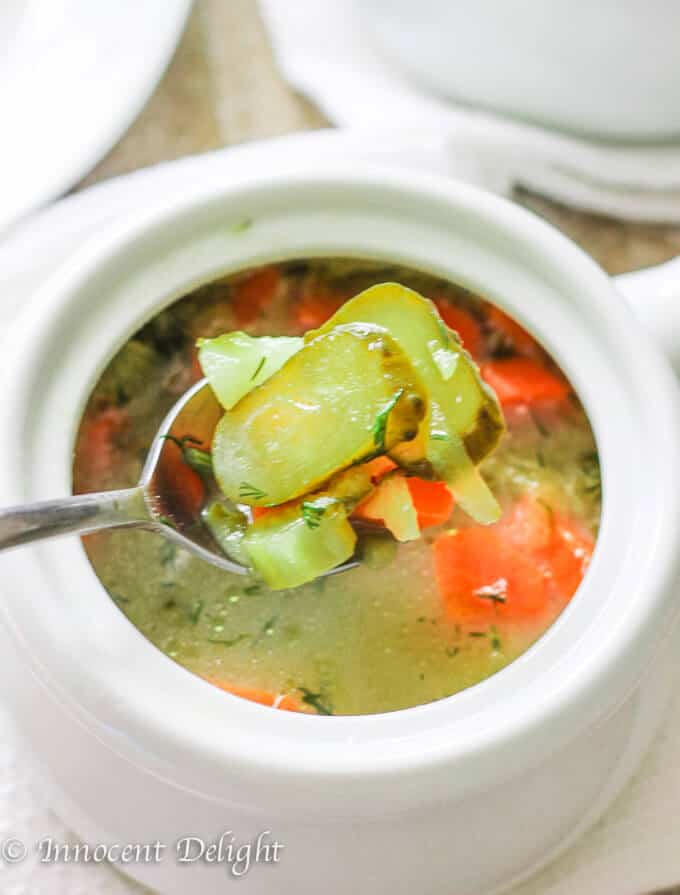 Vegetarian Version of Dill Pickle Soup
If you want to make this dill pickle soup the vegetarian way: I would suggest:
first sautéing veggies (without pickles),
add a tablespoon of butter first (it will make them super fragrant),
then add the vegetable stock, season it and cook until veggies are done.
From there, follow with the rest of this recipe.
Important Tips for Making this Polish Pickle Soup
Traditionally this soup needs to be finished with a dollop of sour cream (you can use heavy cream instead if that's what you prefer). If you want to go vegan, simply sauté veggies in some olive oil (or other oil of your choice) and skip the cream.
TIP: One more super important trick to keep in mind when you're cooking this soup is that you'll have to cook the pickles separately and then mix them into the broth at the end. Cooking everything together is the most common mistake made by young Polish cooks.
I made this mistake myself when I was in my early twenties, and my soup (although the taste was delicious) was weird and far from what my mom used to make. All my veggies were sort of hard and crunchy and they should have been soft.
I had no idea what I did wrong. I called my mom and told her that my pickle soup was off. The first question that she asked me, was whether I cooked pickles in the broth. I proudly said 'I did,' and she quickly responded by saying 'that was exactly what I shouldn't have done.'
Pickles are sour and potatoes, carrots, and other root vegetables will not cook well in a sour water… Who knew? I didn't make this mistake ever again. So, now I cook my broth separately and I sauté pickles with a tablespoon of butter first, and then add a little water and let them cook for a half hour or so.
What Makes Polish Soups Different
Another distinguishing fact about Polish soups is that they're also chunky. Traditional Polish soups are never blended. There may be some new soups with foreign influences that will be blended or creamed, but traditional soups are chunky with all the root veggies cut up and cooked well in a broth.
If you want to make this pickle soup creamed, go ahead and use your blender. My son loves it this way.
Conclusion
So I've heard recently that Americans love their pickles. If you one of them then I encourage you to try this traditional Polish dill pickle soup. It will not disappoint you! 🙂
Also, I've been asked by several of my readers, who are Polish but were either born abroad, or are a second/third generation of Polish ancestors, or simply know and love Polish cuisine, to share some more traditional Polish recipes. I really appreciate this feedback and I am definitely making a purpose to post more Polish dishes. Today I present to you my absolute favorite soup: the best Polish dill pickle soup recipe. But if you are looking for some other traditional Polish Dishes you may like: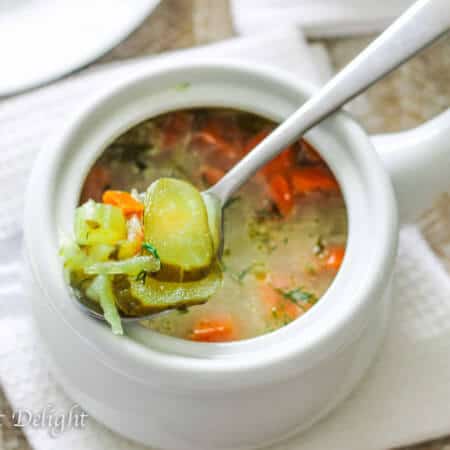 Dill Pickle Soup
Dill Pickle Soup - traditional Polish Recipe aka Zupa Ogorkowa. The most popular Polish soup of them all. For some, it may sound strange, but if most Polish kids love it, then there must be something to it.
Print
Pin
Rate
Ingredients
1/2

baby pork ribs

8

cups

stock

or water

4

carrots

, chopped

2

parsnips

small, chopped

2

leeks

small, chopped

2

celery stalks

, chopped

4

potatoes

medium, chopped

3-4

pickles

large, shredded

2

bay leaves

5

allspice berries

3

springs

parsley

1

tablespoon

dill

chopped

1/2

tablespoon

butter

(for vegan version use oil)

1/4

cup

sour cream

or heavy cream (optional)

1

tablespoon

flour

(optional)

1

cube of chicken or vegetable bullion

(optional, you can just use salt and pepper)

Salt and pepper for taste

Water from cucumbers in brine

(this can be used to adjust taste of the soup)
Instructions
In a soup pot place baby ribs and cover with water or stock

Add leeks, parsnips cut in a half (you will want to remove them once the soup is cooked)

Add chopped carrots, celery and potatoes

Add parsley springs, bay leaves, allspice

Cover and cook until meat is cooked and veggies are soft

You can add some salt and pepper at this point but be prepared to finish seasoning once the pickles are added to the soup

In a separate sauce pan melt the butter and add shredded pickles

Cook for about 5 minutes

Add as much water to only slightly cover the pickles and cook for another 15 minutes

Once everything is cooked and soft, add pickles to the broth

At this point you should adjust seasoning with salt, pepper and optionally with water from the cucumbers brine

You may want to remove parsnip and leeks so they are not getting in your way

In a cap add cream and optionally flour (I skipped flour for my version) and mix together

Start adding a little bit of soup into this cap and mix well

Repeat this until you almost have the whole cap of soup with cream mixture

Then just pour it into the soup and mix well

Add dill and serve immediately
Notes
Because the soup is sour you don't want the cream to separate. That's why it is important to add a little hot soup to the cup with cream and mix it a little bit at the time. This will work well and your cream will not get separated.
Nutrition
Calories:
317
kcal
|
Carbohydrates:
31
g
|
Protein:
20
g
|
Fat:
12
g
|
Saturated Fat:
3
g
|
Cholesterol:
68
mg
|
Sodium:
1267
mg
|
Potassium:
1051
mg
|
Fiber:
6
g
|
Sugar:
6
g
|
Vitamin A:
6160
IU
|
Vitamin C:
24.2
mg
|
Calcium:
110
mg
|
Iron:
5.1
mg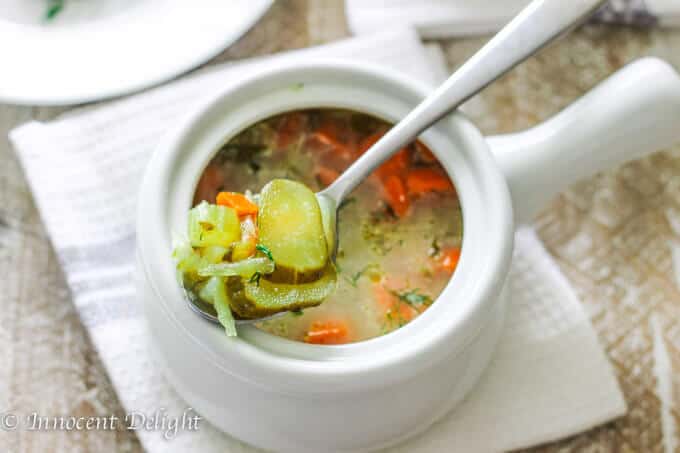 Disclaimer: This post may contain affiliate links which won't change your price but will share some commission. I only recommend what I like and use. Please only purchase what you need.
Check these other popular soups recipes:
Read about the author Edyta here or follow Eating European on social media: Facebook, Instagram, Pinterest, and Twitter.
[mc4wp_form id="6774″]