This post may contain affiliate links which won't change your price but will share some commission.
Let me introduce you to this delicious, healthy and crunchy, fall rainbow carrot apple slaw. This is a famous Polish side dish, which includes the best seasonal apples, rainbow carrots and luscious French Vinaigrette. This can serve as a perfect side dish. It can also be paired with many entrees and comes together in no time. Also, did I mention that all these fall colors just look gorgeous together?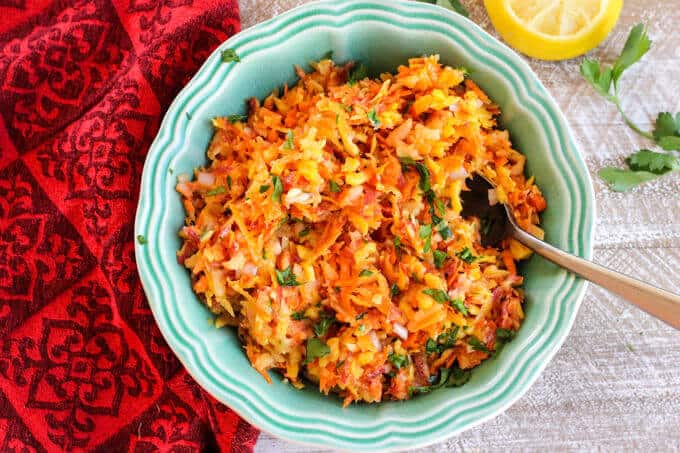 The steps to make this amazing Rainbow Carrots side dish are as follows:
Buy both gorgeous rainbow carrots (I get mine in Trader's Joe) and the best seasonal crunchy apples (like Honeycrisp)
Shred the carrots and apple into a bowl
Make a French Vinaigrette:

Chop one small shallot and add to a small mason jar
Add one tablespoon red wine vinegar
Add 3 tablespoon of olive oil (I always use 1:3 ratio for vinegar to oil)
Then add 1 teaspoon of dijon mustard
Next add 1 teaspoon of maple syrup to balance out the vinegar
Finally, add salt & pepper and mix it together

Pour the French Vinaigrette over the shredded carrots and apple. Mix well. Then, sprinkle with parsley and serve.
And that's how simple this carrots apple slaw is.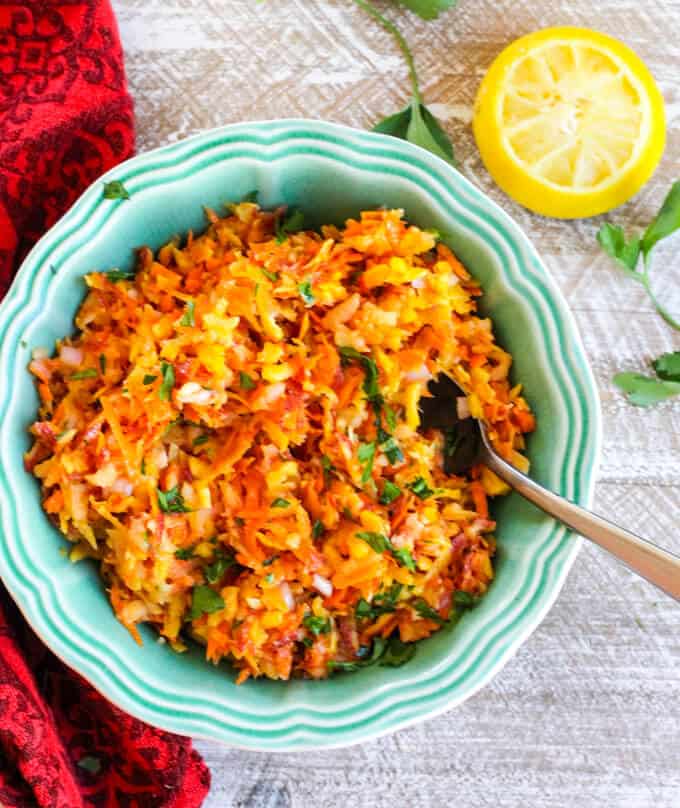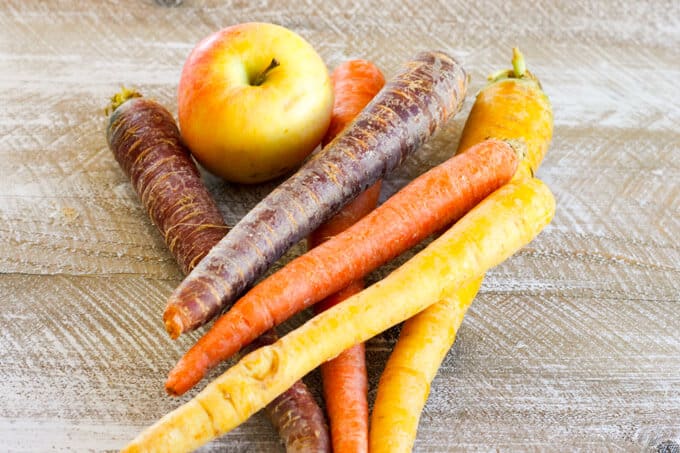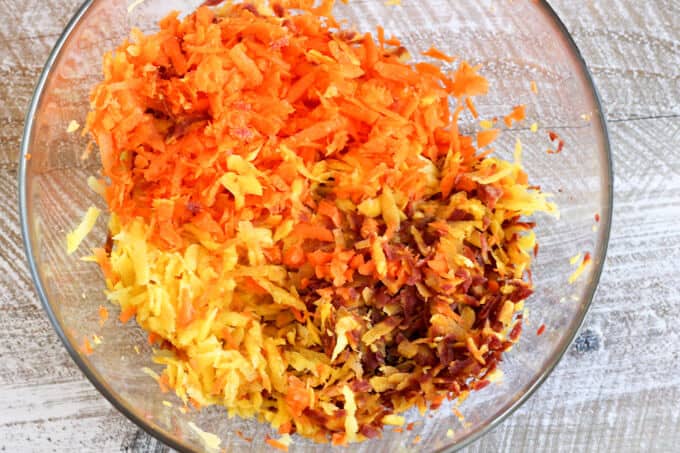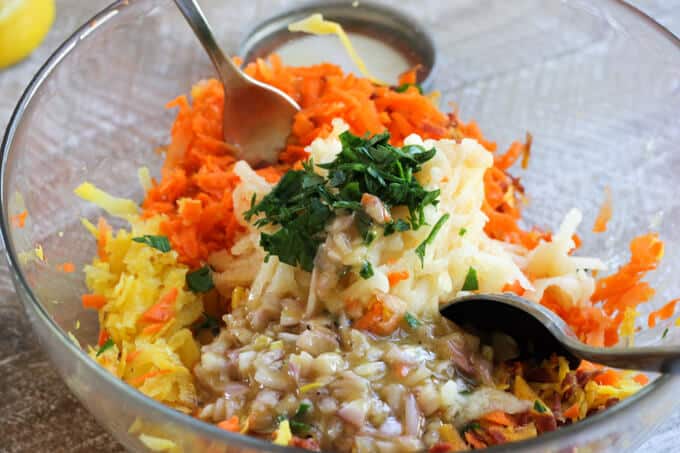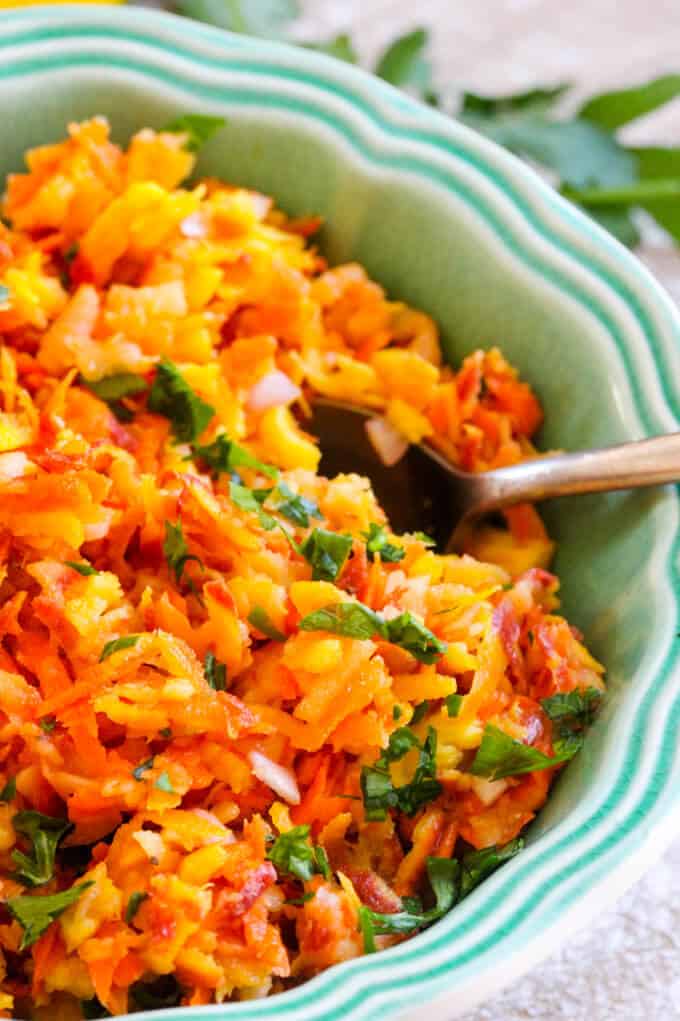 Easting Seasonally
When I was growing up in Poland, we didn't have a lot of vegetables to chose from. Actually everything was seasonal; meaning you couldn't get tomatoes in a middle of winter – no matter what. I guess fruits and vegetables weren't imported at that time.
So, in the winter we would have all kinds of "slaws" as a side dishes for dinner, like: white cabbage slaw, red cabbage slaw, sauerkraut slaw, root celery slaw, cooked beet slaw or carrot and apple slaw. Obviously, because of the little sweet flavor, the carrot and apple slaw was all kids' favorite.
What to serve this slaw with
And if your kids are eating raw carrots (mine is not, unless it's in a form of juice like in this Carrot and Apple Juice) then I assure you that they will like this combination. Just give it a try and let me know how your family likes it. You can serve it along side the Super Easy European Style Potato Pancakes, or  Moroccan Spiced Beef Stew or these Skinny Stuffed Cabbage Rolls.
French Vinaigrette
French Vinaigrette is my addition. In Poland it would be served with just a little bit of oil and vinegar, but for me French Vinaigrette is super delicious and pairs perfectly with this dish. I'm adding a little bit of maple syrup to my vinaigrette, to balance out acidity from the vinegar. I learned this trick from an excellent book: "French Kids Eat Everything" by Karen LeBillon. Not that my son eats like French kids, but I do love the idea and hope that one day he will become a 'foodie.'
Anyways, enjoy this wonderful rainbow carrots apple slaw with French Vinaigrette as a perfect fall side dish for your next dinner.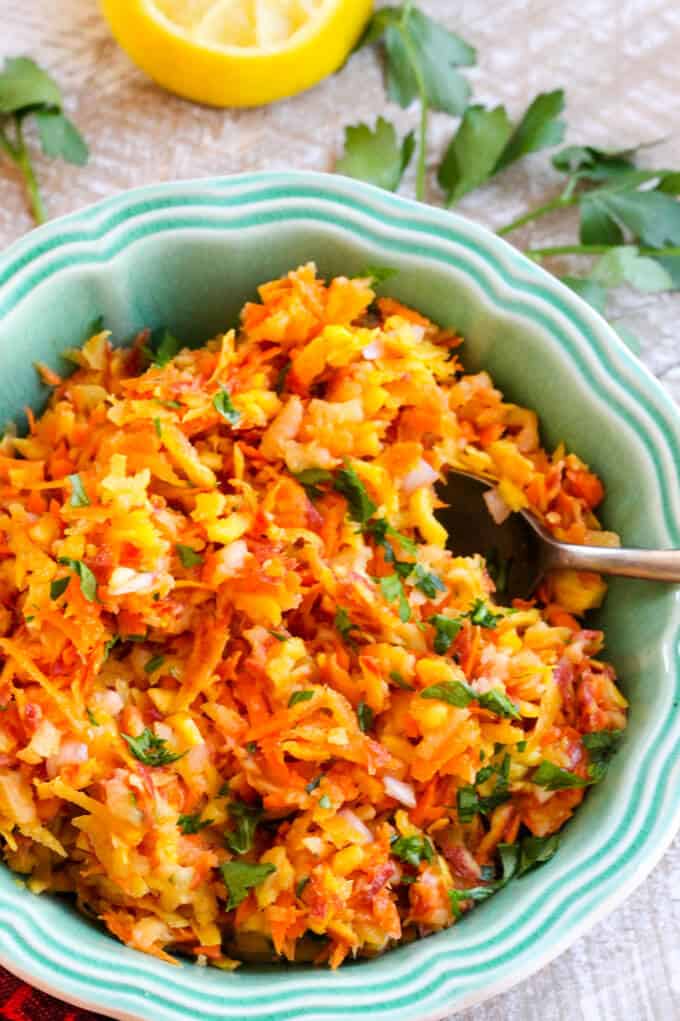 If you're looking for more Polish recipes you may like these:
Polish Cucumber Salad – Mizeria
Dill Pickle Soup – Zupa Ogorkowa
Breton Beans (Fasolka po Bretons)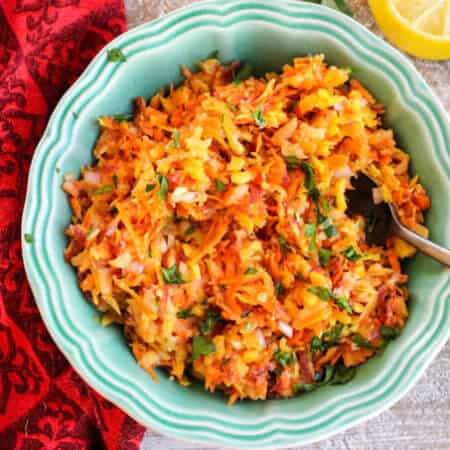 Ingredients
For the slaw:
3

rainbow medium carrots

, one in each color, peeled

1

apple

, peeled
For the French Vinaigrette
1

small to medium shallot

, chopped

1

tablespoon

of red wine vinegar

3

tablespoon

of olive oil

1

teaspoon

of dijon mustard

1

teaspoon

of maple syrup

Salt and freshly ground pepper

chopped parsley for garnish
Instructions
Shred carrots and apple into a bowl

In a mason jar mix together all French Vinaigrette ingredients

Pour vinaigrette over the carrots and apple

Mix everything together

Check the seasoning, if needed add more salt and pepper

Garnish with parsley and serve as a side dish
If you like this recipe you my also like these Polish side dishes:
New Dill Potatoes with Scallion Cream Sauce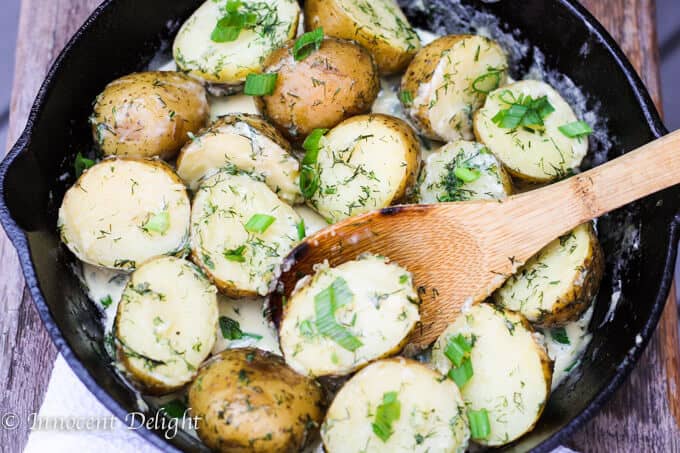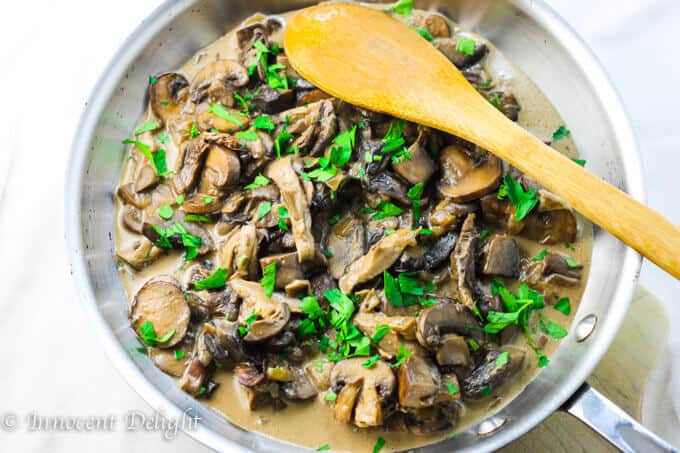 Easy European Style Potato Pancakes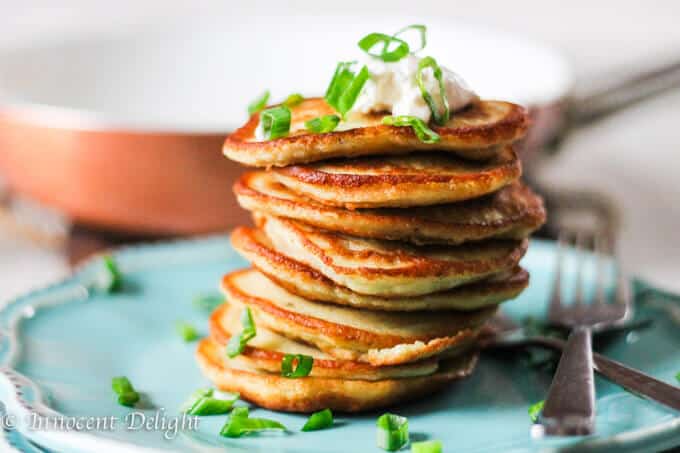 Or these main dishes, that you can pair the Rainbow Carrots Apple Slaw with:
Authentic Polish Pierogi with Potatoes and Cheese