This post may contain affiliate links which won't change your price but will share some commission.
Lentils Stuffed Acorn Squash with apples, dried cranberries and thyme is a perfectly balanced vegetarian dish that combines all of your favorite fall flavors in every bite.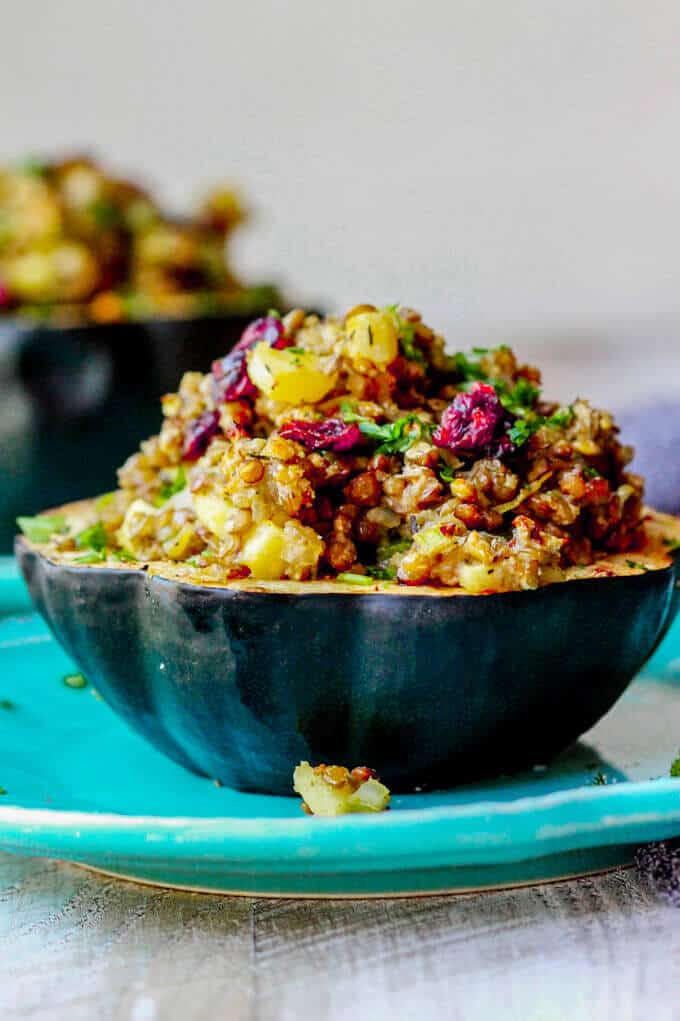 Lentils Stuffed Acorn Squash – perfect vegetarian meal
This lentil Stuffed Acorn Squash is a vegetarian version of one of my most popular dishes: Turkey Stuffed Acorn Squash. I used the same ingredients, but instead of turkey, I used green lentils. I also added more celery and apple to really amplify the amount of fruit & veggies.
I decided to create a vegetarian version of my dish for two reasons: first, I wanted vegetarians to be able to enjoy this amazing combination of fall flavors, and second, it can stand in perfectly for Thanksgiving, as a side dish to the big bird.
The timing is right too, as we're fast approaching Thanksgiving. Also, you may have vegetarians in your family, so this can be the perfect dish to lure them in for the Holidays. It's super easy to make! The stuffing can be prepared ahead of time, and the acorn squash can be roasted with the turkey in its last hour. While the turkey is resting, you can stuff the squash and pop it into the oven for 15 minutes.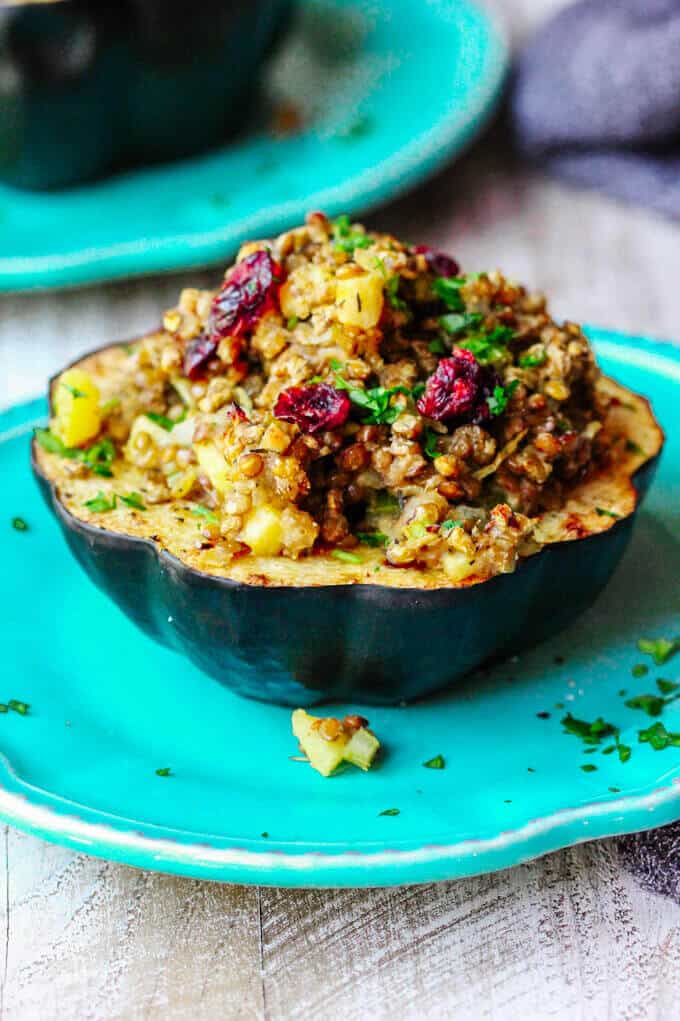 Make this lentil stuffed squash for dinner tonight
I made this Lentil Stuffed Acorn Squash the other night for dinner. When my husband came home and asked me what's for dinner, he didn't like the response I gave him. "Where's the meat?" he asked. That's the story of my life…. He needs to have his meat. There's no way I can enforce 'Meatless Mondays' or any other type of trickery. And whenever I make vegetarian dishes, I need to supplement him with his meat on the side.
Thankfully I had some delicious leftover chicken drumsticks, so I served them to him alongside this Lentils Stuffed Acorn Squash. Whenever I asked him, 'how's the dish?', he would reply that the chicken was delicious. And that he was refusing to talk about "the dish" because he knew I was fishing for some feedback for the blog.  Haha, little did he know that despite his advert attempt to dodge an appearance in this post, he was destined to find himself in my cross-hairs again.
Here's the deal. I know him so well, that I know when he really likes something and doesn't want to admit it just because it doesn't have meat in it. He pulled the same routine with this Truffled Butternut Squash and Mushroom Soup. In that instance, he told me he would not be talking about it, but with every spoonful, he would close his eyes and moan with contentment.
So when he said, he told me that he was not going to be talking about this Lentils Stuffed Acorn Squash, I knew he loved it.
Ingredients needed to make this Lentils Stuffed Acorn Squash
Actually it's hard not to love this dish. The combination of flavors is just epic. Here's what I used for this Lentils Stuffed Acorn Squash:
Onions;
Dried thyme;
Celery;
Apple;
Dried cranberries;
Green lentils;
Vegetable stock;
Parmesan cheese;
Breadcrumbs;
Salt and pepper;
Fresh parsley.
For some reason, dried thyme with onions brings the fall flavors right in. Then, once you add apple, celery, and cranberries, the base is done. Then you just add cooked lentils, parmesan and breadcrumbs, and stuff it in your roasted squash. See printable recipe below for the exact steps to follow.
What to serve this acorn squash with
You can serve it as a side dish my:
However you chose to serve it, I'm confident you and your family will love it.
If you're looking for more ideas for Thanksgiving recipes, check these out:
Lentils Stuffed Acorn Squash
Lentils Stuffed Acorn Squash with apples, dried cranberries and thyme is a perfectly balanced vegetarian dish that combines all of your favorite fall flavors in every bite.

Print
Pin
Rate
Ingredients
1

Acorn Squash

large or 2 small ones, cut in the half

1

cup

Lentils

green, dried

2,5

cups

Vegetable stock

1/2

Onion

sweet, Visalia

2

stalks

Celery

chopped

1

Apple

chopped in small cubes

1/4

cup

Dried Cranberries

1/2

teaspoon

Dried Thyme

1

tbsp

Breadcrumbs

3

tbsp

Parmesan Cheese

grated

3

tbsp

Olive oil

extra virgin

Salt & Pepper to taste

1

tbsp

Parsley

Fresh, Italian, chopped
Instructions
Preheat the oven to 400 F

Cut the bottom and the top of the squash to have flat surfaces on both sides

Cut the squash in the middle (vertically)

Using a spoon scoop out all the seeds

Brush both halves of the squash with olive oil (tablespoon for each side), season with salt and pepper 

Place the squash in the oven and roast for 50 min to 1 hour

Place lentils and vegetable stock in a pot, bring to boil, cover, reduce to simmer and cook for about 40 minutes until the lentils are soft and cooked through.

In the meantime heat up another tablespoon of olive oil in the skillet

Add onions and dried thyme and cook until the onion is translucent (5 minutes)

Add celery, apple and cranberries and cook for another 3-4 minutes

Add lentils, season with salt and pepper; mix well together and cook for about 3-4 minutes

Add breadcrumbs and cheese

Stir everything well and check for seasoning

Fill out the squash with the lentils stuffing

Place in the oven and bake for 15 minutes.
Nutrition
Calories:
393
kcal
|
Carbohydrates:
58
g
|
Protein:
15
g
|
Fat:
12
g
|
Saturated Fat:
2
g
|
Cholesterol:
2
mg
|
Sodium:
690
mg
|
Potassium:
953
mg
|
Fiber:
18
g
|
Sugar:
13
g
|
Vitamin A:
950
IU
|
Vitamin C:
19
mg
|
Calcium:
125
mg
|
Iron:
4.8
mg
Read about the author Edyta here or follow Eating European on social media: Facebook, Instagram, Pinterest, and Twitter.
If you like this dish you may also like these vegetarian dishes:
Lebanese Mujadara Recipe – Lentils, Rice & Fried Onions
Cauliflower Pasta Bake with Brie & Fontina
Kolokithopita – Greek Zucchini Pie