This post may contain affiliate links which won't change your price but will share some commission.
Cauliflower Pasta Bake with Brie and Fontina is like a combination of a fancy mac & cheese with veggies! Two dishes at ones.
But if you're looking for a fancy mac & cheese type of pasta without veggies check this Cheese Pasta Bake in Individual Ramekins.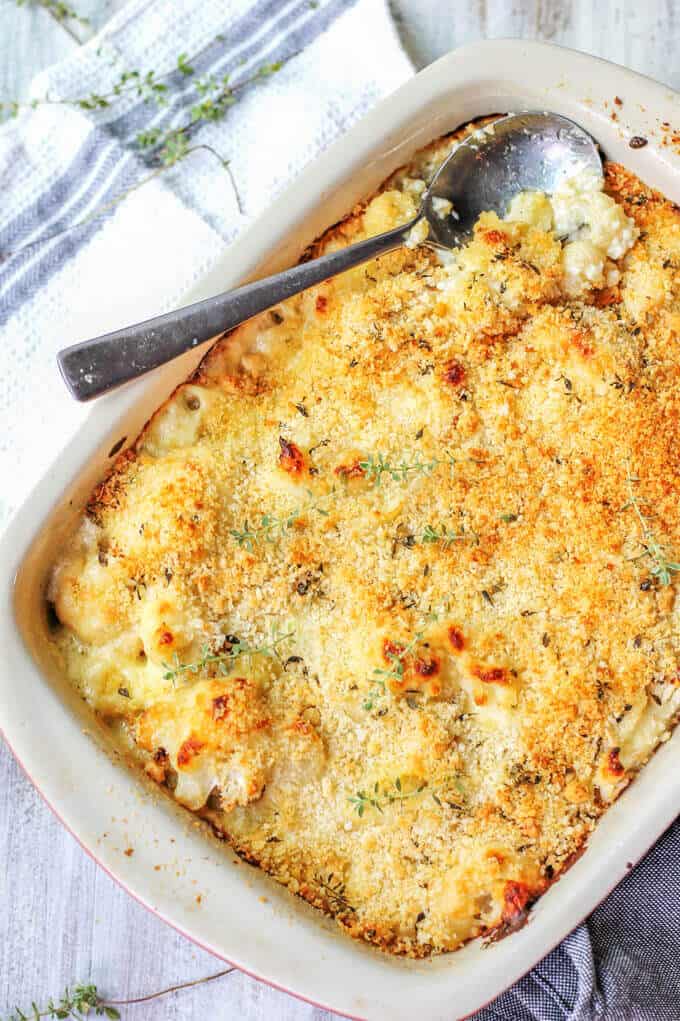 This post may contain affiliate links. You can read my disclosure policy here.
Cauliflower Pasta Bake enhanced by the addition of two kinds of cheese: Brie and Fontina
This Cauliflower Pasta Bake is made up of tiny pasta shells with roasted cauliflower, and an out of this world cheese sauce with Brie, Fontina and freshly grated nutmeg. And the best part comes next…it's topped with a combination of Panko breadcrumbs, Pecorino cheese, and fresh thyme. The crunch from this adds such an amazing texture to the otherwise creamy dish.
This is by far my most favorite cauliflower dish that I've ever made (and it's a cauliflower season here in NY). I bought a beautiful head of cauliflower in a local grocery store, just chopped from a farm on the east end of Long Island. I couldn't be happier.
This Cauliflower Pasta Bake was so good that both, my husband and I were sneaking into the kitchen for bites while the dish was cooling off. We just couldn't stop ourselves. Mind you, this isn't one of the healthiest dishes, but it's surely a tasty one. It has A LOT of cheese! You can't eat too much of it, but I think that once in a while you should indulge yourself with something super decadent. This Cauliflower Pasta Bake can be served as a vegetarian dinner or as a side dish. Both work great.
The Magic Cheese Sauce with Brie and Fontina
I probably mentioned this before, on a couple of occasions, but my husband can be fussy eater when it comes to veggies. He, on the other hand, would argue with this statement and tell me that he likes ALL the vegetables except cabbage, brussels sprouts, beets, zucchini, kale, dark greens and a couple more. And he caveats his appreciation of broccoli & cauliflower, only providing an exception if they're "cheesy".
When I made this Broccoli Au Gratin, he looked at me and said: these were some serious broccoli. So I've figured out the trick of getting beautiful veggies into him. I need to smother them with a cheese sauce.
About this sauce. Oh gosh… I never imagined that the cheese sauce could be this good. I made a basic bechamel; then added brie, fontina, freshly grated nutmeg, and seasoned it with salt & pepper. I'm telling you, this is really extraordinary!
Who would've thought about adding brie to a cheese sauce? I did! I cut off the rind and used only the creamy inside. It melted beautifully. And Italian fontina is one of my favorite cheeses. It has a little nutty flavor and it melts great too. I used small pasta shells to capture all the sauce inside them and make every bite count. I also roasted the cauliflower before adding it to the pasta.
The Magical Roasted Cauliflower & Crunchy Topping
There's something magical about roasted cauliflower – or roasted vegetables in general. They taste so different than steamed or boiled ones. Roasting keeps the juices inside, bringing and intensifying the natural veggie flavor.
But the crunch on top takes it to another level. Panko is super crunchy when baked, but I mixed it with Pecorino cheese and fresh thyme. Pecorino is a sheep's milk cheese, with a little tangy punch. Trust me when I say, this combo is "the bomb"! In fact, I'm so happy with this recipe that I just want to do a happy dance now.
Ingredients Needed to Make this Cauliflower Pasta Bake
Here's the list of what you'll need so that you too can partake in this happy dance:
Cauliflower;
Olive Oil;
Pasta shells (you could use a different pasta shape, like macaroni);
Milk;
Flour;
Butter;
Brie Cheese (I wouldn't substitute this one);
Italian Fontina Cheese (you could use Gruyere or Cheddar instead);
Freshly Grated Nutmeg;
Panko Breadcrumbs;
Pecorino Cheese;
Fresh Thyme; and
Salt & Pepper.
Preparation Steps to Make this Awesome Dish
Preparation requires a few steps, but it's totally worth it. You will need to:
Roast the cauliflower;
Boil the pasta;
Prepare the basic béchamel, and add cheeses;
Mix Panko with Pecorino;
Assemble the dish;
Bake until golden brown and bubbly.*
*For this recipe I used 9 x 13″ casserole dish. You can find a similar one here. (affiliate link)
Even though it may require a number of steps, the preparation is actually very easy. Follow the instructions in the printable recipe below and you'll be golden.
How to Serve this Cauliflower Pasta Bake
This dish is best served fresh from the oven.
If you have leftovers, the best would be to heat it up in the oven for about 10-15 minutes until warm throughout. Caution: the microwave could dry out the pasta and the panko will not be crispy anymore.
If you have a big dinner party, you can prep it ahead of time and just put it in the oven when the guests arrive, to make sure that it'll taste the best.
I hope you'll enjoy it!
Few of my Other Favorite Recipes to Try
Whole Roasted Cauliflower Mediterranean Style
Printable Recipe for Cauliflower Pasta Bake
Cauliflower Pasta Bake with Brie and Fontina
Cauliflower Pasta Bake with Brie and Fontina is like a combination of fancy mac & cheese with veggies! Two dishes at ones.
Print
Pin
Rate
Ingredients
1

cauliflower

medium head, cut up into florets

1

tbsp

olive oil

extra virgin

8

oz

pasta

small shells

1

cup

Fontina cheese

Italian, shredded

1

cup

Brie cheese

rind removed, cubed

3

cups

milk

2%

3

tbsp

butter

unsalted

3

tbsp

flour

1/4

teaspoon

nutmeg

freshly grated

Salt & Pepper to taste

1/2

cup

Panko breadcrumbs

1/2

cup

Pecorino cheese

grated

1

teaspoon

thyme

fresh, chopped
Instructions
Preheat the oven to 425 F;

Cut up the cauliflower, mix with olive oil, salt and pepper, and place on baking sheet;

Roast the cauliflower for 20 minutes;

Cook the pasta according to instructions, but 2 minutes less than al dente (it will continue to cook with the sauce);

In a saucepan, melt the butter, add flour and create a roux;

Add one cup of milk at the time to the saucepan and mix well until fully incorporated;

Once all the milk is added, then let it cook and thicken up for a few minutes;

Take off the heat, add shredded Fontina, cubed brie and mix well until the cheeses are melted;

Add nutmeg and salt & pepper (taste for seasoning);

In a bowl, combine the Panko with Pecorino and thyme;

Spray 9x13" baking dish with cooking spray;

Add cauliflower and pasta to the baking dish and gently mix together;

Pour the sauce over and mix it again, to make sure that sauce is evenly distributed;

Sprinkle the dish with the Panko/Pecorino mixture on top and place into the oven for 20-25 minutes, until bubbly and golden brown;

Let it cool off slightly before serving. Enjoy!
Nutrition
Calories:
380
kcal
|
Carbohydrates:
31
g
|
Protein:
17
g
|
Fat:
20
g
|
Saturated Fat:
11
g
|
Cholesterol:
62
mg
|
Sodium:
433
mg
|
Potassium:
277
mg
|
Fiber:
1
g
|
Sugar:
6
g
|
Vitamin A:
520
IU
|
Vitamin C:
7
mg
|
Calcium:
314
mg
|
Iron:
1
mg
Read about the author Edyta here or follow Eating European on social media: Facebook, Instagram, Pinterest, and Twitter.