This recipe for Honey BBQ Pork Souvlaki with Grilled Lemons & Tzatziki is super delicious. I used Honey BBQ Sauce, pork chops, peppers & onions. I sprinkled them with grilled & charred lemons and served with a Tzatziki sauce & pita bread!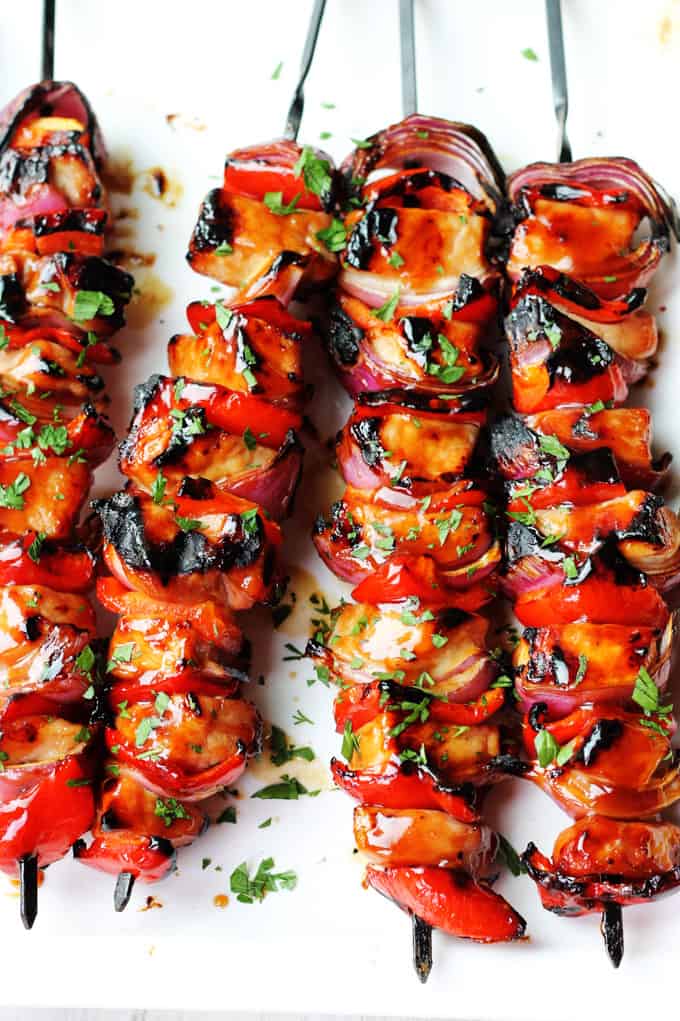 I received samples of the Budweiser sauces to create this recipe. 
Honey BBQ Pork Souvlaki – a great outdoor recipe
I love summer and the fact that I can migrate my cooking outside, on the grill. The icing on the cake is that you can avoid the need for dirty pots and a hot oven, incubating your house. It always feels so much easier to cook outside on the grill. Also, everything cooks faster on the grill too; so you don't need to devote a lot of time to it.
Logistical elements aside, it's also fun. You can entertain and cook at the same time. I feel like the best conversations always seem to happen around the grill. And when you give these new Budweiser sauces a go, I'm sure they'll turn into the topic of conversation.
Also when you smother this Pork Souvlaki with the Honey BBQ sauce, the aroma will be incredible. I suspect most people will favor themselves to be the chef and will be prematurely advocating to take them off the grill – so they can be immediately devoured.
If you missed my previous recipes for the Budweiser sauces challenge go check 'em out. They're made on the grill too: Smoky BBQ Burger with Garlic Aioli & Fried Egg and Buffalo Chicken Grilled Pizza.
How to make grilled Pork Souvlaki
This Honey BBQ Pork Souvlaki recipe will require a head start. You'll need to brine your pork ahead of time; it really makes a difference. The meat will never be dry if you brine it (unless you overcook it, of course) and the taste will be a hundred times better. I like to brine my pork for a few hours, but at least a half hour is a must!
Other than that, this recipe is very simple and comes together in no time. Honey BBQ sauce gives this pork a nice sweetness, and the grilled lemon balances out that sweetness.
The Tzatziki sauce (made with Greek yogurt, cucumber, garlic, and dill) then adds the needed freshness to the entire dish. It's like a perfect American-Greek marriage. This is another one of those food fusions that I love so much….
In Greece, souvlaki is amongst one of the most popular dishes. It's usually made with pork, peppers & onions. The word souvlaki comes from a Medieval Greek word that simply means skewers.
Here, I decided to make pork souvlaki, or pork skewers, and then smoother them with a Honey BBQ sauce. The result was amazing.
Another Greek trick used here is that I sprinkled everything with lemon juice. They believe this helps with digestion. It might be true, but for me, the addition of lemon juice adds some needed acidity and balances out the dish beautifully.
And when you grill the lemons, they will have a nice charred taste and a lot of juice. Don't skip this part, it really makes the recipe pop!
Here's a list of what you will need for this recipe:
Pork chops;
Salted water, for brining;
Budweiser Honey BBQ Sauce;
Red Bell Peppers;
Red Onions;
Lemons;
Greek Yogurt;
Cucumber;
Dill;
Garlic;
Salt & Pepper.
Here's a step by step guide for this BBQ Pork Souvlaki recipe with Tzatziki and Grilled Lemons
(Printable recipe with exact measurements and cooking times can be found below)
Brine your pork;
Once brined, cut the pork in 1 inch cubes;
Smother the pork with Budweiser Honey BBQ Sauce and set aside;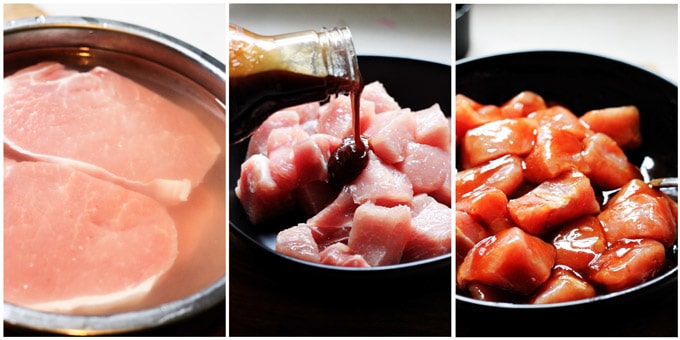 To make Tzatziki sauce, first shred your cucumber;
Chop dill and garlic, and add to your shredded cucumber;
Add Greek yogurt, mix well and season with salt & pepper;
Optionally, you can add a splash of extra virgin olive oil and red wine vinegar (I usually do as it elevates the Tzatziki);
Cut up your Bell Peppers in approximately 1 inch squares and onions in half moons;
Start assembling your skewers with few slices of onions, followed by a piece of pepper and followed by a piece of pork – continue in this manner until all the skewers are assembled.
Tip: I used metal skewers, but if you have wooden skewers, you must soak them in water for about 30 minutes to avoid burning.
Heat up your grill until hot. Spray it with cooking spray, or brush with oil, and place your skewers on the grill;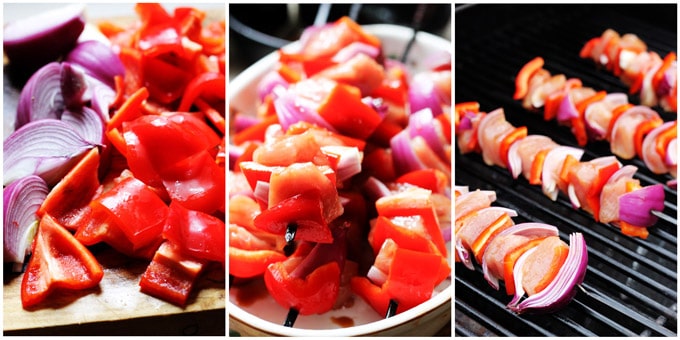 Turn skewers on their other side and brush with Honey BBQ Sauce. Repeat a few times, until souvlaki are cooked through;
Place lemon halves on the grill and cook, until slightly charred with grilled marks;
Remove skewers and lemons from the grill and place on the serving platter. Drizzle lemon juice all over the skewers;
Cut up pita bread and serve souvlaki with Tzatziki sauce.
Serving Tip: you can serve tzatziki sauce on a side or you can spoon it on the souvlaki;
I used the Budweiser Honey BBQ sauce for this recipe, but you can use whichever one you want.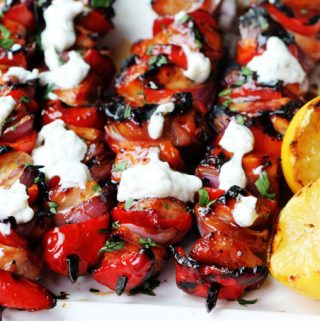 Honey BBQ Pork Souvlaki with Grilled Lemons & Tzatziki
Honey BBQ Pork Souvlaki with Grilled Lemons & Tzatziki is a very easy and flavorful summer dish made on the outdoor grill that marries Greek cuisine (souvlaki, tzatziki & lemon) with American classic Honey BBQ Sauce from Budweiser.
Print
Pin
Rate
Ingredients
Brine
2

tbsp

Kosher Salt

2

cups

Water

up to 3 cups
Pork Souvlaki
1

lbs

Pork Chops

up to 1.5 lbs - about 3 pork chops

2

Red Bell Peppers

cut into 1 inch squares

1

Red Onions

cut into moons

1

cup

Budweiser Honey BBQ Sauce

+ more if needed

1

Lemon

cut in half
Tzatziki Sauce
1/2

English Cucumber

peeled and shredded

1

cup

Greek Yogurt

full fat or 2%

2

cloves

Garlic

minced

1

tbsp

Dill

fresh, chopped

Splash of Extra Virgin Olive Oil and Red Wine Vinegar

optional

Salt & Pepper to taste
Instructions
Brine the Pork Chops: Dissolve salt in a bowl of warm water. Cool combination off and submerge pork chops. Brine them for at least half an hour.

Preparing Souvlaki: Remove pork chops from brine and cut them into 1 inch squares. Add them to a new bowl and pour 1/2 cup of Honey BBQ Sauce. Mix and set aside. Cut up peppers into 1 inch squares and onions into the moons (separate the onions pieces).

Assembling Souvlaki: If using wooden skewers, you must first soak them in water for 30 minutes to avoid burning. If using metal skewers, you can start assembling immediately. Start with a few pieces of onions, followed by peppers and pork. Continue until all skewers are assembled (from the amount of ingredients you should be able to create 4 large skewers)

Make Tzatziki Sauce: Add shredded cucumber, minced garlic, chopped dill and Greek yogurt into a bowl and mix well. Season with salt and pepper, then add a splash of Olive Oil and Red Wine Vinegar. Set aside.

Grilling Souvlaki: Heat up your grill to high, brush it with oil and add the skewers. Grill them for a few minutes, then turn and brush with Honey BBQ Sauce. Grill for another few minutes, turn and brush with more BBQ sauce. Repeat these steps a few times until the skewers are lightly charred & cooked through (about 10-12 minutes). Add lemon to the grill and cook until grilled marks show (4-5 minutes). Once done, remove from the grill.

Serving Souvlaki: Once your pork souvlaki are cooked through, remove them from the grill, sprinkle grilled lemon all over them and serve with pita bread and Tzatziki sauce. You can either scoop Tzatziki on top of the skewers or serve it on a side. Enjoy!
Nutrition
Calories:
373
kcal
|
Carbohydrates:
41
g
|
Protein:
31
g
|
Fat:
8
g
|
Saturated Fat:
2
g
|
Cholesterol:
78
mg
|
Sodium:
811
mg
|
Potassium:
917
mg
|
Fiber:
3
g
|
Sugar:
30
g
|
Vitamin A:
41.3
%
|
Vitamin C:
114.3
%
|
Calcium:
11.3
%
|
Iron:
8.9
%
Read about the author Edyta here or follow Eating European on social media: Facebook, Instagram, Pinterest, and Twitter.