This post may contain affiliate links which won't change your price but will share some commission.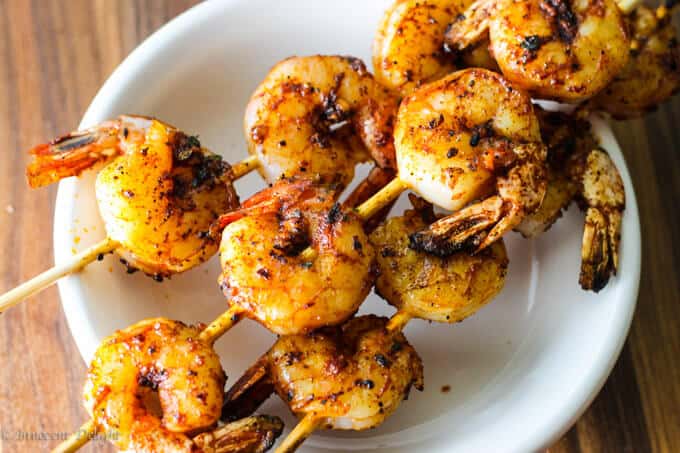 How I become a shrimp lover? It is still a surprising fact for me. I haven't been raised eating shrimp, and most seafood for that matter; save for the fish from the Baltic Sea. The memory of the the fish from the Baltic Sea takes my right back to the Polish Seashore where you can smell the taste of freshly fried fish everywhere. I could never get enough of it – still salivating thinking of it. No matter how many days I had spent by the shore I had to have fried fish at least once a day.  It never got boring. But shrimp…uh… No, I don't think so… I even remember my first Spain vacation when, with a group of friends, we ordered Spanish Paella to share. I had no idea what we were ordering and when I saw all this seafood on top of the rice, i simply said "no thank you."
It took couple of years to become friends with mussels, clams, scallops, lobster and raw fish; and lo they are all my best friends now. But shrimp couldn't jockey onto that list. I think I had an issue with the crunchy texture. Nevertheless, a couple of people told me that one day I will try shrimp and will fall in love instantly. I didn't believe this day would ever come. However, let me save you the suspense…..that day came & hence this post. One winter evening I was meeting my 3 best friends to gossip about my recent wedding… And the place we chose, was spanish tapas restaurant in NYC, La Boqueria. This is my absolute favourite tapas place in NY! They all wanted to order shrimp in garlic sauce (gambas al ajillo) and i couldn't deny them all. So, I decided to give it another try… And let me tell you this taste changed my entire perspective on shrimp. The texture didn't bother me at all and the garlicky, papricky taste was like heaven. And then the realization that you could dunk a fresh baguette in this garlicky heaven of olive oil…..
My husband loves shrimp and I know he was a little disappointed that they were not on the list of my favs. But after this dinner in NYC I couldn't stop thinking about gambas al ajillo. We live by the ocean so we can get the freshest seafood available. So I decided to come out of my comfort zone and make some Grilled Shrimp. Still new to the shrimp business I was looking for the right recipe. And guess what, Bobby Flay delivered again…
I was making shrimp for 2 people so my proportions were a little bit different.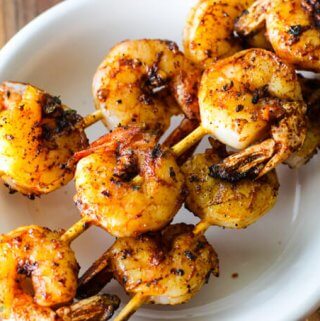 Ingredients
½

cup

of olive oil

4

cloves

of garlic - chopped

2

tablespoons

freshly chopped thyme

1

tablespoon

of smoked paprika

(I didn't have ancho chill powder so I used smoked papricka and cayenne pepper)

½

teaspoon

of cayenne pepper

12

shrimp

Salt and pepper

2

cloves

of thinly sliced garlic for garlic chips

Wooden skewers soaked in water
Instructions
Use ¼ of cup of olive oil, add garlic, smoked paprika, 1 tablespoon of chopped thyme and soak the shrimp in it.

Heat the grill to high

Skewer the shrimp and sprinkle with salt and pepper

In the meantime, heat up the remaining oil in small saucepan. Add garlic slices and cook until lightly brown

Remove garlic with slotted spoon on the paper towel and reserve the oil

Put the shrimp on high grill and cook in each side for about 2 minutes

If the shrimp is translucent it is not cooked yet, but be careful not to overcook it

Remove the shrimp from the grill, take off the skewers and pour the remaining oil on shrimp

Sprinkle with garlic chips and remaining fresh thyme.

Enjoy!