This post may contain affiliate links which won't change your price but will share some commission.
These Garlic Parmesan Chicken Wings are super crispy, despite being baked and not fried. Read more to find the trick to making baked wings super crispy. And, most importantly, the Garlic Parmesan Sauce is so delicious that you won't be able to stop eating these wings. As the Colonel say's…'they're finger licking good!'
This post may contain affiliate links. You can read my disclosure policy HERE.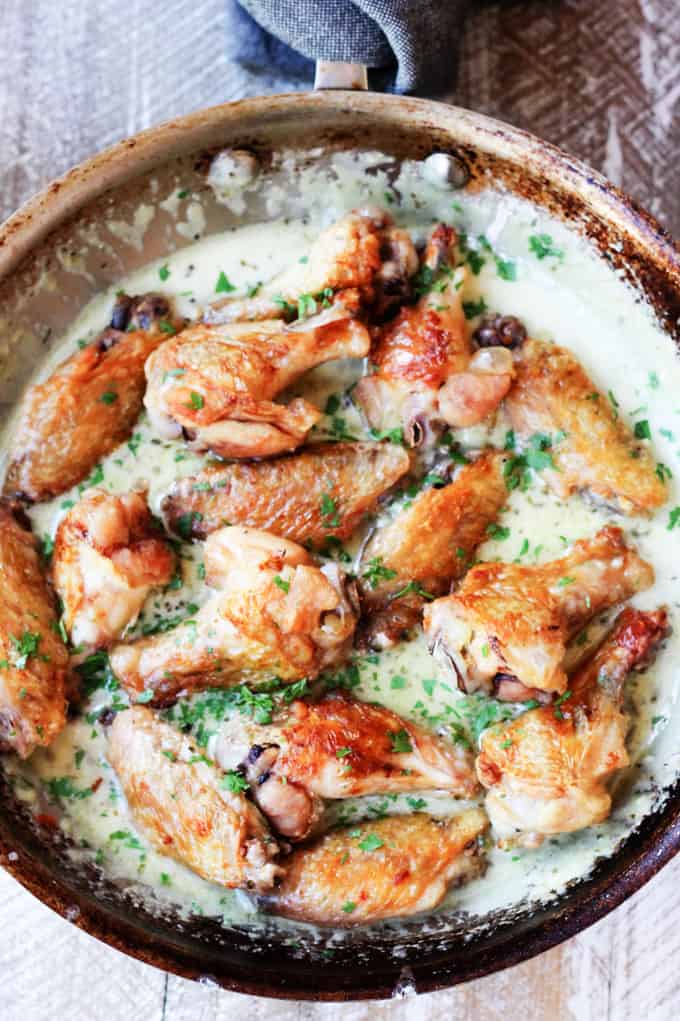 Garlic Parmesan Chicken Wings – Awesome Football Appetizer
I was born and raised in Poland and had no idea about the whole football culture in America until I moved here. However, my husband is a huge football fan so I had no choice but to adapt and adjust.
Actually, I must admit that nowadays I enjoy watching games with him (especially when our team plays). I've come to know the rules and I enjoy supporting my husband. But as I said above, it's not just a game, it's the whole culture of football. Obviously, the food is a big part of this culture.
Unfortunately, the food that's usually consumed during games isn't necessarily the healthiest. So, occasionally I try to make homemade versions of some football favorites that are a bit healthier. Last year I made these Buffalo Turkey Meatballs that were a huge hit, and these Buffalo Turkey Lettuce Wraps are popular too.
But the wings (the holy grail of football food) have been on my "to-do" list. And I knew they had to be baked, not fried, and the sauce must be made with whole, real ingredients.
I'm not saying that they are super healthy, but…I did get rid of some fat from the wings (read about this technique below), I baked them, and I used an amazing homemade sauce made from real garlic, freshly shredded Parmigiano Reggiano, herbs and a splash of cream.
These Garlic Parmesan Chicken Wings are a fantastic football appetizer. People will be talking about them, I guarantee you that!
How to Make Chicken Wings Crispy in the Oven?
A few years ago I decided to make a duck for Easter. My mother-in-law came to celebrate with us and when I told her what I'm making she asked: did you parboiled it? I was a little surprised and said "no."
Rather, I was making a duck that was cooking slowly in the oven for about 4 hours, at a rather low temperature (300F). That made my duck skin crispy.
But if you want to cook your duck faster, you would likely parboil it to get rid of some of the fat that is under the skin. I chatted with my mom about it, who is also an excellent cook and used to make duck a lot when I was young.
She confirmed it and also said 'you would do the same thing with chicken wings if you want to make them crispy.'
I was up for a challenge! So I found some beautiful organic chicken wings in my local Costco; I was surprised, as it's actually pretty hard to find organic chicken wings. Anyhow, I got a bunch of them and kept them in our freezer.
Well, this recipe is healthier because not only are the wings are baked, but they are also organic. I feel like I won on every step and that I'm now giving my husband a healthier version of his favorite football food.
The simple answer to the crisping the skin of the wings that are baked is that they need to be parboiled in hot, salted water for a couple of minutes ahead of time.
BUT, they'll need to be patted dry really well, so no water residue is on the wings. The oven will handle the rest.
You then bake your wings in a hot oven (at 450F) for 20 minutes, then flip them and bake for another 5 minutes, until golden brown and crispy on all sides. In the meantime, you can focus on the sauce.
How to Make Garlic Parmesan Sauce for the Chicken Wings?
This is a very easy sauce that only uses natural ingredients. You'll need to gather the following items:
Fresh Garlic;
Butter;
Fresh Parmigiano Reggiano;
Dried Marjoram;
Dried Oregano;
Chicken Stock;
Heavy Cream;
Salt & Pepper (+ optionally, more garlic powder);
Fresh parsley, for garnish.
Once you have all your ingredients handy, follow these steps:
Step 1: Peel and chop a lot of garlic (I used about 6 cloves);
Step 2: Shred your Parmigiano Reggiano cheese;
Step 3: Heat up your skillet, then add olive oil and garlic. Cook for a minute, but don't burn the garlic;
Step 3: Add Marjoram, Chicken Stock and Cream, and cook until reduced by half;
Step 4: Once the sauce is reduced and thickened, then turn off the heat and add Parmeggiano cheese – let it melt;
Step 5: Now would be the time to taste for seasoning. Add salt and pepper to your liking. If you feel like you would like more garlic flavor, then add some garlic powder;
Step 6: Pour the sauce over the crispy chicken wings and garnish with fresh parsley. You'll probably have more sauce than you need to cover the wings; if that's the case then pour the rest in a bowl and serve it alongside the wings for some more dunking;
Step 7: You can either serve the chicken wings with a side of blue cheese or ranch. Personally, for me, the Garlic Parmesan Sauce was so delicious that I just wanted to smoother my wings in that sauce and indulge.
And that's it, your Garlic Parmesan Chicken Wings are ready to serve! And it doesn't take longer than 40 minutes to have them on the table.
If you have your own trick on how to make your chicken wings in the oven crispy, then please let me know. I'm always curious to hear about new techniques.
What Equipment is Needed to Make this Garlic Parmesan Chicken Wings Recipe:
Large Pot
Colander
Sheet Pans
Frying Pan
Cheese Grater
Set of knives
Other Recipes You May Want To Try on Your Football Party:
Garlic Parmesan Chicken Wings
These Garlic Parmesan Chicken Wings are super crispy, despite being baked and not fried. And, most importantly, the Garlic Parmesan Sauce is so delicious that you won't be able to stop eating these wings. As the Colonel say's...'they're finger licking good!'
Print
Pin
Rate
Ingredients
1

lbs

Chicken Wings

(about 15-16 wings)

Cooking Spray

for spraying the sheet pan
For the Garlic Parmesan Sauce
4

tbsp

Butter

unsalted

6

cloves

Garlic

finely chopped

1/4

teaspoon

Dried Oregano

1/4

teaspoon

Dried Marjoram

1/2

cup

Heavy Cream

1/2

cup

Chicken Stock

1.5

cups

Parmigiano Reggiano Cheese

freshly grated, or store-bought grated Parmesan

1

teaspoon

Garlic Powder

optional

Salt and Pepper to taste
Instructions
Parboil the wings: Bring a large pot of salted water to boil (think about the level of saltiness you would use for cooking pasta); Add chicken wings and cook them for 7 minutes. Drain the wings in coriander and then place on a paper towel and pat dry really well;

Baking the wings: Preheat your oven to 450F; spray a sheet pan with a cooking spray, place dry wings skin side down and transfer to hot oven; bake the wings for 20 minutes undisturbed.

Remove the sheet from the oven and using a spatula gently lift the wings and flip them to the other side. Return the sheet pan back to the oven and bake for another 5 minutes;

Prepare the sauce: In a skillet heat up the butter, add garlic and cook for a minute (do not burn it), add oregano, marjoram, cream, and chicken stock and cook for about 10 minutes until thickened reduced by half.

Remove the sauce from the heat, add cheese and let it melt. Check for seasoning and add salt, pepper and if a more garlicky taste is desired: garlic powder. Pour half of the sauce over the wings and serve the other half in a bowl for extra dunking. 
Notes
You can serve extra blue cheese dressing or ranch dressing on a side, but you should have more Garlic Parmesan Sauce that is needed to cover 1 lb of wings. As such serve the remaining sauce in the bowl for extra dunking. 
Nutrition
Calories:
507
kcal
|
Carbohydrates:
5
g
|
Protein:
26
g
|
Fat:
42
g
|
Saturated Fat:
23
g
|
Cholesterol:
144
mg
|
Sodium:
802
mg
|
Potassium:
210
mg
|
Vitamin A:
1175
IU
|
Vitamin C:
1.8
mg
|
Calcium:
482
mg
|
Iron:
1
mg
Read about the author Edyta here or follow Eating European on social media: Facebook, Instagram, Pinterest, and Twitter.