Buffalo Turkey Meatballs are a perfect appetizer for the Big Game.  They're also a lighter alternative to a traditional chicken buffalo wings, not only because they have less fat, but also because they're baked, not fried. Not to mention they're also super easy to make.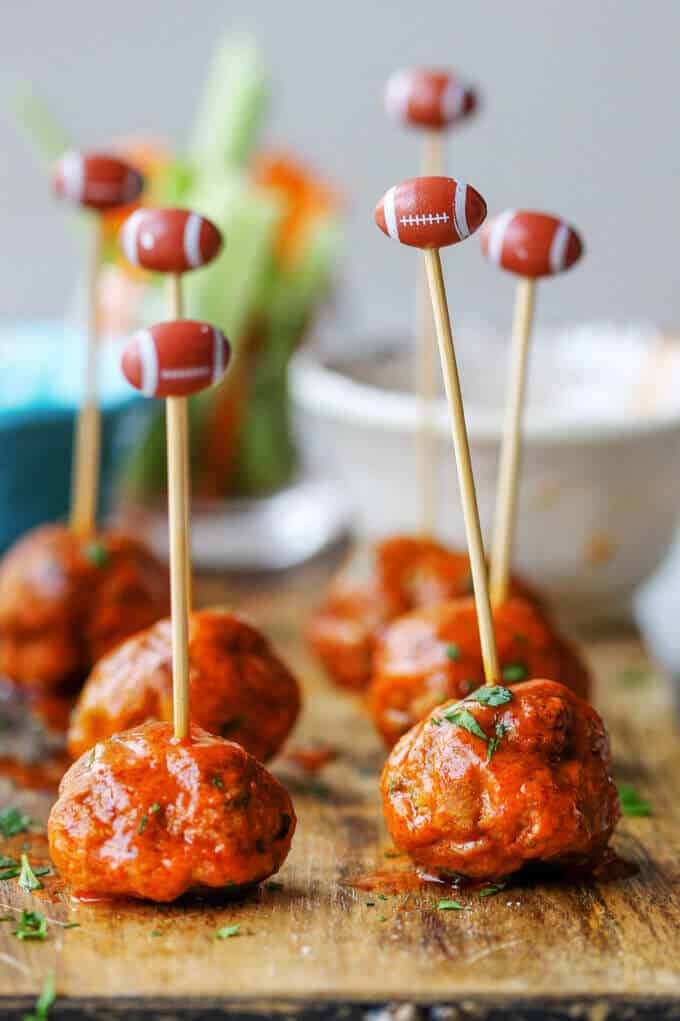 One morning my husband was lying in bed in our upstairs master bedroom and overheard my Food Network show on TV downstairs. He came down and said, 'Did you pay attention to what Guy Fierry is doing now? He's serving up recipes for a Super Bowl party. You have to make a game friendly recipe for the blog ASAP.'
I love it when he participates in the front-end creativity for this blog. He even suggested that I make my buffalo cauliflower; which I sometimes make for us (shocking right? coming from someone who doesn't like a lot of veggies). But then I thought about it and remembered that few years back I made buffalo turkey meatballs for the big game and everyone was raving about them.
I also once made these Buffalo Turkey Lettuce Wraps with Carrots Celery Slaw and they were a huge hit too. If you're looking for other game day recipes (on the lighter side), you may also want to try these:
The recipe for these buffalo turkey meatballs is super easy. You just need to mix together a few ingredients in a bowl, and then create little balls out of them. Pop them into the oven and once they're cooked, then you just smother them in sauce. There is no frying, where you may struggle to brown the meatballs all around; all the while, dealing with splashing oil, etc…
Here's what you'll need to make these super easy and super delicious buffalo turkey meatballs:
Ground Turkey Meat;
Panko Breadcrumbs;
Grated Parmesan Cheese;
Grated Onion;
Chopped Parsley;
Egg;
Worcestershire Sauce;
Garlic Powder;
Salt & Pepper;
Buffalo Style Hot Sauce;
Butter; &
Cooking Spray.
If you have all the ingredients ready, it just takes a few minutes to mix the meat and create little meatballs. The oven will do the rest.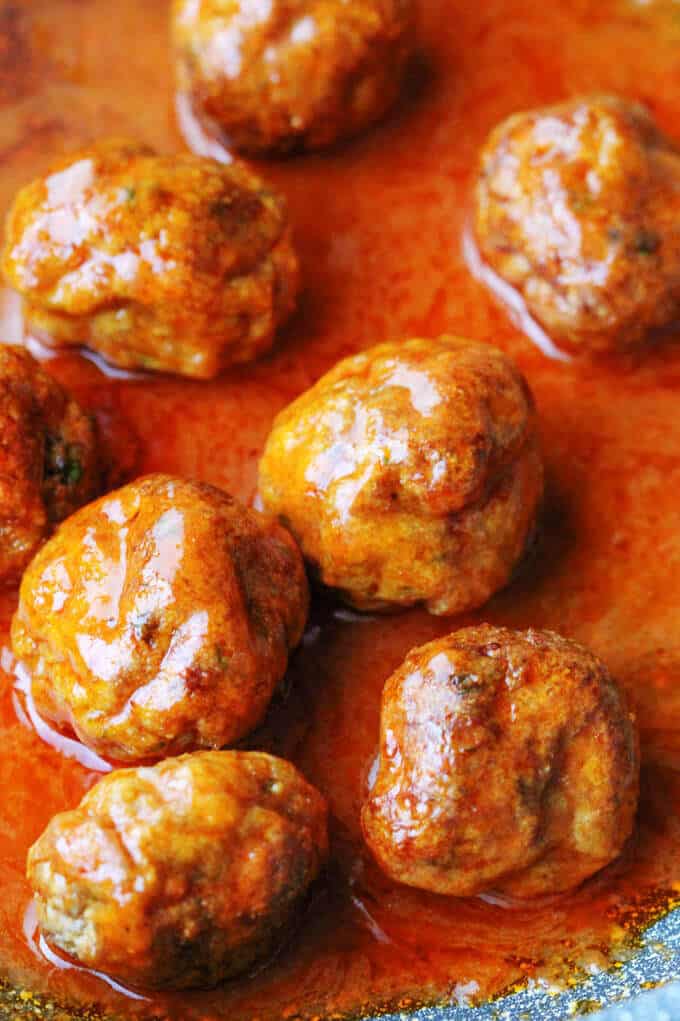 During the creation of this post, I sent my husband a photo, while he was at work, and he sent me back an angry emoji. He clearly wanted one immediately and apparently, I was torturing him. I ate two…sorry, couldn't resist.
But I pacified him with the promise of some more in the fridge, that we could have that night as an appetizer, to start to get ready for the big game. For sure I intend on making them again this coming Sunday. They're SO good! I guarantee that if you host a gameday party and pass these buffalo turkey meatballs out, they'll be the first thing to disappear.
If you're looking for other turkey recipes check these out: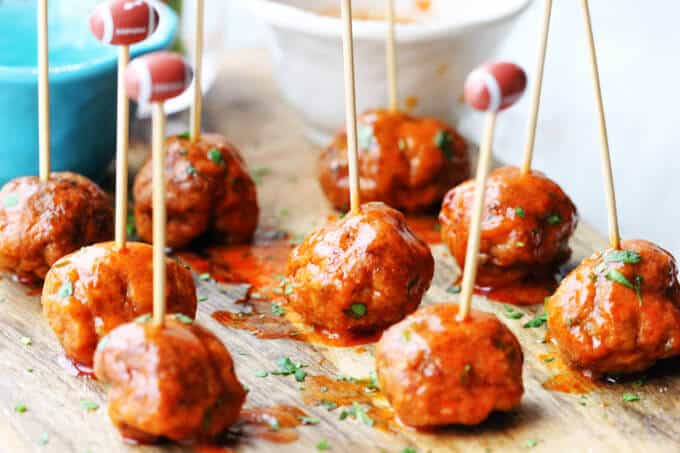 Ingredients
1

lbs

Turkey

Ground

1

cup

Panko Breadcrumbs

1/3

cup

Parmesan Cheese

1

Egg

1/4

Large Onion

Grated or 1/2 small one

1

tablespoon

Fresh Parsley

Chopped

2

teaspoon

Worcestershire Sauce

1

teaspoon

Salt

1

teaspoon

Garlic Powder

1/4

teaspoon

Black Pepper

Cooking Spray

2

tablespoon

Butter

1/2

cup

Hot Buffalo Sauce

e.g. Frank's sauce
Instructions
Preheat the oven to 400F;

In a large bowl, add: turkey, breadcrumbs, parmesan cheese, egg, parsley, grated onion, Worcestershire sauce, salt & pepper, and garlic powder;

Mix all the ingredients together, but don't overdo it;

Prepare the baking sheet with a rack and spray it generously with cooking spray;

Using a tablespoon, scoop out the meat and create little meatballs - keep your hands wet for easy rolling;

Place the meatballs onto your rack and either spray them with cooking spray, or brush them with some olive oil (you should have approx. 25-26 meatballs);

Bake the meatballs in the oven for 25 minutes;

In the meantime, melt the butter in a frying pan and add hot sauce (mix well);

Remove meatballs from the oven and take them off the rack (they will stick if you leave them on the rack), then add to your pan with the sauce;

Drench all your meatballs in the sauce, and then place onto a serving plate;

Add a toothpick to each meatball for easy serving;

Serve your buffalo turkey meatballs with a side of blue cheese dressing and cut up celery and carrot sticks. Enjoy!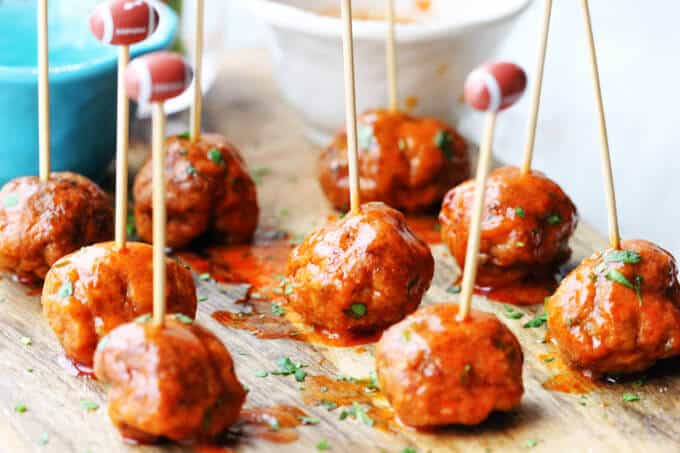 Read about the author Edyta here or follow Eating European on social media: Facebook, Instagram, Pinterest, and Twitter.
[mc4wp_form id="6774″]