This post may contain affiliate links which won't change your price but will share some commission.
This is a sponsored post written by me on behalf of the Italian Trade Commission for IZEA. All opinions are 100% mine.
If you've ever wondered which wine would go really well with a classic Margherita pizza, I have the surprising answer for you. It's red, chilled, and bubbly. Intrigued?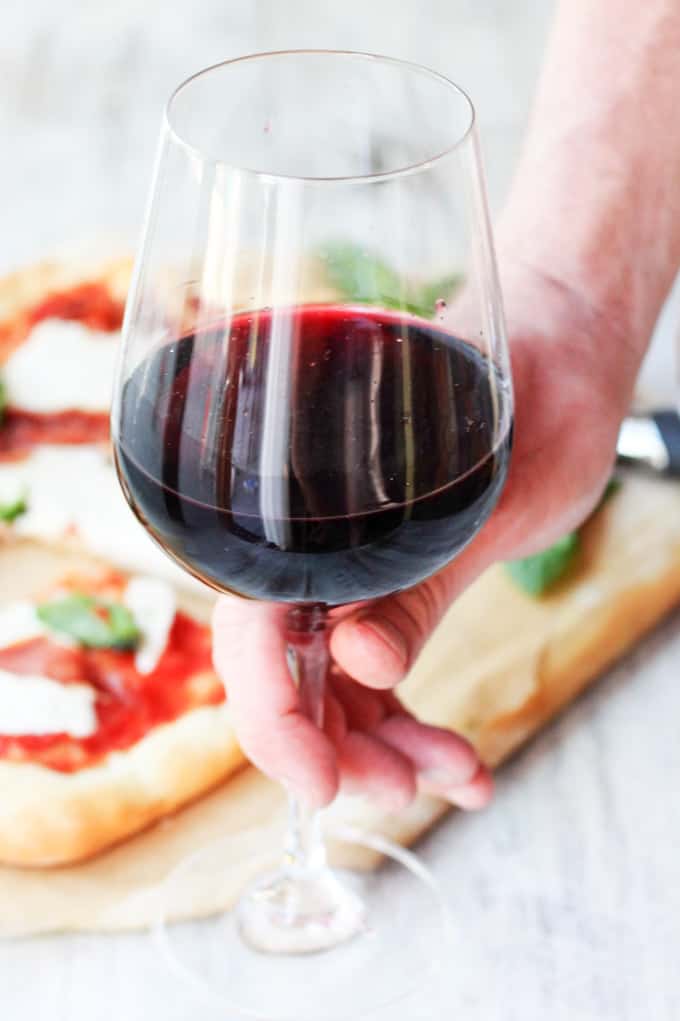 I have now been living in New York for the past 13 years and, I must admit, this has provided me the opportunity to enjoy the finest Italian dining and wining (yes, that's now a word). I'm sure this comes as no surprise to some of you, but New York City is a mecca of the highest quality Italian restaurants with the best sommeliers from around the World.
I vividly remember my first time in a very fancy Italian pizzeria in NYC. I was dying to bite into this amazing, classic Margherita pizza. When it finally arrived on the table, it looked exactly how I expected: perfect crust, super red tomato sauce, slices of melted fresh mozzarella, and fresh basil leaves.
The simplicity of this dish is just astounding. So, what makes it so delicious? The answer is the premium ingredients it uses! In fact, that's actually what I associate with Italian food and wine for that matter.
Speaking of wine…when this Margherita pizza arrived on the table, the sommelier showed up with the chilled bottle of red wine. When he started pouring it into the glasses, I realized that it actually was bubbling (Italians would call it "spumante").
Admittedly I was caught by surprise. I had never seen red, chilled, sparking wine before. He gave me a taste and asked how I liked it. I was blown away. This was quite the introduction to a whole new breed of red wine.
I looked at him and asked, "What is it?" He smiled at the prospect of having a newbie and said, "That's Lambrusco. It pairs beautify with your pizza. I hope you'll enjoy it!"  And enjoy it I did!
Ever since then, when summer starts to tease us, I immediately head over to my favorite wine shop, which carries the best quality Italian wines, in order to scratch my need for Lambrusco. With this wine residing in my basement wine rack, I consider myself stocked up for the hot summer days.
"Made in Italy" means the highest quality
I've had the pleasure of visiting Italy a few times in my life, and every time my foot landed there, I immediately prioritized putting a piece of food or a sip of wine into my mouth. The quality always astounds me. In my opinion, a product with the label "Made in Italy" literally translates to the highest quality ingredients.
This is an opinion I live by. If I am in a fancy grocery store, and I want to buy dry pasta, Parmigiano Cheese, or Prosciutto, I always look to make sure the label reads "Made in Italy."
The same can be said about wine. I simply adore Italian wines…..from Chiantis and Sangiovese-based wines or Barollos to my Proseccos and Lambruscos. I simply love them all! Regardless which wine "Made in Italy" you have the pleasure of enjoying, all share the same signature of amazing quality and taste. I'm convinced that they can satisfy even the most sophisticated wine connoisseurs.
And whenever I find myself sipping on an Italian wine, I feel like I'm immediately transported into the vineyards of Italy. Here, the highest quality ingredients are found in abundance, and the 'la dolce vita' (or, 'the sweet life') lifestyle is a birthright.
Just watch this video about wines of Italy and you'll understand what I am talking about. You can learn more here.
Admittedly, the Italian food/vino/lifestyle are enchanting and is why I often find myself trying to replicate it in my own kitchen. I make pizza with the highest quality ingredients and the most amazing Lambrusco from the Emilia-Romana region of Italy.
What exactly is Lambrusco?
You may be wondering what is this wine that I keep mentioning. Some may remember Lambrusco as a sweet and cheap wine that used to be a party favorite. Unfortunately, the name got a bit of a bad reputation a while ago. Reason being is that back in the '70s & '80s the market got flooded with low-budget, industrially made, varietals of this Italian classic.
Today's quality Lambrusco is truly remarkable, and totally distinct from those you may remember from the 80s.  It is lively and fruity with hints of cherry, blackberry, rhubarb, and plum. It is then balanced with a slightly dry acidity that adds the perfect punch.
Lambrusco comes from the Emilia-Romagna region of Italy and is made from grapes of the same name. There are actually few varieties of grapes grouped under the Lambrusco category – all of which have subtle distinctions.
What types of Lambrusco can be found in wine stores?
The Lambrusco styles vary and include dry (secco), sweet (dolce), and off-dry (semisecco, abboccato or amabile) wines that are almost always made in a semi-sparkling style. A lot of them are also affordable.
Typically though, your memorable bottles will start north of about $15/bottle.
There are 4 high quality varieties of Lambrusco that offer a wide range of styles:
Lambrusco di Sorbara– this type of grape produces the most delicate and the lightest floral of the Lambrusco wines with a light pink hue and resemble a Rosé wine;
Lambrusco Grasparossa – this type of grape produces the boldest of Lambrusco wines, with black currant and blueberry flavors;
Lambrusco Maestri – the wines from this type of Lambrusco grapes are soft and creamy, with subtle notes of milk chocolate;
Lambrusco Salamino – this type of wine is like a combination of Lamrbusco di Sorbara with its aromatic and bold flavor, and the deep color of Lambrusco Grasparossa.
How is Lambrusco made?
There are a number of different methods to making Lambrusco. However, there is but one method that is true to its heritage and authenticity: It is called Metodo Ancestrale.
The wines are fermented in a tank to about 10% alcohol, then bottled and left to finish the fermentation process in the bottle. This adds another percentage or 2 of alcohol. The wine can then be filtered or left cloudy.
Some producers still use the Metodo Classico method, also known as Champagne method, which gives the wine a more polished finish.
Frankly, I don't think you'll find this information on wine labels, but in case you come across it somewhere and were wondering what it means, I decided to give you a little bit of information.
Why does Lambrusco pair so well with pizza?
Lambrusco is the ultimate wine to pair with pizza. The bubbles contrast the dough, the acidity complements the tomato sauce, and the fruitiness balances the cheese.
This is why I was so astounded when I was first served Lambrusco with Margherita pizza many years ago. It just works like magic.
I often enjoy making Margherita pizza often in my house (especially with my son), and we (the adults) love enjoying it with a glass of chilled Lambrusco on our patio.
Next time you want to fancy up your pizza night, be sure to pick up a bottle of good quality Lambrusco. Chill it, and serve it with your homemade Margherita pizza.
To take this Margherita Pizza to yet another level, add some torn Prosciutto di Parma, you'll find that it will complement the Lambrusco even further. After all, they are coming from the same region of Italy!
Here's my favorite pizza Margherita recipe. Enjoy!
Pizza Margherita with Prosciutto
Easy homemade Pizza Margherita with Prosciutto
Print
Pin
Rate
Ingredients
For the dough:
3.5

cups

bread flour

(up to 4 cups - you may substitute with all-purpose flour);

1

package

instant dry yeast;

1

tbsp

sugar;

1.5

cups

warm water

(110F)

2

tbsp

olive oil

plus extra as needed;

2

teaspoon

kosher salt
Or
1

lbs

store bought pizza dough
For the sauce:
1

28 oz. can

tomatoes in puree;

whole, peeled

0.5

teaspoon

kosher salt

up to 1 teaspoon
For the pizza:
2

balls

pizza dough

1

cup

pizza sauce

16

oz

Fresh Mozzarella Cheese

thinly sliced

8

slices

Prosciutto

(if you decided to go this route)

8-10

leaves

fresh basil

Extra Virgin Olive Oil

for drizzling

Salt & pepper
Instructions
Instructions for the dough:
Place flour, sugar, yeast and salt, into the bowl of a stand mixer. Then mix on low, until combined;

With the mixer still running, slowly add water and 2 tbsps. of olive oil. Then mix until the dough forms into a ball;

If the dough is too dry, then add an additional tablespoon of water at a time;

If the dough is too sticky, then add an additional tablespoon of flour at a time;

Transfer the dough onto a lightly floured surface and gently kneed for 30 seconds to form into a ball;

Place the dough into a large oiled bowl, and cover with plastic wrap;

Let the dough rise in a warm place until it doubles in size and achieves a spongy consistency (about 1.5 hrs.);

Turn the dough onto lightly floured surface, punch it and divide into two equal pieces;

Shape each piece into a bowl, cover them with kitchen towel and let rest for 10 more minutes.
Instructions for the pizza
Place a pizza stone into the oven and heat it up to 450F;

Once the oven reaches 450F, continue to heat up the stone for 30 minutes;

In the meantime, prepare your sauce;

Remove tomatoes from the can and reserve 1 1/2 cup of puree;

Remove and discard the seeds from the tomatoes;

Add tomatoes into a food processor and pulse until slightly crushed;

Add the reserved puree and salt and pulse one or two times to combine. Then set aside;

Next, spread some flour with semolina onto a pizza peel and place one of the balls on it;

Either push or roll the dough until ¼ inch thick (if the dough springs back, let it rest for 10 minutes and then continue);

Spread a ½ cup of sauce onto the dough, leaving about 1 inch off the edges;

Add half of your cheese slices;

Add half of the Prosciutto (again, if desired);

Season with salt and pepper;

Gently slide the pizza from the peel onto your hot stone in the oven;

Using the pizza peel, remove the pizza from the oven;

Add fresh basil leaves and cut the pizza into triangles;

Repeat the process with the second ball.
Nutrition
Calories:
457
kcal
|
Carbohydrates:
37
g
|
Protein:
23
g
|
Fat:
23
g
|
Saturated Fat:
11
g
|
Cholesterol:
66
mg
|
Sodium:
1285
mg
|
Potassium:
78
mg
|
Fiber:
1
g
|
Sugar:
5
g
|
Vitamin A:
545
IU
|
Calcium:
382
mg
|
Iron:
2.4
mg
Sources:
Lambrusco Wines Worth Drinking – Wine Folly
It's Time to Take a Fresh Look at Lambrusco – Wine Enthusiast
Lambrusco: Time to think again – Decanter