This post may contain affiliate links which won't change your price but will share some commission.

This post is sponsored by Bertolli ®, a brand I've loved and used for years. I'm very excited to tell you all about their new line of Rustic Cut TM Pasta Sauces and the Bertolli Rustic Cut Pasta Sauce Dinner Event in NYC, which I attended at the Gramercy Park Hotel. Herein you will also find my newest recipe for Skillet Pepperoni Pizza Sloppy Joes with Bertolli Rustic Cut Marinara Sauce. It's a super easy, and super quick dinner full of hearty, thick-cut vegetables.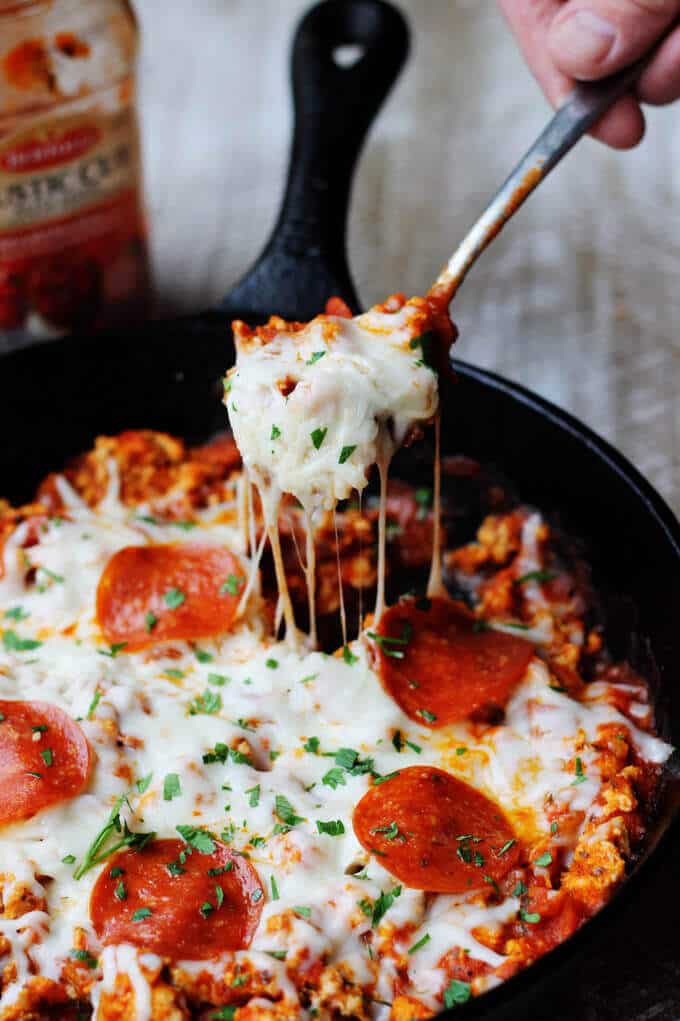 Many moons ago I lived in Queens, NY and worked as an attorney at a large Manhattan law firm. In fact, right in the epicenter of everything – in Times Square. I used to stroll down and up the streets and avenues all the time. And I must admit, that like any New Yorker, I took it for granted. Since then I've moved into the suburbs. Now that I have 2 little boys and a blog as my full-time job, these strolls are just a distant memory.
It wasn't until last week, when I got off the train at Penn Station and decided to take a walk to this Bertolli Rustic Cut Pasta Sauce Dinner Event that I again longed for those strolls. It was about half an hour walk but it was so invigorating. I was taking it all in….the air, the storefronts, the bars & restaurants, the passing people, the familiar noises, etc… I loved it! I remember thinking to myself: I wonder how the event will look; I wonder if there are any people walking in front of me or behind me that are heading for the same event?
And then I arrived. It was more than I was anticipating. It was simply breathtaking. They had managed to capture a real Tuscan feel. There was even a boomerang booth with bikes that looked like they were taken straight from the Tuscan fields. Just take a look:
The event started with drinks and hors d'oeuvres. Everything was super delicious!
The atmosphere at the event was fabulous. I met a lot of fantastic people, including Catherine and Sean Lowe from the Bachelor. They were a cute couple and very down to earth and approachable. They engaged in conversations with guests, posed for photos and, like all, genuinely seemed to enjoy the event. Then as the sun set the place really came alive.
After a bit of mingling, the time finally arrived for dinner. Everyone could sit wherever they wanted. Bread and Rustic Cut Pasta Sauce were served first for the table. The individual salads of rustic greens, with beans and shaved Parmesan arrived with a beautifully paired Pino Grigio.
The main course was served Tuscan family style. The dishes arrived and were passed around so everybody could taste a bit of everything on the menu. There was: Cavatelli pasta with summer squash, heirloom tomatoes, mushrooms, shaved Parmesan and Bertolli Roasted Garlic Marinara Sauce; Chicken Cacciatore with onions, olives and Bertolli Sweet Peppers & Portobello Mushroom Sauce; Roasted Branzino with shellfish and beurre blanc and polenta, with Spicy Rustic Cut Marinara Sauce. I loved all the dishes!!!
However, what really stole my heart was the polenta. This one was made with Parmesan, mascarpone and Spicy Rustic Cut Marinara Sauce, and it really did enchant me. A choice of Chianti Classico or Chardonnay was served with the main course. The conversations were flying through all the courses and throughout the dessert as well. Speaking of which, desert was a Tiramisu, and berries, cream and Prosecco. Need I say more? I'm looking at these photos and I want to go back there….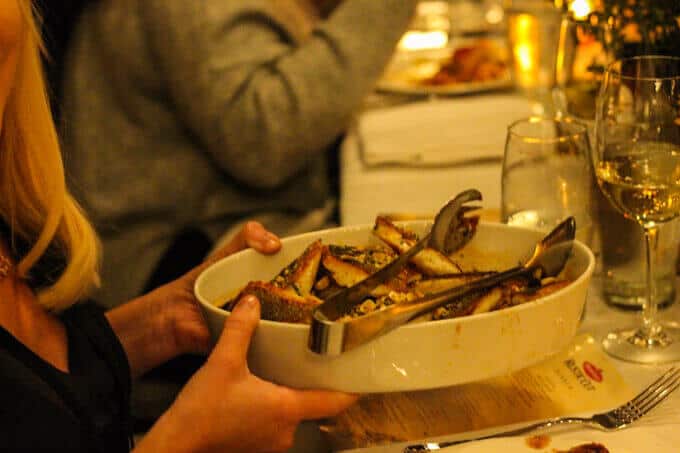 So, as the menu indicates the new line of Bertolli Rustic Cut Pasta Sauces were the star of the evening. They were inspired by the brand founder's, Francesco Bertolli, commitment to simply cooked meals made with the highest of quality ingredients.
Best thing is, if you have any of these new Rustic Cut Pasta Sauces handy, you'll be able to whip up dinner in no time. They're full of hearty, thick-cut vegetables like peppers, onions and carrots. Additionally, they're perfectly seasoned so you don't need to doctor them up. They contain no artificial colors, flavors or added sugar. You can simply boil any pasta, pour over your favorite Rustic Cut Pasta Sauce and enjoy your dinner.
But, if you're inclined to jazz them up a little bit, you may enjoy my recipe for Skillet Pepperoni Pizza Sloppy Joes.
 My Skillet Pepperoni Pizza Sloppy Joes is super easy. It only uses 5 ingredients:
Ground turkey;
Bertolli Rustic Cut Marinara Pasta Sauce;
Slices of pepperoni;
Mozzarella Cheese; &
Fresh Buns.
This dish literally comes together in no time. You just need to brown the turkey, seasoning it with a little bit of salt & pepper; add Rustic Cut Marinara Pasta Sauce, chopped peperoni; cook it for couple of minutes; then top it with cheese, letting the cheese melt; and then just serve on your buns. That's it! See the printable recipe below.
And let me tell you something…this Skillet Pepperoni Pizza Sloppy Joe is SUPER delicious. Mind you, I used no additional seasoning, except for salt and pepper for the meat. The Rustic Cut Pasta Sauce packs it all. The dish didn't require anything.
When my husband took a bite, he said "it's really good, and you also added some veggies here." I laughed at him (as I often do) and told him that I didn't. The Rustic Cut Pasta Sauce did…
Here is the printable recipe:
Skillet Pepperoni Pizza Sloppy Joes
Skillet Pepperoni Pizza Sloppy Joes is a very easy dish with ground turkey, Bertolli Rustic Cut Marinara Sauce, peperoni and mozzarella cheese. It can be served on a bun or over pasta or polenta.
Print
Pin
Rate
Ingredients
1

lbs

ground turkey

lean

2

cups

Bertolli Rustic Cut Marinara Pasta Sauce

20

slices

pepperoni

2/3

cut

mozzarella cheese

shredded

4

buns

1

tbsp

olive oil

to brown meat

Salt & Pepper, to taste
Instructions
In a cast iron skillet or other heavy skillet, heat up a tablespoon of olive oil;

Add ground turkey, season with a little bit of salt & pepper and cook until slightly browned (approx. 5 minutes);

Chop peperoni slices into quarters, add to the sauce and mix well; You may leave few pepperoni slices whole to decorate the skillet at the end.

Add shredded cheese on top of the skillet, cover it and let it cook for 5 more minutes;

Decorate with slices of peperoni;

You can also use some parsley for a garnish;

Serve it with fresh buns or over the pasta or polenta. Enjoy!
Notes
I used ground turkey, but this recipe can be altered by using different types of ground meats.
Nutrition
Calories:
356
kcal
|
Carbohydrates:
28
g
|
Protein:
34
g
|
Fat:
11
g
|
Saturated Fat:
2
g
|
Cholesterol:
73
mg
|
Sodium:
1091
mg
|
Potassium:
822
mg
|
Fiber:
2
g
|
Sugar:
7
g
|
Vitamin A:
560
IU
|
Vitamin C:
9.2
mg
|
Calcium:
94
mg
|
Iron:
3.8
mg
Also, I wanted to let you know that this month Bertolli launches the Bravo Rewards Program. If you purchase two or more jars of any Bertolli Pasta Sauce in one trip to the store and post a photo of a recipe on bertolli.com/bravo you will receive a custom ceramic spoon rest.
This is a sponsored post written by me on behalf of Bertolli ® Rustic Cut TM Pasta Sauces.
Read about the author Edyta here or follow Eating European on social media: Facebook, Instagram, Pinterest, and Twitter.