Creamy mushroom sauce made with both wild, dried porcini mushrooms and your choice of fresh mushrooms, all of which in wine and cream base. This makes for an irresistible sauce that can be added to any pasta dish, chicken, steak, or eaten on its own with a slice of fresh bread.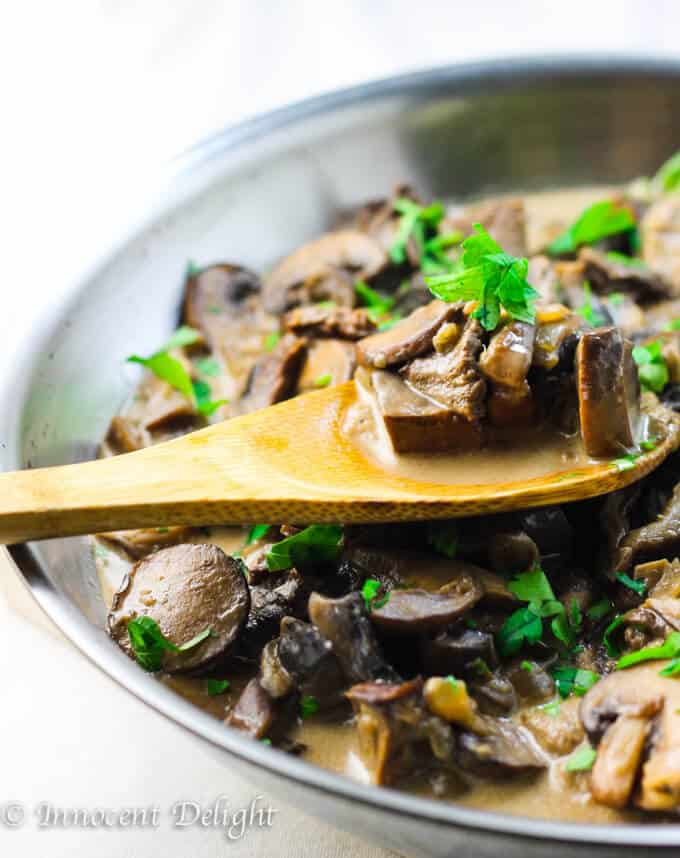 Creamy Mushroom Sauce is popular throughout Eastern Europe
Have you heard about mushroom picking? It 's super popular in Europe. In the fall we would all get up at the down and go to the forest to pick up fresh, wild mushrooms.
Sometimes it would be a competition among the family members…who would find more mushrooms? However, forests were full of poisonous mushrooms so there always had to be someone in a crowd (ie, a parent) who was a real specialist in edible mushrooms.
Every family had at least one member who was really good at identifying mushrooms. That's how deep this tradition was incorporated into families' lives.
I personally couldn't wait for the fall to get out into that crisp autumn air and go mushroom picking. Aside from the adventure of it all, the best part was that after we came back home we would enjoy the most delicious creamy mushroom sauce.
What mushrooms can be used in the mushroom cream sauce
I grew up in Poland and we have plenty of mushrooms called 'Bolete' in our forests (which I have never seen in the US). But there were also plenty of porcinis and chanterelles.
We would use these boletes and porcini for an easy wild mushroom sauce, or we would dry them to use later on for Christmas for pierogi, uszka, kapusta or bigos.
Chantarelles were separated. We could make the creamy mushroom sauce just from the chanterelle, or use them in pierogi or scrambled eggs.
Because it is not very easy to find fresh bolete or porcini in the U.S. you can substitute any variety of fancy mushrooms. I've seen fresh porcini mushrooms in high-end grocery stores, so if you happen to have them then you can make a porcini mushroom sauce, but it's optional.
Or you can use dried porcini mushrooms with some other kinds of easily found mushroom, like shitake, portabello or crimini (that's what I did in this recipe). Scroll down for a full printable creamy mushroom sauce recipe.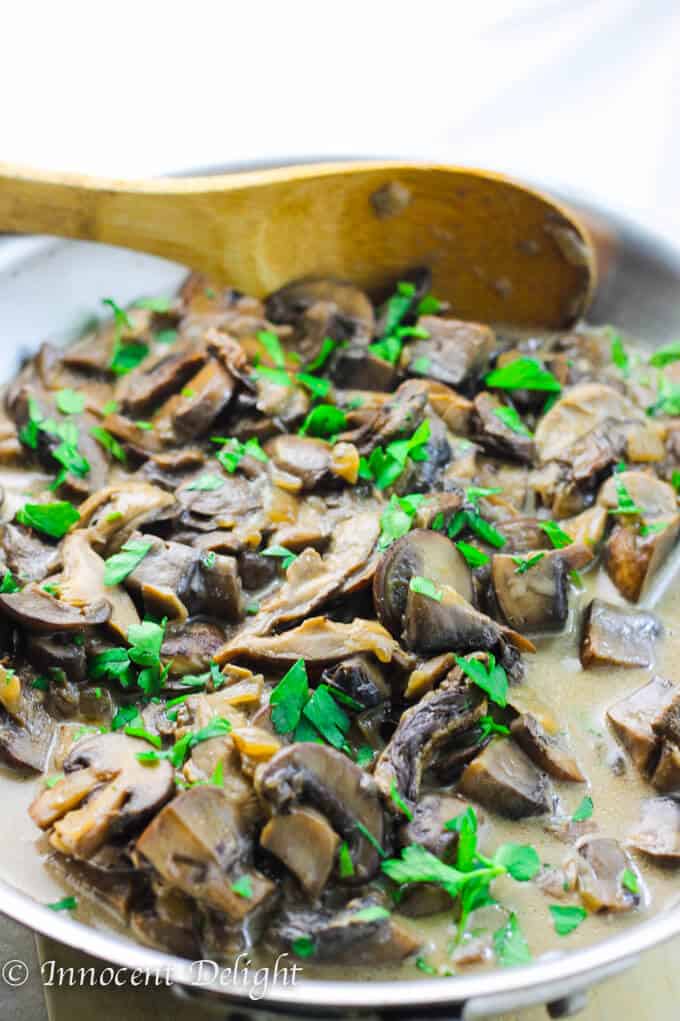 How to Make Mushroom Sauce
This is a very easy recipe. The only thing to keep in mind is that if you do use dry mushrooms you'll need to factor in a bit more time.
First, the dry mushrooms should soak for about 15 minutes beforehand, and then they'll have to cook for about 45 minutes. (do not discard the water). Other than that, this recipe is quick and easy.
In the saucepan you'll sauté the onions and then add mushrooms from the meatiest ones to the softest ones: Portobello first and cook for about 5 minutes, then crimini (or Baby Bella) and cook for another 3-4 minutes and lastly the shitake with dry mushrooms and cook for a few more minutes.
Then add wine and let it cook for a couple of minutes until almost fully absorbed.
Now you will use some of the water from cooking the dry mushrooms. Just be mindful that the sand and dirt are at the bottom of the pot so do not stir it. Using a fine strainer (affiliate link), add about a ½ cup up to 1 cup to the pan to create a sauce and cook for about 20 minutes until all the mushrooms are soft (add more water if needed)
Lastly, add creme fresh and cook for one minute. Season with salt and pepper and sprinkle with parsley and you are ready to serve.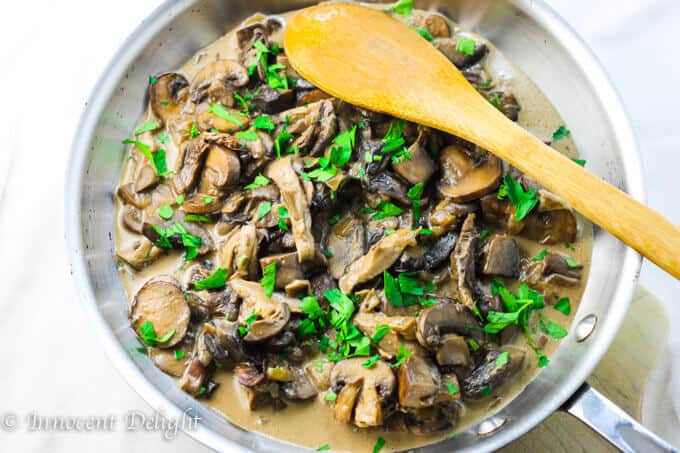 How to Use Creamy Mushroom Sauce
 You could use this creamy mushroom sauce in so many different ways. Here are a few of my suggestions:
Other Recipes with Mushrooms
Here's your printable recipe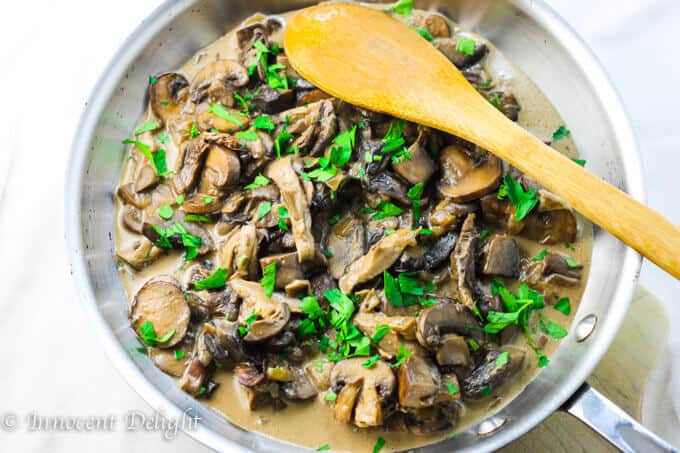 Total Time:
1
hour
30
minutes
Ingredients
1/2

cup

Dry Porcini mushrooms

2

Portabello mushrooms

big, cut into small slices

3.5

oz

Shitake mushrooms

sliced,

1

lb

Baby Bella mushrooms

16 oz. box, sliced

1

Onion

large, chopped

1/4

cup

White wine

1-2

tablespoons

Creme fresh

(it's milder than sour cream, but you can use sour cream or splash of heavy cream)

1-2

tablespoon

Ghee

butter or olive oil for sautéing the mushrooms

Fresh Italian parsley for garnish

Salt and pepper

to taste
Instructions
In a small saucepan, soak the wild dried mushrooms with 2 cups of water for 15 minutes, then cook for about 45 minutes until they are soft;

Into a large sauté pan, add butter or oil and onions, sauté for about 3-4 minutes;

Add Portabello mushrooms and sauté for about 5 minutes;

Then add Baby Bella mushrooms and sauté for another 3-4 minutes;

Add Shitake mushrooms and cooked porcini mushrooms and sauté for another 2-3 minutes;

Pour wine over mushrooms and let cook for about 3-4 minutes, until almost fully absorbed;

Using a strainer, add about 1/2 cup up to 1 cup of water from the pan where you had cooked dried mushroom to create a sauce;

Cook for another 20 minutes, until all the mushrooms, are soft; (add more water if needed)

Season with salt and pepper (you may want to season it as you go);

Add creme fresh and parley and serve immediately.
Nutrition
Calories:
114
kcal
|
Carbohydrates:
13
g
|
Protein:
4
g
|
Fat:
4
g
|
Saturated Fat:
2
g
|
Cholesterol:
11
mg
|
Sodium:
17
mg
|
Potassium:
840
mg
|
Fiber:
2
g
|
Sugar:
5
g
|
Vitamin A:
0.4
%
|
Vitamin C:
2.5
%
|
Calcium:
3
%
|
Iron:
4.5
%
This post was originally published on March 15, 2015, and since was updated to provide additional information.
Read about the author Edyta here or follow Eating European on social media: Facebook, Instagram, Pinterest, and Twitter.