Potato Leek and Feta Pie is a simple vegetarian dish that combines an amazing filling of roasted potatoes, sautéed leeks, eggs, milk and feta; all housed within a simple pie crust. The taste is simply irresistible.
Potato Leek and Feta Pie – does't it sounds like a perfect Greek and French marriage? Greeks love both their feta and their pies. French love both leeks and potatoes. So as a fan of both cuisines, it just makes sense to pile it all into one. Understand, I can eat leeks every day. I think they are excellent and any recipe that utilizes leeks is a recipe worth exploring to me.
I'm well aware that potato and leeks always pair nicely together. Who doesn't like a potato and leek soup? That's why, when this idea dawned on me I figured that maybe it will work well in a pie. I didn't hesitate for long. And if you're a regular reader of my blog, you probably know how much I love feta cheese. I can and do add it to everything. So if you haven't already guessed it, I have to admit that this concept of mine came out absolutely deliciously. It can work both as a side dish or vegetarian full meal. It can also be used with a crust or without one, for a gluten free version.
Let met tell you a little story on how I got to know leeks. In traditional Polish cuisine they are used only as an addition to soups, but there are no individual dishes that which actually highlight leeks. But right after I graduated high school (many moons ago), I was looking for a vacation job and I found one in the kitchen of a French Bistro. My first day of work started at 7 am. I was told to go to the basement and clean up the leeks. I had never seen so many leeks. I was stunned. Who the heck needs so many leeks? What do they do with them here? I was puzzled.
I had also come to learn that day that leeks are pretty sandy, so you need to clean them well. If you don't, you may hear the crunch of sand in between your teeth. Anyways, as instructed it took me couple of hours before I was done with the cleaning of the leeks. When I finally finished and came back to the kitchen, I was told that now I had to chop them. What? All these leeks? That was another shocker.
But I did what I was told to. Again it took me a couple of hours and cost me a couple of blisters on my fingers (yep, that might give you a better idea of how many leeks that needed to be chopped). It turned out that all these leeks were to be used for two dishes on the menu: Cream of Leek Soup, and Crepes with Leeks and Blue Cheese. Both were super popular menu items. After all this cooking was done, I tried both dishes and was amazed! The sweet and slightly mellow, but yet deep taste of the leeks was amazing and made me fall in love instantly.
Well back to the dish at hand, I had a leftover pie crust and wanted to use it for something other that a sweet pie. The idea of a pie layered with potatoes and delicious leeks, then smothered in a milk and egg sauce, with some added feta just spoke to me. If you are into leeks then try this recipe for a Potato Leek and Feta Pie. If you don't have a clear stance on leeks then likewise, try this recipe for Potato Leek and Feta Pie. I dare you 🙂
Here's what you will need to make this awesome Potato Leek and Feta Pie:
store bought pie crust or home made (you can use the recipe for Perfect Pie Crust from Add a Pinch)
potatoes
leeks
onion
milk
eggs
sour cream
fresh herbs: parsley and thyme
salt and pepper
Scroll down for full printable recipe.
And if you happen to like this leeks you may want to try next my: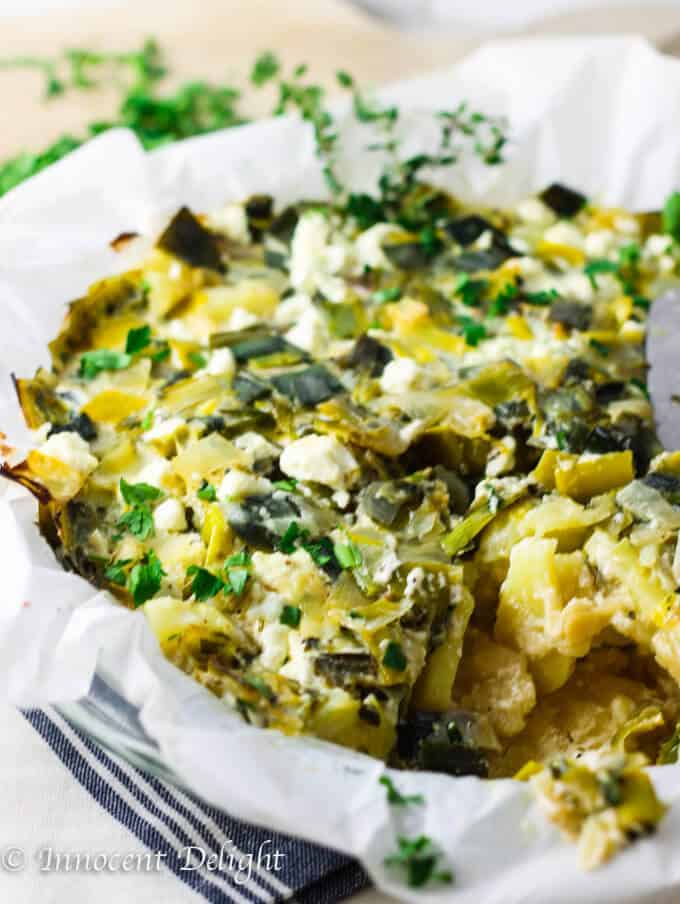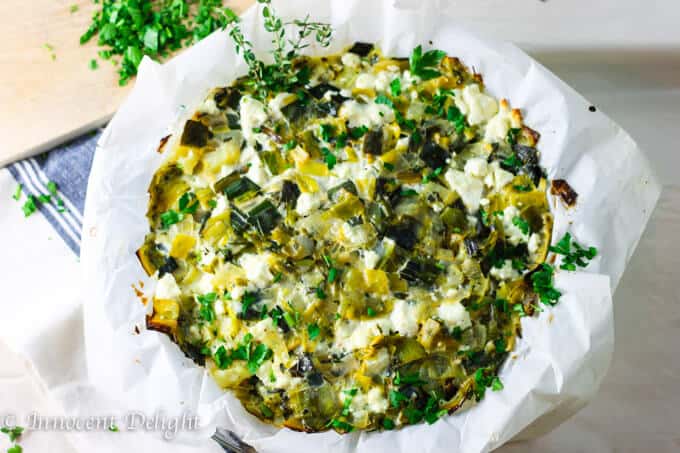 Ingredients
1

lbs

potatoes

8-10 small , peeled

2

leeks

, white and green parts, chopped

1

onion

, Spanish, chopped

1

tablespoon

fresh thyme

, chopped

2

tablespoon

fresh parsley

, chopped

2

tablespoon

olive oil

3

eggs

, beaten

1

cup

milk

1/2

cup

sour cream

1/2

cup

feta cheese

, crumbled (like Dodoni)

Salt and pepper

pie crust

store bought
Instructions
For the crust
If using pie crust, pre heat the oven to 450 F;

Spread the crust on your sprayed, baking dish (round 9.5 inch);

Bake it for 10 minutes;

Remove crust from the oven and let it cool completely;

Lower the oven temperature to 400F;
For the filling
Peel and slice the potatoes, mix them with 1 tablespoon of olive oil, spread on a baking sheet and place in the oven together with the crust and roast for about 10 minutes.

In the alternative place peeled and sliced potatoes in a saucepan with salty water and cook until almost fully cooked (depending on potatoes 10 minutes);

In a large saucepan heat up olive oil, add onions and cook for about 3-5 minutes;

Add chopped leeks, thyme and parsley and cook until leeks are soft (7-10 minutes);

Combine together milk, sour cream, eggs, feta cheese, salt and pepper and set aside;

Once potatoes are done, add to the bottom of the baking dish;

Season with salt and pepper;

Pour 1/3 of the milk, sour cream, egg, feta mixture on top of the potatoes;

Add leeks on top of the potatoes and spread evenly;

Pour the remaining milk, sour cream, egg and feta mixture on top of the leeks and spread evenly;

Place it in the 400F oven and bake for 25 minutes;

Remove from the oven and let cool slightly before serving.
Nutrition
Calories:
238
kcal
|
Carbohydrates:
18
g
|
Protein:
8
g
|
Fat:
14
g
|
Saturated Fat:
6
g
|
Cholesterol:
106
mg
|
Sodium:
218
mg
|
Potassium:
525
mg
|
Fiber:
2
g
|
Sugar:
5
g
|
Vitamin A:
20.4
%
|
Vitamin C:
21
%
|
Calcium:
19.2
%
|
Iron:
21.6
%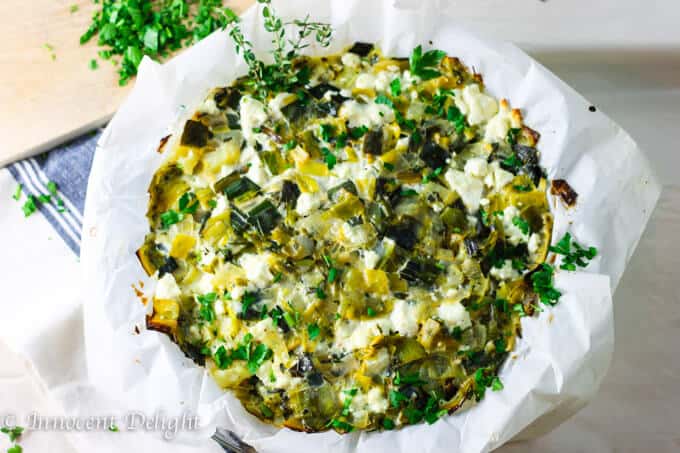 This post was originally published on January 21, 2015 and was since then updated to provide additional information.
If you like this dish you may also like this side dishes:
Potato Salad with Eggs and Pickles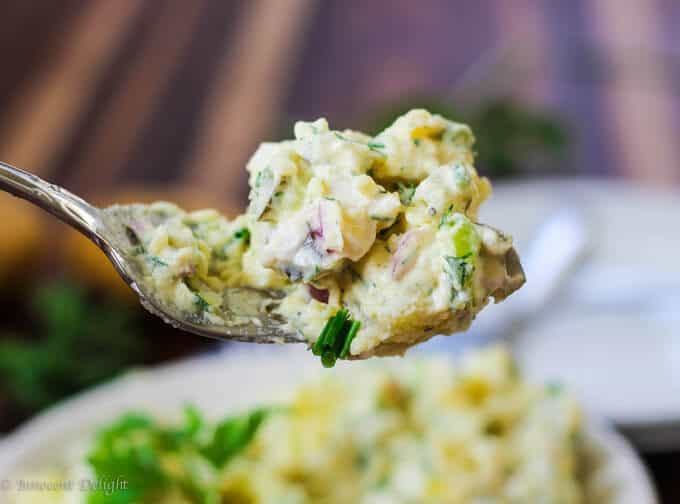 New Dill Potatoes with Scallion Cream Sauce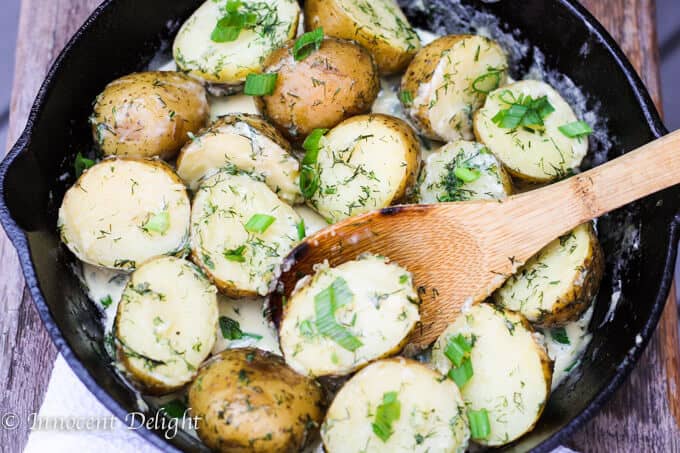 Maple Mashed Sweet Potatoes with Candid Pecans, Craisins and Chives