Chicken Normandy, also known as 'Poulet á lá Normande,' is a super delicious, fall, French Chicken dish. It is whole chicken legs braised in apple cider and brandy; then cooked with onions, garlic, and herbs, and finally finished off with cream, dijon mustard, and fried apples. It's luxurious, has that definite "Wow" factor both in look and in taste – yet it's easy to make. 
If you're looking for other classic French Chicken recipes you may want to try next this Chicken Chasseur (French Hunter's Chicken) or Chicken Provencal with Shallots and Garlic. 

What is Chicken Normandy
Chicken Normandy (known in France as Pouletá lá Normande) is a famous French chicken dish that originated in the northern part of France, called Normandy.
Normandy is known for its apples, apple cider, and brandy. This recipe incorporates all of these ingredients, for which Normandy is renowned. Traditionally Chicken Normandy is made with apple brandy or Calvados, but if you don't have it, use any brandy you've got.
The chicken is seared to achieve its brown crispy skin and then placed in the flavorful liquid made out of sauteed onions, brandy, and apple cider. It's then braised in the oven until the chicken is fully cooked. And finally, it's finished with cream and served with fried apples.
You can't dream of a better fall dinner! As a matter of fact, my husband went mute after his first bite when I first served him this famous Chicken Normandy.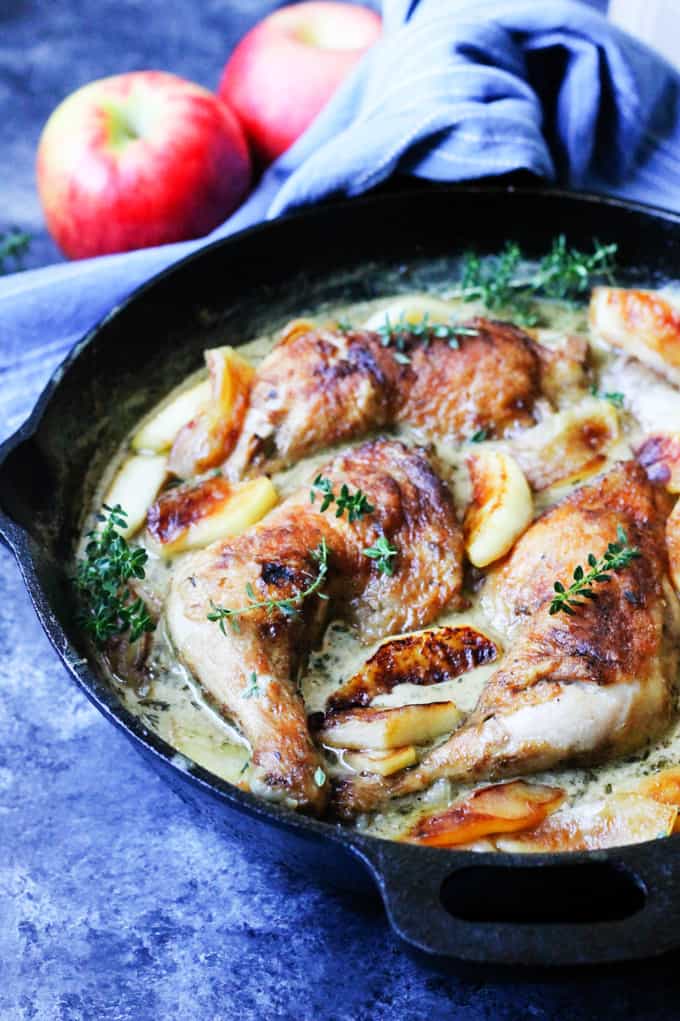 What Chicken Parts are Best for This Chicken Normandy Recipe
I strongly recommend using whole chicken leg quarters for this recipe, because they're the most flavorful and also can hold up well while braising. You could use just chicken thighs or both thighs and drumsticks, but be mindful of your cooking time. They will cook faster than the whole legs. I would check the temperature after 20 minutes of braising in the oven.
I really think that chicken on-the-bone is what makes this dish incredible. However, if you want to use boneless chicken thighs, or even breast, you could, but check the chicken after 15 minutes of braising. They will also need less time to sear, so watch it carefully if you decide to go this route.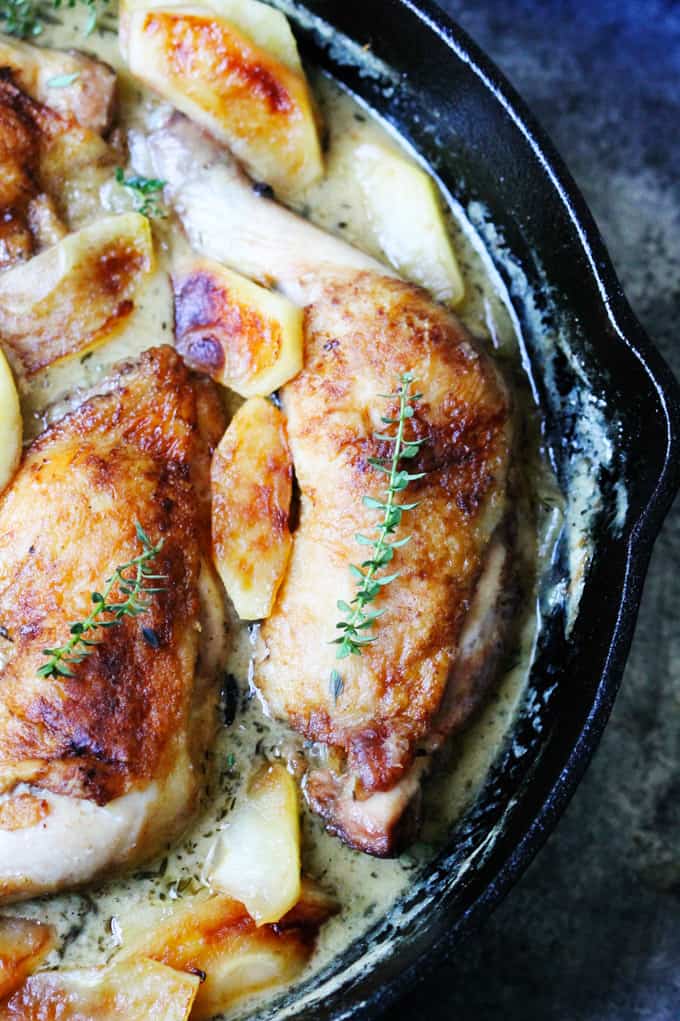 What Ingredients Are Needed for this French Chicken Normandy Dish
For a full recipe with exact measurements please scroll down to the recipe card. This part is simply meant to help you with your grocery list:
Chicken Leg Quarters;

Butter (super important in French cooking);

Sweet Onions;

Garlic;

Dry Thyme;

Apples, that will hold their texture while frying (like Honeycrisp);

Brandy (ideally Apple Brandy or Calvados);

Apple Cider (VERY IMPORTANT: DO NOT confuse it with Apple Cider Vinegar!);

Dijon Mustard;

Heavy Cream;

Fresh Thyme;

Seasoning: salt and pepper.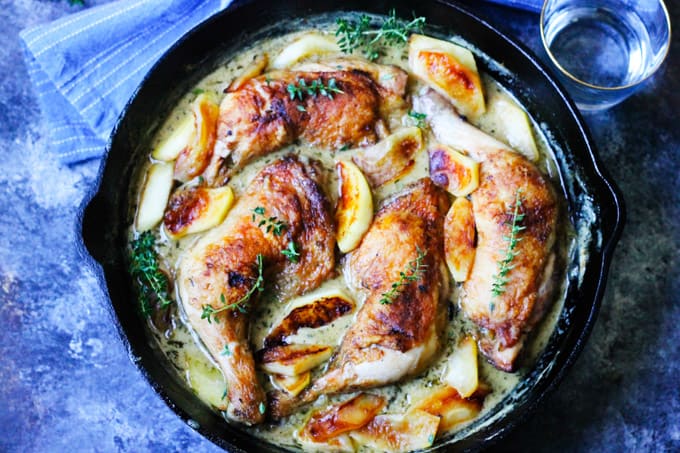 How to Make Chicken Normandy
For printable recipe with exact measurements, time and nutritional information please scroll down to the recipe card. This section is meant to visually show you how to make this amazing Chicken Normany dish.
Step 1: Fry the Apples: you could do this part after your chicken is in the oven in a separate pan, however, I like frying the apples first in the butter (in the same skillet as you will sear the chicken in). To make it peel, quarter, remove seeds and slice the apples. Heat some butter in the skillet; add the apples in one layer and fry them until golden brown – flipping a few times. Once cooked on both sides, remove apple slices and set them aside.
Step 2: Sear the Chicken: add more butter to the same pan, season the chicken with salt and pepper and sprinkle with flour. Sear the chicken on a hot pan for 5-7 minutes on each side, until the skin is crispy and golden brown. Then remove the chicken from a pan and set aside.
Step 3: Prepare the braising liquid: Preheat the oven to 375ºF. To the same pan add sliced onions (EXPERT TIP: there should be no reason to add more fat as the chicken renders a lot of it. However, if you're using chicken breast or boneless, skinless chicken thighs you will most likely not have enough fat in the pan. In that case, add a tablespoon of butter before adding the onions). Sauté the onions on medium heat for approximately 5-7 min.; add garlic and dry thyme and cook for another minute. Deglaze the pan with brandy and cook until half of it has evaporated; then add apple cider (you know, like the dark apple juice – not to be confused) and cook for about 5 minutes.
Step 4: Braise the chicken: Add the chicken (skin side up) back into the skillet, cover the pan and move to the hot oven. Bake the chicken for 30 minutes. Carefully remove the pan from the oven using heavy-duty oven mittens. The handle of the skillet will be super hot. Please don't burn yourself (I've done this once when I forgot I took the pan from the oven. EXPERT TIP: To be safe keep one mitten on until your dish is finished. This way you won't forget and accidentally touch the handle).
Step 5: Finish up the sauce: Remove your chicken onto a plate and finish up the sauce. First, add heavy cream and then Dijon mustard to your pan and mix well. Cook it for about 5 minutes, until the sauce thickens up. Then add fried apples, fresh thyme, and chicken back into the skillet (to soak up some of the sauce).
Step 6: Serve: Place the sauce onto the plate, make sure each plate has onions, apples, and enough sauce to dunk in. Place a chicken leg on top of the sauce and serve. Enjoy!
Storing and Freezing Chicken Normandy
You can store this chicken in the fridge for up to 3 days. Reheating is easy. Either use your microwave for 2-3 minutes or place it in the oven preheated to 350F for approximately 15 minutes, until warm through.
You can also freeze it in portions and store it for up to 3 months. To use it, defrost it overnight in the fridge and then place in 350F oven for 20-30 minutes to cook it through.
How to Serve this Chicken a la Normande
The sauce, made from onions, brandy, apple cider, dijon mustard, and cream is so incredibly flavorful that you'll want every single bit of it. And that's why I highly recommend a fresh bread, like baguette or rustic round, so you can soak up your sauce.
It could also go well with polenta or egg noodles, but the mashed potatoes with brown butter or Boulangere Potatoes would be my choice.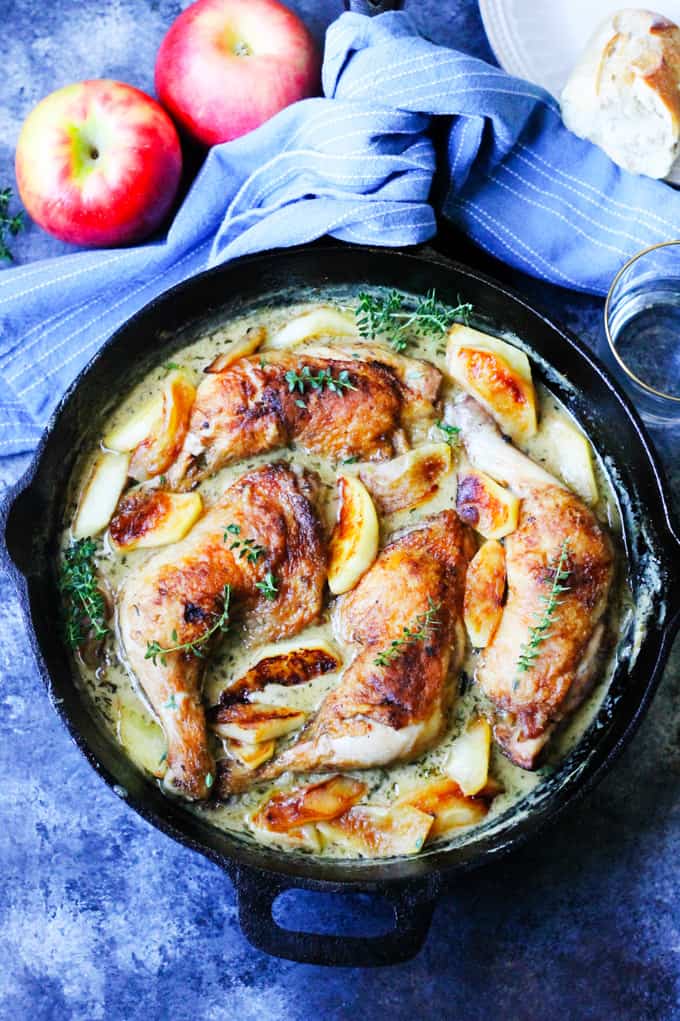 Other French Recipes to Try:
Other Popular Chicken Recipes to Try:
Read about the author Edyta here or follow Eating European on social media: Facebook, Instagram, Pinterest, and Twitter.