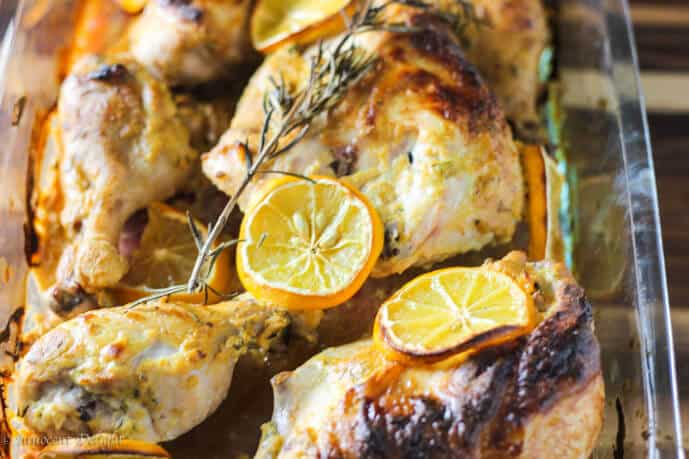 Inspired by Anne Burrell's Grilled Chicken with Dijon and Meyer Lemon  recipe, I decided to try roasting this Dijon and Meyer Lemon Chicken. Although the season for Meyer Lemons may be over, you could consider trying regular lemons and grill the chicken (as Anne did in her recipe). Ultimately it is a grilling season in New York, so I encourage you to give it a go.
I've been hearing about Meyer Lemons for quite awhile, but never came across them by myself. But they peaked my curiosity and I really wanted to find them. It turned out that because they are so delicate, they are difficult to transport and store and as such not so easy to find. Had I lived in California, they would probably be on my table every day. Unfortunately they don't grow in NY. I have never mention this type of lemon to my husband and couldn't be more surprised when he came back home from Costco shopping mission with a box of… yeah… that's right: MEYER LEMONS. Apparently he had confused them with the generic lemon. I was jumping like a little kid who got the lolipop. I just couldn't  believe my eyes and control my elation… He had: "lemons" on his shopping list and instead he brought me "Meyer Lemons". Divine!!!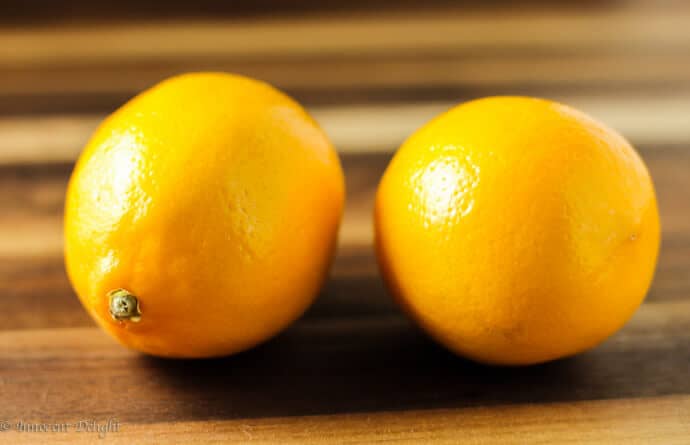 Let me tell you…. this was Love at first sight, smell, touch. Their bright deep yellow color (like the sun at noon) popped out. Their beautiful floral aroma mesmerized me to the deepest part of my soul. Their plump, smooth skin felt so soft when it touched to my cheeks. After that come the taste…slightly sweet with an orange hint. Kill me now! How I didn't know about their existence for most of my life baffles me. I guess 'better late than never.' My little yellow cuties…I'm still smiling thinking about that first moment we met. My husband was so happy when he saw my reaction. He kept asking me: "Did I do good?" Of course he did good, and of course I was happy. For the crazy foodie, as I am, happiness was found in the Meyer Lemon.
A few facts, for those who are interested:
The Meyer lemons are believed to be a hybrid between a lemon and a mandarin orange.
They have been named after Frank Meyer – plant explorer – who discovered them in Beijing and then brought them to the United States in 1908. Nowadays they're grown commercially in California, Texas, and Florida. The special thing about them is that they're much sweeter than regular lemons, and they have a complex citrus/mandarin/orange taste.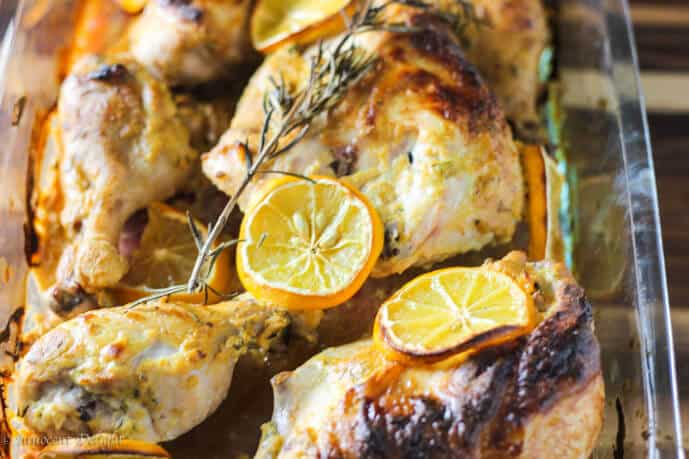 Prep Time:
2
hours
15
minutes
Total Time:
2
hours
55
minutes
Ingredients
1

whole chicken - cut into 8 parts

4

meyer lemons

1

cup

dijon mustard

2

tablespoons

chopped rosemary + few whole strings

1

teaspoon

crushed red pepper flakes

Kosher salt

Freshly ground black pepper

2

tablespoons

of olive oil
Instructions
In a bowl, mix together dijon mustard, juice and zest from two lemons, chopped rosemary, pepper flakes, olive oil, and salt and pepper

Whisk the mixture together

Place the chicken in the baking dish

Brush the the mixture over the chicken; leaving a couple of tablespoons for re-painting during the roasting process

Cover the chicken with the plastic wrap and refrigerate for at least 2 hours

Preheat the oven to 400 degrees F

Slice 1 meyer lemon and place it on top of the chicken, squeeze the juice from the remaining lemon all over the chicken and add few sprigs of rosemary on top

Roast chicken for 35 to 40 minutes until the internal temperature reaches 165 degrees F