This post may contain affiliate links which won't change your price but will share some commission.
One Pan Herbed Lemon Chicken with Veggies Recipe – quick and easy dinner with  minimal preparation that takes only 15 minutes. The oven does the job for you.
I love watching the Kitchen on the Food Network on Saturday's mornings. I often feel inspired by dishes that the hosts are making. Recently I saw the show when Sunny Anderson made this Rosemary and Thyme Chicken. It looked so easy and so delicious that I decided to give it a try.
As always, I tweaked it a little bit to my liking and that's how I came out with this One Pan Herbed Lemon Chicken with Veggies Recipe.
Sunny's recipe calls for whole chicken cut in pieces. I had 2 chicken breasts on a bone and 4 drumsticks. Even though the size was different they cooked pretty evenly, however I gave it 5 more minutes in the oven to make sure that chicken breast was cooked through. I think that chicken tights would do great in this recipe as well.
I must admit that I cut the carrots too thin. You should only cut them in half, because they cook really fast. Mine cooked a little too fast, but they were still super delicious.
What I did different and think that it absolutely worked?
I used twice the amount of lemon (because I love any kind of lemon chicken like this Dijon Meyer Lemon Chicken);
I used triple the amount of rosemary springs (because I think the rosemary gives sooooo much aroma);
I cut all potatoes in half and placed them flat side down (because that's how I roast all my potatoes to get this crispy and delicious side of roasted potatoes);
I used smoked Spanish paprika instead of hot Hungarian paprika (because it's my favorite spice of all times; I used it in this Leftover Turkey Spanish Rice and the spice gave this dish an extra depth).
The whole meal was super scrumptious, but let me tell you a little bit about these potatoes. They cooked perfectly, they were soft inside and crispy on the outside. But the combination of flavors (lemon, herbs and smoked paprika) created the taste that I couldn't resist. They reminded me a little of Greek Lemon Potatoes but texture was different. These might have been the best potatoes I've ever made. Give this one pan lemon herb chicken with veggies recipe a try. It's super easy and the whole family will love it. Guaranteed.
Ingredients
1

whole chicken

, skin on. cut into parts

1

pound

medium potatoes cut in half

4

carrots

, cut lengthwise

2

lemons

, 1 1/2 sliced and 1/2 for drizzling

Olive oil for drizzling

2-3

pinches

of Spanish smoked paprika or Hungarian hot paprika

20

springs of fresh thyme

10

springs of fresh rosemary

Kosher salt and freshly ground pepper
Instructions
Preheat the oven to 450 F

On a baking sheet with sides, drizzle some olive oil all over the pan

Add the lemon slices to the half of the sheet and add chicken on top of them (skin side up)

Season chicken with salt, pepper, paprika and drizzled with olive oil and add remaining lemon slices on top of each chicken part

On the other half of the sheet, add potatoes cut side down and carrots.

Season vegetables with salt and pepper and pinch of smoked or hot paprika

Cover everything with theme and rosemary

Drizzle more olive oil and the other half of the lemon all over the sheet pan

Roast until the chicken is cooked through, about 40 - 45 minutes or until the internal temperature reaches 165F

Once chicken is cooked discard the rosemary and thyme

Remove the chicken from the pan and cover loosely with foil until ready to serve
Notes
1. This recipe is adapted from Sunny Anderson's Rosemary and Thyme Chicken
2. Sunny's recipe calls for whole chicken but you can use any parts you have.
3. Make sure that the carrots are big and you only cut them in a half. I cut mine one more time and they could use less time to cook.
4. The potatoes came out super amazing, but they need to be cut in half in order to soak all the juices from the pan.
If you like this recipe you may also like these delicious chicken recipes:
2. Greek Chicken with Tomatoes Cauliflower and Feta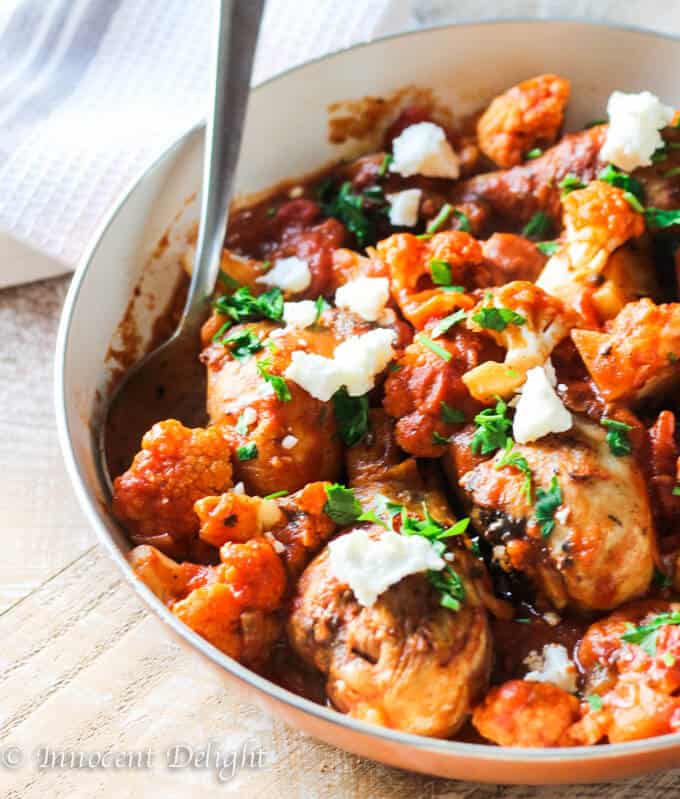 3. Honey Harrisa Chicken Skewers with Garlic Mint Sauce
4. Slow Cooker Whole Roasted Chicken