This post may contain affiliate links which won't change your price but will share some commission.
Chicken Tomato Basil Rigatoni Recipe – super simple weeknight rigatoni pasta meal with chicken, smothered in delicious tomato basil sauce. Quick and easy, cooks in 30 minutes.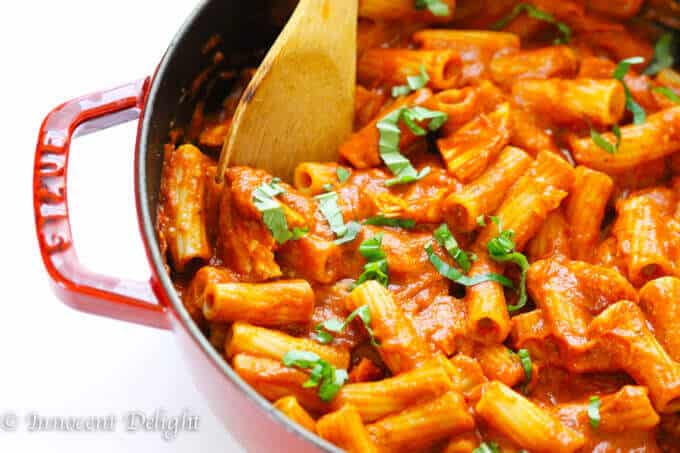 I am always on  a lookout for a good, simple recipe to use my leftovers chicken. Very often I would roast the whole bird on the weekend. Usually I'm ending up with plenty of leftovers to use during the week and with some bones for a chicken broth (I'll tell you about it later). Then I use these leftovers to make a quick dinner during the week.
Recently, I came across this chicken tomato penne on Recipe 30 website (which somehow I cannot locate now)  and thought that this recipe will go really well with my leftovers chicken. That's how I came up with this chicken tomato basil rigatoni recipe.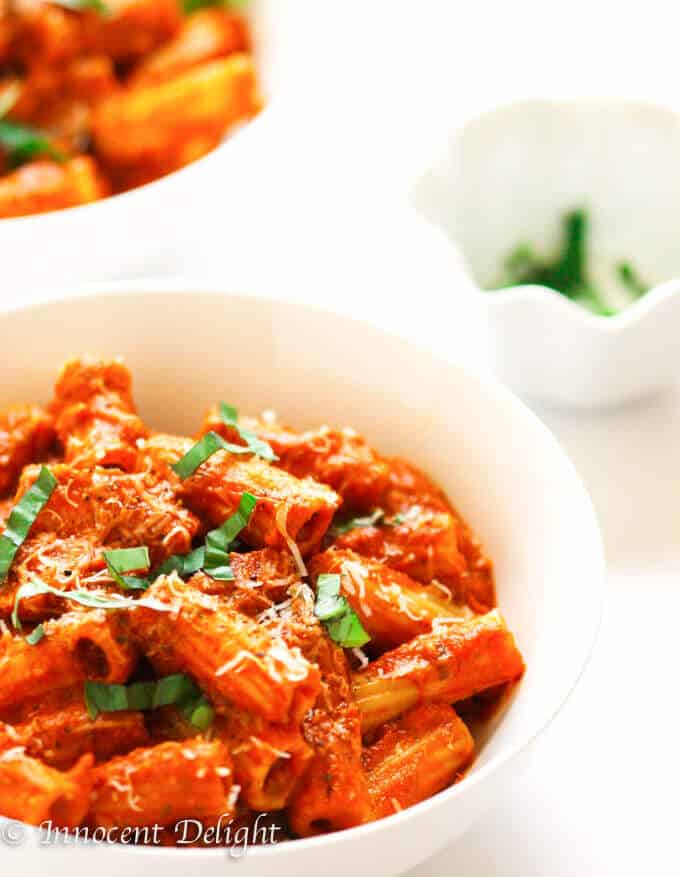 This recipe is very quick and easy. It doesn't require a lot of preparation and it comes up super delicious. Just a few little steps:
Just add carrot, garlic and oregano
Add tomato pure
Add parmesan cheese, blend
Add chicken
Add cooked pasta
Add more parmesan cheese
Sprinkle with basil and dinner is served (See the photos below and for detailed instructions, please see the recipe)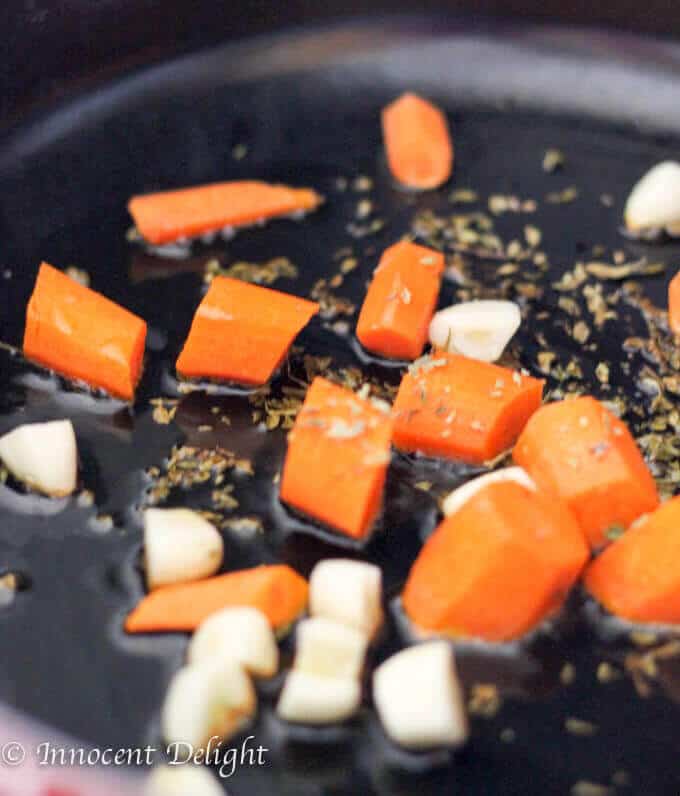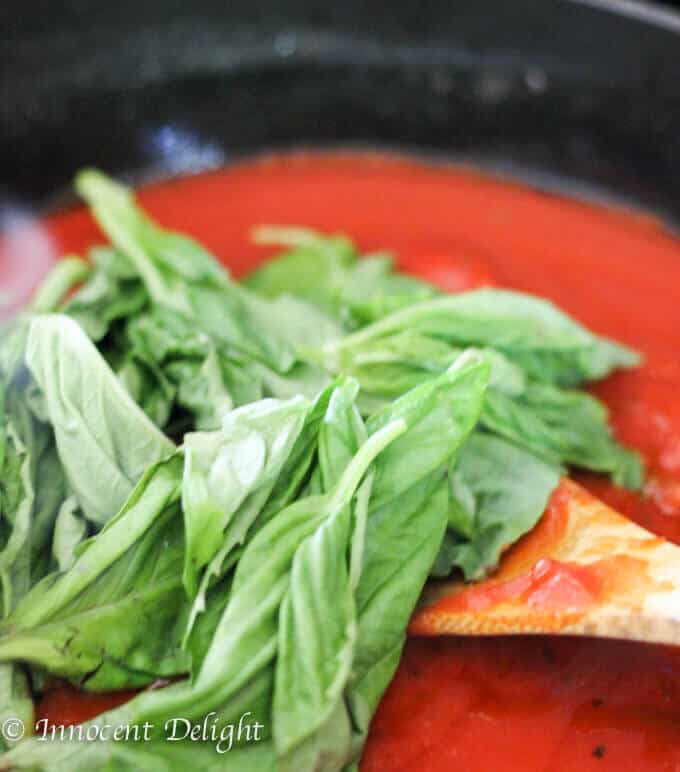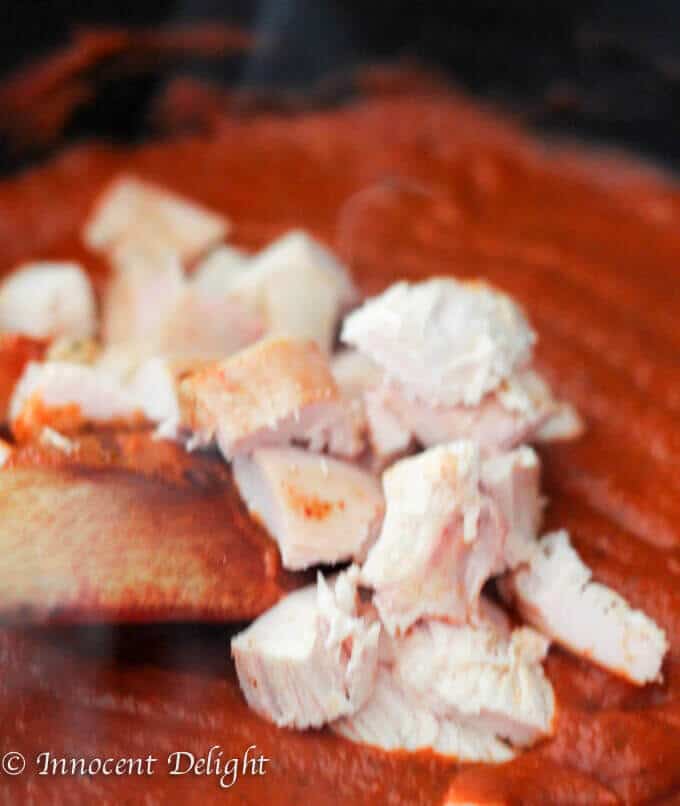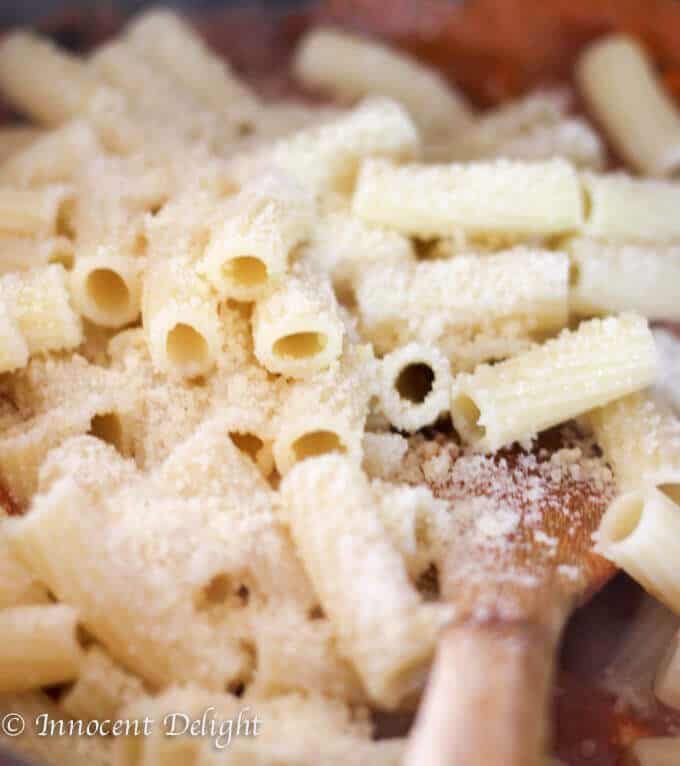 As I mentioned before, I often roast the chicken on the weekends. My husband loves it and he feels like it is a "Game of Thrones" type of meal, so we often have it on Sundays. After dinner, he strip all the leftovers meat from the bones and through the bones to the crockpot. Then I add, carrots, celery, onions, garlic, parsley and salt to the crockpot and set it up overnight. The next day I portion the broth out and freeze it. This way I have a perfect base for any vegetable soup that I cook often for my son. Not to mention that it is one of the healthiest things you can eat. It goes without saying that the chicken quality is very important.
Anyways, I usually have almost two chicken breast left. It's 2 dinners during the week! Now, the challenge is to find a creative way to use them. Sometimes  I would add them to my Margarita Pizza Quesadilla or this amzaing Spanish Rice or if I have this vodka sauce ready I would add them to my Penne Alla Vecchica Bettola, but I am so happy that I came across this amazing recipe with tomato and basil sauce. It is my new addition to the easy meals during the week list.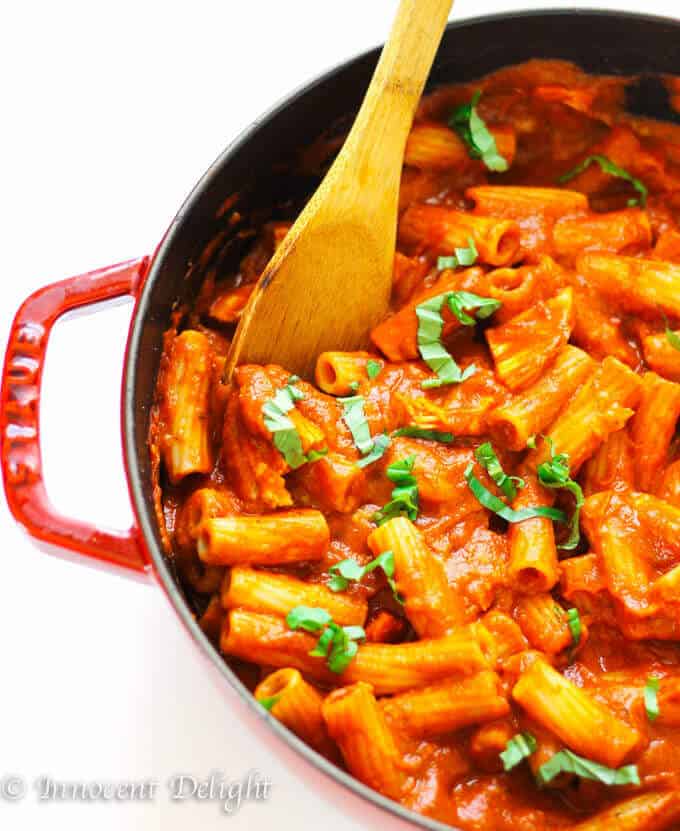 If you don't have a leftover chicken, but you have a fresh one, you can just slice it, season and cook on a little bit of butter and add to the pasta. You can also make this pasta as a vegetarian meal and skip the chicken altogether. There are options here, so choose whatever works for you. You can make this chicken tomato basil rigatoni recipe and serve it with my Homemade Dutch Oven Crusty Bread. Happy pasta dinner friends 🙂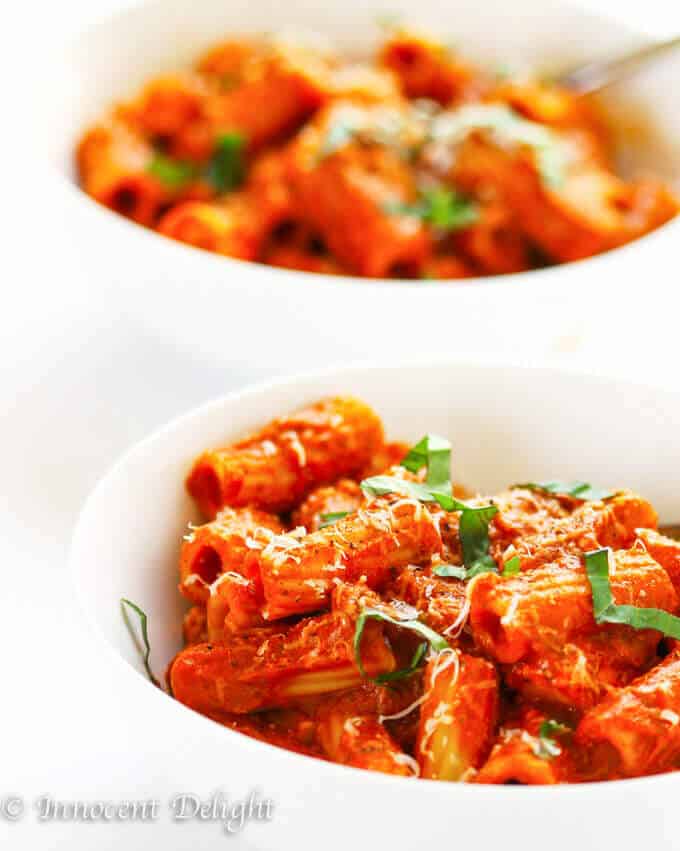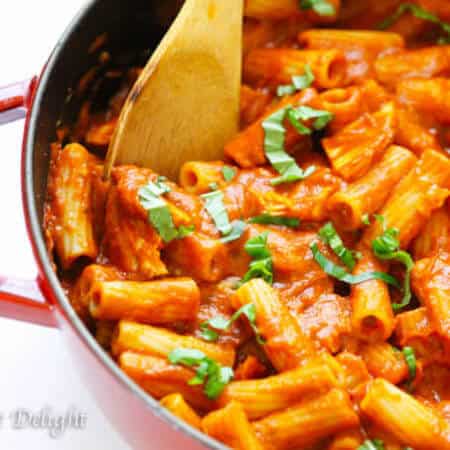 Ingredients
5

small cloves of garlic

, roughly chopped

1

large or two small carrots

, roughly chopped

2

cans of Tomato Puree

(28 oz each)

1

cup

of bail leaves

1/3

cup

and 2 tablespoon of grated parmesan cheese

10

oz

of Rigatoni Pasta

3

tablespoon

of butter

(+ extra if you have fresh chicken)

2

tablespoons

of olive oil

1

cup

of cubed cooked chicken or one fresh chicken breast

, sliced into little pieces

1

tsp

of dried oregano
Instructions
Heat up olive in Dutch oven or other deep pot with a lid

Add garlic, carrot and oregano and cook for a couple of minutes until caramelized

Add 2 cans of tomato pure and cook for a minute

Add basil, salt, stir it and cover

Let it cook for about 15 minutes on a low heat

In the meantime, if you don't have leftover chicken, heat up butter in a skillet

Season the sliced chicken with salt and pepper and cook it on each side until golden brown

Boil large pot of salty water and cook pasta according to instructions

After the sauce was cooking for 15 minutes, add 1/3 cup of grated parmesan, mix it, cover and cook for another 15 minutes

Once sauce is cooked, blend it either by using handheld blender or in a standing blender in batches until smooth

If using standing blender, place the sauce back into your pot, add butter and let it dissolve

Then add cooked chicken

Add pasta (reserving one cup of pasta water) and and sprinkle with remaining 2 tablespoon of parmesan cheese

Mix everything well and and sprinkle with some more basil

If the sauce is too thick add some pasta water to thin it out
Notes
You can use penne instead of rigatoni
You can cook your pasta for a little less then instructed as it will continue cooking in the sauce
I used leftover chicken from my roasted chicken, but leftover turkey will do well as well.
If you like this recipe, you may also like: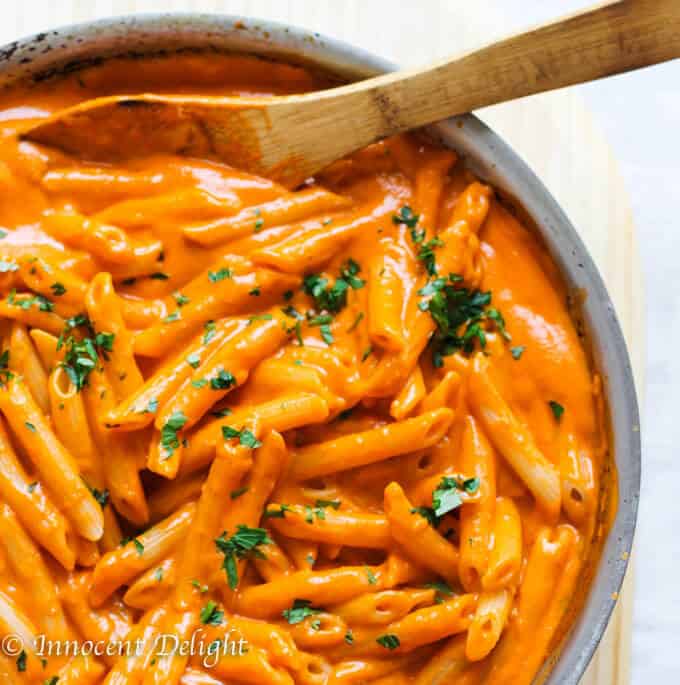 2. Leftover Turkey Spanish Rice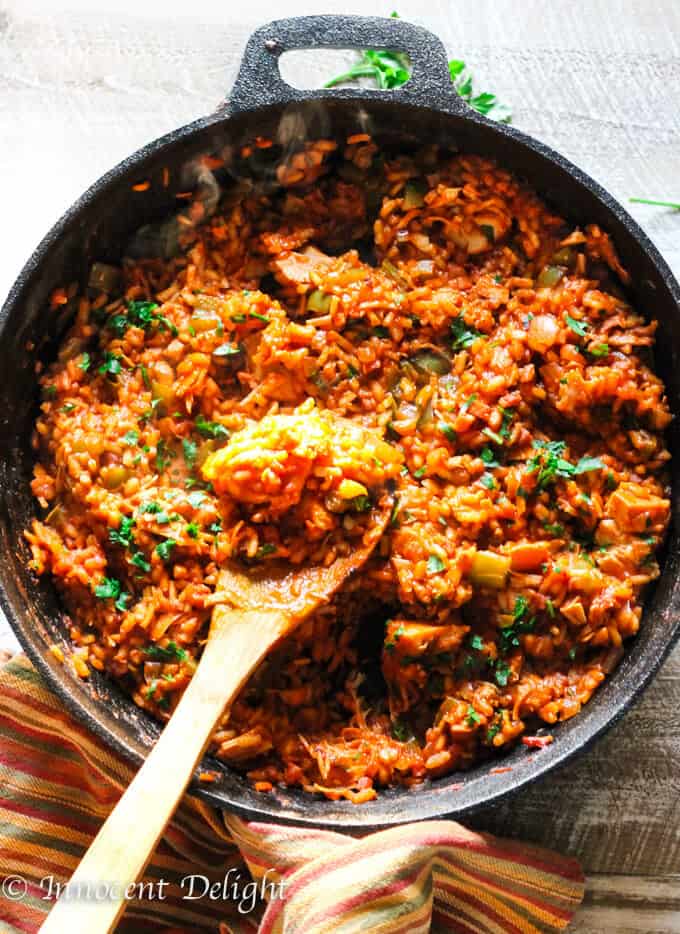 3. Margarita Pizza Quesadilla
4. Homemade Dutch Oven Crusty Bead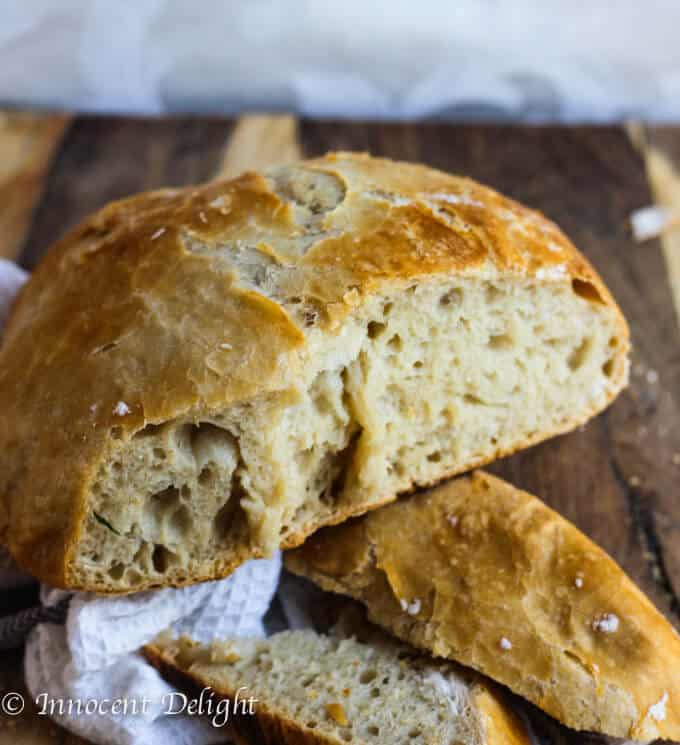 5. Easy Shrimp Scampi Spaghetti