This post may contain affiliate links which won't change your price but will share some commission.
This is a sponsored post written by me on behalf of Italian Trade Commission for IZEA Worldwide. All opinions are 100% mine.
The holiday season is just around the corner…
Is it just me or is the Holiday season your favorite time of the year? When October rolls around my excitement really starts to build. My 5-year-old son absolutely loves Halloween! So, come October we start prepping costumes, candies & Jack-o-lanterns, way ahead of time.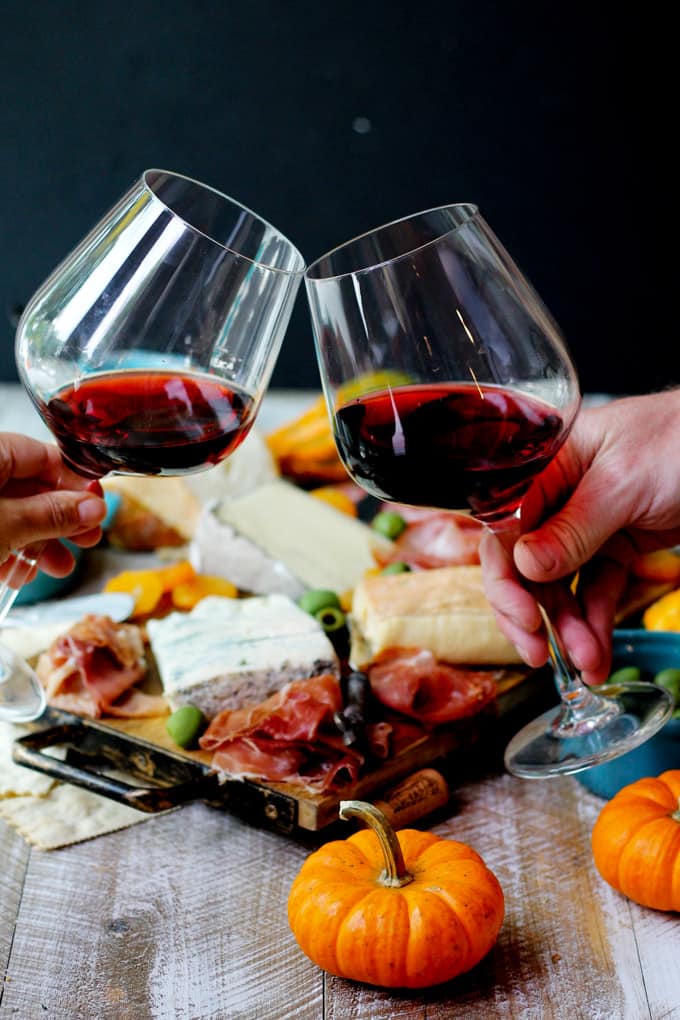 Immediately following the Halloween frenzy comes Thanksgiving – with the best food ever imagined. And if all that wasn't enough, then Santa shows up bearing gifts. What's not to love? When you sandwich between the holiday season my husband's birthday and our wedding anniversary, obviously we have lots to celebrate!
For me, the Holiday season also means planning for the best menu and best wines to pair with the food for my Holiday table. Because, let's be honest, that's what helps really bring families together.
I usually host Thanksgiving, so for me, this holiday is one that I really dial it up for.
While I do have a couple of my "go-to" recipes, I usually showcase something new every year (and the winners graduate up to 'go-tos').
Keep reading and I'll tell you which recipes I'll be making this year and which wines I've chosen for the table (I think I may surprise you here).
The new thing that I've decided to do this year is to serve up a sophisticated appetizer of my favorite Italian cheeses and cured meats so the family can graze while I'm putting on the finishing touches in the kitchen.
Italian Cheeses and Cured Meats Board
Living in the greater NYC area gives me so many opportunities to dine out in the best restaurants. Premium Italian restaurants are sure amongst my favorites. Every time I'm in a new Italian restaurant I order the meat and cheese board (to gauge them by).
While sometimes Italian restaurants offer cheese boards for dessert, personally I prefer cheeses with cured meats for an appetizer.
It has been by way of dining out in an Italian restaurant that I've gotten an education about cheeses and meats, and how much Italians take pride in their food and wine (and for good reason). Usually, a trained waiter or sommelier will tell you some wonderful stories about the food and wine they're serving.
It's for this very reason that I now feel confident whenever I go into an Italian specialty grocery store to pick up my favorite cheese and meats. I'm going to show you which ones I've chosen for my Thanksgiving board, and hopefully, it'll inspire you to do the same.
How to build an Italian Cheese and Meat board
For my cheeses, I chose:
Aged Parmigiano-Reggiano – it's the "king" of Italian Cheeses! It's a hard, granular cow's cheese with a sharp, complex fruity/nutty taste, with strong savory flavor.
Gorgonzola Dolce – it's a blue cheese but with a mild, sweet undertone. It's very creamy and almost spreadable in its texture, with a light piquancy;
Taleggio – is a cheese that can only be produced in specific regions of northern Italy. It is a semisoft, washed-rind cheese. It has a thin crust and strong aroma and it tastes really amazing;
Sottocenere al Tartufo – is just beyond delicious. The gentle undertones of truffles make it really irresistible. It's a pale yellow cheese with truffles and greyish ash rind. It's a semisoft cheese made from raw cow's milk.
For my meats, I chose:
Prosciutto di Parma – It's an Italian dried ham that's usually thinly sliced and served uncooked. I only buy imported ones from Italy. It's super buttery and you can't compare its taste to anything else;
Hot Capicola (you can also buy sweet one) – which is a spiced and smoked pork shoulder, cured in a natural casing. This is something that you may consider to be a cross between Prosciutto and Sausage.
Sweet Sopressata, with black peppercorns – which is an Italian dry salami;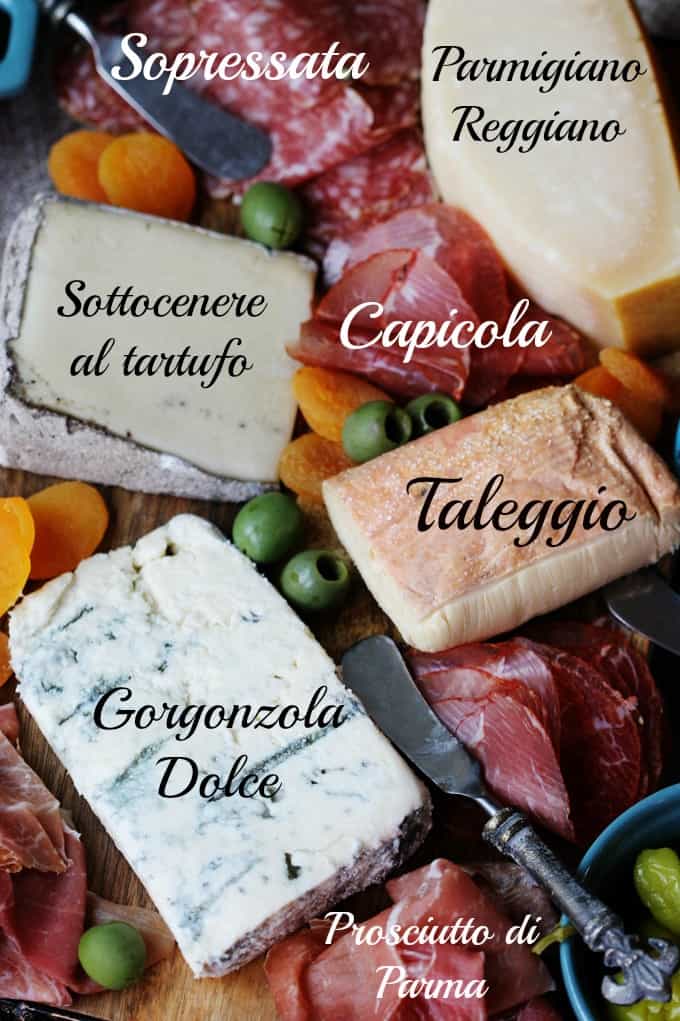 For condiments, I chose:
Dried apricots (you could also choose prunes, raisins or dried apples);
Green Castelvetrano Olives (you could choose Kalamata, or black olives instead);
Hot Pepperoncini peppers;
Plum butter, because I really love it (alternatively, you can use fig jam or honey);
You can serve it with bread or crackers;
Which wines to choose for your Thanksgiving Celebrations
Even though there is an abundance of wines to choose for the Holidays, I would like to tickle your curiosity about the Italian wines that I chose for my table.
Thanksgiving is a big holiday in my house and I always try to make it a point to choose high-quality, artisanal wines that are perfectly balanced and complement the meal beautifully.
As I mentioned before, in my blog post about Italian dessert wines, Italy is well-known for its abundance of high-quality, artisanal wines. They have a huge diversity, with over 20 regions where wines are produced, and over 500 grape varietals.
I've chosen few of my favorite Italian white wines and a number of great Italian red wines to show you a wide range of wines that you can serve with your Thanksgiving dinner, to experience a little bit of the Italian "dolce vita" at your Thanksgiving dinner.
Amazing Italian White Wines 
Because most people serve turkey (poultry) on Thanksgiving, there's no right or wrong way to go with your wine. You can choose a white or a red, and they'll surely complement your dinner. If you decide to go with a white, here are a couple of suggestions:
Soave
Soave is a delicious Italian white wine made from Gargenega grapes, grown around the village of Soave, on volcanic hills in Northern Italy. It's known for its melon and orange zest flavors. It is dry and light-bodied but with a richness that adds an extra punch.
Pinot Grigio
North Italian Pinot Grigios are bright, light and zippy, with white peach or nectarine flavors, and a tingly acidity. The grape itself has a greyish blue hue and is a mutation of Pinot Noir. It is commonly grown in the Veneto, Friuli Venezia-Giulia, and Trentino-Alto Adige.
Pinot Grigio has become the most popular white wine in Italy, and also the most popular white wine in the U.S. However, because of its popularity, you'll find an abundance of mass-produced bottles flooding the market. One of the easiest way to ensure that you are drinking a delicious, high-quality Pinot Grigio, is to avoid budget bottles. Rather, seek bottles that originate from the regions mentioned above, with a price tag north of $15.
Fiano
Fiano is a high-quality white grape variety grown widely in southern Italy (especially in Campania). Fiano wine is nutty and textured, with floral and honeyed notes, spiced with a hint of stone fruit.
The most highly prized is 'Fiano di Avellino', which has a DOCG denomination (you can read more about DOCG in this post). It's characterized by lush notes of orange blossom spiced with hazelnuts and a lively acidity. It will pair beautifully with your turkey.
Italian Famous Red Wines
Nebbiolo, Barolo, Barbaresco & Gattinara
Nebbiolo is the grape in the top high-quality wines from Piedmont, in northern Italy, including Barolo and Barbaresco. Wines made from Nebbiolo grapes are characterized by their strong tannins. They have high acidity and distinctive scents of red cherry, roses and black tea.
Their name recalls the fog typical of the time of the year that this grape is harvested (in foggy, cool autumnal conditions).
Nebbiolo
Nebbiolo is also a type of wine produced in the Piedmont region and obviously is creatively named after its namesake grape. Whereas Barolo and Barbaresco can only be made in a few villages in the Piedmont region, Nebbiolo grapes are grown throughout the region.
Nebbiolo wine is very popular among the locals and because of its scent (the wine actually smells like roses) is perfect for celebrating special occasions, like Thanksgiving.
Barolo
But if you're feeling more like a full-bodied wine, then you may want to go for famous Barolo. It's the king of Italian red wines! It's made in a small appellation in Piedmont and it is amongst the best aging wines in the world. It has a complex aroma and flavors of wild strawberries, tobacco, chocolate, vanilla, and herbs.
Barbaresco
However, if you feel like something a little lighter, than go for the Barbaresco. It's similar to Barolo and it is produced in just three, small villages. Barbaresco is called the queen of Italian wines. It is known for finesse and perfumey bouquet. It pairs well with rich foods so you can't go wrong with this for your Thanksgiving table.
Gattinara
Another wine made from Nebbiolo grapes that is sometimes a bit over-looked is Gattinara. It may not carry the prestige of a Barolo, but it does still have a delicious profile. Gattinara may be more similar to a Barbaresco then Barolo, with its delicate and elegant taste. It has floral and earthy aromas, with a lively acidity. It would perfectly pair with the appetizer round for your Thanksgiving.
Chiantis
Today's Chiantis are well-crafted and are produced in Tuscany, near Florence and Siena. Chianti is a government-regulated wine designation, which means that if the wine is called Chianti it has to be made within the Chianti region. Even more restrictive is Chianti Classico, which can only come from within the boarders of the historically recognized area.
It's produced primarily from Sangiovese grapes. This is accompanied by smaller quantities of other Tuscan grape varieties such as Canaiolo, Colorino, Ciliegiolo, and Mammolo. It is dry, medium-bodied, and has high acidity, with hints of plum and cherries. Personally, "Chianti Classico" is what I've chosen for my dinner. You also have those Chiantis labeled as "Riserva," which are more concentrated and age-worthy.
I hope you'll find the right wine for you, for your Thanksgiving dinner, in this guide to Italian wines. "Made in Italy" wines are the way to go. I'm always mesmerized by the deep flavors of Italian wines whenever I sip one. They seem to immediately transport me to the hills of Italy.
I encourage you to watch this amazing video about wines of Italy to understand what I'm talking about… You can learn more here
Thanksgiving Recipes
If you're looking for Thanksgiving recipes, here are a couple of my favorites that most likely will show up on my table, along with an Italian Cheese and Meat Board, and, lest we forget, Italian wines:
Italian Meat and Cheese Board
This is more like a guideline than an actual recipe. You can use as much or as little of each ingredient as you'd like. You can also add nuts or a fresh fruit of your liking.
Print
Pin
Rate
Ingredients
Parmigiano Reggiano;

Taleggio;

Gorgonzola Dolce;

Sottocenere al tartufo;

Prosciutto di Parma;

Hot Capicola;

Sweet Sopressata;

Castelvetrano olives;

Hot Pepperoncini peppers;

Dried apricots;

Plum butter;

Bread
Instructions
Arrange all the cheeses, meats, and condiments on a wooden board or platter. Serve with Italian wine. Enjoy!