City Chicken (aka, Fake Chicken) is a traditional Polish-American dish that is beloved by many. The most curious thing about this dish is that it doesn't actually contain any chicken. Rather, your featured protein here is actually pork and/or veal. So, why is it be called a "City Chicken" in the first place? Read on to find out. 
If pork or veal are the type of meats you really like, check my super famous Brown Sugar Pork Chops with Garlic and Herbs or my delicious Veal Milanese recipes.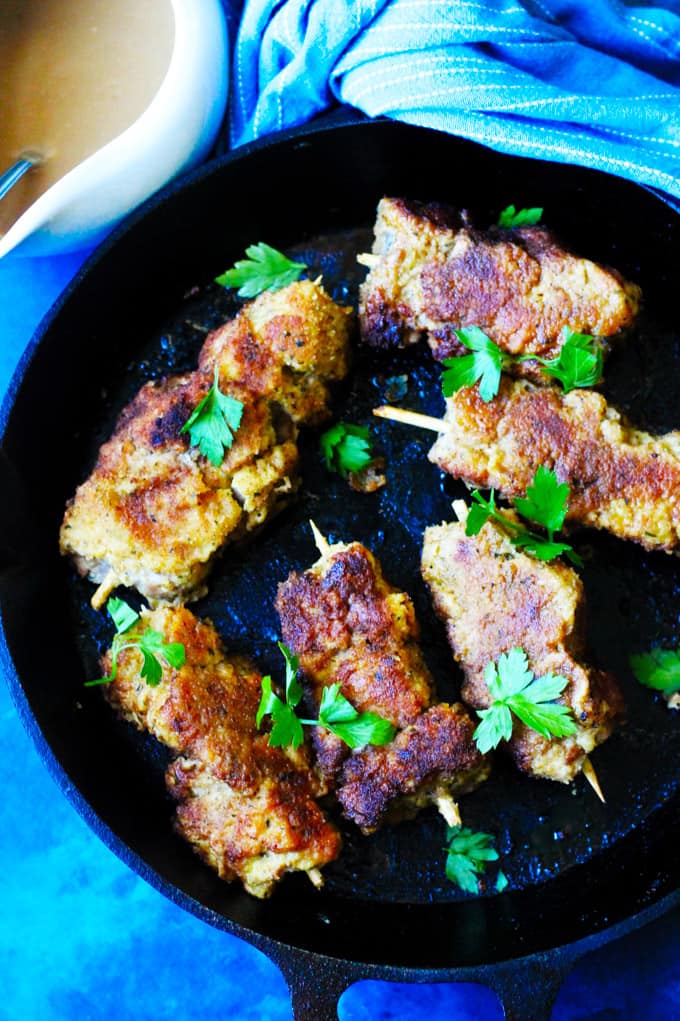 What is City Chicken
City Chicken is a traditional dish of Polish-American heritage and it has a very interesting story of origin.
Apparently, during the time of the Great Depression, the chicken was scarce and way more expensive than other cuts of meat, like pork or veal.
It's believed that this dish originated among Polish immigrants who decided to place pieces of pork and veal on skewers and then bread and fry them so it would resemble chicken legs (leave it to my people). This dish is also known as 'fake chicken' for obvious reasons, and it has been very popular in many states throughout the US.
In fact, a lot of Polish restaurants carry it on their menu. Being born and raised in Poland, I can assure you that this City Chicken didn't come from the old land. Actually, I had never heard of it until I came to the US.
However, I now embrace this tradition and on occasion serve fake chicken to my family. My 6 year old can't get enough…he LOVES it! And given the number of requests to feature this recipe, I'm sure there are a lot of you out there who love this dish too. Let me know in the comments what was your family tradition of eating City Chicken.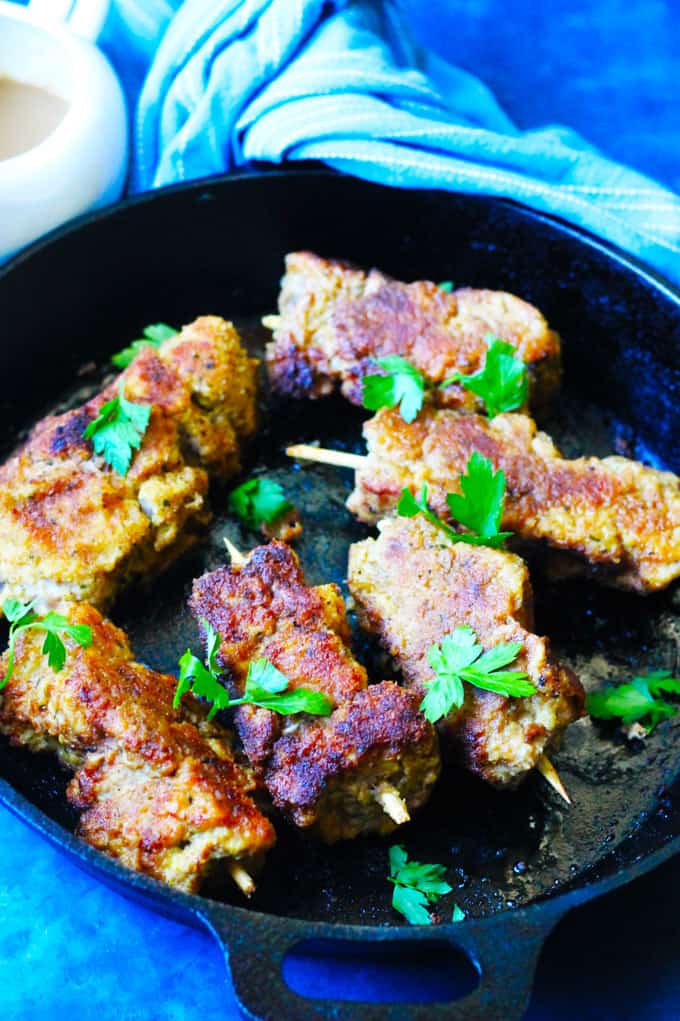 What Kind of Meat is Best for City Chicken
Traditionally City Chicken involves pork and veal. You can put 2 cubes of each on a skewer or two pork pieces and one veal in the middle or vice versa (get creative).
Nowadays the veal is more expensive than pork and chicken, and it can be difficult to find cut into cubes. So, if you choose to just use pork, rest assured that your city chicken will still be super delicious.
I highly recommend to use pork tenderloin and cut it into cubes. It's very tender and cooks super quick. Any other cut of pork could become dry or chewy.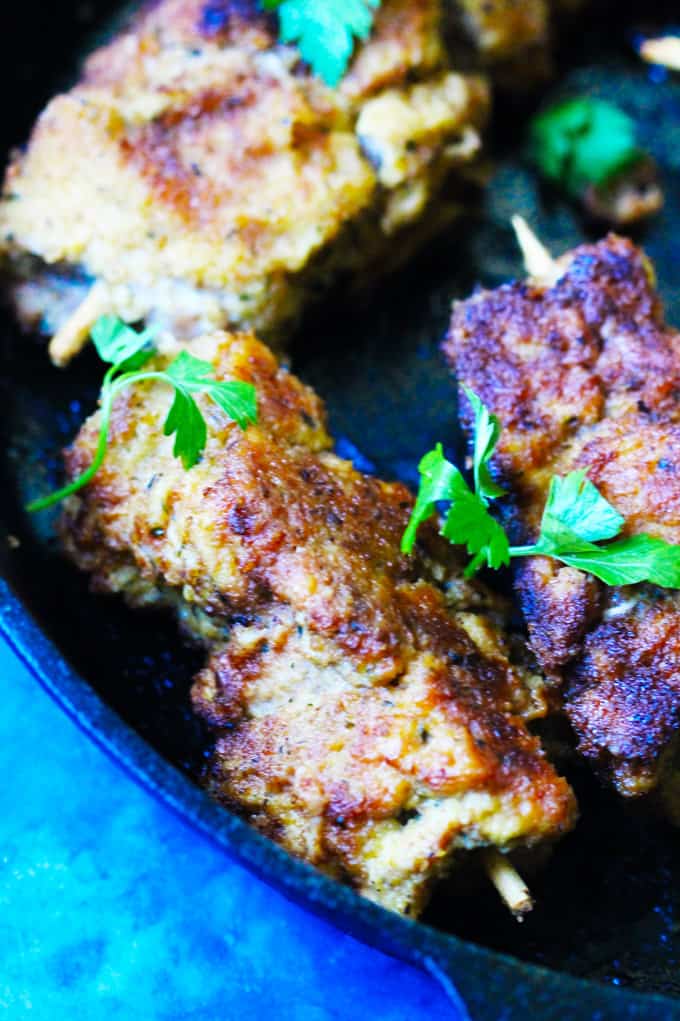 What else is needed to make this dish
This is a very simple dish. To make city chicken you'll need:
Pork and/or veal;
Wooden skewers;
Ingredients for breading:
Seasoning:

Ideally seasoned salt (but if you don't have it, just use regular kosher salt),
Pepper; and

Cooking (light) oil for frying.
How to Make "Fake Chicken"
To make the City Chicken you'll need to follow a few simple steps. For exact measurements and instructions please scroll down to the printable recipe card.
Assemble the skewers: cut your meat into 1.5-inch squares and add 2 or 3 pieces onto a wooden skewer (cut off the skewers to fit the meat); season the meat on each side and prepare for breading.
Breading: prepare 3 prep-dishes: one for flour, one for beaten eggs and one for breadcrumbs. Starting with the flour, cover the meat on each side (shaking off the excess), then place it into the egg mixture and cover on each side. Then finish it up by rolling it in breadcrumbs, on each side. Continue with all the remaining skewers.
Frying: heat up your cast iron (or another heavy pan) skillet. Add cooking oil. Once the oil is hot, add breaded skewers into the skillet (don't overcrowd them, cook in batches if needed). Fry the skewers on each side until golden brown and then transfer to a 350 F hot oven to finish up cooking (covered for 20 minutes and uncovered for 5 minutes). Serve and enjoy!
What to serve with City Chicken
Some people prefer to eat City Chicken without any additions but some have their toppings preferences. Among the most popular is a homemade gravy. If this is you, check this recipe for a super easy gravy.
Here are some of my suggestions for what to serve Fake Chicken with: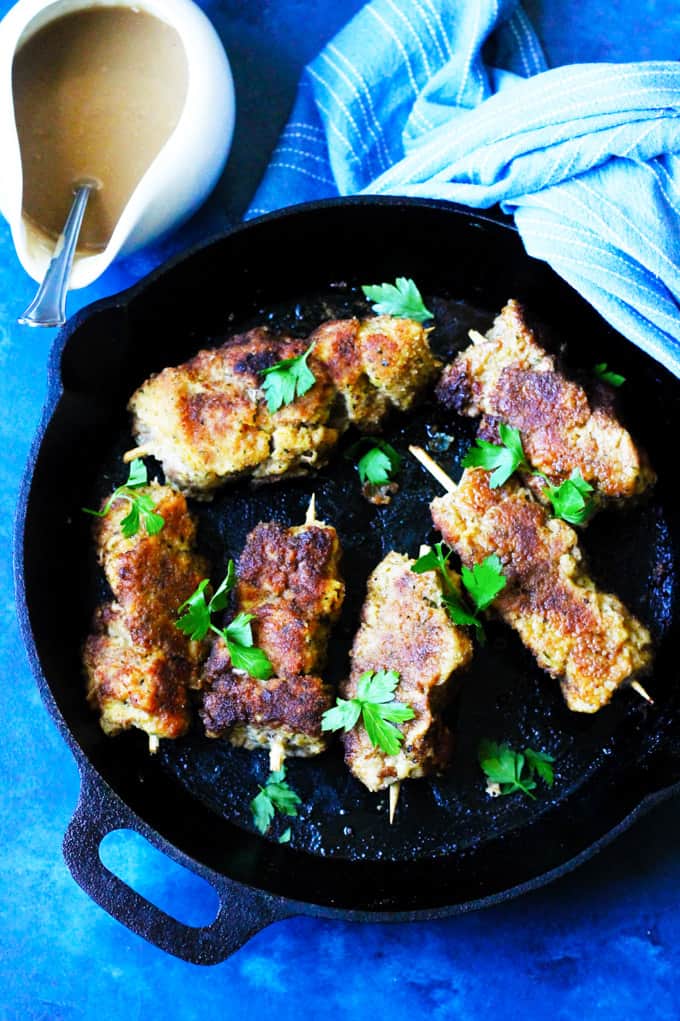 Other famous meat recipes to try:
Read about the author Edyta here or follow Eating European on social media: Facebook, Instagram, Pinterest, and Twitter.