Forget about buying cans of gravy in your local supermarket for your next Holiday or for a Sunday dinner. This post will teach you how to make a super easy homemade gravy, with or without drippings from meat, poultry or fish. The easy formula of a proper fat to starch to liquid ration, plus some seasonings, will help you make an amazing gravy right at home.
Pour this gravy over this super easy slow cooker turkey breast and you have dinner ready.
This post may contain affiliate links. You can read my disclosure policy HERE.
Easy Homemade Gravy with or without drippings
If you've ever thought that making gravy was difficult, have no fear. It's actually much easier than one may think.
To make the perfect gravy you'll need 3 basic components: fat, starch and liquid. In the section below you'll find the exact ratio of these ingredients to make a really easy delicious gravy right at home.
You may hear that in order to make gravy you need to have pan drippings. While the pan drippings definitely help to make a very flavorful gravy, it's not necessarily. You can use butter or oil instead, and still achieve your homemade gravy without drippings.
What Ingredients are needed to make Easy Homemade Gravy
As mentioned above you'll need 3 components to make super delicious homemade gravy. The following are some options for each of these:
Fat:

Pan drippings
Unsalted Butter
Olive Oil (or other oil of your choosing)

Starch:

All-purpose flour
Cornstarch

Liquid:

Pan juices
Chicken/Turkey stock or broth
Beef stock
Vegetable broth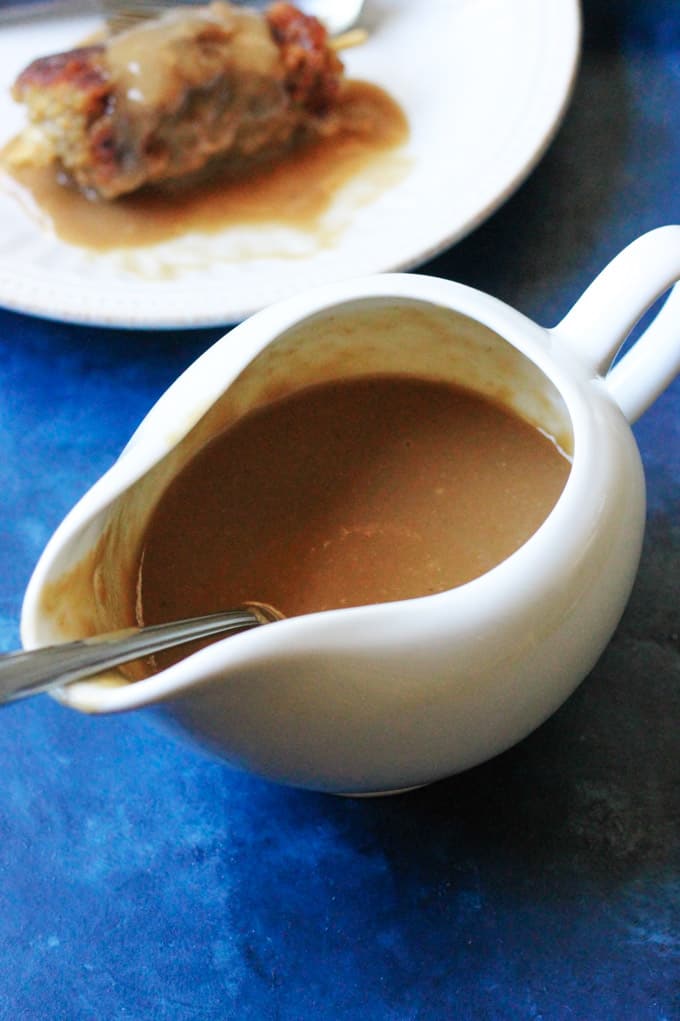 Easy Formula to make Homemade Gravy
You really need a very simple formula for this easy homemade gravy (this isn't complex math people). For a moderately thick gravy, you should stick with this easy formula: 1+1+1 (1 tablespoon of fat + 1 tablespoon of starch + 1 cup of liquid).
If you want your gravy a bit thicker then you'd use 2 tablespoons of fat and 2 tablespoon of starch for one cup of liquid.
How to Make Gravy from Scratch
In order to make a really good gravy you just need to follow a few simple steps:
Heat up your fat;
Add your starch and mix it with a whisk (affiliate link);
Use a room temperature liquid and add 1/4 cup at the time, vigorously whisking it to avoid any lumps;
Continue until all the liquid is incorporated and the sauce is smooth;
The more flavorful your liquid the better your gravy;
At the end add whatever spices and aromatics that you'd like. Options are not limited, but here are some suggestions:

Salt and Pepper (kind of obvious)
Worcestershire Sauce
Dry Garlic
Dry Onion powder
Fresh or dried herbs
Maggie seasoning (affiliate link) (if you've never tried it, it has a similar taste to soy sauce but maybe a little bit more intense; you can find it in any Polish specialty store but I also saw it in some Spanish specialty stores).
How to Use Gravy
Depending on the type of liquid that you use, you can pour this gravy over your favorite roast, steak, chicken, fish or vegetables.
Here are a couple of my suggestions:
Read about the author Edyta here or follow Eating European on social media: Facebook, Instagram, Pinterest, and Twitter.