This post may contain affiliate links which won't change your price but will share some commission.
Chilled Cucumber Mint Soup with Kefir Recipe – a perfectly refreshing summer chilled soup with great flavors. Packed with healthy probiotics and tons of vitamins and minerals.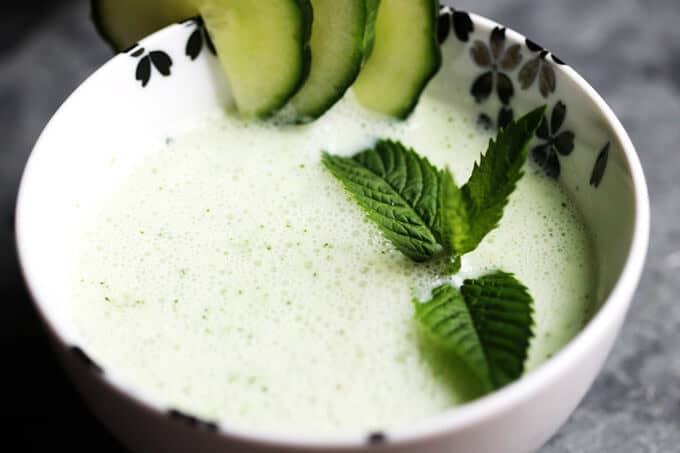 Recently days in NY have been sweltering hot and as a result I'm only dreaming of eating light, refreshing meals.
This chilled cucumber mint soup with kefir fits that bill. Cucumber, garlic and mint make it tastes super fresh. And the best part is…that it's made with Kefir; which is one of the best sources of probiotics out there. It's hard to believe that something so healthy can be so delicious.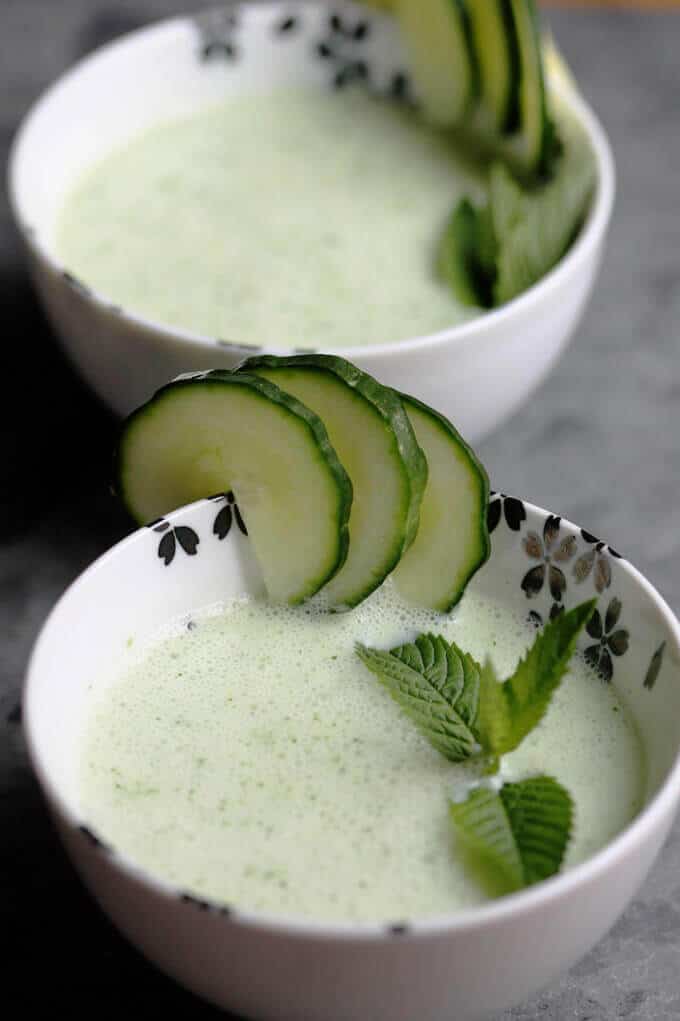 Let's look a little closer as to why this soup is actually super healthy:
Cucumber – provides a variety of health supportive phytonutirents like: flavonoids, lignans and triterpenes. They are also a great source of: vitamin K, copper, magnesium, potassium, biotin, phosphorus and vitamin C. For more information on the nutritional value and health benefits of cucumbers, read the article: Cucumbers by The Worlds Healthiest Foods.
Garlic – has long been considered one of nature's most effective health foods. The sulfur compounds in garlic have been shown to act as very powerful antioxidant. It's also an excellent source of: manganese, vitamin B6, vitamin C, copper, selenium, phosphorus and calcium. For more information on nutritional value and health benefits of garlic read the article: Garlic by The Worlds Healthiest Foods.
Shallots – they are good source of antioxidants, vitamins and minerals. They also have anti-viral, anti-bacterial and anti-fungal activities. For more information on nutritional value and health benefits of shallots read: Shallots Nutrition Facts by Health Benefits by Nutrition and You. 
Mint – can help with nausea, digestion issues and respiratory problems. For more information on read the article: Health Benefits of Mint by Organic Facts or 23 healthy Benefits of Mint Leaves According to Science by Jen's Reviews
Kefir – has way more probiotics that you'll find in any other fermented foods. It's also rich in: vitamin B12, calcium, vitamin K12, magnesium, biotin, folate and enzyme. For more information read: 7 Kefir Benefits and Nutrition Facts by Dr. Axe 
To make this amazing chilled cucumber mint soup with kefir you'll only need five minutes. First, peel the cucumber and shallot and cut them in chunks. Then peel the garlic and put it in the blender. Add mint leaves, kefir, lemon juice salt and pepper and simply blend.
That's it – your job is done! You can serve it immediately, but it tastes better if you let it cool in a fridge so all the flavors can blend together. Chilled soups are amazing. You can also try my Refreshing Summer Gazpacho or this Golden Bell Pepper Soup with Cayenne and Greek Yogurt that can be served either hot or chilled.
Kefir can be found in any supermarket nowadays. However, if you don't have or or don't like it, you can always use natural yogurt and add some water to loosen it up. Personally, I love kefir. It has a mild, tangy taste and the consistency is perfect for this soup. If you haven't try it yet, don't be scared. It's  a little bit like a blend between yogurt and buttermilk. But again, it is a personal preference and you can always substitute your favorite yogurt brand or even buttermilk.
Next time summer hits you with the super high temperatures, try this chilled cucumber mint soup with kefir recipe. I hope it will cool you down. Cheers. 🙂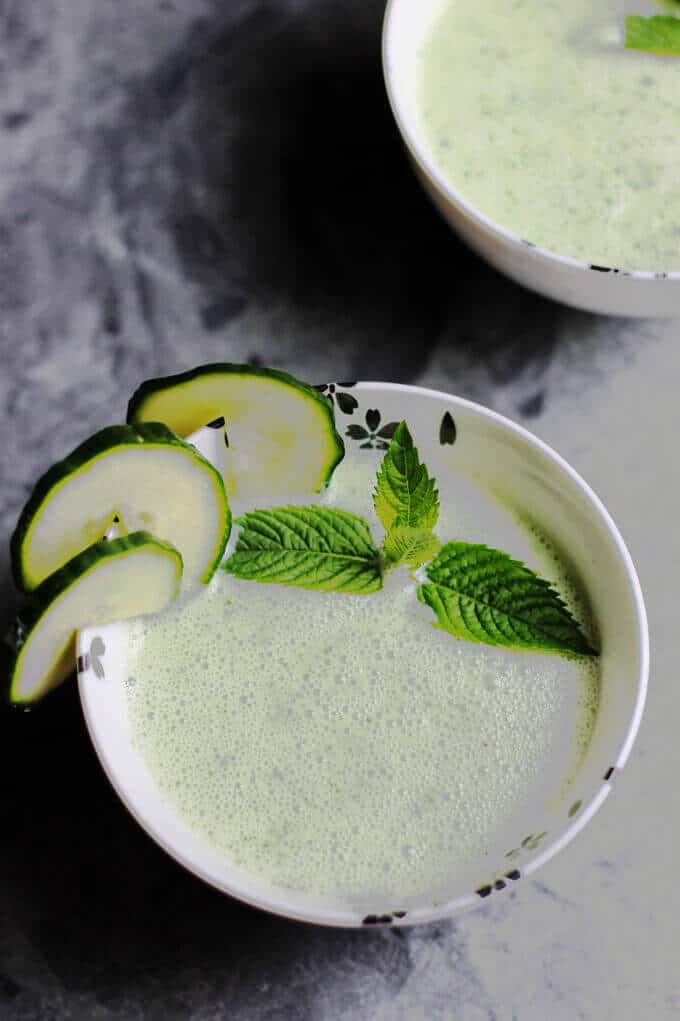 Ingredients
2

English Cucumber

(seedless), peeled and cut in chunks

1

small or 1/2 big shallot

, cut in big pieces

1

garlic clove

1/2

to 2/3 cup of fresh mint leaves

2

cups

of Kefir

(you can use 1 1/2 cup of natural yogurt and 1/2 cup of water instead)

Lemon juice from half lemon

(or more if you like it more tangy)

Salt and pepper to taste)
Instructions
Place all ingredients in a blender

Blend until smooth

Adjust lemon, salt and pepper to your liking

Refrigerate for half hour before serving
If you like this recipe you may also like these delicious soups: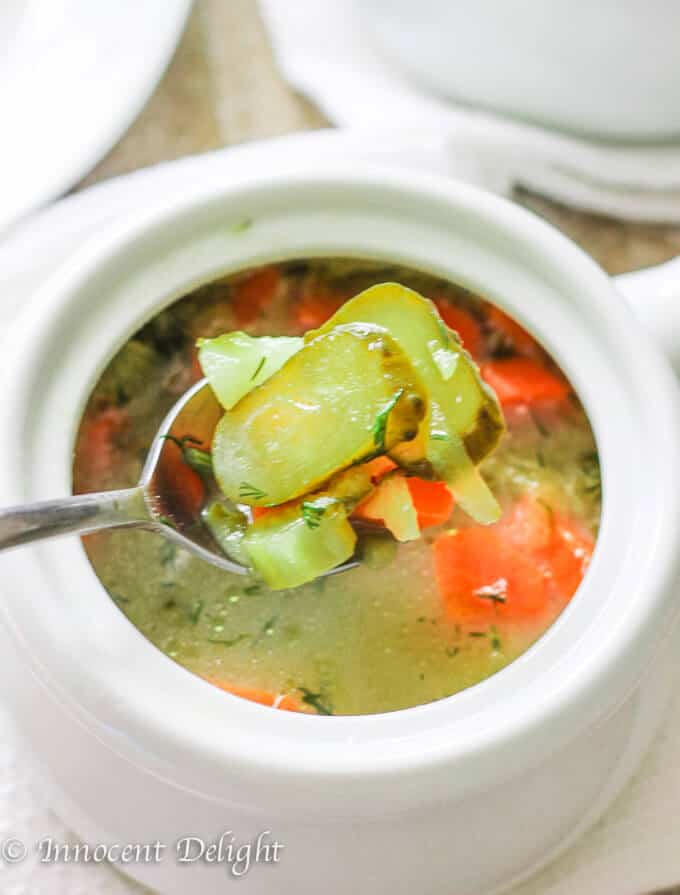 2. Golden Bell Pepper Soup with Cayenne and Greek Yogurt