This post may contain affiliate links which won't change your price but will share some commission.
Amazing twist on THE classic American breakfast. Next time you feel like Eggs Benedict, try to pair them with classic French crepes and make these easy crepes eggs Benedict. We couldn't get enough.
I remember the first time I'd ever tried Eggs Benedict…I was so impressed. The combination of an English Muffin with Canadian bacon, poached egg and the amazing Hollandaise sauce was incredible. Mind you, this was in my late twenties, when I first came to U.S. It was by far my most favorite breakfast.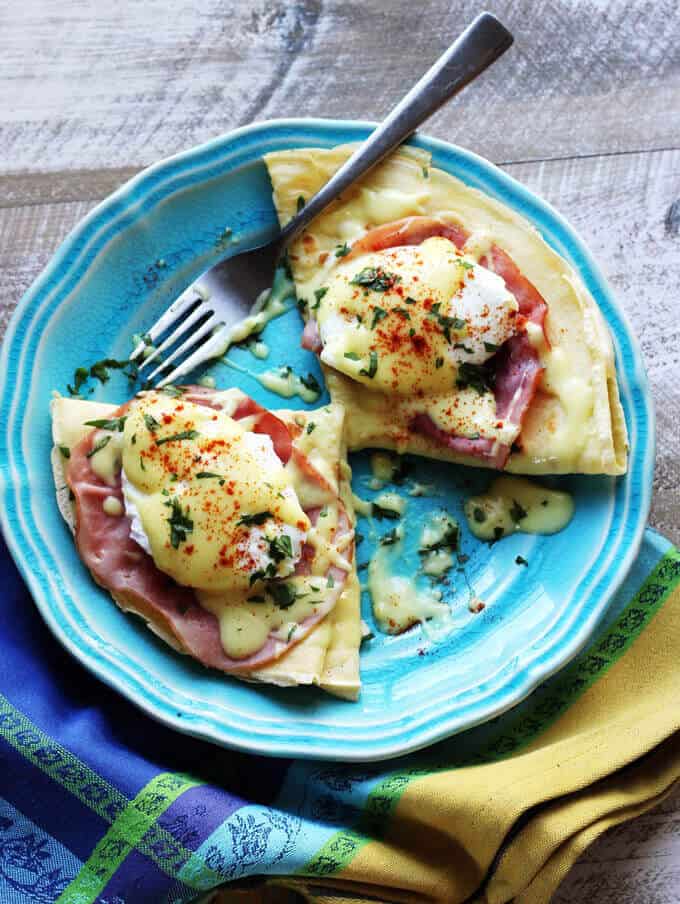 My husband loves them too, so we often make them for breakfast on the weekends. I also like to be a little creative with my Eggs Benedict (go figure). Sometimes I add avocado, sometimes I use bacon or ham instead of Canadian bacon, and sometimes I use sourdough sliced bread instead of English muffins.
Despite all these possible substitutions, two things remain unchanged: poached eggs and Hollandaise sauce. This time I decided to take my Eggs Benedict up the notch and create this amazing easy crepes eggs Benedict recipe.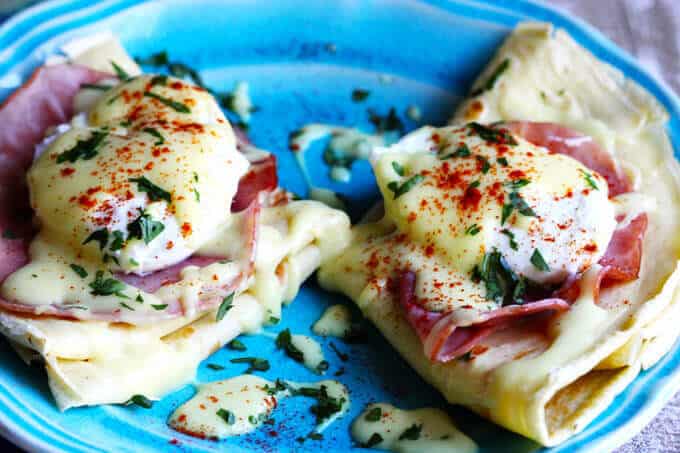 For this easy recipe I used my Perfect French Crepes recipe, but you can easily use store bought ones. I also use Knorr Hollandaise sauce and cook it according to instruction. I just think it's easy and actually very good; so why bother with a double broiler, mixing egg yolks and making sure the consistency comes out right, etc. You can just buy a package in a store and have amazing Hollandaise sauce in no time.
If you are intimidated by poaching eggs, don't be. They're super easy. Check this Smashed Avocado Poached Egg Toast for instructions on how to easily poached eggs. If you still feel uneasy with the process, you can always fry your egg.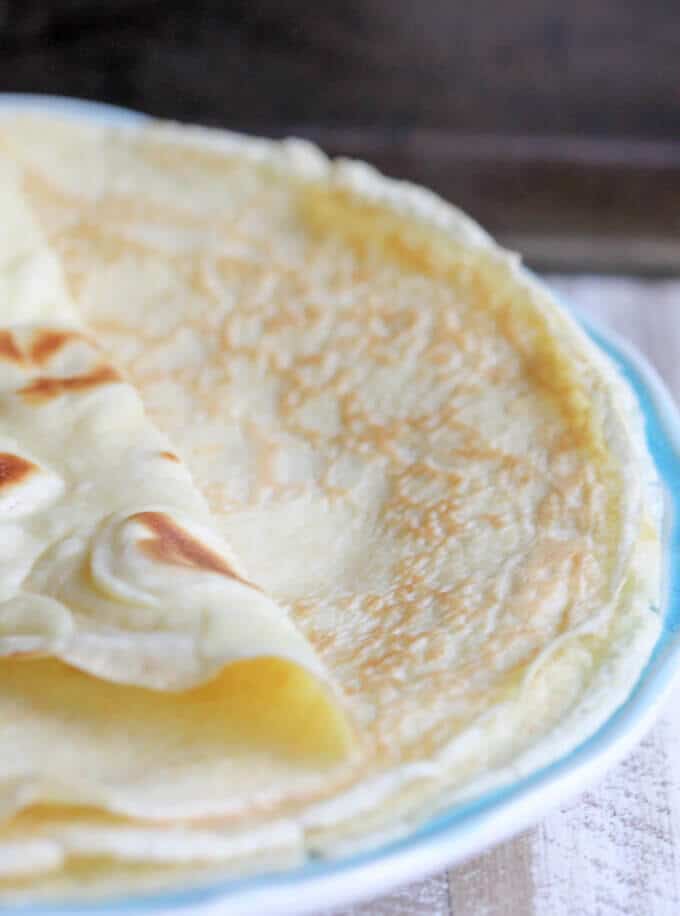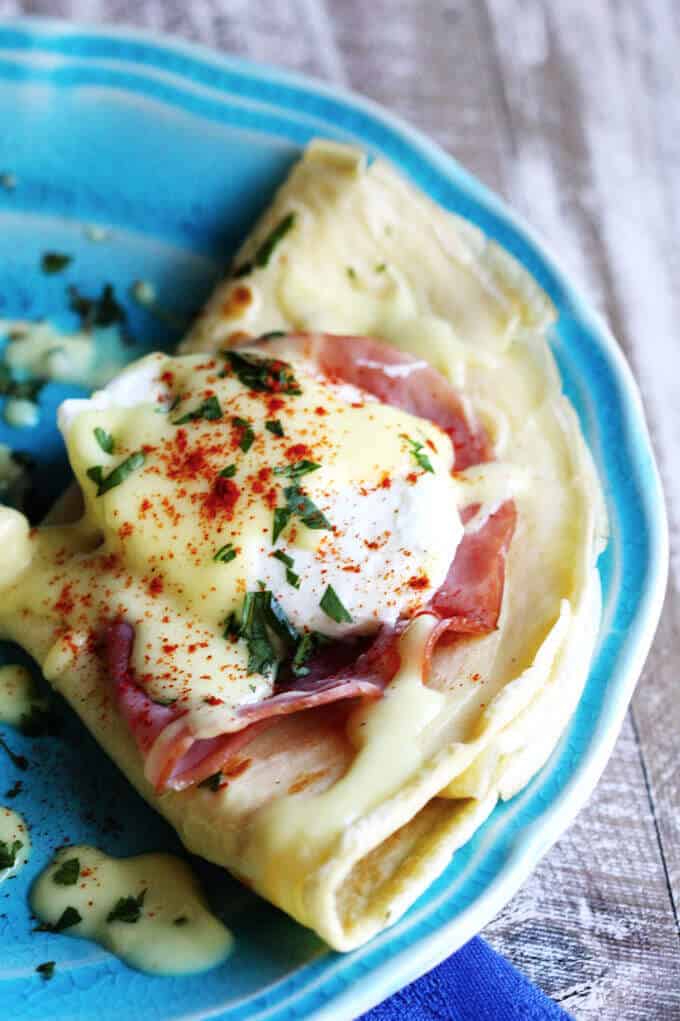 This easy crepes eggs Benedict recipe is not actually something I can take total credit for. In fact, I'd had them for breakfast in Montreal. One year I went to a Jazz Festival in Montreal with a group of friends. We were looking for a good breakfast place and were told that Eggspectesions is the place to go. And it was.
The moment I saw 'Crepes Eggs Benedict' on the menu I was sold. I tried them and I was in heaven. The next day we came back for breakfast and even though the menu was huge, I was compelled to have my Crepes Benedict again. That's how delicious that was. So, I decided to recreate them for my family and here it is. There it is my version of crepes Benedict, and I must warn you: they're addictive!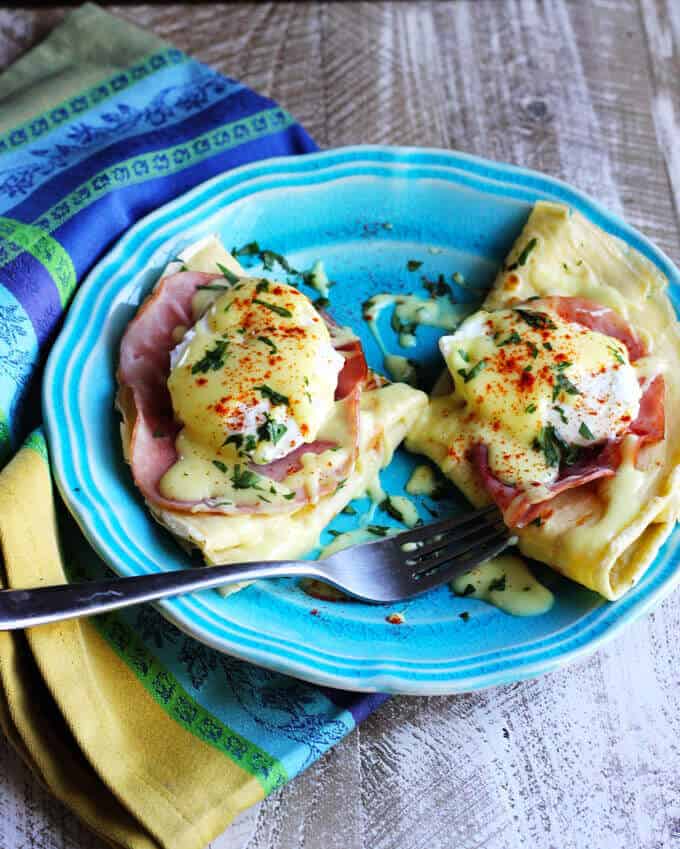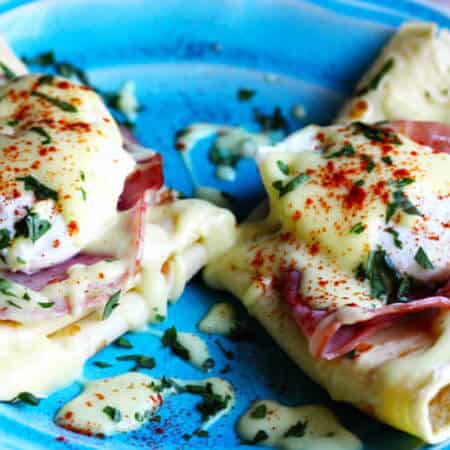 Ingredients
For the Crepes
Use my recipe for Perfect French Crepes
For Eggs
4

eggs

1

tablespoon

of white vinegar

4

slices

of ham

1

teaspoon

of olive oil

Hollandaise sauce
Instructions
For the eggs
Bring about 4 cups of water to boil

Add vinegar

Crack the egg (one at the time) into a small bowl

When the water with vinegar is boiling gently slip each egg into the hot water

Cook for 3 minutes

Using slotted spoon remove eggs from the water and place on paper towel

Heat up teaspoon of olive oil in a frying pan and add slices of ham

Cook ham for a few minutes on each side

Prepare Hollandaise sauce according to instructions
To assemble
Fold 4 crepes in triangles

Place slice of ham on each crepe

Add poached egg

Drizzle with Hollandaise Sauce

Enjoy
If you like this recipe you may also like these: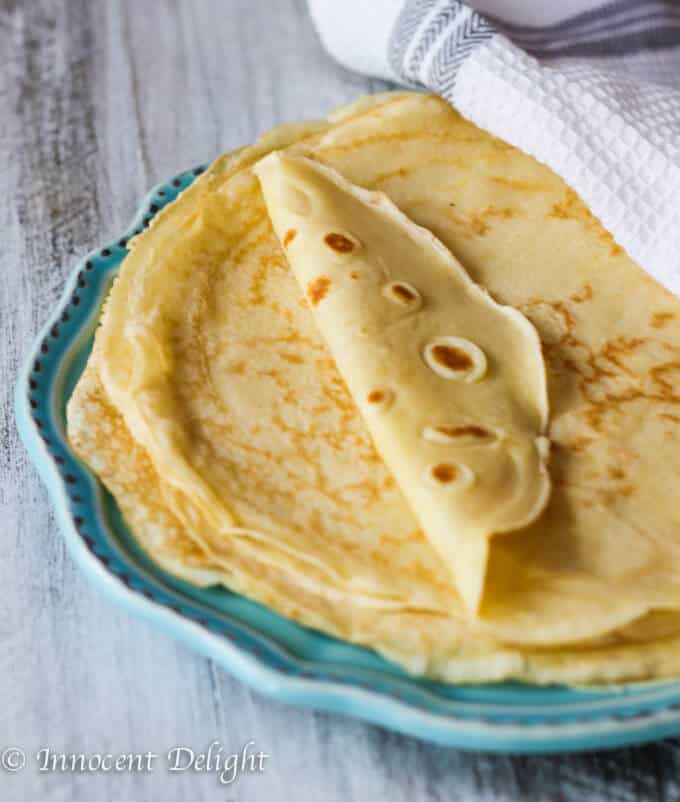 Crepes with Ham, Egg and Cheese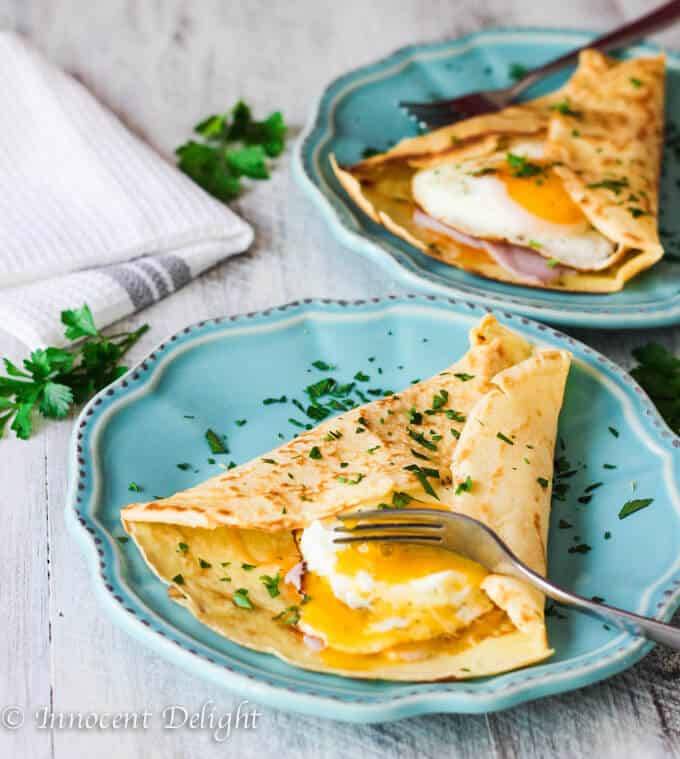 Smashed Avocado Poached Egg Toast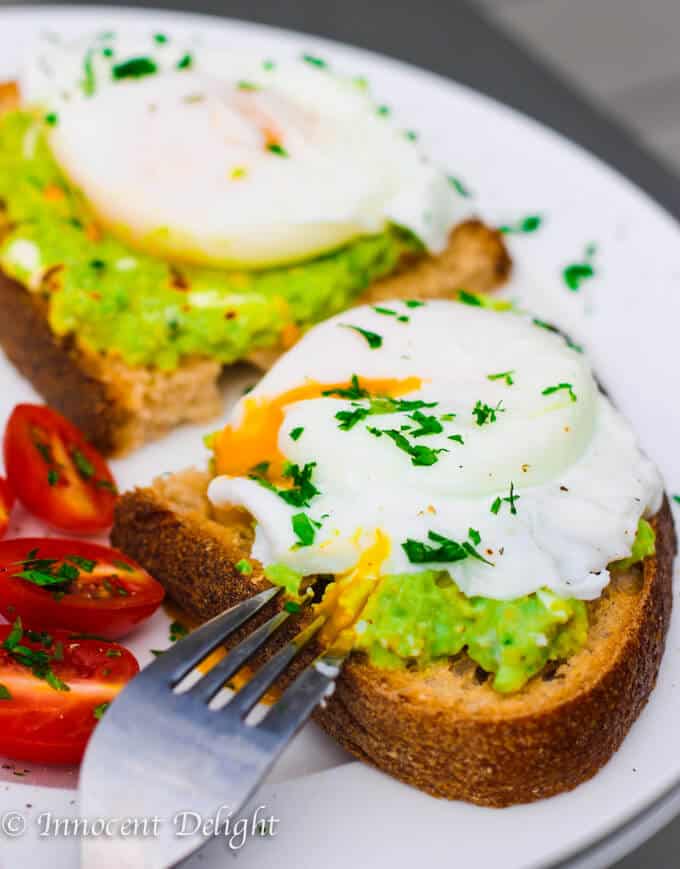 Baked Eggs with Tomatoes and Feta Cheese
Poached Egg on Tomato Parmesan Toast