This post may contain affiliate links which won't change your price but will share some commission.
Spring has finally arrived on East Coast. Whooo…! Time for some detox, yoga, and vitamin D from the sun… When it comes to detox, I love my weekly detox bath with Epsom salt, baking soda, coconut oil and essential oils. But for my daily nutrient load, I love my juicing. Carrot Apple Juice is my staple. With busy schedules it's not always easy to juice every day, but I am trying to at least do it every second day.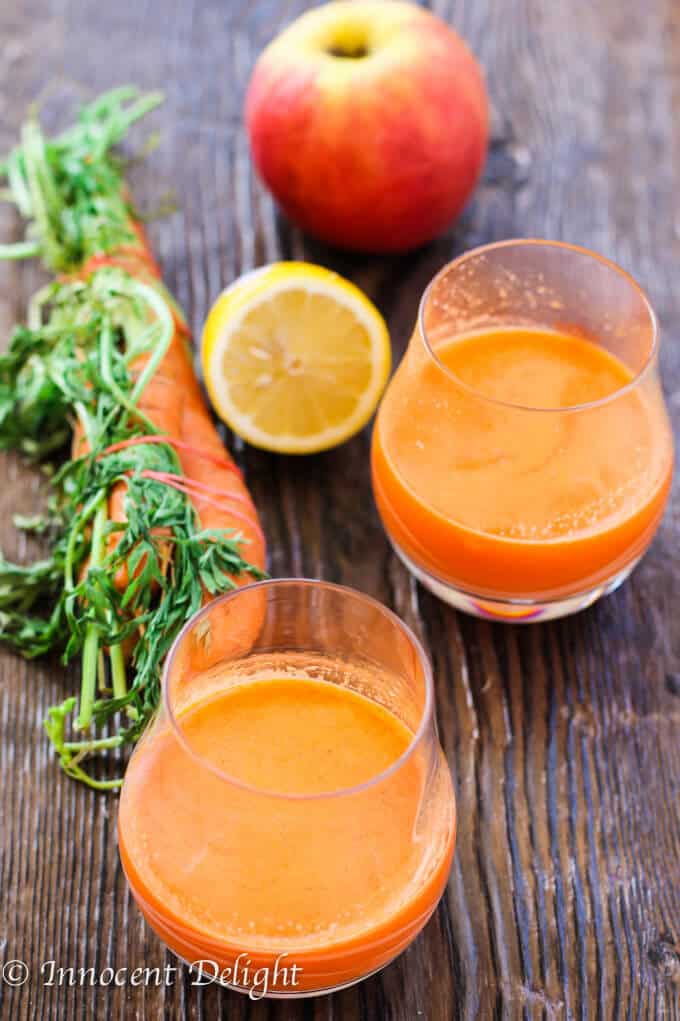 In fact, I've converted my whole family into juicers.  My husband used to be ONLY subscribe to fresh squeezed orange juice. But now he's fully onboard with me in juicing all combinations of delicious fruits and veggies 🙂 Super progress… I'm very proud of him. As if that weren't miracle enough, wait to see how our 22 month old son is also addicted to juicing. The moment he hears the juicer turn on he drops whatever he's doing and runs to the kitchen screaming in joy (I kid you not). So, I have to put the tool-step (aka, step stool) next to the counter and have him  make his own juice. Here is the video:
https://youtu.be/PMTvfXh6eJ0
I make all combinations of juices, but the staples that I always have at home are carrots, apples, oranges, spinach and beets. Obviously, you can use any combination of veggies you want.
I always put carrots and apples in and then add other veggies and fruit depending on supplies and moods :). Carrots and apples are full of nutrients. I only buy organic versions. Every time I try a non-organic apple I seem to have an allergic reaction. My face, around my lips, gets red and my whole mouth itches me. I know that I'm very sensitive to pesticides. My body simply rejects these terrible substances. I wash my organic apples and carrots and chop them in pieces without peeling as the most nutrients are in the skin. While contingent on the juicer, as well as the veggies and fruits, typically about 4 carrots and 1 apple yield 1 cup of fresh juice. A cup of carrot and apple juice contains 1,311 milligrams of potassium, 168 milligrams of sodium and 46,000 international units of vitamin A. That's pretty impressive for one small cup of juice. It's nearly 3x your daily requirement. Carrot juice can also detoxify and clean your liver. Perfect jump start for the spring. Get yourself juicing and start with this amazing Carrot Apple Juice.
Ingredients
8

organic carrots

2

organic apples

1/2

lemon
Instructions
Wash and cut into pieces your carrots, apples and lemon and juice according to juicer instructions
Notes
I usually add 1-2 oranges, 2 cups of spinach or half beet to it. Be creative.