Thank you Carapelli Olive Oil for sponsoring this post. For more information and a store locator, please visit CarapelliUSA.com and be sure to check out Carapelli's social channels: Facebook and Instagram.
These Olive Oil Chicken Thighs are rubbed with a Mediterranean spice mixture, then marinated in a mixture of Carapelli Organic Extra Virgin Olive Oil and lemon, then seared to golden perfection on both sides, and finally finished by baking in the oven and then drizzled with more olive oil, lemon, and fresh garlic.
If you've ever wondered how to elevate a simple chicken dinner, I've got a perfect recipe for you.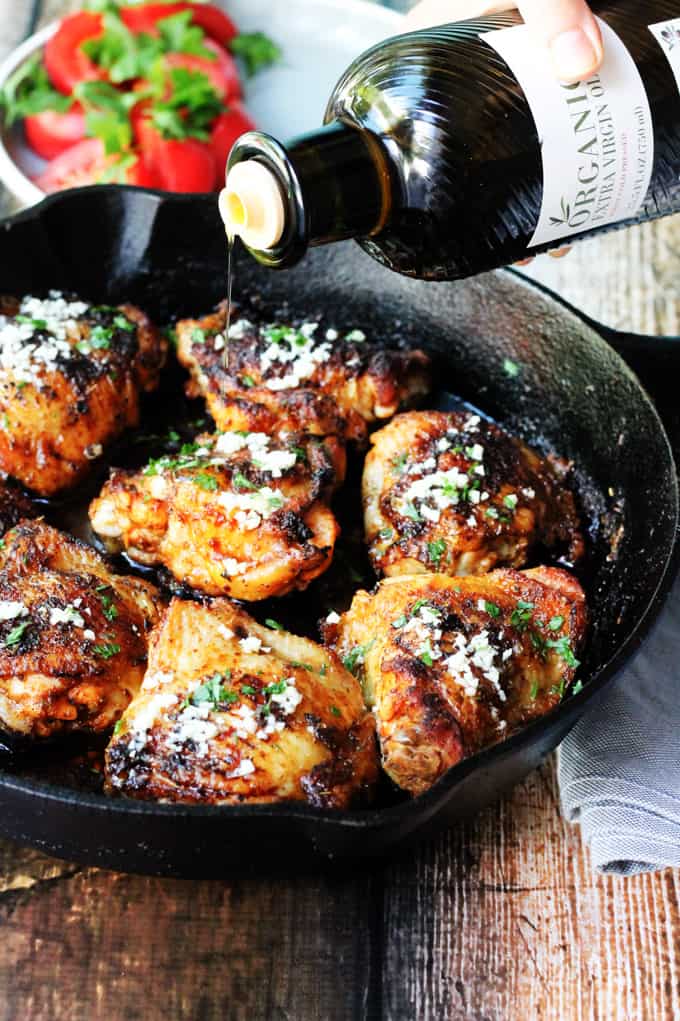 Extra Virgin Olive Oil – a staple in the kitchen
Extra Virgin Olive Oil is a staple in my kitchen – I go through it by the gallon. For some reason when my supply goes low, it makes me uneasy. If you follow this blog then I'm sure you're aware that I use it all the time. I marinate meats in it, and I also use it to cook meats, fish and roast vegetables. I also add it to salads, soups, stews, etc…
So, I listen to a lot of food-related podcasts and I often hear hosts asking their guests the simple question: 'What's one thing that you wouldn't be able to live without in your kitchen?' For me, without hesitation, the answer is…Extra Virgin Olive Oil!
But for me, the quality of the extra virgin olive oil is of utmost importance. That's why I was very excited when presented with this opportunity to work with a wonderful brand that produces an extraordinary line of high-quality olive oils.
Beautifully Crafted Carapelli Extra Virgin Olive Oil
Carapelli Olive Oil has been known as the Tuscan expert in extra virgin olive oil since 1893. They consistently manage to create a masterpiece in each bottle of its premium olive oils. They're beautifully balanced oils which are artfully and skillfully crafted with a true respect for nature. Their distinct quality and flavor preserve the founders' passion for classic Italian culture and the artistry of making olive oil.
For this post, I received 3 bottles of Carapelli Olive Oils: Organic Extra Virgin Olive Oil, Unfiltered Organic Extra Virgin Olive Oil, and Oro Verde Extra Virgin Olive Oil.
I chose Carapelli Organic Extra Virgin Olive Oil for this Olive Oil Chicken recipe because it is soft, balanced and fruity with a slight touch of apple and almonds. It's also made from 100% organic extra virgin Mediterranean olive oils and pairs beautifully with poultry as well as fish and vegetables. I use only organic chicken in my house so this oil really complements this wholesome dish.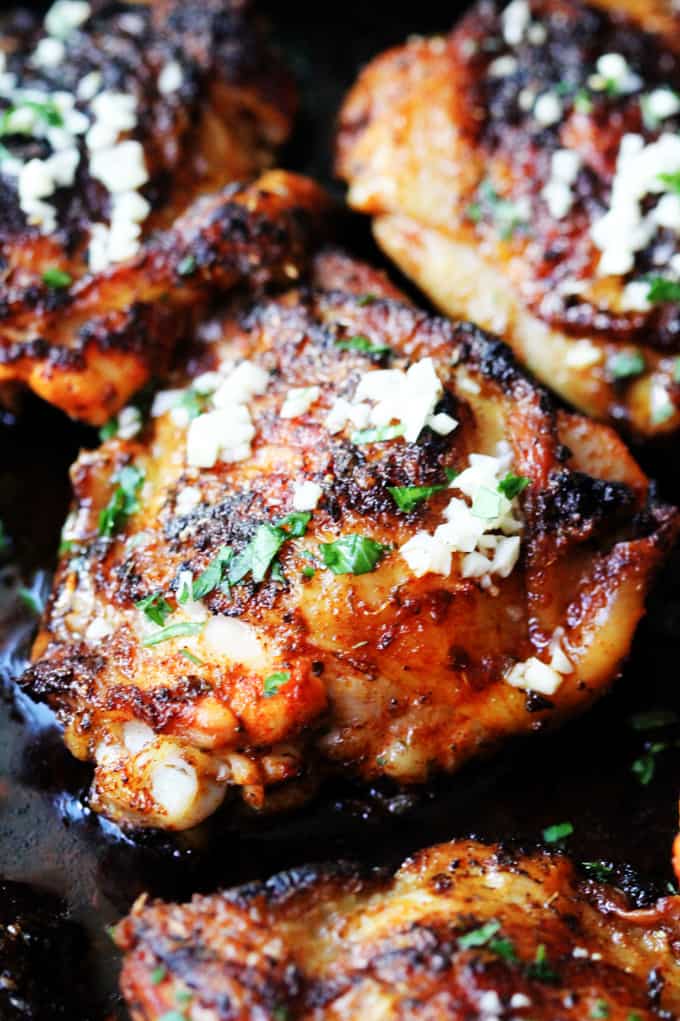 Elevate a simple chicken dinner with this Olive Oil Chicken Recipe
We eat a lot of chicken at my house. My husband and my two little boys simply can't live without it. If you cook chicken often, you know it has the possibility of getting a little boring. That's why I enjoy coming up with new recipes to make it interesting.
Using Carapelli Organic Extra Virgin Olive Oil in this chicken recipe elevates a simple chicken dinner to a new, sophisticated level. For this recipe, I used the olive oil 3x:
First, I marinated my chicken thighs in Mediterranean spices, lemon, and olive oil;
Then I pan seared the chicken on the olive oil;
And finally, I finished the dish with a mixture of olive oil, lemon, and fresh garlic.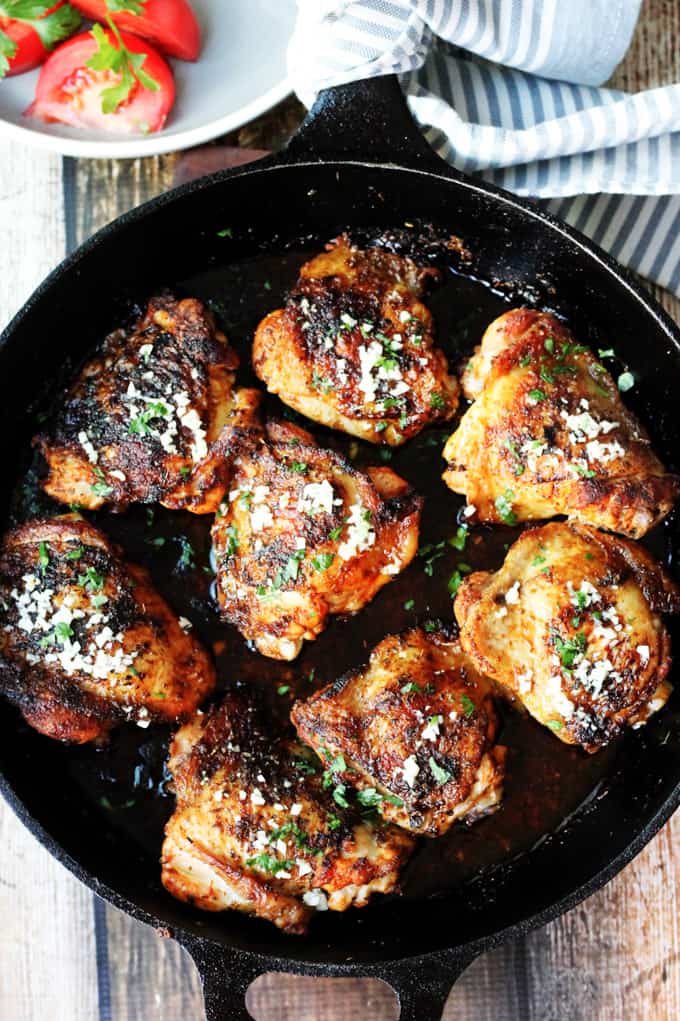 Marinating is a crucial step. You should do this for at least 20 minutes (the longer the better). All the spices with lemon/olive oil mixture add a ton of flavor to the dish.
Now, you could just roast this chicken in the oven, but in my opinion, searing it in the skillet first creates a beautiful crispy, golden brown skin on the top (which is simply irresistible).
The last part of this recipe may surprise you… I chopped fresh garlic, added fresh lemon juice and more Carapelli Organic Extra Virgin Olive Oil. I finished the dish by coating with this mixture. This makes this chicken so bright and vibrant that you'll almost feel as though you're eating a salad.
As a matter of fact, you can serve it with some lettuce leaves, or chopped tomatoes, and then simply drizzle this mixture on them as well.
Or, you could just add some salt and pepper and a drizzle of olive oil to whatever veggie you decided to add to your plate. Whatever you decide to do, the addition of Extra Virgin Olive Oil will help you serve a stunning dish that everyone will be raving about.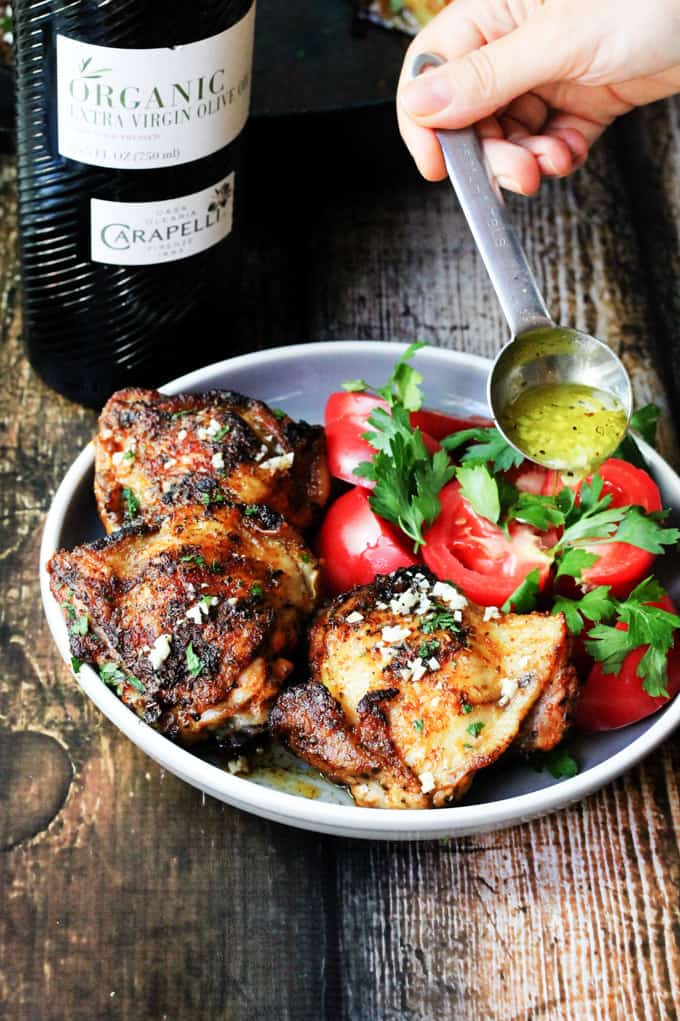 A short list of ingredients
Below you will find a printable recipe with exact measurements and instructions. Here I just wanted to give you a quick list of ingredients that you should gather before making this Olive Oil Chicken:
Skin-on, bone-in, chicken thighs (I like using organic ones);
Lemons;
Fresh Garlic;
Spices: Salt, Pepper, Garlic Powder, Paprika, Cumin, Nutmeg, and Coriander;
Parsley for garnish, and a side of vegetables of your choice to serve.
It's that simple! Obviously, it's the olive oil that's used throughout this recipe that really distinguishes this dish. Try this Olive Oil Chicken Mediterranean Style recipe and let me know what you liked about it the most.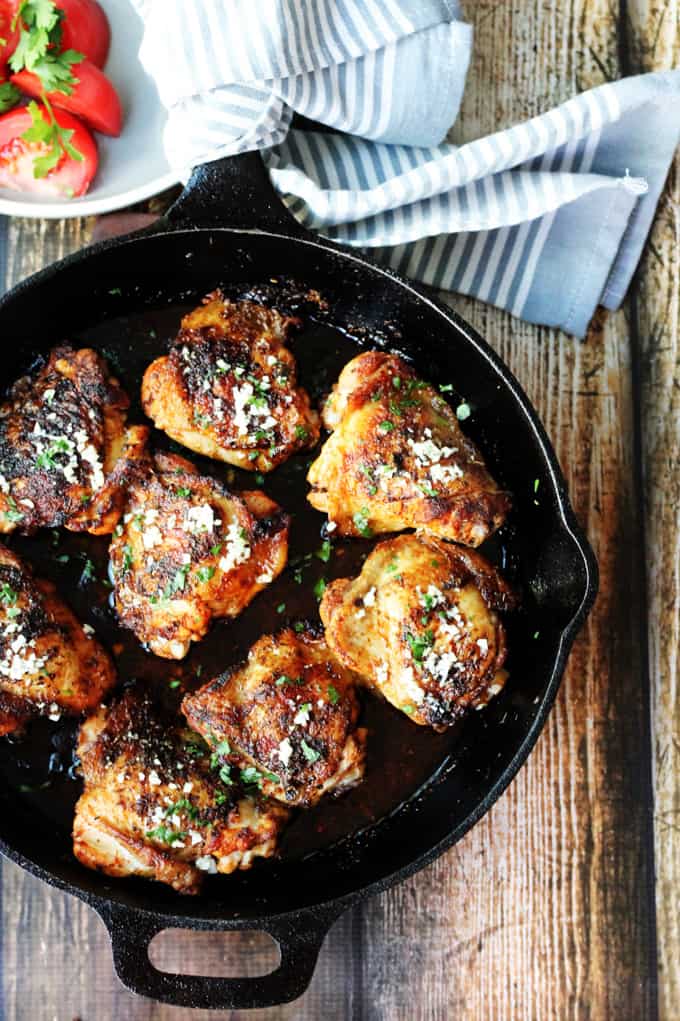 Ingredients
Spice mixture:
2

teaspoons

of Sweet Paprika;

2

teaspoons

of Dried Oregano;

1

teaspoon

Cumin

1/2

teaspoon

Coriander;

1

teaspoon

Garlic Powder;

1/2

teaspoon

kosher salt

1/2

teaspoon

grated Nutmeg;

1/4

teaspoon

freshly ground Pepper.
Finishing sauce:
4

tbsp

of Lemon Juice;

2

cloves

of garlic,

chopped.
Instructions
Place the chicken either in a dish that can accommodate all the pieces or in a ziplock bag;

In a bowl, combine all the spice mixture ingredients and mix well;

Rub the chicken with the spices all over;

In a separate bowl, combine olive oil with lemon juice;

Pour the marinade over the chicken and distribute evenly to make sure that all the pieces are well covered with the spices and the marinade;

Marinate the chicken in a refrigerator for at least 20 minutes, or up to 8 hours;

Preheat your oven to 350F;

Preheat an oven-proof skillet and once hot, add 2 tablespoons of olive oil;

Add the chicken, skin side down, and do not move it for 7-8 minutes (until nicely seared and browned);

Flip the chicken and cook for another 5 minutes;

Transfer the skillet into a hot oven and cook the chicken for 20-25 minutes, until the internal temperature shows 165F;

Carefully remove the skillet from the oven (using oven-proof gloves);

Place the chicken on a serving plate and spoon over the finishing sauce on all the chicken pieces;

Garnish with freshly chopped parsley and serve with your favorite side dish.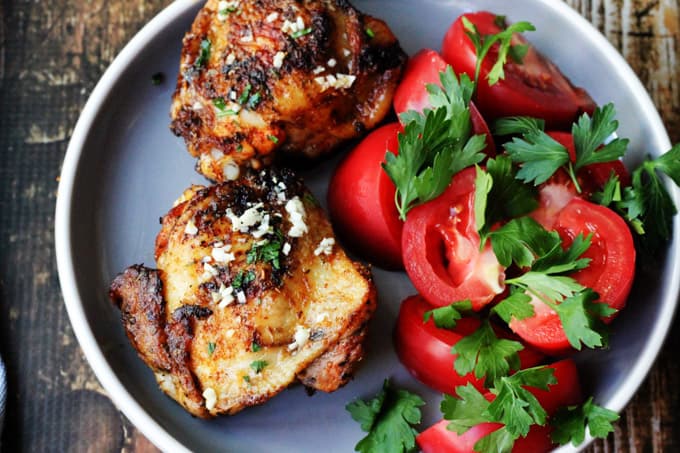 I was selected for this opportunity as a member of CLEVER and the content and opinions expressed here are all my own.