This post may contain affiliate links which won't change your price but will share some commission.
Have you ever wonder what is Burrata? I'll give you a hint…it's a cheese! Below I'll expand upon that definition and provide you with an amazing Burrata pasta recipe with orecchiette pasta and homemade lemon basil pesto sauce and cherry tomatoes (it's just crazy good).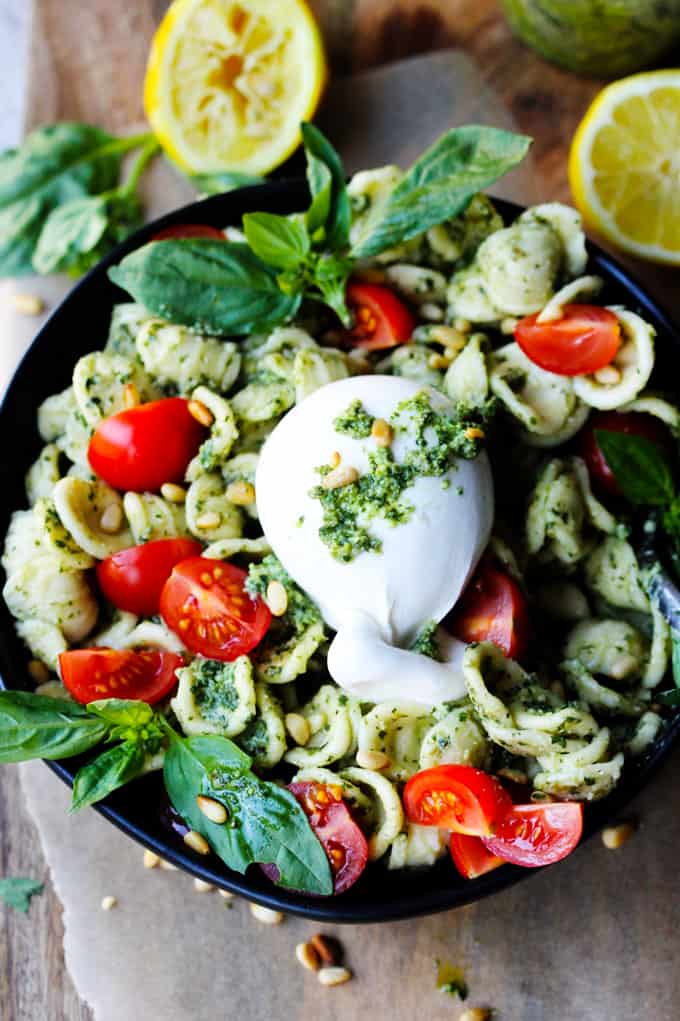 What is Burrata?
Burrata is a soft Italian fresh cheese that has a thicker membrane on the outside and is creamy and soft on the inside.  Literally, it means "buttered," due to its creamy inside. It's actually made of fresh Mozzarella cheese that's filled with curd and cream. And even though Burrata is made from Mozzarella, it is its own, distinct cheese, which is frequently referred to as the 'Queen of Italian Cheeses'.
The difference between Mozzarella and Burrata is pretty obvious. Mozzarella is made from either cow or water buffalo milk (Mozzarella di Bufala), and when cut through, its completely solid and can be cut into slices. It melts great, so as I'm sure you'll all agree, it is really good to use in on Margherita pizza.
Despite their similar appearance, when you cut into Burrata, the creamy texture will basically pour out. It is best served cold, which helps you enjoy the amazing creamy inside.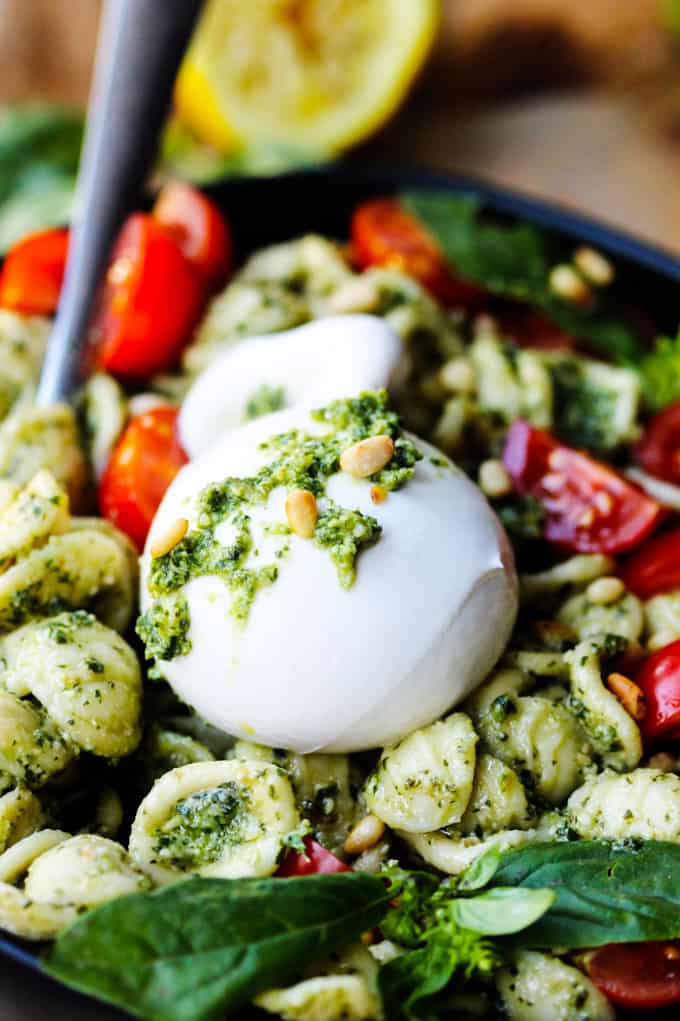 How to best serve Burrata cheese?
Because of its trademark creamy inside, Burrata is best served fresh and uncooked with salads, pasta or on bread, and paired with good quality, full-bodied red wine.
You can simply serve it with just a fresh, ripe, beefsteak or heirloom tomato, with a splash of olive oil, balsamic vinegar, and some coarse sea salt. This is how it was served to me in one of the restaurants in East Village in NYC many moons ago. It was at the time that Burrata wasn't easily found in stores yet, and it was just served by some restaurants during the summer months when, coincidentally, heirloom tomatoes were at their peak ripeness.
Admittedly, I couldn't believe what I was eating… The creaminess of the cheese, mixed with the ripe tomatoes, a tang of saltiness, and the richness of the balsamic and olive oil drizzle, made it a truly unforgettable experience. From that point, I was on a quest to find a market that offered Burrata cheese.
Well, fast-forward a decade or so and now it seems a bit more ubiquitous. In fact, my all-time favorite store, Trader Joe's is carrying it now. As you can see, this story has a happy ending.
What I've come to learn is that Burrata needn't be relegated to that short window when tomatoes are at their ripest. I've found other ways to eat it too.
Here are a few suggestions of how Burrata can be best served: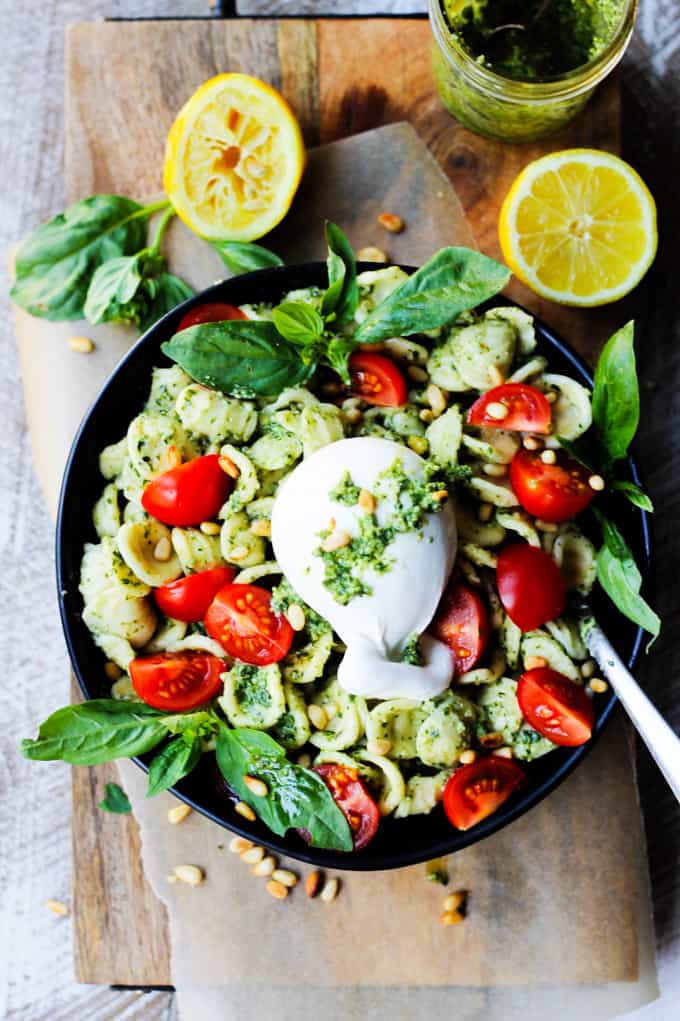 How to make Burrata Pasta?
To make this amazing Burrata Pasta with Lemon Basil Pesto Sauce, you'll need few simple ingredients and a couple of minutes for assembly. If you have your pesto ready, then just take it out of the fridge.
If you don't have a homemade lemon basil pesto ready and don't have all the ingredients needed to make it, don't stress. You can use any pesto you have handy, or any you like the most. To be quite honest, whenever I'm short on fresh basil I just grab my favorite Costco pesto from my fridge or freezer.
For this Burrata Pasta recipe you will need:
Burrata Cheese;
Pasta (I used Orecchiette because I really like how those little nooks in the middle of pasta can trap pesto and cream from Burrata, but you can use any pasta you want);
Homemade Lemon Basil Pesto (just because I am obsessed with it, but if you don't have one or simply don't feel like making one, use store-bought pesto. It'll still be delicious);
Fresh cherry tomatoes (they can be found sweet and delicious all year long so you don't have to stress that this dish can only be best achieved in the summer); and
Toasted Pine Nuts (they add some nice texture to this Pasta).
One thing to keep in mind is that this pasta is served cold, more like a pasta salad then a pasta itself. There are two reasons behind it:
Pesto tastes better uncooked. When you mix it with hot dishes, it can change its color and the pasta can get kind of mushy;
You want your burrata to be served with a cold dish to take advantage of this amazing creamy inside.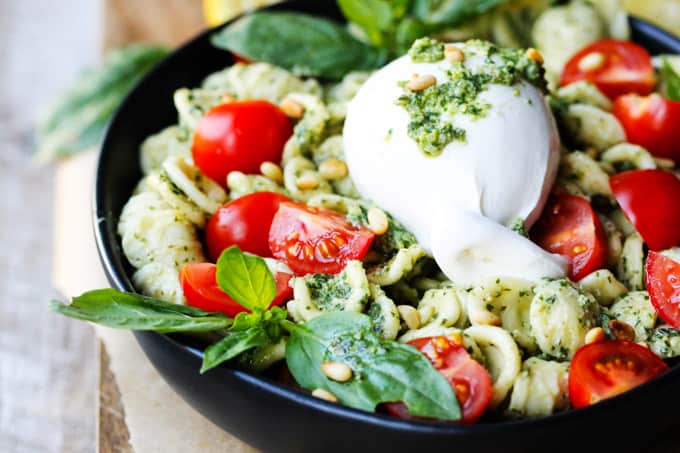 Important tip: rinse your pasta under cold water right after cooking, to cool it off and rinse off all the starch. This way your pesto will nicely coat the pasta without stickiness. Its the opposite of your approach to hot pasta, when you need the starch to help adhere the sauce. This pasta is different, and you'll want to serve it chilled with a nice green pesto sauce.
Try this recipe and let me know how did you like this Burrata Pasta. Or, maybe you have your own unique ways of serving Burrata? Let me know…I'm always curious.
Other Recipes to Try
Burrata Pasta with Lemon Basil Pesto
Burrata pasta recipe with orecchiette pasta and homemade lemon basil pesto sauce and cherry tomatoes
Print
Pin
Rate
Ingredients
0.5

lbs

Orecchiette Pasta

dry

3

tbsp

Lemon Basil Pesto Sauce

1

cup

Cherry Tomatoes

cut in half

1

Burrata Cheese Ball

2

tbsp

Roasted Pine Nuts
Instructions
Cook pasta according to instructions in a pot of salted water;

Once cooked, rinse pasta under the cold water;

Wash and cut your cherry tomatoes in half;

Add pasta to the bowl, add pesto and mix well;

Add tomatoes and top pasta with Burrata Cheese;

Add roasted pine nuts on top and serve. Enjoy!
Notes
You can use whatever pasta you want, but best is pasta that can hold the sauce.
Nutrition
Calories:
294
kcal
|
Carbohydrates:
45
g
|
Protein:
9
g
|
Fat:
8
g
|
Saturated Fat:
1
g
|
Cholesterol:
1
mg
|
Sodium:
112
mg
|
Potassium:
237
mg
|
Fiber:
2
g
|
Sugar:
2
g
|
Vitamin A:
410
IU
|
Vitamin C:
8.5
mg
|
Calcium:
34
mg
|
Iron:
1.3
mg
Read about the author Edyta here or follow Eating European on social media: Facebook, Instagram, Pinterest, and Twitter.