This post may contain affiliate links which won't change your price but will share some commission.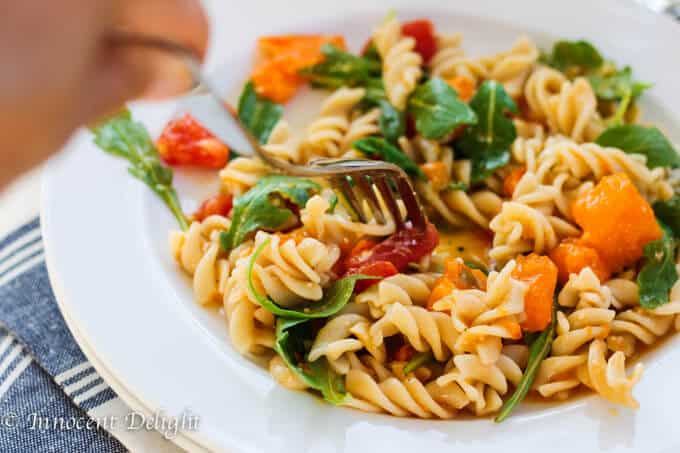 Tomatoes are definitely one of my favorite veggies out there (or shall I say fruit?). They're most flavorful from the beginning of August to the end of summer. That said, we still have little time left this season to enjoy them before they're gone for another year :(. This will be a sad day for me…but I digress. Last month I came across a new magazine by Dr. Oz and he had a couple of interesting ideas on how to use these seasonal, sweet and delicious tomatoes. One of them was a spaghetti pasta with a no-cook tomato sauce. I figured that it would be an amazing lunch for me and one of my besties, who happened to visit me that weekend. She shares my love for tomatoes.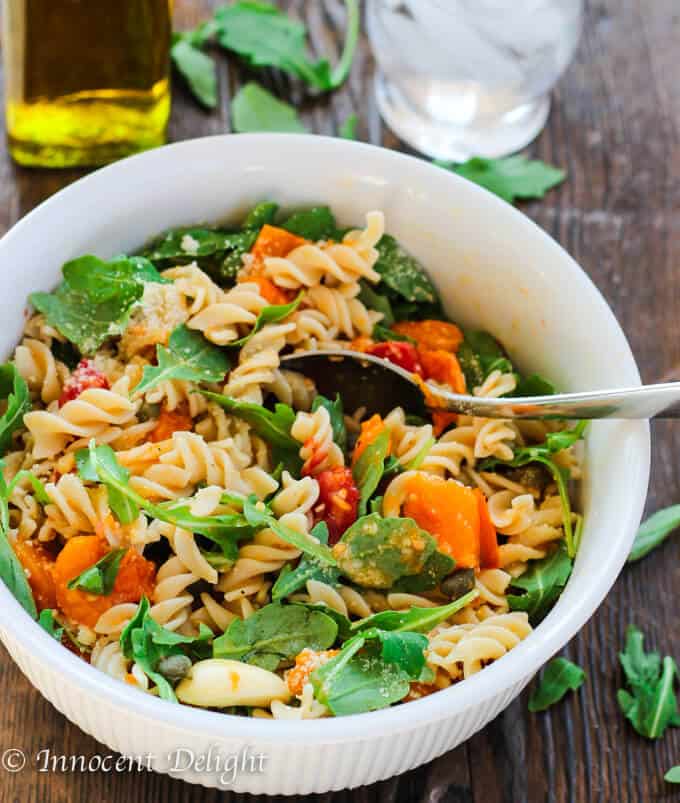 Because I try to watch my wheat intake nowadays, I usually make an effort to switch regular, semolina pasta to either brown rice pasta, quinoa pasta or combination of both. Mind you, I'm not a gluten free type of person, but knowing my body I've noticed that I earn a muffin top when I eat a lot of wheat (lucky me!). To test this theory, I actually lost about 10 pounds in 2 months by just cutting the wheat (entirely). So I know what works for me and what doesn't. I'm not here to tell you that you should not eat wheat, or go Paleo, or all vegan, ect. Because, who am I to do this in the first place? So, it's totally up to you what kind of pasta you would like to use in this recipe; all will be equally as delicious. For me, substituting semolina pasta with one of the above mentioned types is a very easy substitution. Mind you, I'm not pasta aficionado, so it doesn't have to be a real italian deal for me. And let me tell you, you wouldn't even notice the difference unless someone were to tell you that it is actually quinoa pasta. However, bread is a different story. I LOVE, LOVE, LOVE, bread and could never substitute leavened perfection. Fresh baguettes, ciabattas, rustic round etc….. My love isn't without qualification though, it must be of the best quality. I'm not talking about mass produced bread bought in plastic bags in a supermarket, but rather a freshly baked one from the best bakeries. This – I cannot substitute, it's one of my guilty pleasures. I will never deprive myself of a fresh baguette with French brie cheese or this bread with tomato or this mushroom pesto toast or even this herbed egg salad tartines.  So given this need, most of the time I will compromise my pastas, which gives me more time and opportunity to have my guilty pleasure – bread.
Anyways, this pasta is really super delicious and tastes very summery and fresh.  I guarantee you won't feel deprived, even if you follow me and substitute the pasta. Also as we're still in the summer here in NY, you'll be able to enjoy the ripest ingredients. This dish contains the simplest and best ingredients: tomatoes, garlic, capers, arugula and olive oil. Dr. Oz says that 'if you eat tomatoes along with some fat – like olive oil – your body will absorb more of their disease-fighting lycopene.' So, don't be shy with the extra virgin olive oil. In my version, the pasta dish also contains quinoa fusilli pasta, parmesan cheese and tons of black pepper. The important part of it is that you need to make the sauce at least half an hour before serving so as that the flavors can marry and dance in your mouth later on.
I used yellow and red heirloom tomatoes, but any kind of fresh, summer tomatoes would work. Add smashed garlic cloves to it, capers, black pepper, sea salt and olive oil….then let it sit. You may want to discard garlic cloves before adding the pasta and arugula. Regardless, your sauce should be wonderfully infused with garlic by now. So add cooked pasta, fresh arugula, sprinkle with some parmesan cheese and healthy dose of fresh ground black pepper. Mix everything together and enjoy this wonderful, healthy meal!
Ingredients
2

large tomatoes

,

3

cloves

of garlic

, crushed

1

Tablespoon

of capers

2

Tablespoon

of extra virgin olive oil

1/2

teaspoon

of salt

Freshly ground black pepper

2

cups

of Quinoa dry fusilli pasta

, cooked according to directions

1

cup

of baby arugula

1

tablespoon

of grated Parmesan Cheese
Instructions
Roughly chop tomatoes in cubes

Add crushed garlic cloves, capers, salt, pepper and olive oil

Let it marinate for at least 1/2 hour

Remove garlic cloves

Add cooked Quinoa pasta, Parmesan Cheese and baby arugula

Toss together and serve immediately