This post may contain affiliate links which won't change your price but will share some commission.
Pesto Zucchini Noodles with Cherry Tomatoes – perfect spring and summer dish.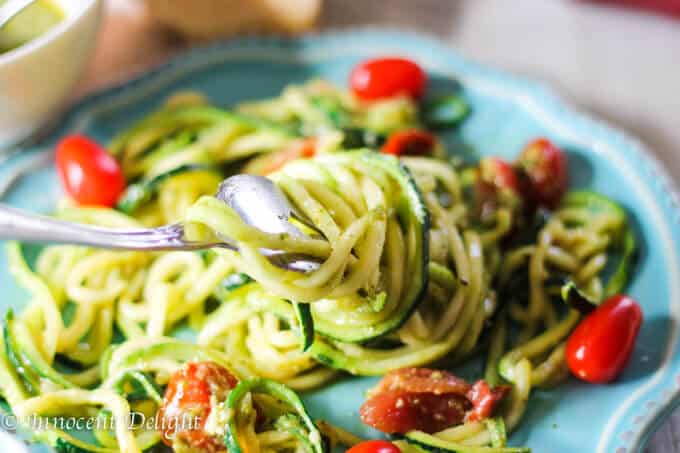 Summer squashes are back in season! Yah…summer is around the corner.
Make this Pesto Zucchini Noodles with Cherry Tomatoes now and you will be right there, in the middle of a hot summer's day.  It's so refreshing, crunchy and delicious and…generally 'summery.'
I don't know what else to say. It's zucchini, with pesto, tomatoes and with some shavings of parmesan. My mouth is watering as I type this. I want it now, and again and throughout the whole season.
My pesto zucchini, please never leave me…  But I digress.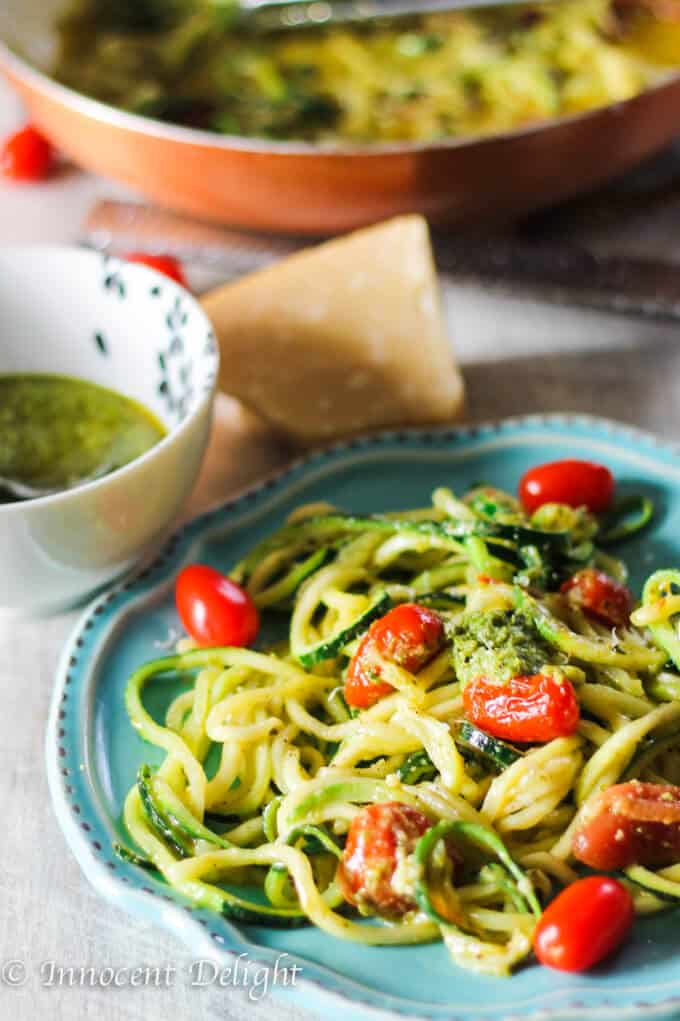 Funny thing is that my hubby claims not to like zucchini, like he claims that he doesn't like spinach, beets, cabbage, brussels sprouts and cauliflower (reoccurring theme).
However, I make this Greek Spinach Rice and he loves it, I make this Cauliflower and he likes it too. I make cabbage with bacon and he keeps saying I'm ok with that. I make brussels sprouts with balsamic reduction and bacon and he likes it.
He saw me making this Pesto Zucchini Noodles with Cherry Tomatoes and he said: (I'm quoting): "It looks delicious"! And it wasn't said in sarcasm.
After I made it I was still a little bit skeptical, so I asked him if he wants to have it for lunch. He looked at me surprised and said: "I thought this dish was to eat it, right?" So I served my Pesto Zucchini Noodles with Cherry Tomatoes and I could only heard how great that was.
I guess my point here is, that preparation is the key. You can just steam zucchini with no spices and make it practically inedible or you can use my recipe and make a superstar 🙂  I suggest the latter.
If you are using store bought pesto this dish takes literally 5 minutes to make.
You just need to wash and cut cherry tomatoes in half. Heat up a  tablespoon of olive oil, add tomatoes, pesto and add zucchini noodles. Season and mix it; then shave some parmesan and your Pesto Zucchini Noodles with Cherry Tomatoes are ready to eat.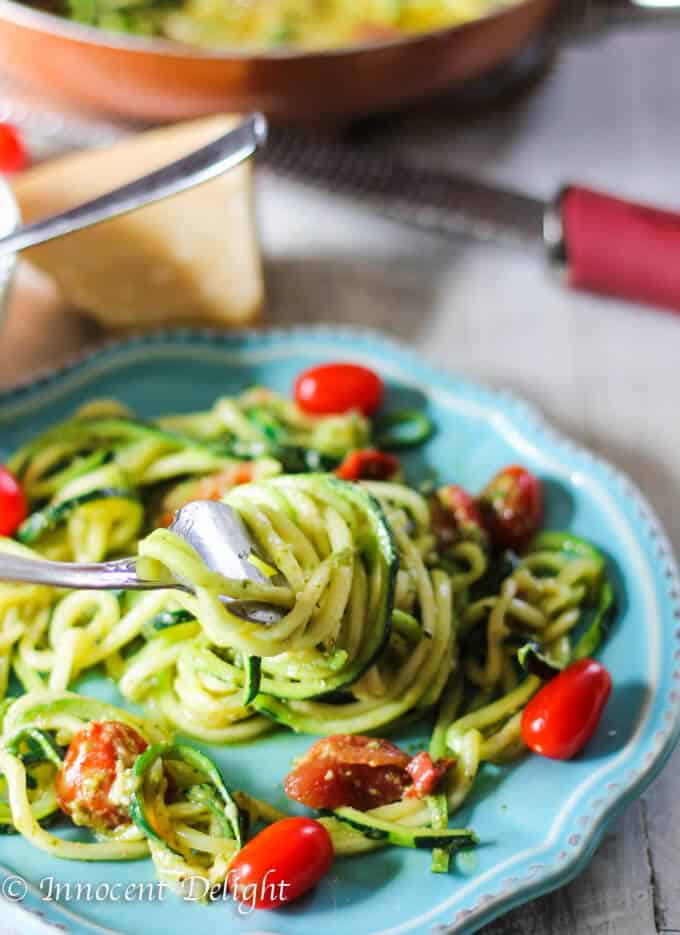 Ingredients
2

zucchinis

,

2

tablespoon

of store bought pesto

(I use one from Costco)

1

tablespoon

of olive oil

1/2

cup

of cherry tomatoes

, cut in half

1

tablespoon

shaved parmesan cheese

Salt and pepper to taste
Instructions
Using a spiral vegetable cutter (like Veggetii) create thin ribbons from zucchinis

Heat up 1 tablespoon of olive oil in a skillet

Add tomatoes and cook for 1 minute

Add pesto

Add zucchinis, season with salt, pepper and mix well

Cook for 2 minutes

Remove from the heat and shave some parmesan on top

Serve immediately