This post may contain affiliate links which won't change your price but will share some commission.
Perfectly trimmed and steamed Artichokes – learn how to make this delicious, and yet intimidating, vegetable in just five minutes.
A few years ago I did not even know what artichokes were; not to mention how to eat them. I purchased the book "Power Foods," and one of the recipes was calling for steamed artichokes with two different sauces. As I like challenges…I was intrigued.
I told my husband, that I wanted to make artichokes. He said that he was very happy to hear this, as he'd been eating them as a kid and they were by far his favorite vegetable. Wait……my husband actually likes a vegetable? That thought baffled me.
Now, I was even more intrigued. Let me tell you something. These little green things looked SOOO intimidating, but were actually super easy to master – it literally takes 5 minutes to prep them. We enjoy artichokes once a week during the work week, as they take no time to prep. The remaining time is just the steaming.
This post is different than all others created so far, as this one is just pure tutorial on how to perfectly trimmed and steam artichokes. I hope you'll like it:
When you buy Artichokes, make sure that their leaves are closed. They are like flowers. The more close they are, the better. It means they are fresh.
Start with pulling the outer lower leaves.
Then cut the stem.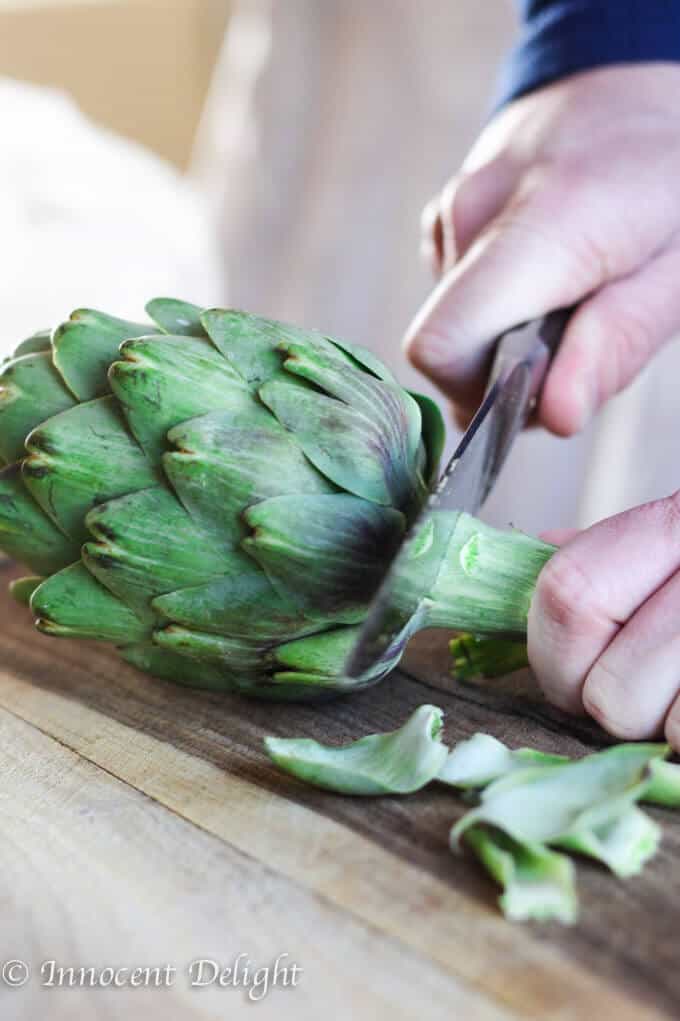 Make sure that your artichoke can stand up.
Using kitchen scissors, cut out the outer leaves.
So they look like this:
Using a sharp knife, cut off about 1 to 1.5 inches of the top of the Artichoke. This part is tricky because the leaves can be slippery & hard to cut through. So, firmly holding the knife, a really good knife, will do the trick.
After you cut the top, the artichoke should look like this:
Fill the pot with one inch of water, squeeze half a lemon, and then put the squeezed lemon into the pot. Place the Artichoke stem side up until you finish triming the other one(s).
When you finish trimming the other Artichoke(s), place all of them stem side down in the standing position, cover the pot and steam them for 25 to 30 minutes.
You will have a lot of waste, but that's ok. There are a lot of parts of Artichokes that are inedible, but those which are edible, are super delicious.
Once your artichokes are perfectly steamed, you can remove out one leaf at a time, dip it into a melted butter sauce, scrape off (bit it) the inner meaty layer with your teeth and move on to the next one.
You will eventually reach the point when the leaves are very soft and their tops are a little sharp. Now, you just need to remove the remainder and get rid of them.
You will then see the artichoke heart covered with fuzzy hairs which are absolutely inedible, and can be dangerous. You need to make sure that you cut it out.
You'll want to use a butter knife and cut out the fuzzy part to get to the best part of this amazing vegetable: the artichoke heart! We usually cut it into pieces and put it into the bowl with leftover melted butter, to fully saturate. Let it get covered all around and then enjoy every single piece. So good…
Most of the time we eat these artichokes with just a very good quality european butter, with some salt and freshly ground pepper. Sometimes I make a sauce that I developed few years ago, that is similar to remoulade, with: pickles, mayo, yogurt, shallots, mustard and some siracha. (FYI – this sauce will be a theme for another post.)
Anyways, I wanted to say that there's no need to be afraid of a good butter; it is healthy and a lot of vitamins are fat soluble. So, if you really want to take advantage of this amazing superfood, you should pair it with a good fat.
Oh, and I almost forgot to mention that there is wouldn't be any harm if you wanted to wash it down with a good glass of Sauvignon Blanc. Enjoy these Perfectly trimmed and steamed Artichokes 🙂
If you like this tutorial, you may also want to learn how to make Perfect French Crepes