This post may contain affiliate links which won't change your price but will share some commission.
Garlic Lemon Zucchini Noodles – packed with  Mediterranean flavors and so low in calories.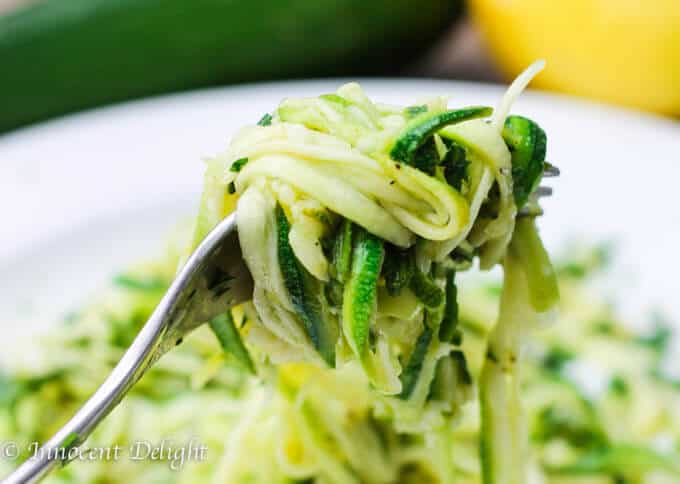 I think I speak for ALL the girls out there when I say: We love our girl time! Recently, for me, it happens way too rare. But when it does happen, I enjoy it to the fullest. If you've been following this blog, you're already aware that we recently bought a house. What you might not be aware of is that our house has a wonderful tri-level deck to entertain people. Needless to say, I couldn't wait to have my girls over and just sit outside and chat. The night was long, the wine flowed freely, and the morning not that easy. But, amongst other things, I did vividly remember the idea that my friend planted in my head: garlic lemon zucchini noodles. I'll tell you more about it.
First, let me preface this by saying that this opportunity for a 'girls night' actually materialized when my husband needed to head to Florida for a few days for the wedding. I had some obligations that kept me in New York, but I had Friday night free. So….I called my girls. With but one exception, all were able to make it; and as you can imagine, we had a wonderful time! I can say that we had "Feta Fiesta," or perhaps its more apt to say that we had a "Cheese Fiesta." Feta was almost everywhere. We had: fried feta cheese (saganaki); watermelon with feta and mint; a Cyprian fried cheese (hulumi) with tomatoes and arugula; and to top it off, a baked brie. These were our cheesy appetizers 🙂 I'm a very cheesy girl (pun intended). Should you think that app spread might cause a cheese overdose, suffice it to say that I wasn't done there. For our entree my friend Marta had a very special request. Her request was for my Leek and Potato Feta Pie. On this occassion I made it without the crust and it was equally as delicious. To cleanse our cheese palate, we also had some chicken drumsticks; but there were only for us carnivores.
We couldn't get enough of this evening. But after plied with wine & cheese, our intention of making it into the a.m. hours, quickly faded. The next day, we had a queens breakfast: avocado with an egg, olive oil and sesame seeds, and some crunchy ciabatta on a side….to die for. After again indulging, we then mobilized and went to the local farmer's market, in Long Beach, NY. I know, I no longer live in Long Beach, but it will have my heart forever. The icing on this love affair is the farmers market there, which runs from May to November. I know the vendors and they know me. It feels like home. On our way back Marta told me about this awesome tool that she has to make zucchini noodles (btw me and her talk food a lot…) and I actually had this tool from my foodie mother-in-law. However, I didn't have a chance to use it yet. Anyhow, everyone who knows Marta knows that she has very colorful way of telling stories and describing things. When she speaks about food, I want to make it right away. She talked about these garlic lemon zucchini noodles in such a way, that I couldn't stop thinking about  them. I think I should hire her to write my blog posts. I know my shortcomings, and I know I'm far from Marta's storytelling ability.
Anyways, again she plant this seed and before my husband was back from his Florida trip I made these delicious garlic lemon zucchini noodles that simply stole my heart. Not much more needs to be said. 🙂
Ingredients
1

Summer Zucchini

1

garlic clove

1

tablespoon

of chopped parley

1

tablespoon

of good quality olive oil

Juice from a half of a lemon

Salt and pepper to taste
Instructions
Using a spiral vegetable cutter (Veggetti type), create thin ribbons from the zucchini

Salt it a little bit, mix and let it sit for about 15 minutes

Drain the water from the zucchini

Heat up the olive oil in the skillet

Add garlic and sauté for a minute

Add zucchini and cook quickly for about 2 minutes

Add lemon juice & parsley

Season with salt and pepper to taste

Serve immediately