Italian style Roasted Fennel with Tomatoes is one of those dishes that can elevate a simple meal to the extraordinary level. The taste of roasted fennel with sweet cherry tomatoes is irresistible. It works perfectly topped on your favorite grilled, fried or baked fish, as well as chicken cutlets, pork or Veal Milanese.  
Below I'll show you how to cut the fennel for perfect roasting and will give you some more serving suggestions. If you're looking for more roasting veggie ideas then you may like these Balsamic Glazed Brussels Sprouts with Bacon.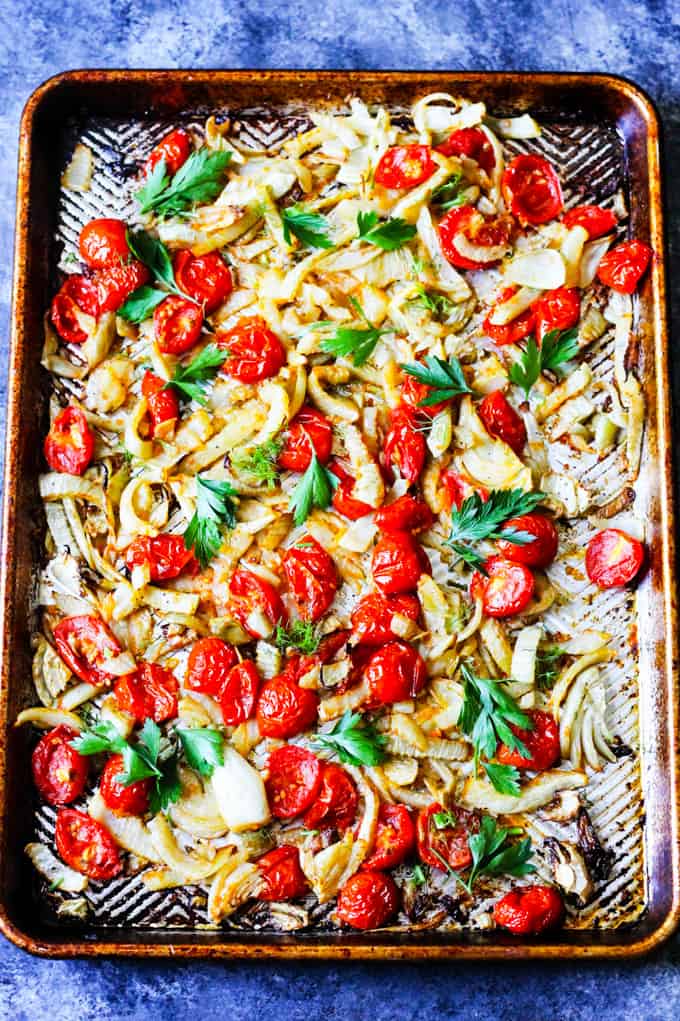 Roasted Fennel with Tomatoes – Perfect Side Dish or Topping for Meat or Fish
One time in my favorite Italian specialty store I was looking for some dinner ideas. I approached the deli section to get some potato salad. But as I did so I noticed Roasted Fennel with Tomatoes and decided to give it a try. Oh my goodness it was delicious! I served it on top of chicken cutlets and my husband was super impressed with the dish.
What surprised me though was the way the fennel was cut into tiny slices. This made it roast evenly and it paired beautifully with the small cherry tomatoes. Now I'd roasted fennel before, but never in slices like this, and to be honest there was always a piece somewhere that was either too hard or too chewy. Even though I love the taste of roasted fennel, this was always a little problematic for me. Once I tried this roasted fennel from the Italian store I immediately knew what I was doing wrong. I will show you below how to prep the fennel for perfect roasting.
But once you have it out of the oven, you can serve it with whatever you like. It's really versatile and works beautifully on fish as well as meat. Think about a roasted halibut or pan-fried cod or grilled swordfish.
I served this one with my Veal Milanese, but chicken cutlets, pork cutlets or even slow-roasted chicken will work really well here too.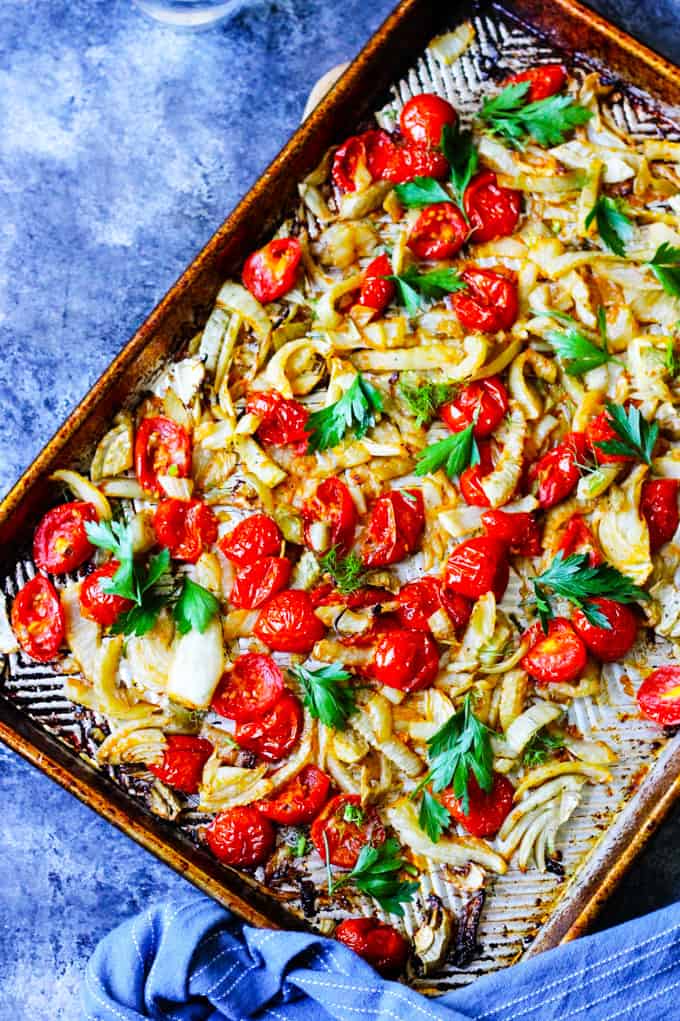 How to Prepare Fennel for Roasting
Cut off the top of the fennel and either discard it or use it for a soup

Cut off the bottom
Cut it in half
Cut in quarters
Remove the core
Remove the outer leaves (these are the ones that can get hard or chewy when roasted so you want to get rid of them)
Slice your fennel into 1/4 inch pieces
How to Make Roasted Fennel with Tomatoes
Once your fennel is prepared you can spread it on the sheet pan;
Add halved cherry tomatoes;
Add Salt;
Add Pepper;
Add Olive Oil, and then place pan into the oven, preheated to 375F, for about 40-45 minutes, mixing it once in a while (the roasting time may take longer or shorter so watch it to make sure that it is soft and slightly brown – it will depend on how big your fennel was and how crowded your sheet pan is).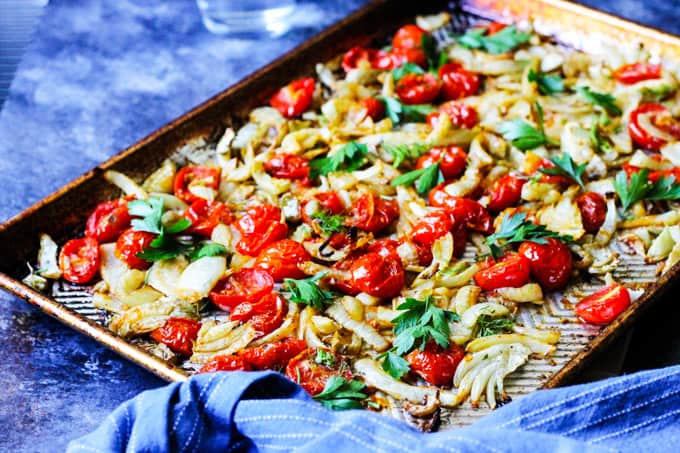 What to Serve Roasted Fennel with Tomatoes
As mentioned above this dish works perfectly with any fish or meat. It could also be a perfect addition to a vegetarian meal. The possibilities are endless.
Here are a couple of my suggestions: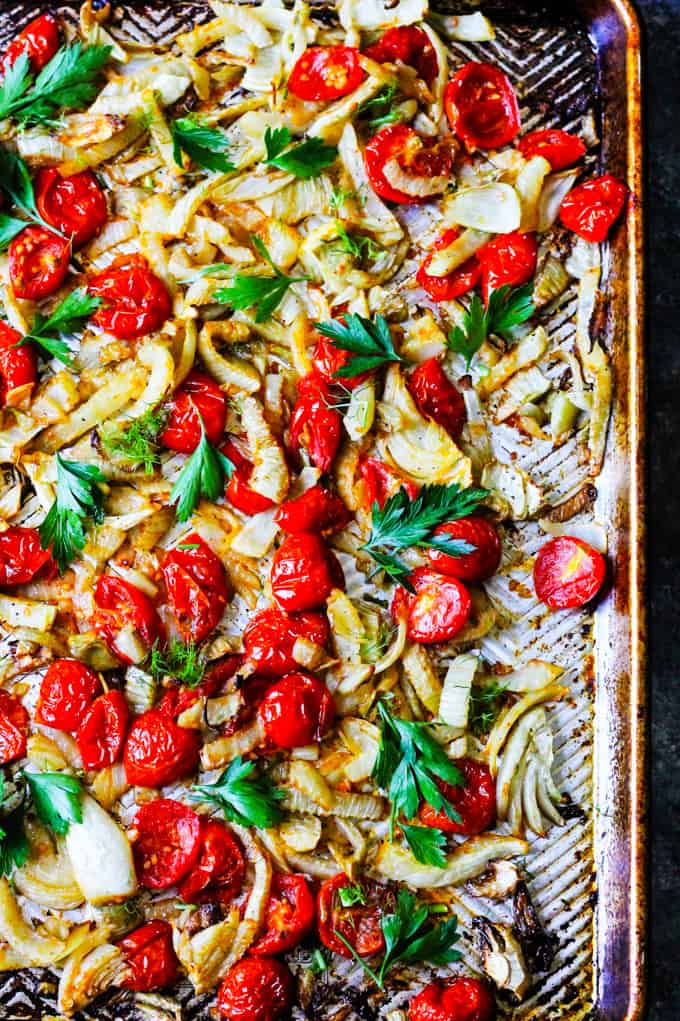 Other Side Dishes to Try
Read about the author Edyta here or follow Eating European on social media: Facebook, Instagram, Pinterest, and Twitter.