Pasta with Mussels in a Spicy Tomato Sauce is a real treat. It comes together pretty quickly, it's super elegant and tastes absolutely amazing. It's a perfect meal for a weeknight dinner or date night in, with a glass of wine. 
This recipe is sponsored by Cento.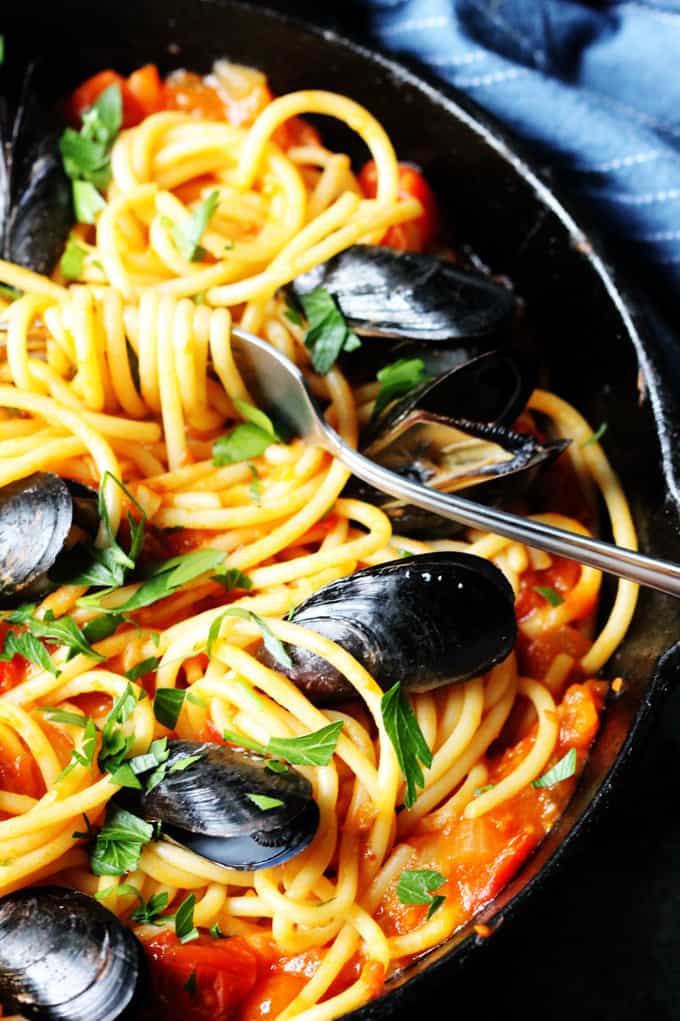 Pasta with Mussels in Spicy Tomato Sauce – Easy Weeknight Dinner
This Pasta with Mussels is one of these dishes that comes together pretty quickly but still achieves an impressive effect. With only a handful of ingredients and less than an hour, you can really impress your loved ones for a busy weeknight dinner. Obviously, you can make it for guests or for a holiday, but my point here is that it's easy and quick, but not short on flavor.
This sauce uses 2 types of Cento tomatoes. It achieves its fragrance from onions, garlic, fresh thyme, and chill pepper flakes. The mussels are cooked with white wine, onions, and garlic. And then the sauce incorporates the mussels and is finally tossed with a portion of incredible bucatini pasta. What more can you ask for? Maybe a glass of wine…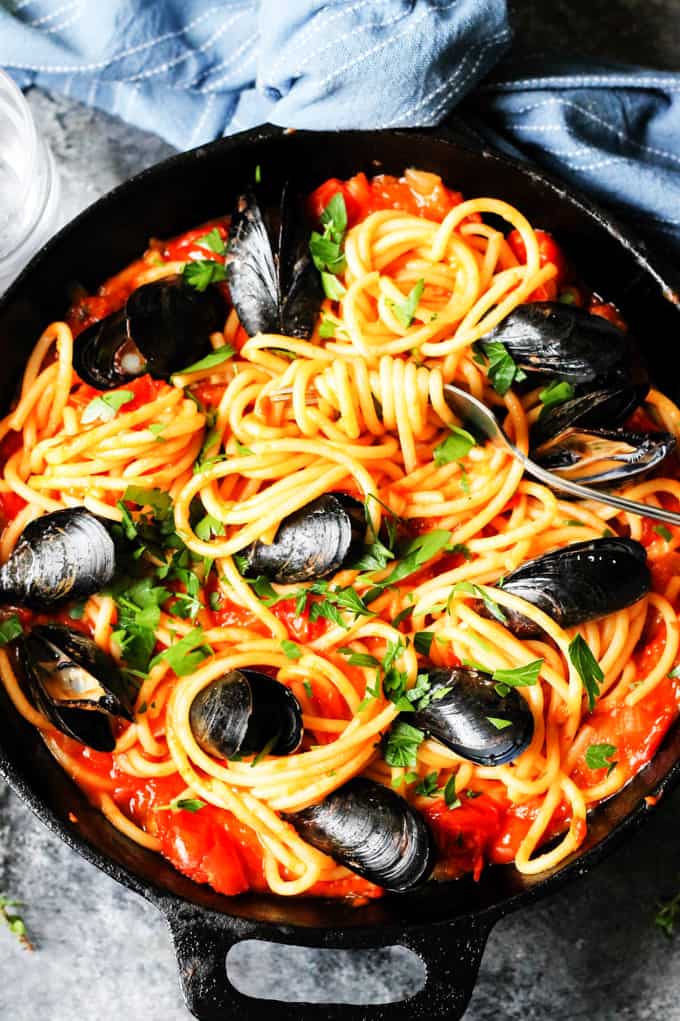 Cento Tomatoes & Maurizio Bucatini
I like using Cento in my everyday cooking for a number of reasons. In addition to the outstanding taste, here are a few other reasons:
Cento's high-quality production standards ensure that each of their authentic Italian specialty products is made to meet the proprietary standards and use only the finest ingredients available.
They recognize the importance of utilizing sustainable farming methods to help protect our environment.
None of their steel cans contain BPA as an ingredient in their protective lining, and they're all 100% recyclable.
For this Pasta with Mussels in Spicy Tomato Sauce recipe I used the following products:
Cento Organic Cherry Tomatoes which have a sweet, tart flavor. These USDA Certified Organic tomatoes are grown without the use of any pesticides or food additives.
Cento Yellow Whole Peeled Tomatoes are hand-picked only when ripe, to preserve their vibrant, golden color and sweet, fresh taste. They have a delicate flavor, a less acidic taste and are especially delicious when paired with seafood.
Maurizio Artisan Pasta is produced from the finest durum wheat semolina in the Campania region of southern Italy. It is carefully pressed through traditional bronze dies, resulting in a uniquely porous texture, which allows for maximum sauce absorption.  Originating in Naples, Bucatini are long strands of pasta pierced through the middle. The thickness of the pasta and hole in the center allows the Maurizio Bucatini to soak up whatever sauce it's in. For that very reason, I used it here in my spicy tomato sauce.
How to Make Mussels, Pasta, and this Spicy Tomato Sauce
Although it is an easy and quick recipe, you will need to use 3 pots: one for the sauce, one for the mussels and one for the pasta. Sorry about that to whoever will be doing the dishes, but this pasta is totally worth it! Please see recipe card below for exact measurements, instructions and nutritional information.
Preparing the Mussels:
Before you start cooking your dish I'd suggest placing the mussels in a bowl with ice water and let them soak for about 20 minutes, before scrubbing them. This will let the sand from the mussels fall to the bottom of the bowl.
Any of your live mussels that happen to be open and don't close to the touch, should be discarded.
Right before cooking the mussels, remove them from the water, scrub with a brush and remove any beards.
Making the Spicy Tomato Sauce:
In a deep pan or a dutch oven, saute chopped onions with some olive oil, minced garlic, chili paper flakes, and fresh thyme, for about 5 minutes.
Add Cento Organic Cherry Tomatoes and Cento Yellow Whole Peeled Tomatoes with their juices to the pan.
Add a teaspoon of salt and sugar and a little bit of freshly grounded pepper. Cover the pot and let cook for 20 minutes.
Cooking the Mussels:
In a dutch oven or heavy-duty pot with a cover, combine white wine, chopped onions, crushed garlic and bring it to boil.
Add mussels and cover it up. Cook for 2-4 minutes, until all the mussels have opened. After the first 2 minutes remove the mussels that opened up and place them in a bowl; cover the pot and let the mussels to cook for couple more minutes. Any unopened mussels should be discarded.
Once all the mussels are in a bowl, let them cool off slightly. Once they're cool enough to handle, remove about 2/3 of the mussels from the shells and leave the rest in the shells.
Cooking Pasta
Cook your Maurizio Bucatini according to instructions. Reserve a cup of pasta water and drain the rest once the pasta is cooked.
Assembling the Pasta with Mussels in Spicy Tomato Sauce
It's best to use a big pot or big bowl to mix the dish together (the pot from cooking the pasta would work).
Check tomato sauce for seasoning and adjust with salt and pepper as needed;
Add the mussels which were removed from shells to the spicy tomato sauce, and gently fold them in;
Add Bucatini to the pot or bowl, cover with sauce and gently mix together; if the sauce is too thick then add a little bit of your pasta water;
Transfer the pasta dish to a serving plate or pan (I like using my cast-iron skillet for the rustic effect). Add your in-shell mussels on top and sprinkle with some chopped parsley for an outstanding looking dish, and serve.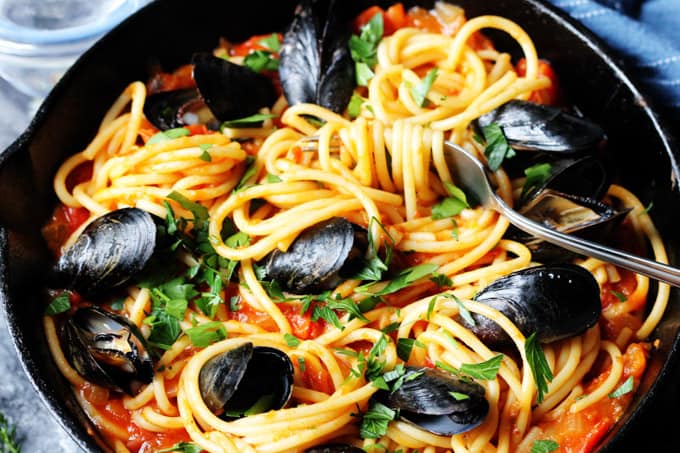 How to Serve Pasta with Mussels
Italians usually eat pasta as "primo," which is the first course. Followed by a "secondo," which is the main course. Because of that, the pasta dish is usually small. In America, on the other hand, pasta dishes are often served as a main dish. And as such, it is usually a bigger portion.
I would serve this Pasta with Mussels as a main dish for two reasons: (1) it has protein, carbs, and veggies, which already constitutes a full meal; and (2) because it is so good, I wouldn't be satisfied with just a small portion. But obviously, the choice is yours.
If you really want to, you can serve it with some crusty bread or simple green salad on aside. And if you want to know which wine would pair well with this Mussels Pasta dish, I'd suggest checking out the Cento Wine Pairing Guide.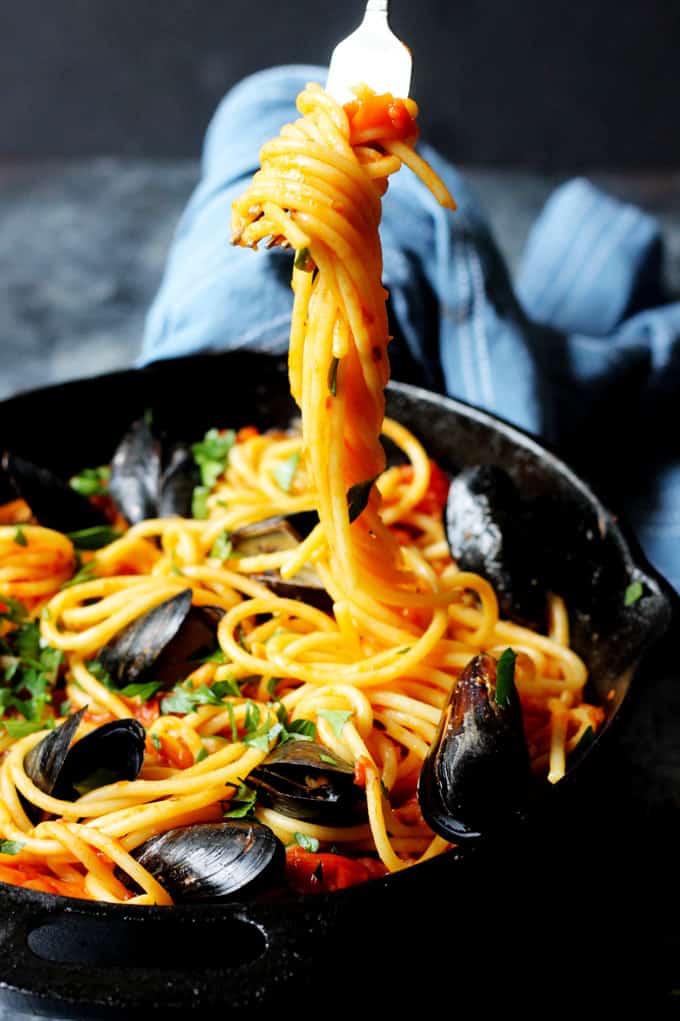 Other Delicious Pasta Recipes to Try
Thank you Cento for sponsoring this recipe.
Read about the author Edyta here or follow Eating European on social media: Facebook, Instagram, Pinterest, and Twitter.