This post may contain affiliate links which won't change your price but will share some commission.
This incredible Mediterranean Chicken Stew with Sweet Potatoes, Beans and Olives, is light yet hearty. It's packed with amazing nutrients provided by way of the sweet potatoes, beans and olives. It's a perfect dish for a cozy dinner on a rainy day, but at the same time the ingredients also would befit a beautiful sunny day. Its flavors are bright and invigorating and may compel you to eat it all the time.
Ingredients
1

yellow onion

- chopped

2-3

cloves

garlic

- chopped

1

bulb

fennel

- cut into cubes

1

big

sweet potato

- (or 2-3 small ones) cut into cubes

2

cups

cooked chicken*1 (See note 1 below)

- cubed or shredded from 2 breasts

1

can

beans

cannellini or red kidney

1/4

cup

green olives

1

tbsp

tomato paste

4-6

cups

chicken broth

2

tbsp

olive oil

- plus more for drizzling

1

teaspoon

turmeric

1

teaspoon

cinnamon

1/2

teaspoon

Spanish smoked paprika*2 (See note 2 below)

1/2

teaspoon

cardamon

1/2

teaspoon

cumin

salt

- to taste

fresh ground black pepper

- to taste

1/2

lemon

- juiced

1

tbsp

Italian parsley

- chopped
Instructions
In a Dutch oven or other heavy pot heat up 2 tablespoon of olive oil, add onions and cook for about 2 minutes, add chopped garlic and cook for another minute, add fennel, sweet potatoes and cook all for about 5 minutes

Add tomato paste and all spices to the pot, stir and let it all mix well

Pour the chicken stock into the pot, cover and cook for about 20 minutes until all the veggies are cooked

Add cooked chicken, beans and olives and cook for another 5 minutes until all is heat up

Add lemon juice and parsley

Serve with a crusty bread and drizzle of olive oil on top of the stew
Notes
This recipe calls for cooked chicken. It is perfect for using leftovers from the roast chicken. However if you don't have a cooked chicken, cut up 2 chicken breasts, season with salt and pepper and cook first in the pot for 2 minutes on each side until nicely browned. Take out the chicken, add some olive oil and follow the recipe.
Spanish smoked paprika is pretty spicy. If you want to make it less spicy but still keep the smokey flavor, use 1/4 teaspoon of Spanish smoked paprika and 1/4 teaspoon of sweet smoked paprika.  
The idea for this Mediterranean Chicken Stew with Sweet Potatoes, Beans and Olives, came from a stew I once had in Le Pain Quotidien. It was so delicious. I couldn't remember what exactly was in there, but I do remember that it had slightly orange color and it had green olives in it. Since I love Mediterranean flavors naturally this appealed to me. In fact, so much so that I decided to create my own version of the chicken stew with some superpower foods like: sweet potatoes, fennel, beans, olives and spices (like turmeric, cinnamon, cardamon, cumin and Spanish smoked paprika). This dish is really outstanding. My husband, who knows my cooking pretty well, told me when he took a first bite of it, "You really know how to cook." I'm glad he finally realized it…
As you'll see fennel is a real star in this dish. However, my love for fennel is actually new-found. When I was a child I really disliked this anise flavor. So, when I first encountered raw fennel it reminded me of this repulsive flavor from my childhood. I kept hearing the suggestion though that taste of 'cooked' fennel is radically different than the raw one. I was told that a 'cook' transforms the flavor into a sweet and delicious vegetable. I first added it into the veggies I use when roasting chicken. I immediately fell in love. Now, cooked fennel and I are best friends. These days I almost always keep a bulb at home.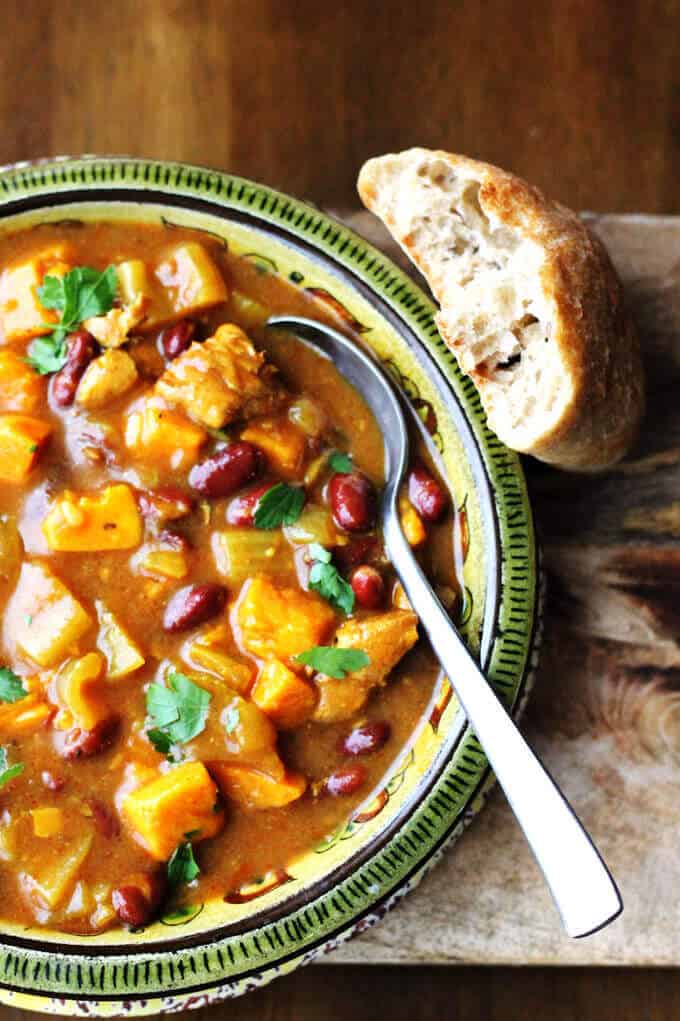 Speaking of the maturation of my palate, I have also developed this love for heating up green olives. I think I can trace it back this very stew from Le Pain Quotidient. Ever since I put olives in almost all my soup bowls; I love it so much. That said, I get it when people don't care for olives at all. They're salty and tangy, which breeds a love/hate relationship. My husband leans a little toward the 'hate' end of the spectrum. So, to accommodate his tastes, I usually add my olives to my bowl instead of to the pot.
And I can say that this dish is pretty versatile. You can follow my instructions, or you can also be creative and change it up a bit. I encourage you to try different veggies (maybe cauliflower?) or chickpeas. Alternatively, you can even skip the meat and go full-bore vegan. The first time I made this dish I used cannelloni beans; now I used red kidney beans. Yet, I think any beans would work well here. Should you want to skip the bean route, I believe lentils or grains would work too.
Regardless which ingredients you choose to go with, the spices are really the key to this fantastic Mediterranean chicken stew. So I encourage you to use your imagination with this one. Personally I love my version and make very often. If you like these Mediterranean flavors, you may want to check these recipes: Mediterranean Hummus Bowl, Turkish Inspired Eggplant with Tomatoes, Butternut Squash Beef Stew with Cinnamon and Pomegranates, Greek Spinach Rice with Feta, Greek Chicken with Tomatoes, Cauliflower and Feta, Shakshouka – Classic Mediterranean Breakfast (check photos below)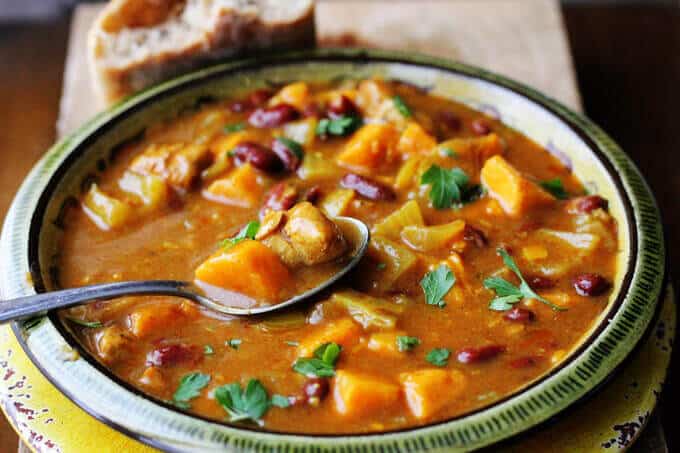 If you like this recipe you may also like: