This post is sponsored by Blue Harbor, a producer of sustainably caught tuna, which I used for this Italian Rice Salad with Tuna (Insalata di Riso). It's a very healthy, light and refreshing meal, which is sure to satisfy. Fresh summer produce, like tomatoes, peppers and corn, combine with this amazing Albacore tuna rice to create a perfect healthy and light summer meal.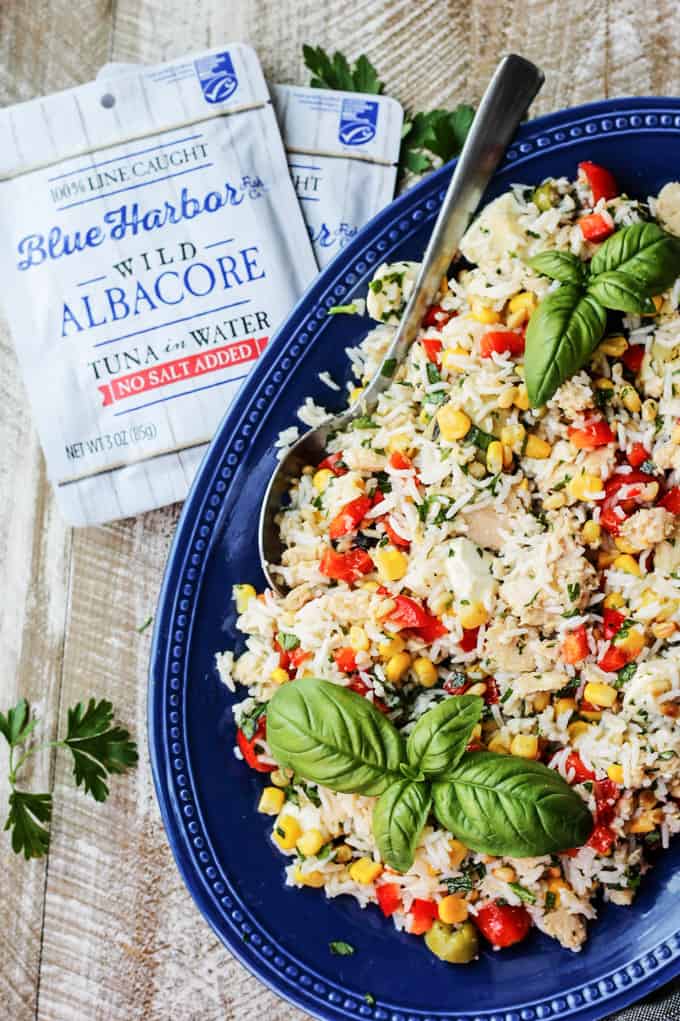 Why I used Blue Harbor Albacore Tuna for this Italian Rice Salad
Previously I wrote about Blue Harbor Albacore Tuna in this post with Spanish Style Tuna Stew with Potatoes, Peppers and Tomatoes; but let me reiterate here why I love this tuna.
First off, I love the fact that this tuna is wild and sustainably caught. Blue Harbor MSC Certification ensures that each fish is traceable to a specific boat. (MSC – Marine Stewardship Council, is an international non-profit organization established to address the issue of unsustainable fishing and to safeguard seafood supplies for the future);
Next, I love the fact that Blue Harbor Albacore Tuna comes in convenient 3 oz. pouches that don't need to be drained. And they only contain premium "clean" ingredients: Wild Albacore Tuna, water and either a touch of sea salt, or no salt added (both types offer a delicious, mild and clean flavor);
Finally, I also love the fact that they're easy to find. You can get them in any one of these major grocery stores:

Shoprite;
KTM Supermarkets; or
Fresh Grocer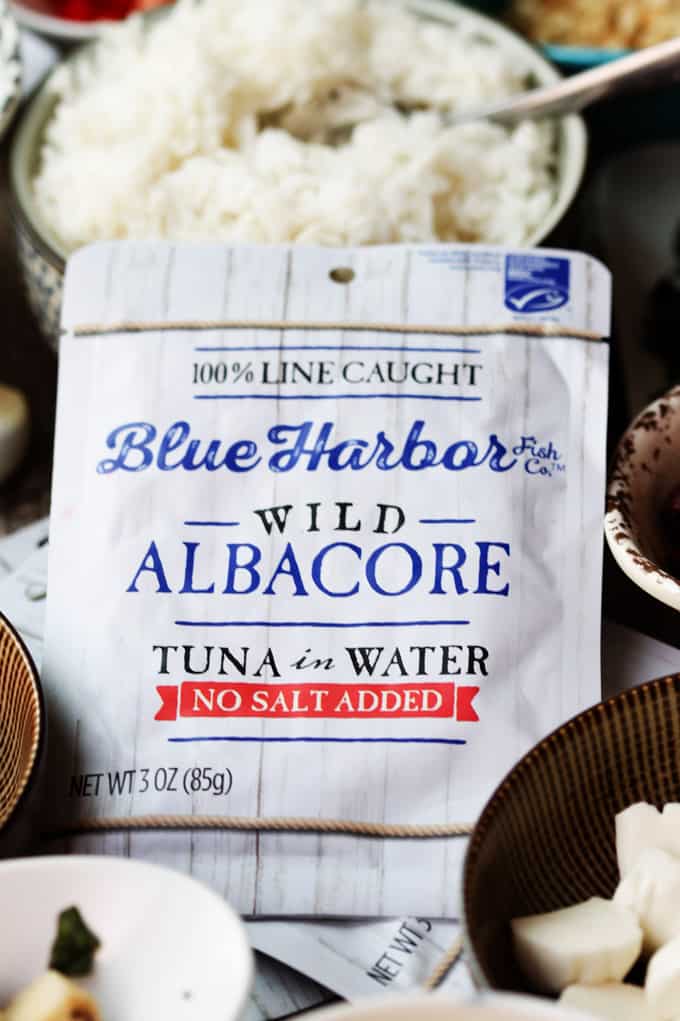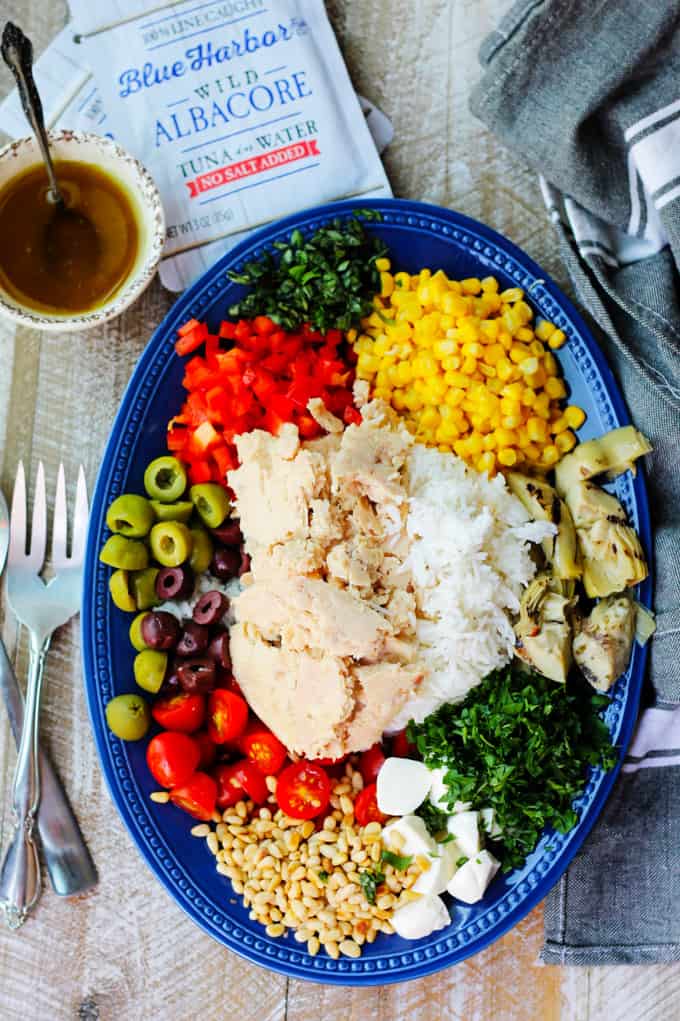 Why is this Italian Rice Salad with Tuna so good for Summer?
Summer is usually the time of year when a lot of meat is eaten. You can literally smell the aroma of BBQ throughout your neighborhood all summer long. Don't get me wrong, I love BBQ, but it can be really heavy and make you feel sluggish after the meal.
But quick, easy and light summer meals – where you just mix simple, seasonal ingredients with light proteins and good carbohydrates – is where my culinary passion lies in the summer.
And that's why this Italian Rice Salad with Tuna is one of my summer 'go-to's.' It's super easy to prepare, packed with flavor, and is also tremendously versatile. The two fundamentals of this meal are: rice and Albacore Tuna (the rest can be adjusted to taste).
Regardless, the best part is that when complete, it's a meal unto itself. You have your carbohydrates, protein and all your veggies and healthy fats in this one dish. It really is perfect. And the best part of it is that it's so light that you aren't left with any guilt at all. In fact, quite the opposite….you'll feel satisfied and light as a feather. For me, it's a win-win.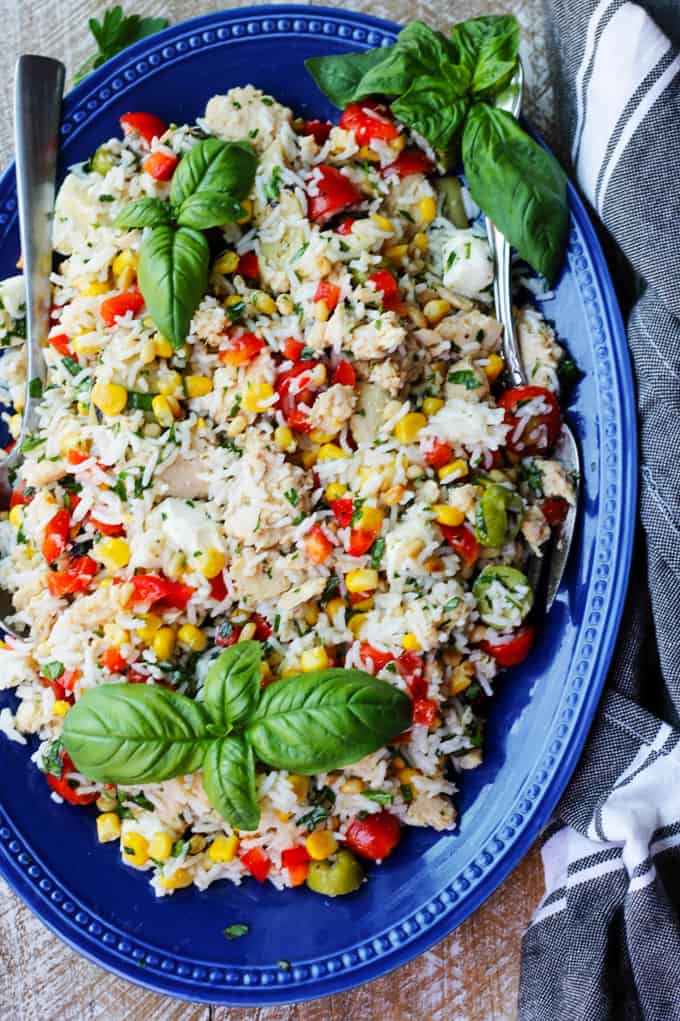 What exactly is in this rice and tuna salad?
(Warning) The list may seem long but I like to pack my rice salad with a ton of amazing ingredients. So let's get to it:
Long grain rice;
Blue Harbor Albacore Tuna in Water No Salt Added;
Artichoke Hearts;
Red Peppers;
Cherry Tomatoes;
Corn;
Fresh Mozzarella Cheese;
Toasted Pine Nuts;
Assorted Olives;
Fresh herbs: parsley & basil;
A simple dressing made out of: lemon, olive oil, garlic, salt & pepper.
How to alter this recipe?
As mentioned above, you can adjust this recipe endlessly. For instance:
Add:

Mushrooms
Peas
Beans
Green or Yellow Peppers
Sun-dried tomatoes
Capers, etc.

Use:

Vinegar, instead of lemon; or
Any kind of dressing you like.
I hope and encourage you to find yourself Blue Harbor Albacore Tuna in one of the supermarkets mentioned above, and make this Italian Rice Salad with Tuna for dinner this summer.
I am confident that it'll earn a roster spot in your household dinner rotation. I suggest doubling the ingredients if you want to have any lunch leftovers. Caution: it's so good that it may disappear before you pack your lunch box.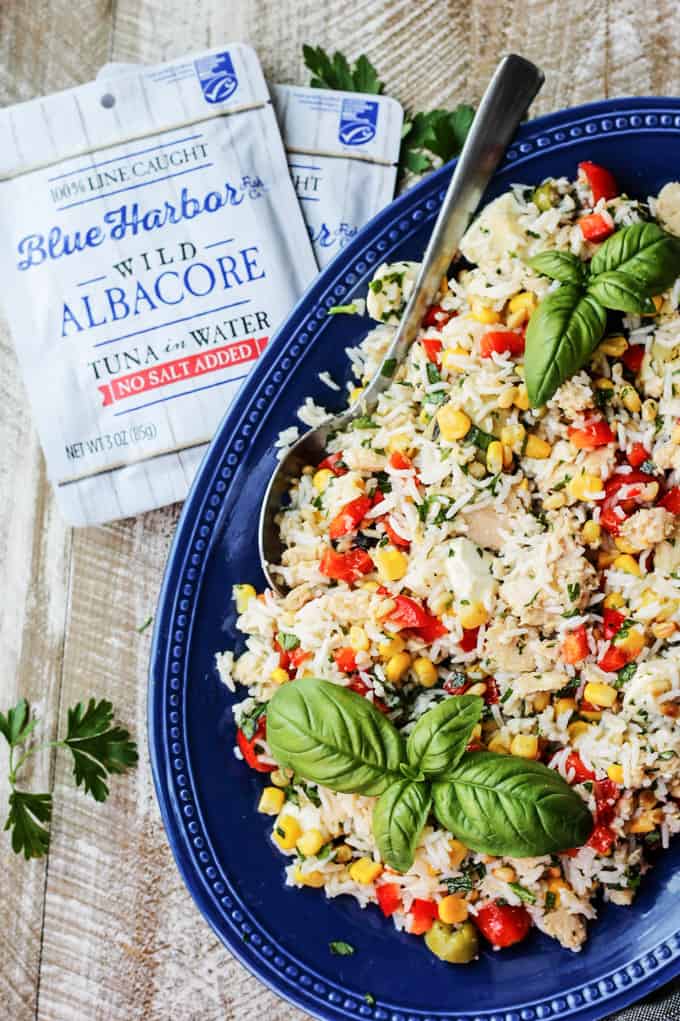 Ingredients
2

cups

of Cooked Long-Grain Rice, left to cool

3

pouches

Blue Harbor Albacore Tuna in Water No Salt Added

1/2

Red Pepper, diced

1

cup

Grape or Cherry Tomatoes, cut in half

1

cup

Sweet Corn, cooked or canned

1/2

cup

Olives, assorted, cut in half

3

tbsp

Pine Nuts, roasted

1/2

cup

Mozzarella Cheese, fresh, cut up into bite sizes

1/2

cup

Marinated Artichokes, cut in quarters

3

tbsp

Parsley, fresh, chopped

2

tbsp

Basil, fresh, chopped. More on side for decoration
Dressing:
4

tbsp

Extra Virgin Olive Oil

1/2

Lemon, juiced

2

cloves

2 garlic, small or 1 large, finely minced

Salt and pepper to taste
Instructions
Add rice, tuna, peppers, tomatoes, corn, olives, pine nuts, mozzarella cheese, artichokes, parsley and basil into a large bowl and mix together;

Add olive oil, lemon juice, garlic, salt and pepper to a small bowl and mix well;

Pour the dressing over the salad and mix well;

Transfer the salad onto a serving plate and serve. Decorate serving plate with additional basil leaves. Enjoy!
Notes
I used Blue Harbor Albacore Tuna in Water, No Salt Added as I like to control the level of salt added to this recipe, but you are welcome to use Blue Harbor Albacore Tuna in Water, with Touch of Sea Salt;
I used Long Grain Rice but you can use any rice you have or like;
You can add other ingredients like: peas, beans, capers, sun-dried tomatoes etc., or you can omit those that you don't like.
Nutrition
Calories:
326
kcal
|
Carbohydrates:
34
g
|
Protein:
6
g
|
Fat:
18
g
|
Saturated Fat:
3
g
|
Cholesterol:
7
mg
|
Sodium:
304
mg
|
Potassium:
215
mg
|
Fiber:
2
g
|
Sugar:
2
g
|
Vitamin A:
15.5
%
|
Vitamin C:
33.9
%
|
Calcium:
7
%
|
Iron:
6.5
%
This is a sponsored post written by me on behalf of Blue Harbor.
Read about the author Edyta here or follow Eating European on social media: Facebook, Instagram, Pinterest, and Twitter.
[mc4wp_form id="6774″]