This post may contain affiliate links which won't change your price but will share some commission.
This Tuscan Chicken and Potatoes Casserole is an extremely satisfying dish. Crispy chicken and potatoes with spinach, sun dried tomatoes and bacon bits, all smothered in a creamy Parmesan sauce. Doesn't that sound amazing?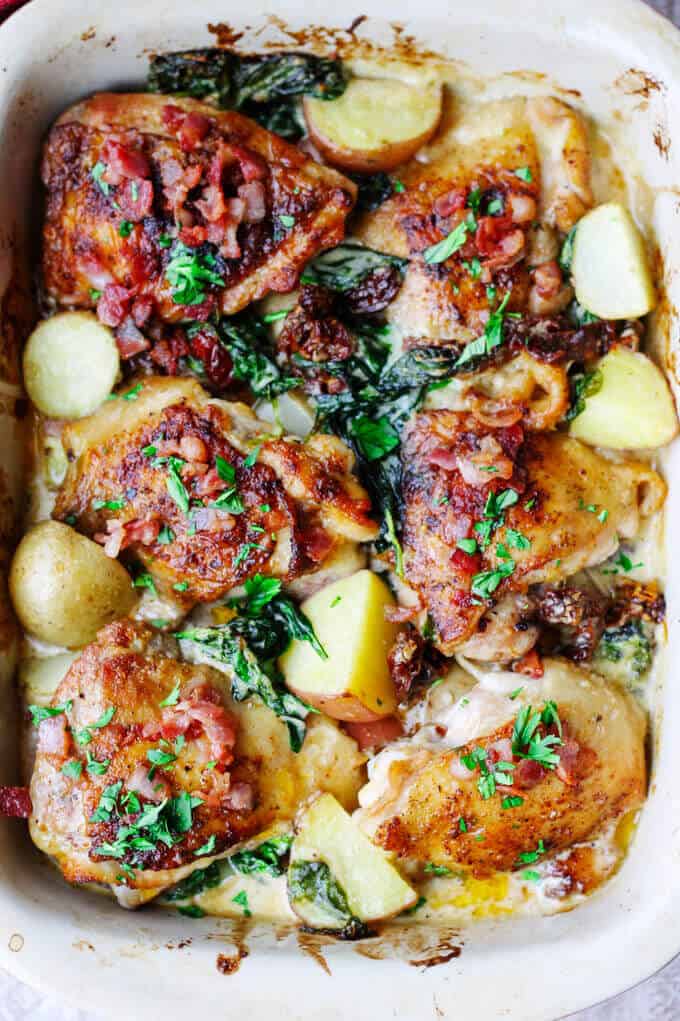 This post may contain affiliate links. You can read my disclosure policy here.
Creamy Tuscan Chicken with Amazing Garlic Parmesan Sauce
Alright guys, this dish really is outstanding. It combines so many amazing flavors… This creamy garlic Parmesan sauce with bacon over a tagliatelle pasta was a "go to" of mine, ever since I was living in Poland, and it's always been a big hit. I used to fry up some bacon, then add garlic and cream, cook for a bit, and add finally cheese at the end. Then I'd toss it with some tagliatelle pasta and that was it.
I decided to use this sauce in this Creamy Tuscan Chicken casserole dish and then dress it up a little bit. The result is really awesome. For this recipe, I also added sun-dried tomatoes and spinach. And because bacon makes everything better, I have added it at the end so it remained crunchy.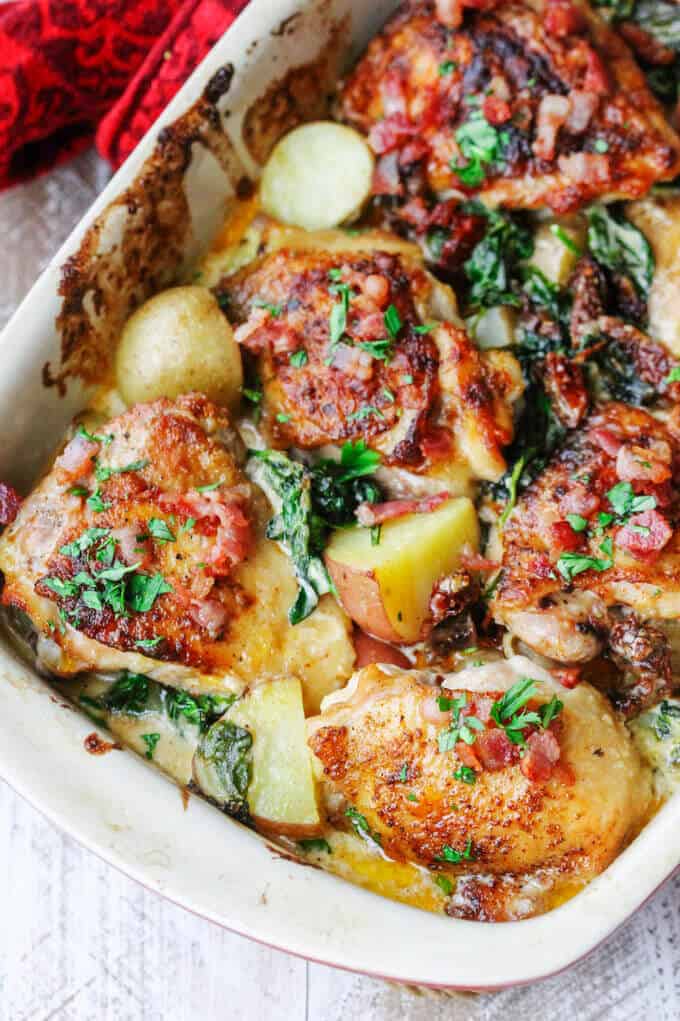 So how do you prepare this Tuscan Chicken and Potatoes?
Mind you, this is not that kind of "throw everything together" in one pot and you're done a type of meal. It requires a few steps, but the extra effort is totally worth it.
You'll need to brown the chicken;
Then you'll need to pre-boil your potatoes;
Next, you'll need to make a sauce;
Finally, you'll need to fry up bacon bits
But all these steps are actually pretty easy, and the effort will result in a super tasty dinner. The reason why you need to brown your chicken is simple – you want the nice crispy skin. But you may wonder why you have to pre-boil the potatoes. Here again, the answer is simple – they will just not cook through in the time needed to cook your chicken. The potatoes either need direct heat from the oven or water to get cooked in 30-40 minutes.
This creamy Tuscan garlic sauce is very thick, and the potatoes will be submerged which means no direct heat from the oven. But they will be submerged in a thick sauce that fails to produce enough liquid for the potatoes to absorb in a short period of time.
If you really want to cook potatoes in the same pan from the beginning-to-end, you can slice them thin (like in this Potato Leek Casserole), take out the chicken from the oven once cooked, cover and let it rest, and then cook your potatoes until fork tender. But be warned, that it may take a while and your chicken can get cold.
So the easiest way to have all these flavors bend and cook everything evenly within the same period of time is to pre-boil the potatoes for about 15 minutes.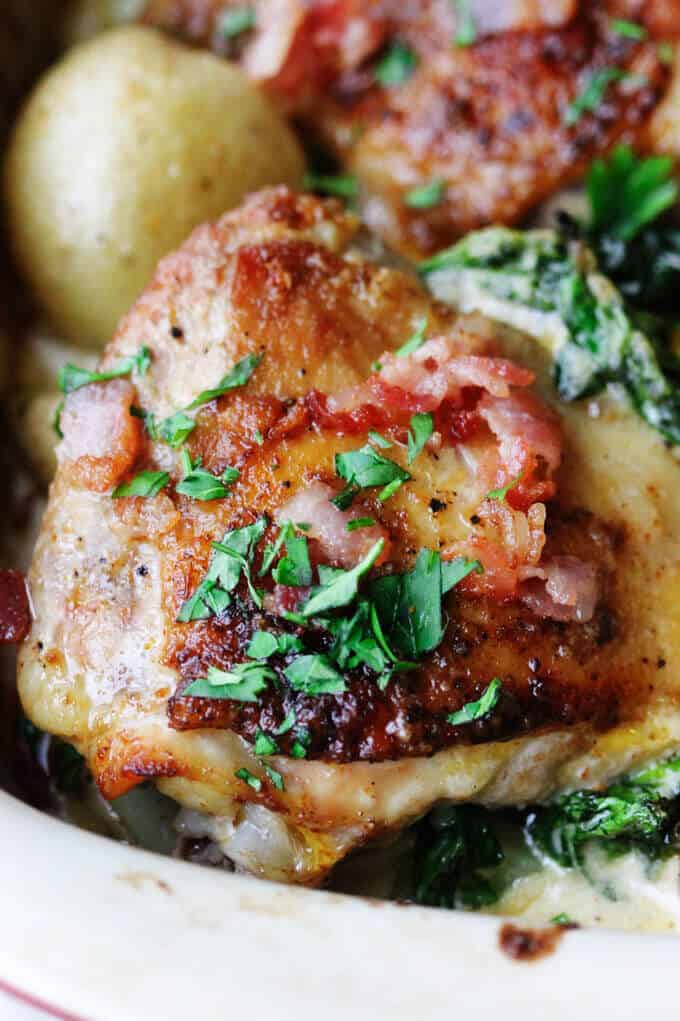 What goes into this Tuscan Chicken and Potatoes casserole?
The ingredients are very simple:
Chicken thighs;
Potatoes;
Garlic;
Heavy cream;
Sun-dried tomatoes;
Spinach;
Parmesan cheese; &
Bacon.
As you can see the ingredients list is very simple and quite possibly you may already have everything you need in your pantry. The recipe is also very simple, but again it requires a few steps to make it perfect. My husband LOVED the dish and even my 1-year old son as well. That says a lot! Give it a try, you won't be disappointed.
What to serve this Creamy Tuscan Chicken with
This dish is pretty heavy so you may want to serve it with a light salad like this Carrots and Apple Slaw,  Greek Horiatiki Salad; or any other salad that you may find in this awesome compilation of 35 Amazing Detox Salads.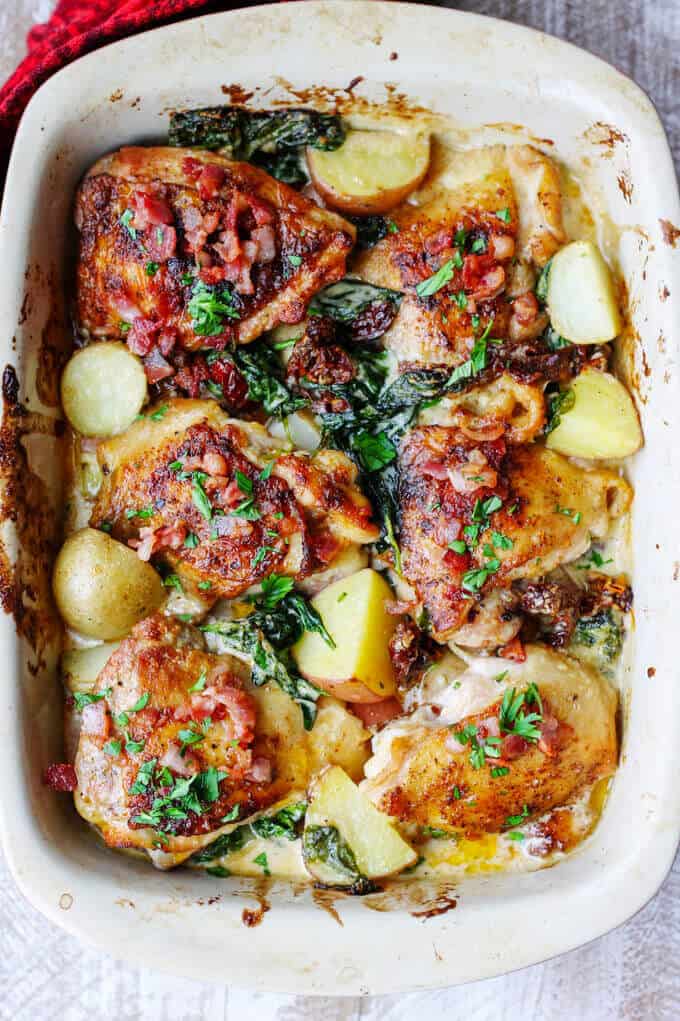 What Chicken is the best for this casserole?
We are a participant in the ButcherBox, an affiliate advertising program designed to provide a means for us to earn fees by linking to ButcherBox.
If you follow this blog, you know that I am trying to keep my family as healthy as possible. When it comes to chicken I ONLY purchase organic, free-ranch chicken with no antibiotics added. I cannot compromise my family's health for meat that doesn't meet the highest standard. That's why I am so excited to tell you about ButcherBox. ButcherBox has the best quality meat that can be delivered to your doorsteps for free.
ButcherBox chickens are certified humane and they spend their entire lives forging the fields. They're raised without antibiotics and are naturally fed.
If you use this link you will get 10% off and free bacon on your first order.

What equipment you'll need to make this dish?
We are a participant in the Amazon Services LLC Associates Program, an affiliate advertising program designed to provide a means for us to earn fees by linking to Amazon.com and affiliated sites.
Cast Iron Pan, to brown your chicken and make a sauce; I use these cast iron pans all the time.
Pot, to boil the potatoes; I have this pot and I really like it as the lid has little wholes which makes it easy to drain the potatoes.
Casserole dish to cook everything together.
I hope you will give this Tuscan Chicken and Potatoes casserole a try and will love it as much as we did.
Other awesome Italian Recipes:
Tuscan Style Chicken and Potatoes
Tuscan Style Chicken and Potatoes is an extremely satisfying dish. Crispy chicken and potatoes with spinach, sun dried tomatoes and bacon bits, all smothered in a creamy Parmesan sauce.

Print
Pin
Rate
Ingredients
6

Chicken Thighs

2

cups

Potatoes

red or creamers, cut up in small chunks

2

tbsp

Oil

for frying

3

cloves

Garlic

minced

1.5

cups

Heavy cream

1/3

cup

Sun-Dried Tomatoes

cut into strips

2

cups

Spinach

1/2

cup

Parmesan Cheese

grated

2

slices

Bacon

chopped

Salt & pepper to taste

1

teaspoon

Sweet paprika

Cooking Spray

Parsley

for garnish
Instructions
Preheat your oven to 400 F;

In a pot bring a water to boil, add a teaspoon of salt and add cut up potatoes; cook them for approximately 15 minutes, then drained and set aside.

Heat up cooking oil in a cast iron skillet or other heavy pan;

Season chicken on both sides with salt, pepper and sweet paprika;

Add chicken to the skillet and cook on each side until browned for approximately 3-4 minutes;

Remove the chicken from the skillet and set aside;

Discard all but a tablespoon of fat from the skillet and add garlic. Cook for about a minute and then pour in the heavy cream.

Let the cream cook for a couple of minutes until thickened up (about 5 minutes). Then add spinach and sun dried tomatoes and mix well;

Turn off the heat and add Parmesan Cheese, mix until melted and well combined with the sauce. Check for seasoning and add salt and pepper as needed.

Prepare a casserole dish big enough to hold 6 chicken thighs and potatoes; spray it generously with cooking spray;

Add potatoes to the casserole dish; pour the sauce over the potatoes and place chicken on top of it;

Transfer the dish into the oven and bake for 40-45 minutes until the chicken is cooked through and internal thermometer shows 165F and the potatoes are fork tender.

While your chicken and potatoes are baking, add cut up bacon to a clean skillet and cook until golden brown and crispy;

Once the chicken and potatoes are cooked, remove casserole dish from the oven, sprinkle with bacon and parsley and serve immediately. Enjoy!
Nutrition
Calories:
506
kcal
|
Carbohydrates:
15
g
|
Protein:
29
g
|
Fat:
36
g
|
Saturated Fat:
17
g
|
Cholesterol:
199
mg
|
Sodium:
335
mg
|
Potassium:
911
mg
|
Fiber:
2
g
|
Sugar:
2
g
|
Vitamin A:
2120
IU
|
Vitamin C:
14
mg
|
Calcium:
188
mg
|
Iron:
4.1
mg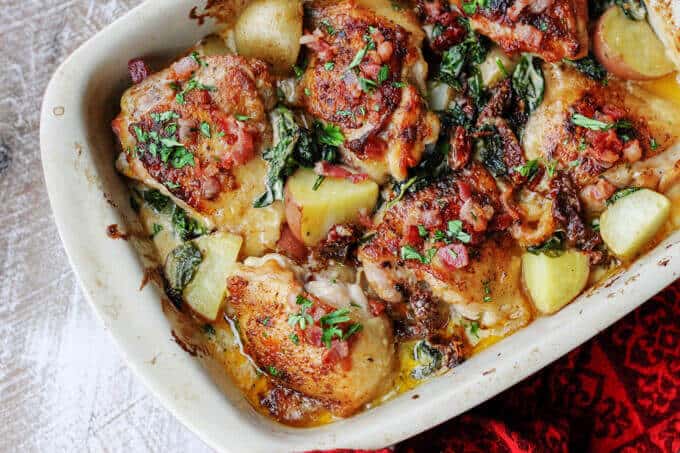 Here are other chicken recipes that you may want to try:
Chicken Provencal with Shallots and Garlic
Greek Chicken with Tomatoes, Cauliflower and Feta
Chicken Tomato Basil Rigatoni Recipe
Slow Cooker Whole Roasted Chicken
One Pot Chicken Saffron Rice with Peas and Olives
Read about the author Edyta here or follow Eating European on social media: Facebook, Instagram, Pinterest, and Twitter.