This post may contain affiliate links which won't change your price but will share some commission.
This Slow Cooker Turkey Breast is an amazing alternative to roasting a whole bird. It's perfectly moist, simple and delicious. With this recipe, you can have your favorite Thanksgiving meal any day of the week. And the best part about it is that most of the heavy lifting is done by the slow cooker. It literally takes just 5 minutes to prepare.
If you're getting ready for Thanksgiving you may want to check this collection of my favorite Thanksgiving recipes or Thanksgiving Leftovers Recipes.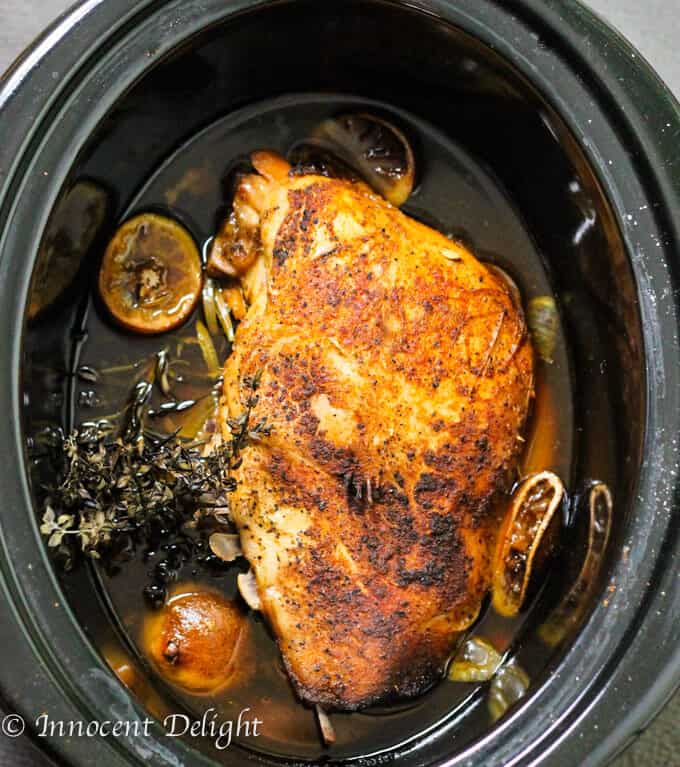 This post may contain affiliate links. You can read my disclosure policy HERE.
This recipe was originally posted on September 28, 2014, but I'm bringing it back from the archives by popular demand! In fact, this post is historical….you can even see that the photos have the previous logo of this website.
Making Turkey Breast in a Crockpot is An Easy Alternative to Cooking the Whole Bird
To roast a whole turkey takes a lot of preparation and a lot of babysitting while in the oven, in order to make a beautiful, flavorful and moist bird. But now you can forego the need to slave on this bird in the oven, and have a fantastic thanksgiving dinner by simply making this awesome turkey breast in your crockpot.
The slow cooker is very forgiving, so it is actually difficult to overcook and dry out your meat. It will be soft and will fall off the bones. If however you accidentally overcook it, it still shouldn't be dry; rather, it'll be soft so easier to shred then cut. But to avoid overcooking, watch the internal temperature. See the Tips and Tricks section below for all the information on how to cook your turkey breast in a slow cooker so that it comes out perfectly every time.
Concerning the spices for this turkey breast, I decided to go with the fresh thyme and rosemary, and spice rub made out of salt, pepper, paprika, and garlic powder; but you can actually use whatever spices and flavors you wish. I'm sure it'll be equally as delicious.
Watch how to Make it and See Details Below
Tips, Tricks & FAQs on how to Make a Perfect Turkey Breast in A Slow Cooker
Over the past five years, I've received a number of questions regarding this dish from my readers. So, I figured this would probably be an opportune time to answer these questions and offer some fresh ideas. With Thanksgiving around the corner, many of you may be looking for an alternative bird cook.
How do you Make Turkey Breast in a Slow Cooker
It is really easy to make this turkey breast. Simply placed your turkey breast on a bed of cut-up onions and garlic, season generously with a spice rub, drizzle with olive oil, add herbs and let the slow cooker do the job.
See the printable recipe below for exact instructions.
What Type of Turkey Breast is the Best for Crockpot
I strongly recommend bone-in split turkey breast. Not only is the meat better when cooked on the bone (less prone to drying out), but also your gravy will be more flavourful too. If you have boneless turkey breast you will need to be more mindful of the fact that it will cook faster. So check the temperature often.
If you have a big slow cooker and want to use both breasts, then go for it. As long as you can fit it in, it will cook. It may require more time to cook through, so plan accordingly.
How Much Turkey Breast Should I Consider Per Person?
On average you should count 1 lb of turkey breast per person. If you want to have leftovers then 1.5 to 2lbs per person should be a generous amount.
How Long Does It Take to Cook Turkey In A Slow Cooker?
There is no simple answer to it, just estimates. You'll need to cook your turkey until it reaches 165F. The time will depend on the size of your slow cooker, the size of your bird, and whether it's on the bone or boneless.
For this recipe, I used a 3lb split skin-on, bone-in turkey breast. I cooked it first for 1 hour on high and then 3 hours on low. Personally, I like to raise the temperature of my slow cooker first and then give it a time to cook slowly. If your turkey breast is smaller then 3 lbs, start checking the temperature an hour earlier.
Here are some estimates for different sizes of the breast:
4-6 lbs turkey breast, cook for 5-6 hours on low;
8 lbs, cook for 6-7 hours on low.
If you want to start on high for the first hour, then start measuring the internal temperature at least an hour earlier.
Should the Turkey Breast be Completely Thawed?
Absolutely! This is a must. For safety reasons, you should never put frozen turkey into a crockpot. Frozen turkey could lower the temperature of the pot and expose your bird to dangerous bacteria.
Always remember, when cooking poultry…safety first. Thaw your turkey completely in the fridge. On average every 4 lbs of frozen turkey will need 24 hours thawing time.
How to Tell When the Turkey Breast is Done?
Turkey Breast is done when it reaches 165°F.
What type and size of Slow Cooker is best for this recipe?
The best type for this recipe is an oval slow cooker with at least 6 QT capacity. This recipe is for a split turkey breast on a bone wich weights approximately 3 lb. You may need a bigger slow cooker for a bigger bird.
Is Adding Water or Other Liquid to the Slow Cooker Required to Make this recipe?
It won't hurt. However keep in mind that onions and garlic, along with turkey itself, produce so much liquid that you won't even want to use all of this for your gravy. But if you feel uncomfortable going this route, then feel free to add some chicken stock, wine, or water. All will work. You will just end up with a little bit more liquid at the end, but that's it. The flavors will still be there.
Should the Turkey Breast be Elevated?
Yes! As mentioned above, the turkey will produce a lot of liquid and you don't really want it to be swimming in it. So place your turkey breast on top of the cut-up veggies (I used onions and garlic, but feel free to add more veggies)
Can I Add Other Vegetables to the Crockpot?
Absolutely! The more veggies you add, the more flavorful your gravy will be. Try adding carrots, celery and parsnip.
Did you rub any of the spices under the skin?
I actually just sprinkled all the spices on the top of the breast. But, I'm pretty sure that rubbing spices under the skin will actually make this turkey even better…so, by all means, do it! Rub it under, and while you're at it, sprinkle more on top.
How do I Get a Crispy Skin on my Turkey Breast?
Very easy. Just pop it under the broiler for 3-4 minutes once it is done cooking in the crockpot.
Can I Make it Ahead of Time?
I would not recommend it, as the turkey could either dry out if you leave if for too long on a warm setting, or it could become very soft (to the point that you need to shred it instead of slicing it).
What to Serve Turkey Breast With
You can serve this Slow Cooker Turkey Breast with any of your favorite Thanksgiving sides. Here are a couple of my suggestions:
Potatoes:
Other Sides:
And if you're looking for some awesome wine pairings for Thanksgiving, my guide to Italian wines with some selection of cheeses and cured meats should help you with both the wine and an appetizer for the big day,
How to Make Gravy from Slow Cooker Turkey Breast Drippings
The best part of this recipe is that you'll end up with a lot of liquid which is the perfect base for an amazing gravy. The things that may come as a surprise is the amount of water that this bird produces and the amount of fat on top of that. Make sure to spoon the fat off before you make the gravy.
You'll need to use a strainer to strain the juices into the saucepan. Then bring the juices to boil. Combine corn starch with milk, season with salt and pepper, and add to the sauce. It will quickly thicken it up. Add lemon juice and check for seasoning. Adjust if needed.
Here are a couple of questions that I received from readers about the gravy:
Can you recommend paleo friendly gravy?
Yes. Just add root vegetables at the bottom (like carrots, parsnip, celery). Once the turkey is cooked, strain the veggies and blend them. They can thicken your gravy.
My gravy came out a little bitter? Could that be lemons?
When I initially published this post I added halved lemons to the slow cooker (that you can still see on the photos). However, some lemon skin can produce a little bitter taste.
So, I've updated this recipe to remove the lemons. Once you're making your gravy, you can add lemon juice at the end to get a little tanginess. This is optional but highly recommended.
You can also use my tutorial on how to make Easy Homemade Gravy.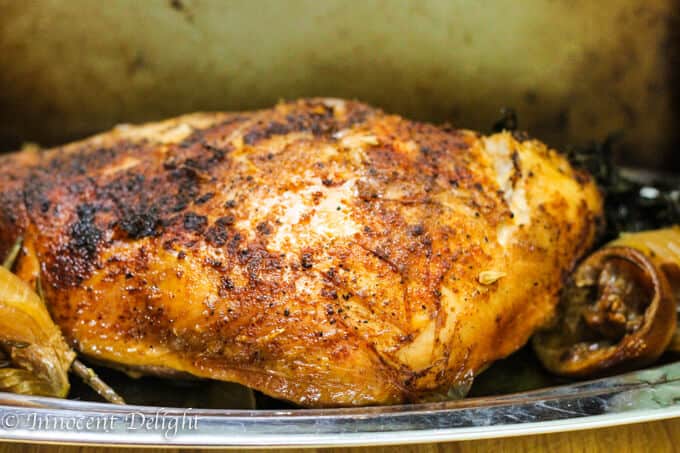 Here are a few other Turkey recipes that you may like:
Slow Cooker Turkey Breast
Slow Cooker Turkey Breast with simple spice rub, onions, garlic, and fresh herbs is quick and easy. You only need 5 minutes of prep time to set it and forget it. Your dinner will get cooked on its own. 
Print
Pin
Rate
Ingredients
For the Turkey:
3

lbs

Split turkey breast on the bone

1

Head of garlic

1

Onion

large, yellow or white

5

sprigs

fresh thyme

3

sprigs

fresh rosemary

1/2

tablespoon

salt

Freshly ground pepper

1

teaspoon

Dry garlic powder

1

teaspoon

Onion powder

1

teaspoon

sweet paprika

1

tablespoon

Extra virgin olive oil
For the gravy:
2

cups

Turkey drippings from slow cooker

if you have less, add turkey or chicken broth

1/2

cup

Milk

1-2

tablespoons

Corn starch

1

tbsp

Lemon Juice

(optional)

Salt and pepper to taste
Instructions
For the Turkey:
Cut your garlic head in a half;

Cut onion into large pieces;

Add all of the above to the bottom of the slow cooker (6QT);

Place the turkey breast on top of the garlic, onion;

Sprinkle the top with the spices: salt, pepper, garlic powder, onion powder and paprika;

Spoon over Extra Virgin Olive oil on top of the turkey;

Bundle up the herbs and add to the slow cooker;

Cover and cook on high for 1 hour and 3 hours on low until internal temperature reaches 165F;

For extra crispy skin, broil for 3-4 minutes.
For the Gravy:
Once the turkey is done, you can take it out along with all the veggies and herbs.

The sauce will contain fat on the top - remove it so the gravy is not too heavy;

Pour the sauce in a small saucepan;

In a cup mix together milk with corn starch;

Add to sauce and cook until thickened up (See note 1 below);

Check for seasoning, add salt and pepper if needed;

Now you can also add lemon juice for some extra flavor (See note 2 below).
Notes
1. Depending on how much sauce you have, you may need to add more milk/cornstarch mixture. Just add 1/2 milk with 1 tablespoon first and see how it thickens up. If needed, repeat the process.
2. Originally I posted this recipe with the lemons added to the crockpot. It happens that the sauce can get a little bitter from the lemons. I guess it depends on the lemons. I suggest to skip the lemon and adjust the tanginess of the gravy at the end with some lemon juice.
Nutrition
Calories:
559
kcal
|
Carbohydrates:
10
g
|
Protein:
100
g
|
Fat:
13
g
|
Saturated Fat:
3
g
|
Cholesterol:
248
mg
|
Sodium:
2692
mg
|
Potassium:
1347
mg
|
Fiber:
1
g
|
Sugar:
4
g
|
Vitamin A:
538
IU
|
Vitamin C:
18
mg
|
Calcium:
135
mg
|
Iron:
3
mg
Read about the author Edyta here or follow Eating European on social media: Facebook, Instagram, Pinterest, and Twitter.