This post may contain affiliate links which won't change your price but will share some commission.
Breton Beans (Fasolka po Bretonsku) with Kielbasa and Tomatoes is a super comforting dish for these cold winter days. Use black eyed peas to welcome New Year the traditional way.
What are Breton Beans
Breton Beans, or in Polish "Fasolka po Bretonsku",  is a very popular dish in Poland. However, I don't think it originally comes from Poland. Based on the name I have to assume that it comes from Brittany, but because it is so widely served throughout, I can honestly say that it is a traditional Polish dish. I often receive lots of requests to put more Polish recipes; so here is yet another one – a very popular Breton Beans recipe.
For the original Polish Breton Beans I would suggest using large white beans which you soak over night and then you cook the next day for at least an hour and a half. I assume these are the preferred bean because they're the most abundant in Poland. But this dish is so versatile that you can really use any type of beans you'd like.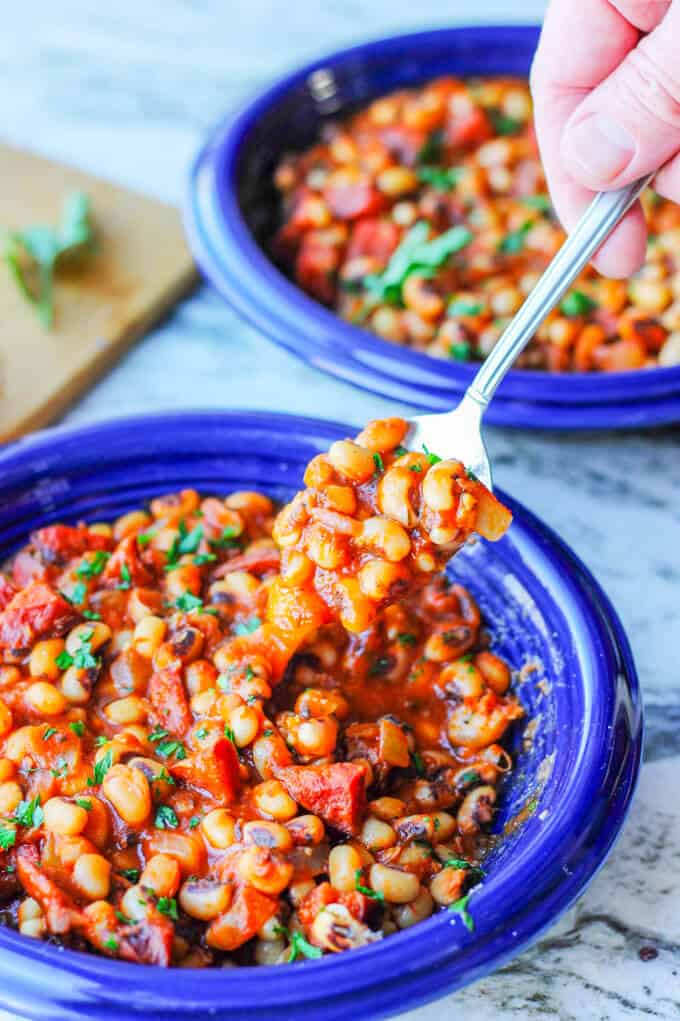 I decided to use these black eyed peas and served it for dinner on the New Year's day. Despite their identity crisis …. black eyed peas are actually beans. And apparently there's a tradition to eat black eyed peas on New Year's day.
I thought it was just a Greek tradition, but I have just learned that it's also a southern tradition. It's believed that eating black eyed peas will bring prosperity in the New Year (who knew?). Well, I'm all for prosperity, so I decided to give it a try and I promise to circle back at the end of the year and either confirm or debunk this superstition.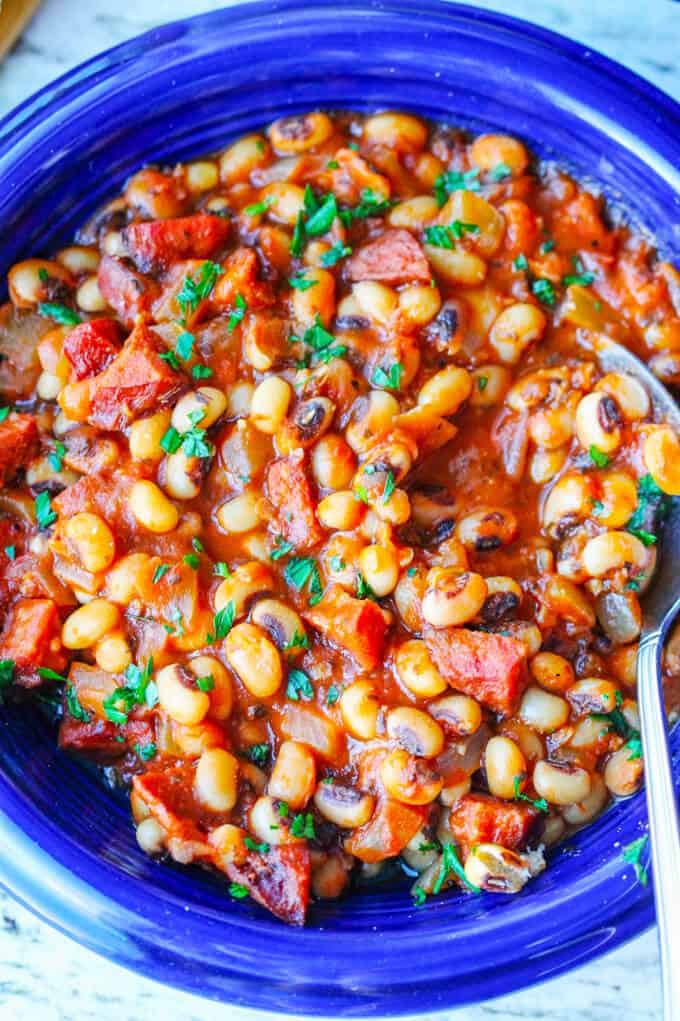 In Poland we don't really have a special dish for the New Year, but obviously some countries do. In fact, my Hungarian friend asked me about it the other day, and she told me that their tradition is to eat lentils. I found it fascinating and decided to do some research into these New Years culinary traditions. And so it was that that we ended up eating black eyed peas last night.
As I said above, this Breton Beans dish is very versatile:
You can make it very meaty and add bacon, ham or more sausage; or you make it vegan by skipping the meat altoghether;
You can also use different kind of beans: large fava beans, kidney beans, northern beans, black eyed peas, etc…
Or you can make a shorter version and use canned beans instead of dried.
For this Breton Beans recipe I used:
Dried black eyed peas that I soaked over night;
Polish smoked kielbasa;
Onions;
Garlic;
Crushed Tomatoes;
Tomato Paste;
Marjoram (you need to add it to make it easier to digest beans);
Bay leave;
Allspice;
Salt & Pepper;
Cayenne pepper (not traditionally found in the Polish version but my husband requested a little heat)
Water.
I serve this Breton Beans dish with a crusty bread. You can make your own homemade crusty bread. It's super easy and delicious. Or you could also serve it with a side of rice.
If you are interested in a history of black eyed peas on New Year's day, this article can give you some more information.  And if you want to cook some real Southern black eyed peas, I found this recipe interesting. Do you have any traditions for New Year's Day? What was served for dinner in your house?
If you're hungry for more Polish recipes here are few of my favorites:
Dill Pickle Soup (Zupa Ogorkowa)
Sauerkraut and Mushroom Pierogi
Breton Beans (Fasolka po Bretonsku) with Kielbasa and Tomatoes
Breton Beans (Fasolka po Bretonsku) with Kielbasa and Tomatoes is a super comforting dish for these cold winter days. Use black eyed peas to welcome New Year the traditional way.
Print
Pin
Rate
Ingredients
1

cup

Beans

Dried

1

Onion

medium, sweet, chopped

2

cloves

Garlic

chopped

1

cup

Kielbasa

Smoked Polish Sausage, cubed

2

cups

Crushed Tomatoes

1

tbsp

Tomato Paste

3

teaspoon

Marjoram

1

Bay Leaf

3

Allspice

6

cups

Water

Salt & Pepper to taste

Pinch

Cayenne Pepper

optional

1

tbsp

butter

ghee or cooking oil

1

teaspoon

Parsley

chopped
Instructions
Add beans to a bowl and cover with lots of water and soak overnight.

Rinse the beans and add them to the pot with 6 cups of water. Bring to boil, cover and cook for about an hour to an hour and a half. The cooking time depends on beans. They should be soft but not overcooked;

In a frying pan heat up one tablespoon of butter or ghee or cooking oil and add cubed kielbasa (sausage) and cook until golden brown for about 5 minutes;

Once the sausage is cooked remove from the pan and set aside;

Add onions to the same pan; if needed add extra fat; cook until golden and soft, for about 3-4 minutes; add garlic and cook for another minute.

Once the beans are cooked add sausage and onions/garlic mixture to the pot with the beans;

Add bay leaf, allspice, crushed tomatoes, tomato paste, marjoram, half a teaspoon of salt and freshly ground pepper and cook for about 15 minutes;

Check for seasoning, add more salt and pepper if needed; optionally add pinch of cayenne for some heat; sprinkle with fresh parsley and serve with crusty bread.
Notes
Do not add salt to the pot with beans until the beans are fully cooked. The salt would prevent the beans from becoming soft. 
The total prep time for this recipe does not include overnight soaking of the beans.
1 cup of dried beans will produce approximately 3,5 cups of soaked beans.
You can simplify the process and use canned beans (2 cans of any beans); rinsed. Fry sausage, onions and garlic, add tomatoes and spices and 2 cans of beans. Add water if needed and adjust seasoning. 
Nutrition
Calories:
348
kcal
|
Carbohydrates:
18
g
|
Protein:
18
g
|
Fat:
24
g
|
Saturated Fat:
8
g
|
Cholesterol:
49
mg
|
Sodium:
856
mg
|
Potassium:
796
mg
|
Fiber:
5
g
|
Sugar:
8
g
|
Vitamin A:
410
IU
|
Vitamin C:
15.8
mg
|
Calcium:
112
mg
|
Iron:
4.9
mg
Read about the author Edyta here or follow Eating European on social media: Facebook, Instagram, Pinterest, and Twitter.
[mc4wp_form id="6774″]
If you like this recipe you may also like these Polish recipes:
Authentic Polish Pierogi with Potatoes and Cheese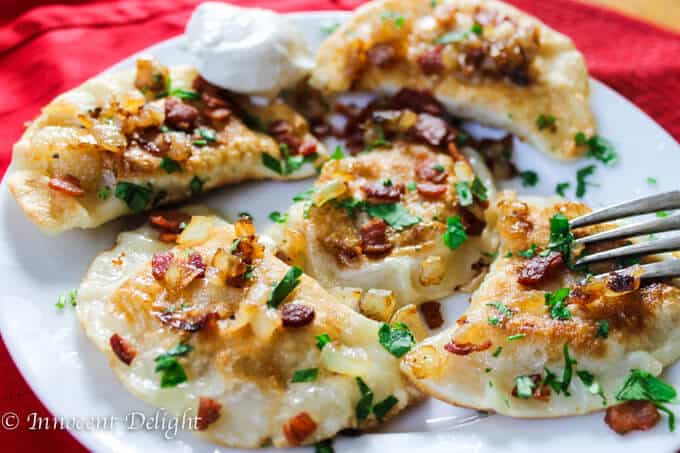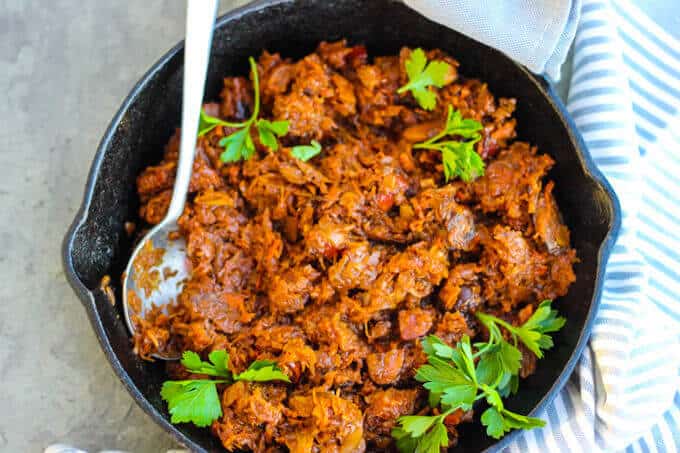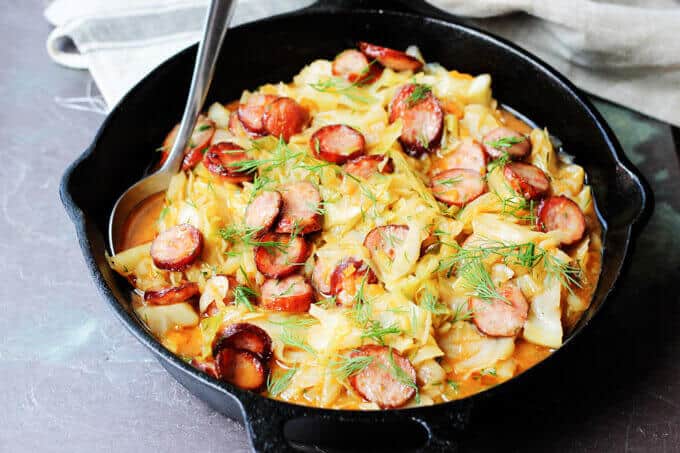 Traditional Polish Dill Pickle Soup