This post may contain affiliate links which won't change your price but will share some commission.
Sponsored Post: This post is sponsored by The French Ministry of Agriculture but the content and opinions expressed here are my own.
Blond Chocolate-Dipped Pistachio Financier is an amazing dessert which uses this decadent, super unique Blond Chocolate and a silky French butter.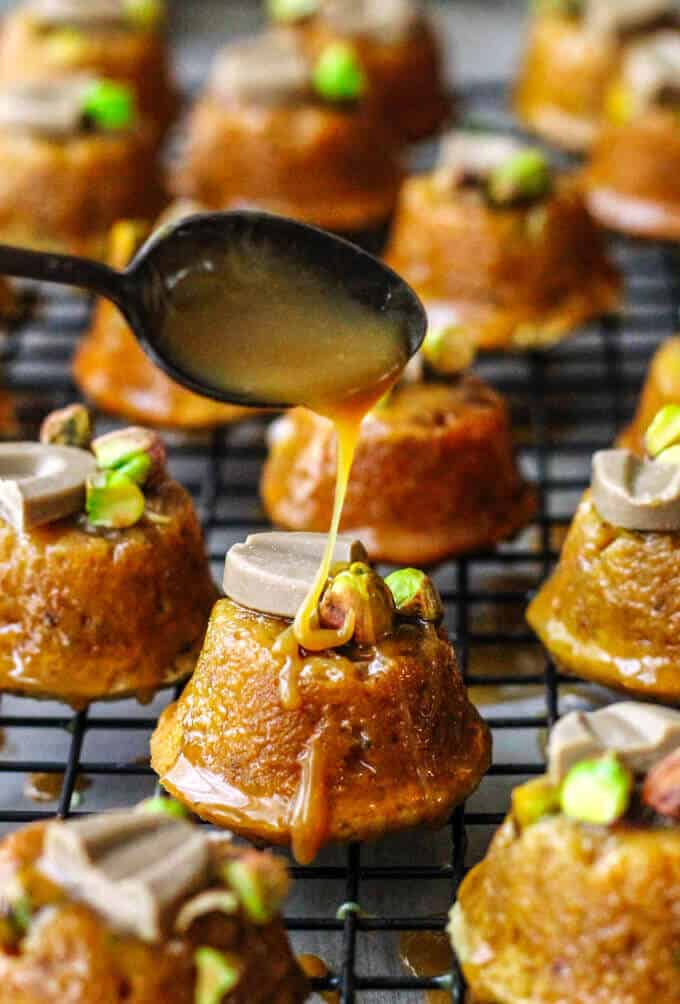 I love France, French food, French wines, French culture….which I suppose makes me a bit of a Francophile. I've been to Paris twice and once to the South of France. With every visit, I seemed to walk away a bit more enamored. The expression "Made in France, Made with Love" really resonates with me. Butter, Cheese, Chocolate and Wine is all I will be talking about today (but frankly, what more is there?). And after indulging me a moment to babble about these great ingredients, the bonus is you'll be able to walk away with this fantastic recipe for Blond Chocolate-Dipped Pistachio Financier. Keep reading my friends.
When I was offered this opportunity to partner up with French Ministry of Agriculture to showcase French products available in the United States, I was inspired by the desire create a real French experience in the comfort of my home. I wanted to consume French food, wine, and music. And so we did!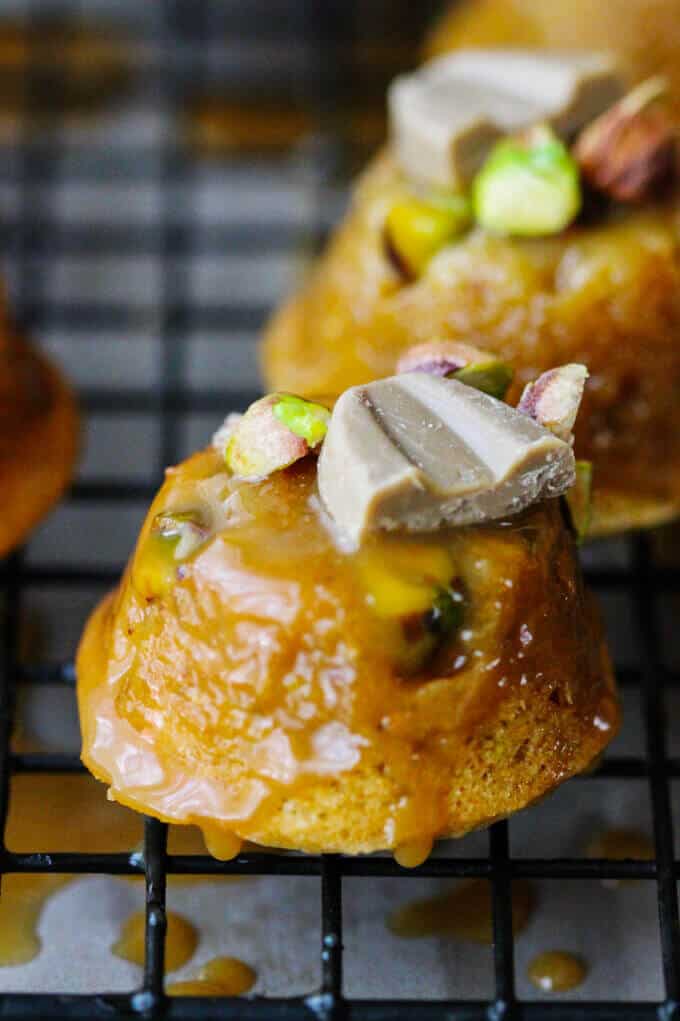 I know I should start from the appetizer, but before I do so I just need to quickly let you know that the recipe for these Blond Chocolate-Dipped Pistachio Financiers is out of this world delicious. And, yes, you heard it right it's BLOND chocolate; not white, nor milk, nor dark chocolate. It's a TOTALLY different variety. It may look like caramel but it's really unique chocolate. AMAZING! I'll give you a little more information about it below.
But before this digression, let's start with the Appetizer. I used: President Butter, French Bread, & P'tit Basque Cheese. That's it!
President butter is made from cultured cream in the heart of Normandy – the "Grand Cru" among French dairy regions. Well known for the outstanding quality of its milk, and so helping to give this butter an exceptionally rich flavor and smooth texture. It can be used for spreading, cooking or baking.
In this instance, I spread it on a fresh baguette. But later you'll see that I also used it in my recipe for our dessert: Blond Chocolate-Dipped Pistachio Financier.
P'tit Basque is a 100% pure sheep's milk cheese produced in France's Basque region, in the Pyrenees Mountains. It has the distinctive aroma of sheep's milk, with a smooth, sweet flavor, and a nutty finish. While people of the  Basque region typically enjoy P'tit Basque with a black cherry jam, it can also be enjoyed as an appetizer, a snack with fruit, with grilled vegetables and cured meats, or even in salads. You can get it in Whole Foods Market or Costco.
I love simplicity, and there's nothing better for me than a fresh French baguette with butter and cheese. So, I smeared some President butter on my baguette, topped it with some P'tit Basque, and I was immediately transported to the grass under the Eiffel Tower, enjoying my picnic and sipping on wine (yes, you can do this in Europe without a threat of some stupid open-container laws). This cheese can be perfectly paired with a classic red or white wine. I recommend Mas de Daumas Gassac or Les Vignobles André Lurton wines, which I talk about below.
Within 40 years, the Mas de Daumas Gassac wines, produced in the Languedoc region, have reached the rare status of «cult wine» that is only awarded to a limited number of exceptional estates in the world. Cultivated without any chemicals or pesticides, Mas de Daumas Gassac remains a virgin land farmed with total respect for Mother Nature. Now, mind you I'm no Sommelier, but here's what I do know about these wines:
MAS DE DAUMAS GASSAC is outstandingly well balanced white wine. It manages to achieve a finesse, elegance even in young bottles. But if you're patient, it develops an amazing depth and complexity with age! We had a sip with our appetizer.
MOULIN de GASSAC GUILHEM rosé is a fun, approachable wine, made from Syrah & Carignan grapes. Extraordinary red fruit and berries create a symphony of aromas and flavors. We paired it with our amazing dessert, Blond Chocolate-Dipped Pistachio Financier. It was fantastic!
Les Vignobles André Lurton is currently one of the largest wineries in the Bordeaux region. It is a family-run vineyard with passionate wine-growers/makers who are passionate about producing exceptional wines from prestigious Bordeaux appellation.
Château Bonnet White is fresh and fruity (think ripe peaches and Meyer lemon). It pairs well with most appetizers, fish and shellfish, cheese or salads.
Bonnet Red 2014 is a blend of Cabernet Sauvignon and Merlot, and it features notes of fresh red fruit accompanied by smoky, vanilla aromas. It pairs well with starters, white meats, game, vegetables.
We managed to pair all these wines (to some extent) with our dinner.
Mind you, I cook 6 out of 7 nights of the week, and once a week we use the crutch and go for a take-out night. It usually is Friday, as it's a perfect evening to unwind after a hectic week with a glass of wine. For quite a while we've wanted to check our local French restaurant and for some reason whenever the time came for orders, we kept forgetting about this place.
But this time my husband was very much on point and said that we absolutely needed to order French food. We already had our appetizer so we only needed main courses to keep the themes going. I ordered scallops and paired them with Château Bonnet White and my husband ordered filet mignon and pairs it with Bonnet Red 2014. To complete the mood we played Juliette Greco and I was immediately transported to a cozy French bistro restaurant in the middle of Paris.
You can always make dinner at home. If you're so inspired then I would suggest Perfect French Crepes. You can fill them up with whatever you want but my personal favorite is with Ham & Cheese. You can even use P'tit Basque.
And then, with the prelude finally behind us, the time finally arrived for this dessert made with BLOND chocolate! Just take a look:
As the story of these chocolates goes, during a pastry demonstration, Valrhona Corporate Pastry Chef Frédéric Bau accidentally left white chocolate in a bain-marie for too long. After realizing what had happened, he noticed that the color had turned blond and the chocolate was emitting a delicate scent of freshly baked shortbread and caramelized milk. It then took another 8 years of research and development to arrive at this amazing BLOND DULCEY 32%.
Five years after creating DULCEY 32%, Valrhona once again distinguished itself in the Blond category by using its chocolate expertise with a new star ingredient: dark muscovado sugar and creating ORELYS 35%. This product just became available in the United States on September 1, 2017! Because of its natural molasses content, muscovado sugar has a rich brown color and delicate licorice aromas.
These chocolates are fantastic for baking. I created this recipe for French financiers and I dipped them in melted Blond DULCEY 32% and then topped them with ORELYS 35%.
These little cakes are light in texture. They are made with:
Almond meal;
Pistachios;
Egg whites;
President Butter
Flour, and;
2 kinds of sugar.
The batter comes together super quickly, but you do want to rest it in the fridge for at least half hour (but ideally an hour). You just bake them for 16 minutes in mini muffin tins and then they are ready for this BLOND chocolate.
You'll need to melt it with some hot cream and dip them in one at a time. Then let them rest on a rack, and finish them off with Blond ORLEYS and more pistachios.
Pour some MOULIN de GASSAC GUILHEM rosé, play another song by Juliette Greco and lose yourself in this decadent Blond Chocolate-Dipped Pistachio Financier!
I hope you enjoyed our French evening together 🙂
Blond Chocolate-Dipped Pistachio Financier
Blond Chocolate-Dipped Pistachio Financier is an amazing dessert which uses this decadent, super unique Blond Chocolate and a silky French butter. #AD #MadeinFrance #MadewithLove

Print
Pin
Rate
Ingredients
4

egg whites

1/2

cup

brown sugar

1/2

cup

confection sugar

8

tbsp

PRESIDENT Butter

+ more for brushing

1/2

cup

flour

1

teaspoon

baking powder

1/2

teaspoon

salt

2

tbsp

almond meal

1/2

cup

pistachios

finely ground

1/2

cup

pistachios

chopped

8

oz

BLOND DULCEY 32% chocolate

chopped

1/2

cup

ORELYS 35% chocolate

cut in halfs

1/2

cup

heavy cream
Instructions
Place the butter into a small sauce pan and cook on medium heat untouched for about 5 minutes until browned. Pour through a fine strainer to a bowl and let it cool down.

Using handheld mixer mix together egg whites with sugars and salt until smooth (about 5 minutes);

Add flour, almond meal, ground pistachios and baking powder and fold in using spatula;

Add browned butter and stir until combined;

Refrigerate the batter for at least half hour but ideally for an hour;

Heat up the oven to 350F;

Brush mini muffin tins with butter and add 1/4 cup of chopped pistachios into the tins (1-2 pieces to each mold);

Pour about 1 tablespoon of batter into each mold and bake for 16 minutes until golden brown;

In a small sauce pan heat up heavy cream and bring it to boil;

Place chopped BLOND DULCEY 32% chocolate into a bowl; Pour over the heavy cream and mix well;

Once the cakes are cooked and cooled dip each one into a chocolate and stand up. Top them with half piece of ORELYS 35% chocolate and few pieces of pistachios. Let them rest on a rack. ENJOY.
Nutrition
Calories:
377
kcal
|
Carbohydrates:
37
g
|
Protein:
5
g
|
Fat:
25
g
|
Saturated Fat:
13
g
|
Cholesterol:
33
mg
|
Sodium:
192
mg
|
Potassium:
256
mg
|
Fiber:
2
g
|
Sugar:
28
g
|
Vitamin A:
425
IU
|
Vitamin C:
0.6
mg
|
Calcium:
50
mg
|
Iron:
1.5
mg
Read about the author Edyta here or follow Eating European on social media: Facebook, Instagram, Pinterest, and Twitter.