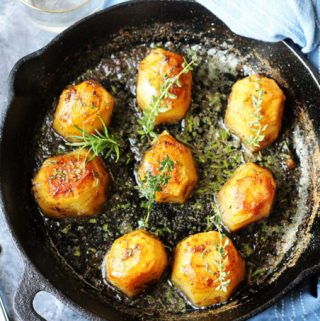 Fondant Potatoes with Russet Idaho® Potatoes
Fondant Potatoes, or Pommes Fondant, is an amazing recipe using russet Idaho® potatoes which are cut into cylinders and seared to golden perfection. They're then cooked in a rich stock with garlic, butter and herbs, to ensure a smooth creamy texture inside, with an amazing aroma.
Print Recipe
In order to achieve crispy crust on the outside of the potatoes, and a soft creamy consistency on the inside, place your potatoes in a bowl of water for 10-15 minutes to remove excess starch. Then pat them dry. You may season them now with salt and pepper, or do it later, once they're cooking in the skillet.

Preheat your oven to 425ºF. Heat up a heavy bottom skillet on a medium heat on the stovetop (e.g., cast iron, which can be transferred into the oven), add the butter and oil (See recipe notes below). Add potatoes, flat side down, and cook them for about 5 minutes on the first side, until golden brown. Season with salt and pepper, if you haven't done so yet. Then flip and season on the other side.

Add peeled and crushed garlic and fresh herbs; let them cook for 4-5 minutes.

Pour over the stock and transfer the skillet to the 425ºF hot oven. Bake the potatoes for about 30-35 minutes – until most of the liquid has evaporated and the potatoes are tender inside. (Be very careful when taking the skillet out of the oven, it will be super hot so don't accidentally grab the handle. Also, you'll want to end up with about 2 tablespoons of sauce to spoon over the potatoes. See recipe notes below what to do if you have more liquid.)

Garnish the potatoes with some fresh herbs and serve with your favorite protein.
Recipe Tips:
The butter will give the potatoes a nice sear and taste, but it can burn easily. Adding some olive oil can help prevent that.
If you still end up with a lot of liquid in your skillet, remove the potatoes onto a serving plate and loosely cover them with a foil. Turn the heat on under the skillet and cook the sauce until reduced to about 2 tablespoons. Spoon the remaining sauce over the potatoes.
Calories:
335.57
kcal
|
Carbohydrates:
42.49
g
|
Protein:
7.11
g
|
Fat:
16.14
g
|
Saturated Fat:
8.03
g
|
Cholesterol:
32.8
mg
|
Sodium:
239.76
mg
|
Potassium:
982.71
mg
|
Fiber:
2.94
g
|
Sugar:
2.77
g
|
Vitamin A:
409.25
IU
|
Vitamin C:
14.61
mg
|
Calcium:
41.53
mg
|
Iron:
2.24
mg