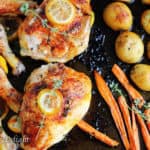 One Pan Herbed Lemon Chicken with Veggies Recipe
Print Recipe
1

whole chicken

, skin on. cut into parts

1

pound

medium potatoes cut in half

4

carrots

, cut lengthwise

2

lemons

, 1 1/2 sliced and 1/2 for drizzling

Olive oil for drizzling

2-3

pinches

of Spanish smoked paprika or Hungarian hot paprika

20

springs of fresh thyme

10

springs of fresh rosemary

Kosher salt and freshly ground pepper
Preheat the oven to 450 F

On a baking sheet with sides, drizzle some olive oil all over the pan

Add the lemon slices to the half of the sheet and add chicken on top of them (skin side up)

Season chicken with salt, pepper, paprika and drizzled with olive oil and add remaining lemon slices on top of each chicken part

On the other half of the sheet, add potatoes cut side down and carrots.

Season vegetables with salt and pepper and pinch of smoked or hot paprika

Cover everything with theme and rosemary

Drizzle more olive oil and the other half of the lemon all over the sheet pan

Roast until the chicken is cooked through, about 40 - 45 minutes or until the internal temperature reaches 165F

Once chicken is cooked discard the rosemary and thyme

Remove the chicken from the pan and cover loosely with foil until ready to serve
1. This recipe is adapted from Sunny Anderson's Rosemary and Thyme Chicken
2. Sunny's recipe calls for whole chicken but you can use any parts you have.
3. Make sure that the carrots are big and you only cut them in a half. I cut mine one more time and they could use less time to cook.
4. The potatoes came out super amazing, but they need to be cut in half in order to soak all the juices from the pan.