May is Mediterranean Diet Month, and to celebrate I've decided to compile the some of the basics for a Mediterranean diet and a list of the Best Mediterranean Recipes from Innocent Delight (all of which are on a heavy rotation in my household). You'll find everything from Breakfasts to Dinners, and everything in between. Let's get started…
This post may contain affiliate links. You can read my disclosure policy here.
Mediterranean Diet Principles
Mediterranean Diet is easy to follow. In fact, some may say that it's actually more of a lifestyle then the actual diet. As it's name implies, it's what people from counties surrounding This post may contain affiliate links. You can read my disclosure policy here. Sea love to eat, and they're among the healthiest people in the world. Just look at Ikaria, one of the Blue Zones, where there are the greatest concentration of Centurians (people who live up to a 100 years).
Personally, that's a convincing argument for me to follow this diet. While I do cook dishes from throughout Europe, the majority of our diet is based on the Mediterranean Diet principles. So, without further ado, here they are:
Eat plenty of fruits, vegetables, fiber, whole grains and nuts. For example…

Leafy greens (like spinach, kale, swiss chard, & mustard greens)
Non-starchy vegetables (like tomatoes, eggplant, cauliflower, cucumbers, peppers, artichokes, & fennel)
Whole grains (like barley, brown rice, bulgar, wheat berries, etc)
Legumes (like lentils, beans, & chickpeas)
Nuts (like almonds, walnuts, sesame seeds, etc.);

Avoid saturated fats, and replace them with Extra Virgin Olive oil (plenty of olive oil!!)
Limit your intake of red meat, and eat fish and lean poultry twice a week;
Use a generous amount of spices to flavor your foods (like Paprika, Oregano, Parsley, Rosemary, Cumin, etc.);
Drink red wine – in moderation;
Get plenty of natural physical activities (like walking, gardening, exercising, etc)
Check out the Mediterranean Diet Pyramid below, it covers all the basics.
Infographic, courtesy of Oldways
Mediterranean Diet Spices
Mediterranean cuisines use a tone of fresh herbs (like Parsley, Dill, Fennel, Oregano, & Rosemary), but also an assortment of dried spices to flavor their foods. Here's a list of  Mediterranean spices that are staples in my pantry (I like to use organic spices whenever possible):
My favorite Mediterranean Diet condiments
My pantry is also stocked up with these Mediterranean Diet condiments:
The Best Mediterranean Recipes form Innocent Delight
Now let's get into the best part…all the savory, healthy and super delicious recipes that I've been creating and recreating, time and again. While you will find a lot of Mediterranean Recipes on this blog, for this Mediterranean Diet Month compilation I've handpicked my family's favorites. I'm confident that you'll find something that you like here too.
Mediterranean Breakfast Recipes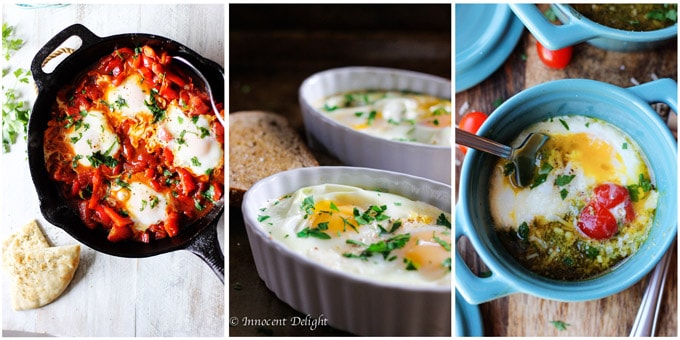 Mediterranean Appetizers Recipes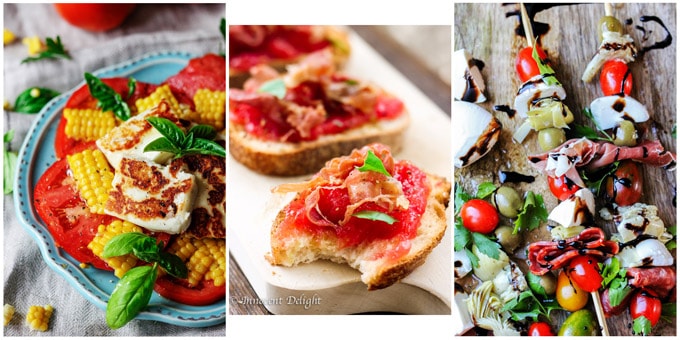 Mediterranean Soups Recipes
Greek Lentils Soup – this soup has some special ingredients and incorporates a few insider instructions from my close Greek friend.
Greek Chickpea Soup – the combination of chickpeas with rosemary and pomegranates is divine.
Roasted Cauliflower Soup – Coconut milk and smoked paprika makes this soup one to remember.
Mediterranean Salads Recipes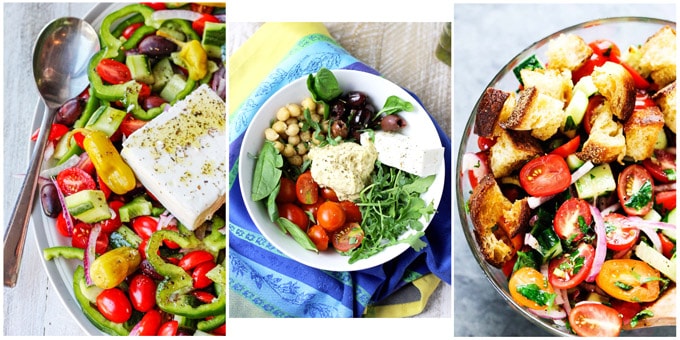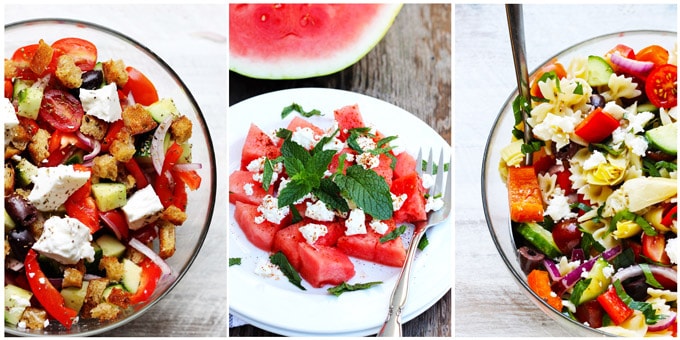 Mediterranean Side Dishes Recipes
Mediterranean Pasta Recipes
Shrimp Scampi Spaghetti – obviously a classic Italian recipe, for good reason, and it's super easy to make.
Penne Alla Vecchia Bettola – this is the best pasta in vodka sauce you'd ever imagine. Coincidentally, it's one of the most popular recipes on this blog.
Spinach Parmesan Orzo – this is a great side dish, on the fly. Super simple and very good. Perfect for all those summer BBQs.
Mediterranean Dinner Recipes
One Pot Chicken Saffron Rice – saffron adds such a sophistication to otherwise humble chicken and rice dish. Impress your friends with this recipe.
Mediterranean Chicken Stew – this is one of my favorite recipes when the weather's not so nice outside. It's so comforting, and the flavors are spot on.
Honey Harrisa Chicken Skewers – again, just another guaranteed crowd pleaser for your summer gatherings. Serve it with garlic dill sauce (it's so good).
I hope you found something that you liked in this compilation for best Mediterranean recipes from Innocent Delight. If you have a favorite one, let me know in comments. I'd love to hear from you.
Favorite Mediterranean Cook Books
There are a ton of amazing Mediterranean cook books out there. Here are a few of my favorites:
Mediterranean Cookbook
by Marie-Pierre Moine
Ikaria: Lessons on Food, Life, and Longevity from the Greek Island Where People Forget t o Die
by Diane Kochilas
Jerusalem: A Cookbook
by Yotam Ottolengi
Balaboosta
by Einat Admony
We are a participant in the Amazon Services LLC Associates Program, an affiliate advertising program designed to provide a means for us to earn fees by linking to Amazon.com and affiliated sites.
Read about the author Edyta here or follow Eating European on social media: Facebook, Instagram, Pinterest, and Twitter.
[mc4wp_form id="6774″]